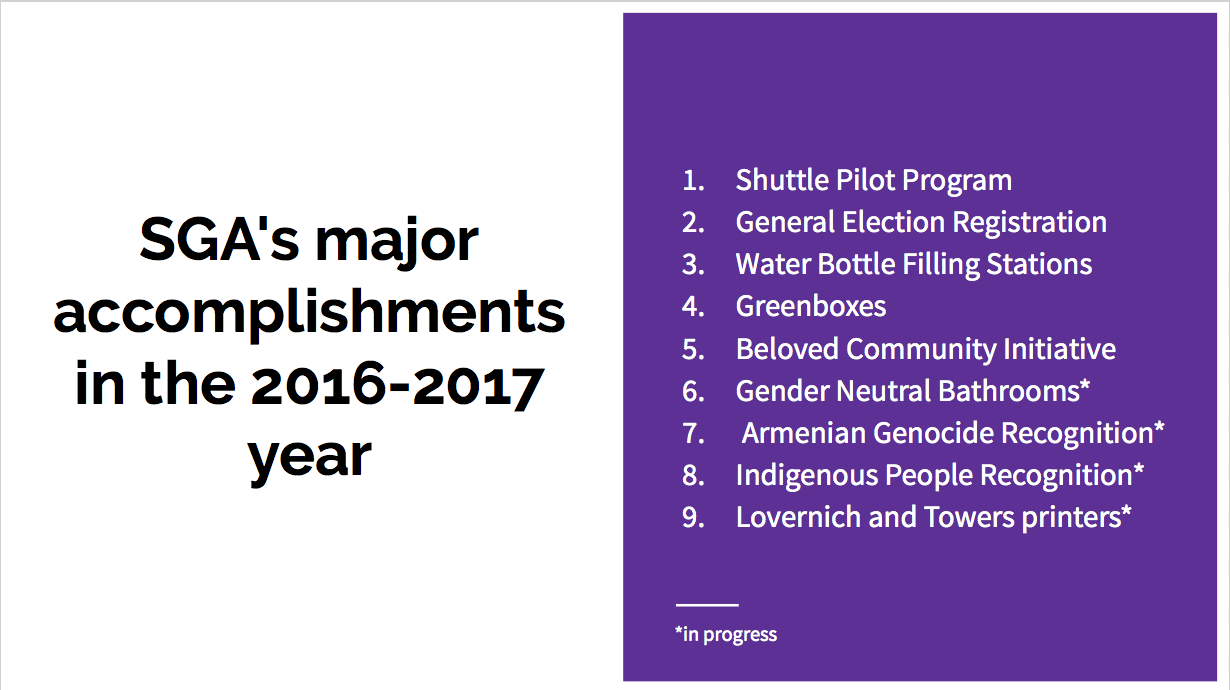 The Graphic's SGA reporter Allison Lee met with current SGA President Edward Adutwum to review nine of SGA's resolutions passed in the 2016-2017 school year. SGA passed a total of 49 resolutions.
1. Shuttle Pilot Program: SGA, spearheaded by Executive Vice President Hope Hesslen, started a shuttle pilot program in the fall of 2016 where students were able to sign up for free shuttles from Pepperdine's Malibu Campus to LAX. The pilot program will continue this spring and they are hoping that a business model will be developed for students to take the shuttle to LAX in the future.
2. U.S. general elections: In the fall 2016 general elections, SGA, spearheaded by Vice President of Administration Austin Welch, registered 200 students for the U.S. general election and hosted a post-election discussion with professors in the Political Science Division.
3. Water bottle filling stations: For the past three years, SGA has been working with the Green Team and Center of Sustainability to add water bottle filling stations across campus. Originally, the plan was to have them in the dorms; however, due to priorities, they decided to place them in the most trafficked areas on campus, such as the Plaza Classrooms, the bookstore entrance, and the Appleby Center.
4. Greenboxes: Greenboxes are reusable to-go boxes in the cafeteria. At the beginning of the school year, SGA bought more than 500 greenboxes and distributed them to first-year and transfer students. SGA's goal was to encourage students to use greenboxes and decrease paper boxes.
5. Beloved Community Initiative: Sophomore Senator Isabella Ordaz and Senior Senator Omari Allen started the Beloved Community Initiative, which is a partnership between SGA and ICA, to create settings and spaces to discuss diversity and inclusion. The Beloved Community Initiative has held events such as open-mic nights in the Sandbar.
In the works:
6. Gender Neutral bathrooms: SGA noticed that to onl gender neutral bathrooms were only in freshmen dorms and nowhere else on campus. SGA hopes to make the second floor HAWC bathrooms gender neutral to allow a safe space for transgender students. The gender neutral bathrooms will also allow a person with disability to be accompanied into the bathroom with a caretaker of the different gender.
7. Armenian Genocide Recognition: SGA has agreed to advocate with the Armenian Student Association to encourage Pepperdine to officially recognize the Armenian genocide. Part of the advocacy is to plant and dedicate a tree to commemorate the Armenian genocide.
8. Indigenous People Recognition: On the second Monday of October every year, SGA will recognize Indigenous Peoples' Day. SGA hopes that in recognizing Indigenous Peoples' Day, administration will also recognize the importance of Indigenous Peoples' Day.
9. Funding for Lovernich commons and Towers printers: SGA is hoping HRL will support their efforts to place printers in Lovernich Commons and Towers. SGA will allocate funds for the project, paying for the printers, ink and paper. Students will pay the same price to print as they would print at the Sandbar.
__________
Follow the Graphic on Twitter: @peppgraphic