Photos by Channa Steinmetz
Pepperdine's student-run organization, Beloved Community, held their first open mic night Friday, Feb.17 in the Sandbar. Students were welcomed by warm coffee, cupcakes, upbeat music and a call to conversation. Performances ranged from singing to spoken word, and afterward, the mic was open to anyone who had a thought or story to share.
Student co-founder and director of Beloved Community Isabella Ordaz explained the purpose of both the event and organization.
"It was to encourage students across different campus communities to gather together and talk in a critical way about Pepperdine's climate and culture," Ordaz said. "We want to create a campus of great inclusion and a campus that is celebratory of diversity."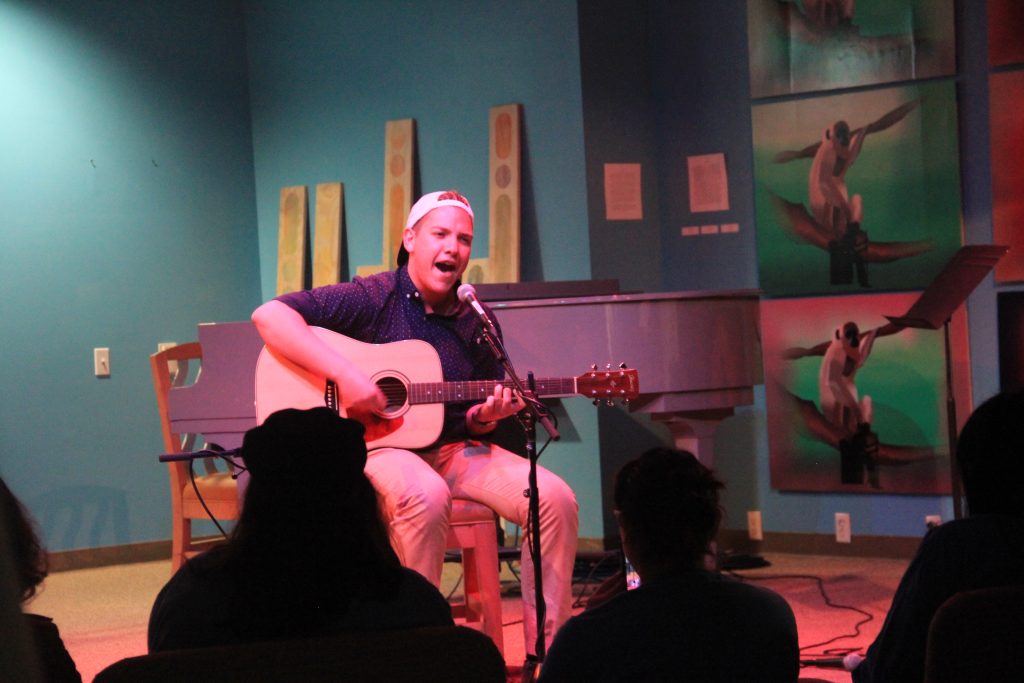 Dylan Sacenti sang "Angel Down" and played guitar.
The performers also shared what this event meant to them and why they found it important. Student Dylan Sacenti played guitar and sang "Angel Down" by Lady Gaga. Sacenti said he felt called to perform this song.
"When I first heard this song a few months ago, I was so touched by it," Sacenti said. "It's a tribute to Trayvon Martin, and it is a call to action for social change."
"We are all brothers and sisters on this Earth and injustice in any community is an injustice in every community," Sacenti said. "Together, we're strong. We can be the generation that provides justice for everyone regardless of ethnicity, gender, sexual orientation or religion."
Injustice was an inspiration to another performer. Olivia Robinson performed an original piece in an art form known as spoken word — a form of poetry meant to be performed with emotion and power.
"Injustices inspire me," Robinson said. "Whether they're on the scale of a social level or individually between people. Injustices are something that catch my eye. I want to talk about them, resolve them and see what we can do to prevent them from happening again."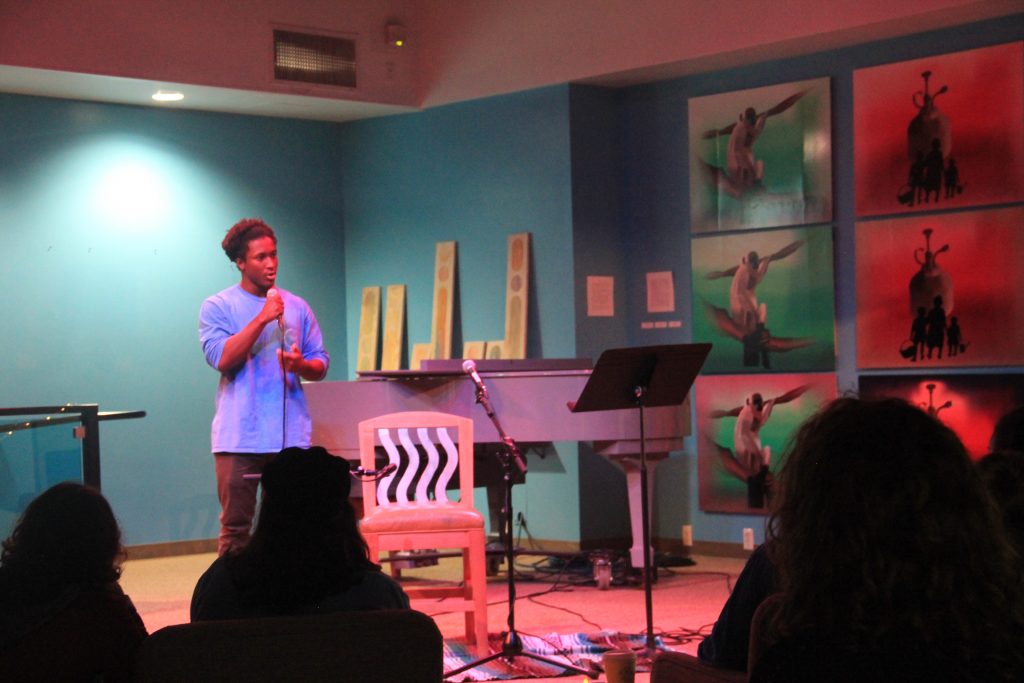 Valentine Douglas performed his original spoken word.
Another performer, Valentine Douglas, found inspiration in his faith and in the Bible. Douglas performed an original spoken word. He said he had planned to sing, but God was pulling him toward this direction.
"I quoted Ephesians 6:12, which talks about how our enemy is not flesh and blood," Douglas said. "Our enemy is spiritual forces. God has been speaking that message to me for a really long time. And with engaging in Black History Month, God has been really making me figure out what it means to love. Loving really came to me as something that was unconditional, as God shows us. So I wanted to explore that concept."
Some inspirations can come from what is within us. Peace Ikediuba performed spoken words "All Lives Matter 1800s Edition" by Anthony McPherson, and "Black Privilege" by Crystal Valentine. Ikediuba explained that those pieces reflected many things she has wanted to say, and the open mic night was the right situation to do so.
"Those pieces are real and authentic and honest," Ikediuba said. "I don't think a lot of people get to hear their messages. For me, being Black and being a woman and understanding the repercussions of just being alive, it was important to share."
Beloved Community is planning on hosting two more activities to go along with two convocations, according to Ordaz. The activities are designed to be engaging and interactive with students. All students are welcomed to be a part of the conversation, despite how different views may be. One event is planned for March and the other for April.
For more information on Beloved Community's events, visit their Facebook page.
__________
Follow the Pepperdine Graphic on Twitter: @PeppGraphic