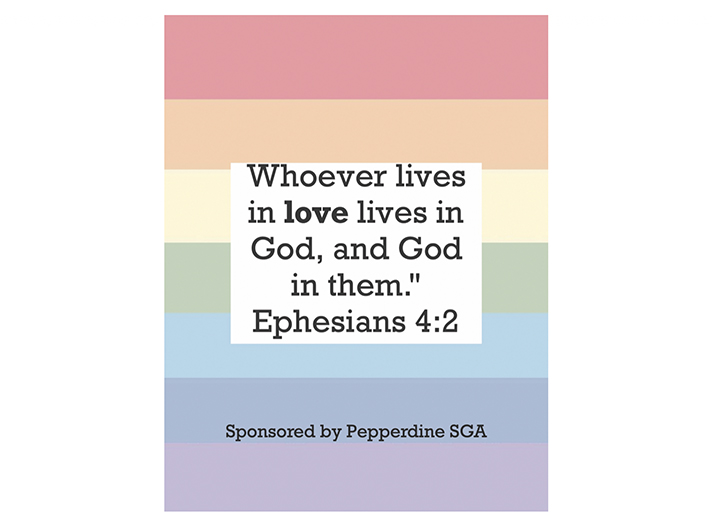 Poster by Mary Buffaloe
The Student Government Association (SGA) passed a resolution Wednesday, Oct. 23, which denounces hate speech and homophobia on campus. The resolution was brought forward by Senior Sen. Daniel Iturri, who said this particular issue motivated him to get involved in student government.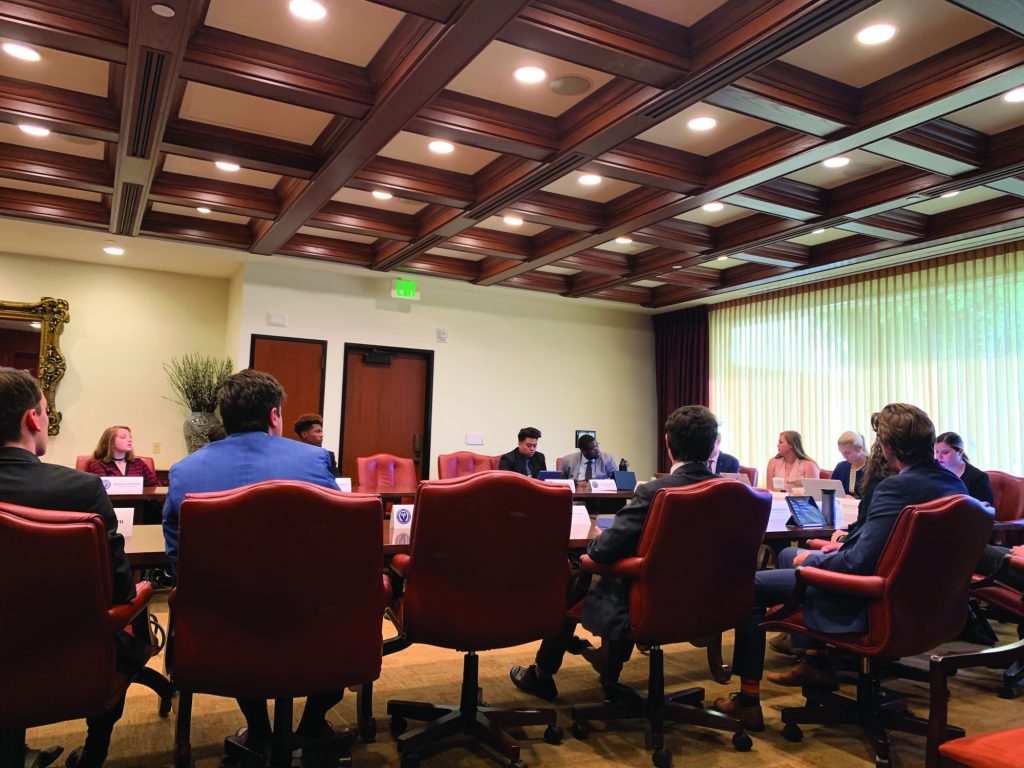 SGA Members met in the TAC boardroom to discuss the resolution. Photo by Alex Neis.
"One of the main reasons I got into SGA is because I wanted to make a difference in the way queer students perceive Pepperdine and the way Pepperdine interacts with queer students," Iturri said.
The resolution states that "SGA denounces all forms of hate speech against queer students by actively establishing a more inclusive environment on campus for the LGBTQ+ community."
In addition to the support of SGA members, two students also attended the meeting to show their support for the resolution.
"I came because I'm aware of the history of the LGBTQ+ community on campus," junior Juan Carlos Hugues said. "I think it's a great thing to finally honor the sacrifices that these people have made by coming to an institution where they're really not accepted, persistently trying to normalize their lives here on campus."
Iturri addressed several instances of homophobic comments on the Freedom Wall which, Iturri said, made queer students feel uncomfortable and unwelcome.
"Most recently, homophobic remarks were written on the 'Think before you sign' display," Iturri said. "This is one problem that prompted me to present this resolution."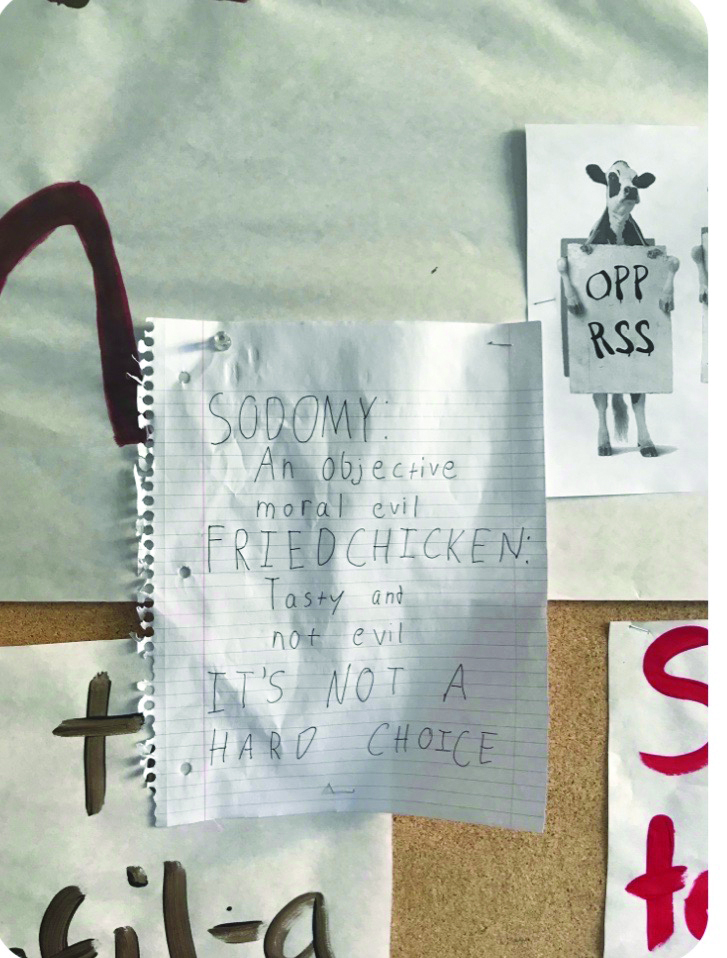 A homophobic comment posted on the Freedom Wall's "Think before you sign" display. Photo courtesy of Juan Carlos Hughes.
Iturri said he has seen homophobia and hate speech posted on the Freedom Wall before this, and that as far as he can tell, it has gone without response.
"If no one else was going to say anything, then I felt I had to do it," Iturri said.
According to the resolution, "SGA must take a firm stance against hateful rhetoric and make queer students feel safe on campus."
Iturri clarified that the resolution does not limit students' right to free speech on the Freedom Wall and that the university will continue to allow it to be used an open space for conversation.
In addition to addressing specific instances of hate speech, Iturri said queer students will feel safer if SGA affirms their right to be their true selves without fear of discrimination.
Although he anticipated that the resolution would pass, Iturri was surprised that so many SGA members were vocal in their support of the idea.
"I did not expect so much support for it; a lot of people were speaking in favor of it," Iturri said. "People tend to be more quiet when controversial issues come up, but I was really happy to see everyone speaking in favor of it."
Junior Mary Buffaloe was the other student who attended the meeting.
"I came as a gay student who is concerned and sometimes doesn't feel safe on campus, and to support Daniel," Buffaloe said.
Buffaloe also contributed to the resolution by creating posters, sponsored by SGA, to be posted on main campus in an effort to demonstrate their support of the LGBTQ+ community.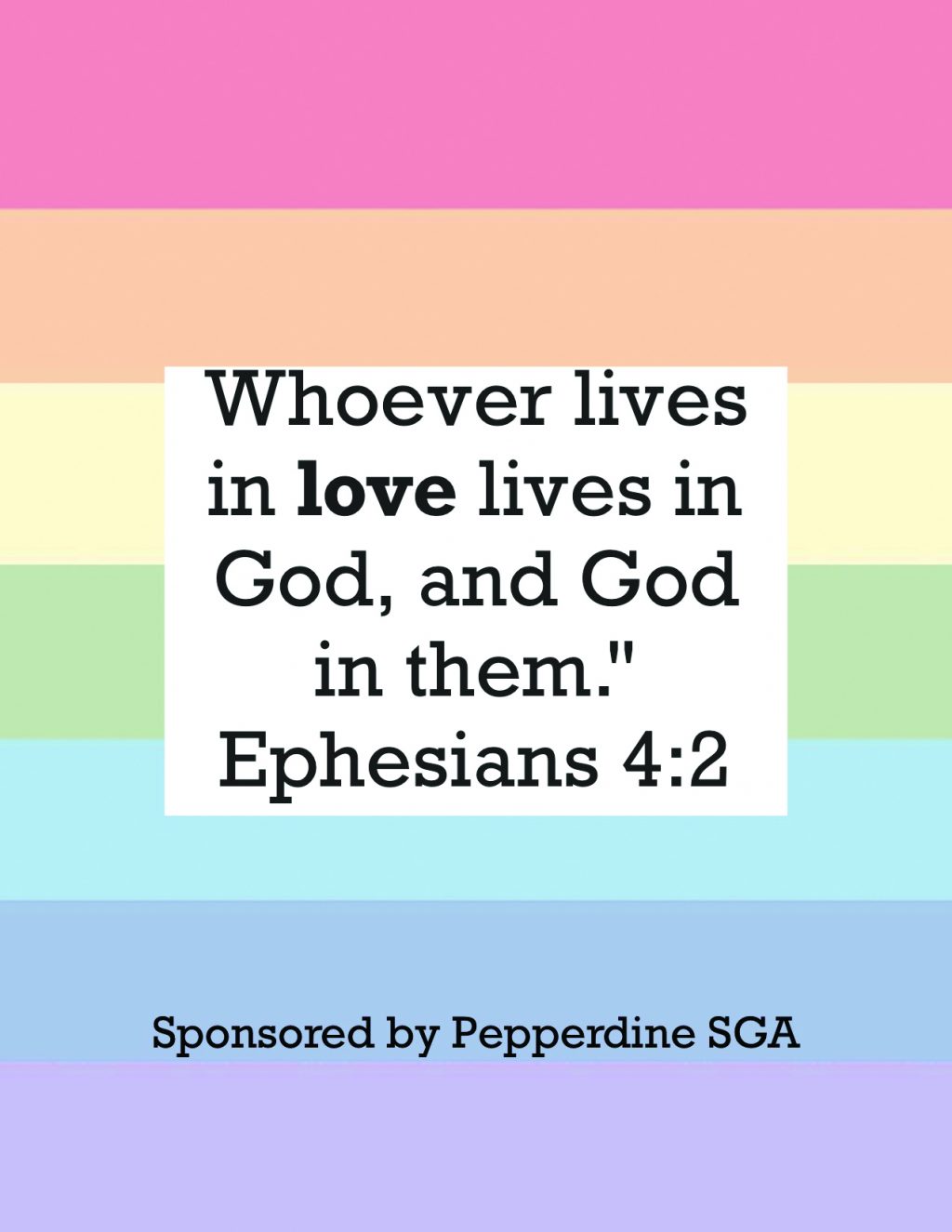 Poster by Mary Buffaloe.
Iturri said he plans to use the resolution in conversations with university officials to demonstrate that queer inclusion should be a priority.
"If this resolution is passed, I will use it to show university officials that the student body cares deeply about the queer community and wishes to see further inclusion and acceptance from the administration," Itirri said in his presentation of the resolution.
Iturri said he met with Maura Page, director of Residence Life, to discuss ways in which HRL can be more inclusive of queer students.
While Iturri said he hopes the resolution will make LGBTQ+ students feel more welcome at Pepperdine, he recognizes that the university still disapproves of LGBTQ+ relationships.
According to the Code of Conduct, "Pepperdine University affirms that sexual relationships are designed by God to be expressed solely within a marriage between husband and wife… all members of the university are expected to avoid such conduct and to respect this understanding of sexual relationships."
"I know there are administrators and people in the church who haven't met LGBTQ+ students and don't really understand them," Iturri said. "That's why I want to use this resolution, which the entire SGA approves, to say, 'Look! Students care! People that are in the Church of Christ, women, men, people of color, everyone agrees with this.' [The administration] should at least recognize that."
__________________________
Contact Alex Neis: Alex.Neis@pepperdine.edu