Photo courtesy of Juan Carlos Hugues
Students' dreams of not having to drive through the canyon for Chick-fil-A sandwiches and nuggets are on hold.
In an email sent to the student body Oct. 11, SGA President Meredith McCune wrote that the university's administration is not considering the topic of adding Chick-fil-A as an external food vendor on the Malibu campus at this point in time.
The announcement came one week after SGA created a petition on Change.org that asked students to sign in support of opening a Chick-fil-A franchise on campus. The petition has garnered over 1,000 signatures since it was created Oct. 2.
No Additional Food Options In Near Future
University President Jim Gash wrote in an email statement to the Graphic that the administration is working to secure a new dining services contract as Pepperdine's contract with Sodexo ends on Aug. 1, 2020. Because of this, the university "is not exploring, adding to or subtracting from the dining options currently offered and will not be doing so at any time in the near future," Gash wrote.
Gash assured that students will be involved before the administration changes Pepperdine's food services.
"Before any decisions about changes to the dining options are made, those tasked with managing food on campus will engage in extensive discussions with our students about the food choices that are most desirable and of interest to our students," Gash wrote. "This discussion will not be driven by petitions, but by dialogue."
The administration is still in its early stages of securing a new dining services contract.
In a email to the student body Oct. 10, the administration wrote that a university committee is "reviewing various companies, including Sodexo, to determine whether it is best for the university to select a new dining services partner or retain our current provider."
The university will determine a list of finalists by Nov. 22 and will select the final dining service partner by Dec. 11, according to a timeline released by Pepperdine Dining Services.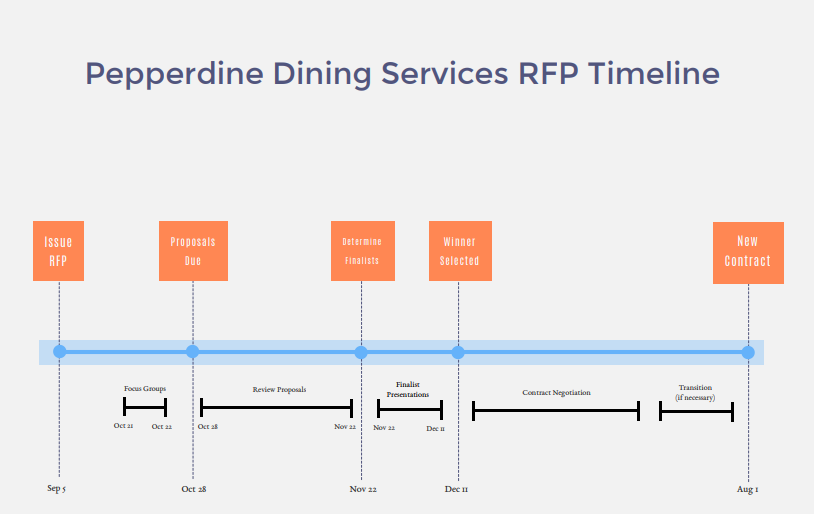 Timeline courtesy of SGA President Meredith McCune
Because discussions regarding Pepperdine's dining services are just starting, McCune wrote that "until a proper plan and timeline has been established, then the topic of bringing an external food vendor onto campus has been paused."
McCune wrote that SGA realizes the Chick-fil-A petition was "created prematurely."
In an email statement to the Graphic, McCune wrote that the SGA representative who created the petition "now understands that sending out a survey with a greater variety of food options would have been better, because it would have allowed the student body to specifically comment on what external vendors would be best if brought onto campus and why."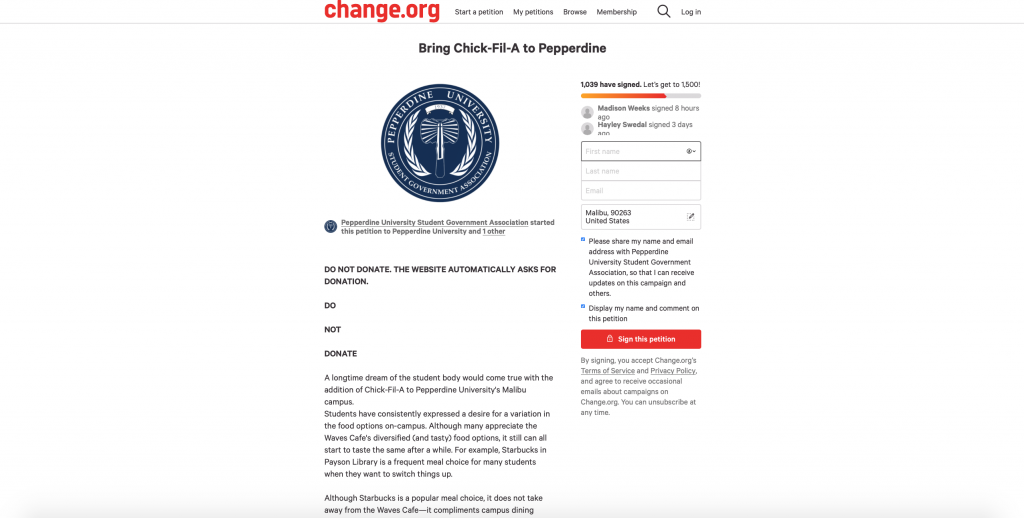 Screenshot of SGA's "Bring Chick-fil-A to Pepperdine" petition

Student Responses to SGA's Chick-fil-A Petition
Freshman Camryn Gardener was one of over 1,000 students who signed SGA's petition in support of bringing Chick-fil-A to campus.
"I signed the petition because Pepperdine is lacking food options, and it would be great to have another option on campus," Gardener said.
Junior Christopher Jerabek said he also signed the petition to show his support for adding more food vendors on campus.
"The Caf is fine for like the first week on campus, but it gets old really fast – same thing with the HAWC and Starbucks," Jerabek said. "It doesn't have to be adding just Chick-fil-A, but it is important to have diversity."
Pepperdine junior Juan Carlos Hugues created a petition titled "Think Before You Sign" in response to SGA's petition. Hugues said that the petition was meant to highlight how opening a Chick-fil-A site on campus could marginalize LGBTQ+ students.
"Chick-fil-A has had a history of donating to organizations that do not support same-sex marriage and fund conversion therapy programs," Hugues said. "Having a Chick-fil-A franchise on campus would be a symbol of hatred on campus because it would be constant reminder to LBGTQ+ students of the history this organization has had against their own human rights."
Hugues said he created the petition after a friend asked him how he felt about the SGA initiative as a LGBTQ+ student at Pepperdine.
"His question of 'What do you think?' made me feel like I had to be more vocal about how I feel because the status quo here is heterosexual," Hugues said.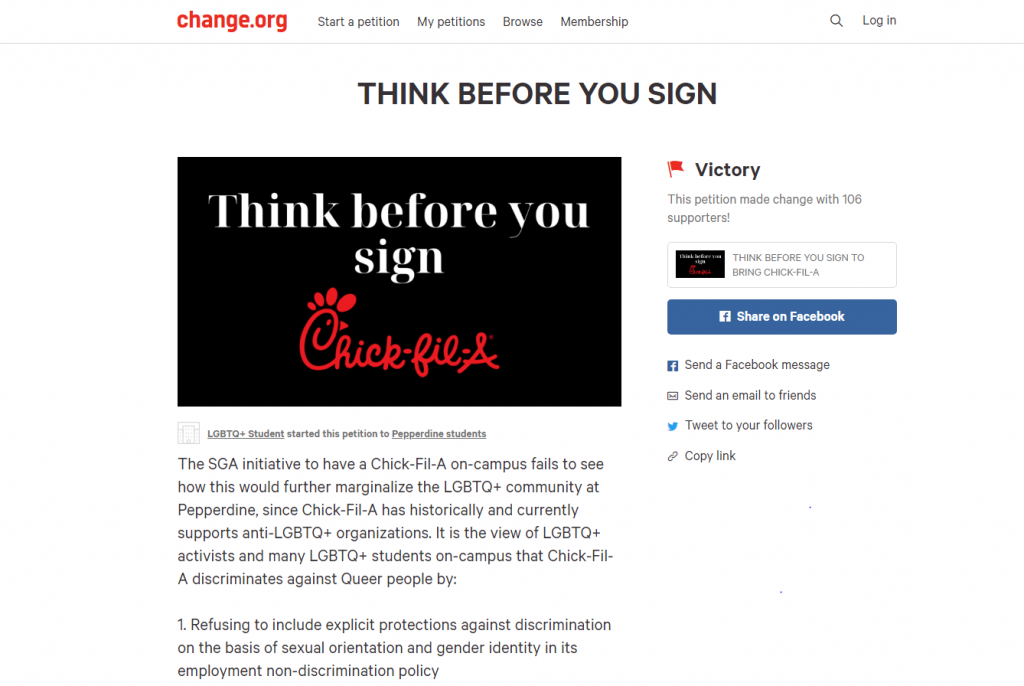 Screenshot of Juan Carlos Hugues' "Think Before You Sign" petition
The petition garnered 106 signatures.
Senior Adrian Manzo said he did not know about Chick-fil-A's affiliation with anti-LGBTQ+ groups until he saw Hugues' petition.
"It definitely surprised me and shifted my viewpoint from being supportive to having it on campus to being completely against it being here," Manzo said.
Manzo ultimately signed the "Think Before You Sign" petition after reading up on past criticism and controversies related to Chick-fil-A.
"If we want be more inclusive and more caring about other groups, then we need to take into consideration that bringing Chick-fil-A to campus would not have been a good thing for everyone, just the majority," Manzo said. "When you start catering to the majority compared to smaller groups, that's when you start having discrimination and inequality."
Hugues also posted a display on the Freedom Wall on Oct. 10 with posters that read, "Put your money where your conscious is Pepperdine" and "We need to take a stand for students who feel marginalized by Chick-fil-A's presence on site."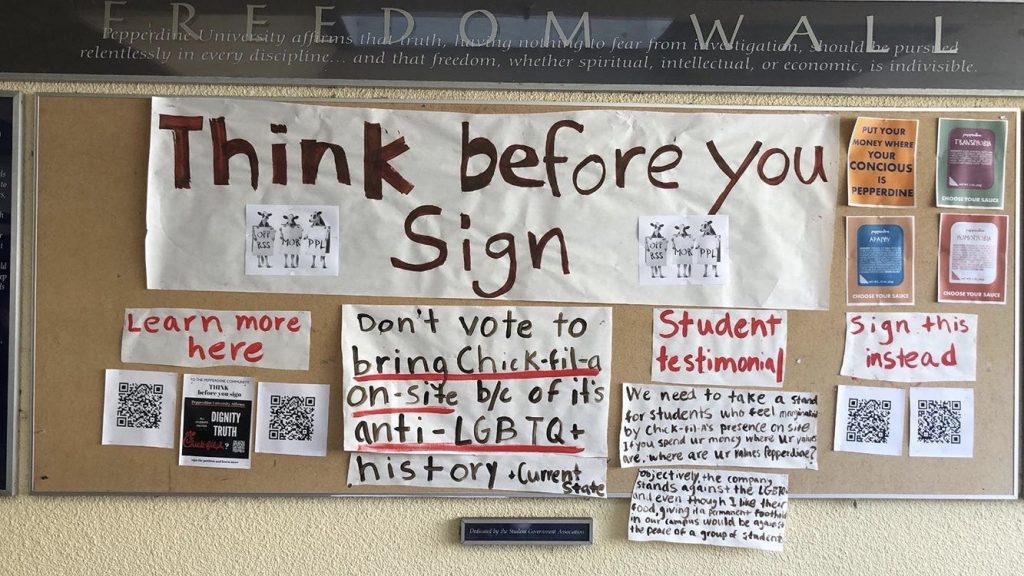 Photo courtesy of Juan Carlos Hugues
Hugues said he knows students who signed SGA's petition may not have done so with intentions to attack or criticize LGBTQ+ individuals.
He said his efforts were simply to inform people about Chick-fil-A's past donations to anti-LGBTQ+ groups and to highlight how LGBTQ+ students felt about the topic of having Chick-fil-A on campus.
"I do not condone people who eat Chick-fil-A at all," Hugues said. "I believe we are all for bringing food options on campus. But I think we can all compromise with one thing that benefits all communities at Pepperdine because if we are an inclusive and diverse community, then we should do things that work for everyone and not just for the majority of students."
Hugues met with SGA representatives to express his concerns and said SGA was receptive to his comments.
"The freshmen senators I presented my petition to saw where I was coming from," Hugues said. "I think they are reconsidering how [the initiative] may not be the best path and how there may be a better path where everyone is included on campus, and that was reassuring."
McCune wrote to the Graphic that SGA responded to Hugues' concerns "by emphasizing SGA's inclusion initiative to ensure that all students feel accepted and included in SGA policies and discussions."
Hugues' petition has stopped collecting signatures online. SGA's petition is still active on Change.org, but McCune stated that SGA will not be considering any petitions or resolutions related to adding on-campus food options any time soon.
Pepperdine currently has two external food franchises on campus, Jamba Juice and Starbucks. Sodexo secured both vendors for Pepperdine.
_______________________
Contact Kayiu Wong via Twitter: @kayiu_wong and email: kayiu.wong@pepperdine.edu