Photos by Matt Benton
Dead, maimed or malnourished sea lions, mostly pups, are being washed up or stranded on shore nearly every day on the beaches of Malibu. The majority started showing up at the beginning of the year.
The number of sea lion pups being found in local marinas and on the beaches is five times the normal amount for this time of year, said Raymond Simanavicius, manager for marketing and development for the Marine Mammal Care Center in San Pedro. A normal number of animals reported or rescued for the entire year is around 500, he said. As of last week there have been more than 350.
The California Wildlife Center is handling the bulk of the pups reported or brought in by Malibu visitors and residents, Simanavicius said. The CWC is equipped to care for only 25 pups at a time. All the others are transferred to MMCC, which was previously the only facility in LA County with the ability to care for sea lions in this condition. The MMCC doesn't physically assist with the recovering of any stranded animals, he said.
"We are not a rescue agency," Simanavicius said. "We rehab and release. We are an animal hospital."
Sophomore Morgan Matley said there hasn't been a time this year she has gone to the beach without seeing a sea lion that appeared to be in some kind of distress. Matley also said she was hiking near Point Dume this past week and saw 10 carcasses, all of them pups except one.

According to the National Oceanic and Atmosphere Administration, the influx of dead and malnourished pups is due to warm El Nino like winds coming through and creating warmer-than-normal ocean surface temperatures. Small, fatty fish like sardines and anchovies are moving deeper to find cooler water, making it difficult for sea lions to feed on them.
January to June is the busy season, Simanavicius said. The mother sea lions will leave there pups for longer periods of time to go out in search of food. Sometimes they will be gone up to three or four days, which is more than twice as long as normal. The pups, who are only 6 to 7 months old, are still nursing off their mothers and can't yet eat solid food. They don't have the lung capacity needed to follow them, and they eventually get hungry. The pups decide to go out in search of their own food and get stranded. The lucky ones are rescued and eventually end up at the MMCC.
Malibu isn't the only area experiencing an abundance of sea lion pups in need of rescue, Simanavicius said. Calls have come in from the Palos Verdes Peninsula, Dockweiler Beach and Manhattan Beach. Because of the widespread flood of animals, other organizations like Marine Animal Rescue, a non-profit based out of El Segundo, and Long Beach Animal Control have been assisting with the recoveries.
Simanavicius said he appreciates all the help he can get, but the influx of sea lion pups is pushing his and other facilities to their absolute limits.
"Marine Animal Rescue doesn't have [housing] facilities," he said. "So they bring them to us and the CWC."
The number of sea lions in need of rescue was also well above average in 2013. The count was high enough that the MMCC declared it an "unusual mortality event," Simanavicius said. To put this year's problem into perspective, he said they are expecting to see twice the number of animals they did in 2013.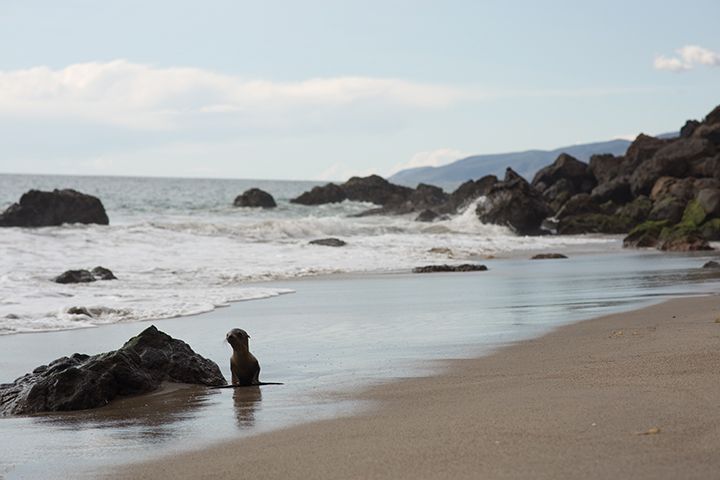 Justin Viezbicke, the stranding network coordinator for the National Marine Fisheries Service, said the facilities can only take in so many animals, and it's going to be impossible to rescue them all.
"We're doing all that we can, but the reality of the situation is that we're not going to be able to get to every animal," Viezbicke said.
NMF learned a hard lesson in 2013, Viezbicke said. If the facilities try taking in too many animals, it will ultimately decrease the level of care for all the animals there. The plan of attack for this year is to help as many sea lions as possible and also to document and learn in preparation for future events.
According to an article posted on the LA Times website on March 23, titled, "Sea lion bites 5-year-old boy on face in La Jolla," there was an incident that involved a small boy sustaining a puncture wound to his lower jaw after being bitten by a sea lion at La Jolla Cove. The incident was reported to NMF and everyone is being reminded that if they see a sea lion in need of rescue, not to approach it but to call in and report it.
Some of the calls that come in are false alarms, Simanavicius said. Sea lions that are often just resting out of the water, on rocks or buoys, get mistaken for those in distress. Residents of Malibu are encouraged to call the CWC at (310) 458-WILD, if they spot a sea lion pup or any other animal in need of rescuing.
The crisis has already attracted global attention, Simanavicius said. Last week, reporters from Australian, Italian and Japanese news outlets came to see the center and speak with him and other members of the staff. A representative from National Public Radio (NPR) also came for more information, he said.
NMF will be hosting a conference on March 24 and 25 for all the animal rescue and rehab organizations in Southern California, Viezbicke said. NMF will be conducting informative lectures, training and also providing an opportunity for staff and volunteers from the different facilities to meet.
NMF isn't physically involved in the recovery or rehabilitation of any animals, Viezbicke said. He and his staff work in the federal building in downtown. Their main job is to issue permits and also to provide coordination and facilitation efforts to the organizations that are doing the actual rescue and rehab operations.
Simanavicus said the MMCC encourages anyone interested in helping out to visit the organization's website at www.marinemammalcare.org. Donations are needed and there are also great internship and volunteer opportunities, especially for those studying marine biology, he said.
All the organizations involved know they have their work cut out for them over the next few months, Simanavicius said. This year's crisis doesn't show any signs of slowing down.
"I'm sure that the way nature takes its course it will calm down after June or July but theres's no weather forecast that can see into this. Hope for the best and expect the worst," he said.
__________
Follow Alec McPike on Twitter: @alecmcpike