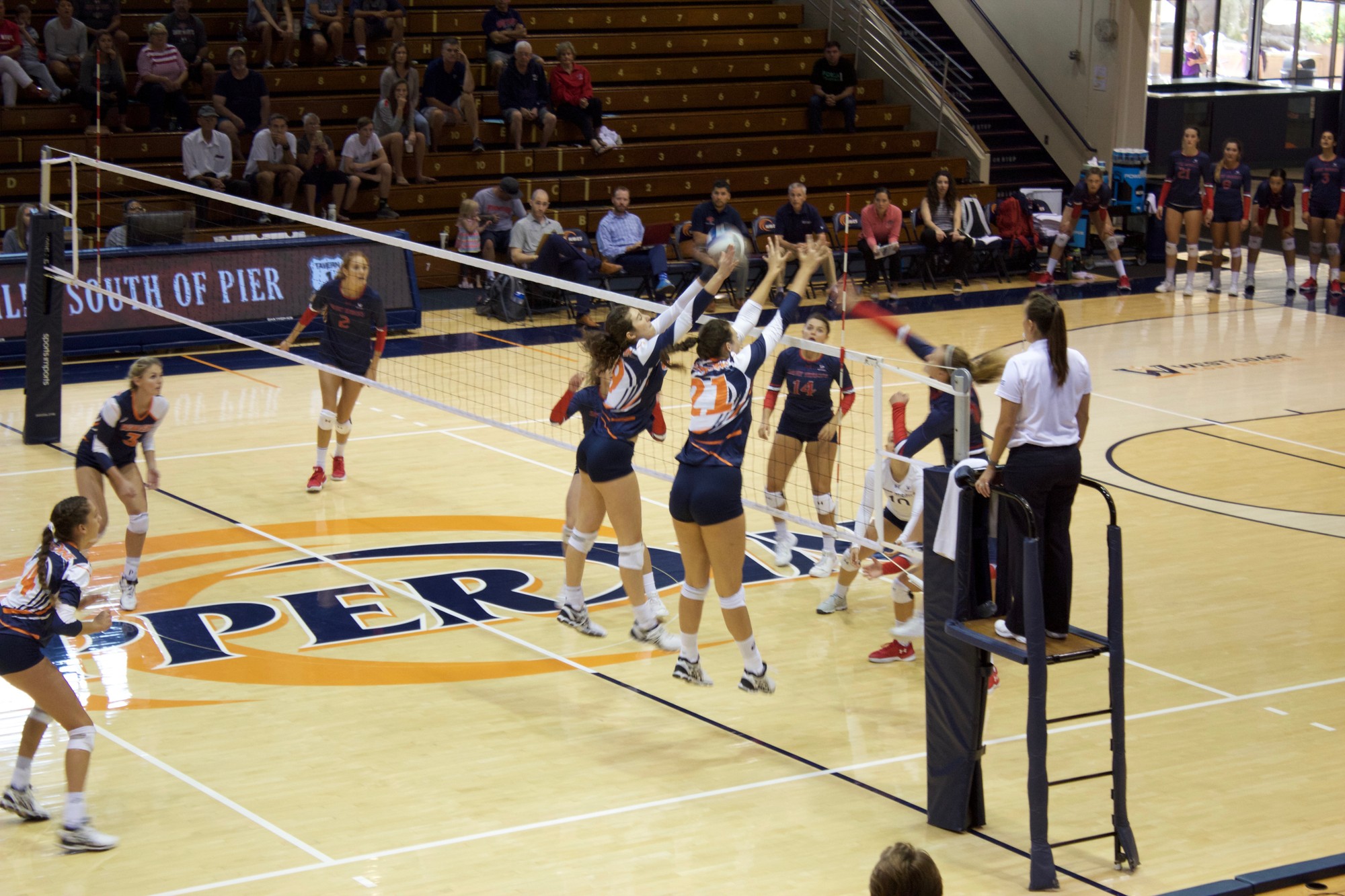 Photos by Arthur Puu
Pepperdine Women's Volleyball kicked off West Coast Conference play with four games in seven days, splitting the first two games on the road with a 3-1 win over Loyola Marymount (3-1) and a 3-1 loss to No. 9 BYU. The Waves returned to Malibu for the back end of the four-game week, hosting Pacific on Thursday and Saint Mary's on Saturday.
Pepperdine opened the homestand with a 3-1 win over Pacific on Thursday night, amassing 25-22, 25-18 and 27-25 set wins. Sophomores Jasmine Gross and Hannah Frohling led the way for the Waves: Gross secured her third career double-double with 11 kills and 10 blocks, and Frohling led the offense with 17 kills and posted her seventh career double-double with 10 digs.
In the first set, the Waves and Tigers kept it close, but Frohling's back-to-back kills and a clutch block secured set one for Pepperdine with a score of 25-22. The Waves dominated the second set, taking a huge 13-4 run behind red-hot offensive attacks from freshman Alli O'Harra and junior Nikki Lyons to take a 25-18 set two victory to go up 2-0.
In the third set, Pacific and Pepperdine battled closely, with Pepperdine taking an 11-10 lead, but Pacific rallied with a 10-3 run to win set three, 25-18 to make it 2-1. The Tigers jumped out to a late 24-21 lead in set four, but the Waves bounced back with a 6-1 run in extras to capture set four, 27-25, clinching the match 3-1.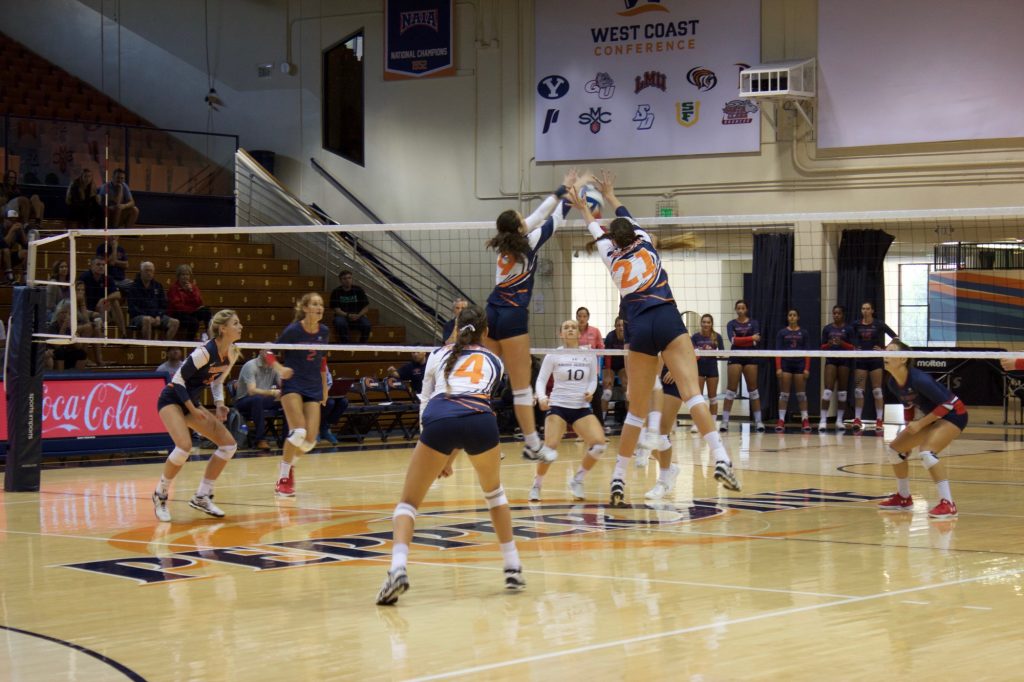 Set-by-Set Scoring (vs. Pacific)
Set 1: 25-22 (PEPP 1-0)
Set 2: 25-18 (PEPP 2-0)
Set 3: 25-18 (PEPP 2-1)
Set 4: 27-25 (PEPP 3-1)
On Saturday, Pepperdine finished the homestand with a 3-1 victory over Saint Mary's, collecting 25-18, 25-20 and 25-19 set wins. Gross led the Waves with a career-best 18 kills and six blocks while junior Heidi Dyer also notched a career-best 50 assists with nine digs.
The Waves began the match on fire, jumping out to an early 14-7 lead before Lyons and Frohling led the Waves to a 25-18 set one victory. The Gaels jumped out to an early 10-5 advantage in set two before Pepperdine rallied from behind to even the score at 22, but Saint Mary's closed out the set on a 3-1 run to take set two, 25-23 to tie it at 1-1.
Both teams battle throughout the third set, going point for point, but the Waves took a late 5-1 run to clinch set three, 25-20 to go up 2-1. In the fourth set, Pepperdine trailed early, but rode a momentous 12-3 run led by Ashley Harris and Gross to take a set four, 25-19 to win the match 3-1.
Set-by-Set Scoring (vs. Saint Mary's)
Set 1: 25-18 (PEPP 1-0)
Set 2: 25-23 (TIED 1-1)
Set 3: 25-20 (PEPP 2-1)
Set 4: 25-19 (PEPP 3-1)
Quotables:
On starting 3-1 in WCC play: "Every win in conference is a big win," Head Coach Scott Wong said. "For us to be 3-1 is awesome, and since our game against BYU, we've been playing really well. Hopefully we can continue this momentum on the road."
On setting a new career high in kills: "We played amazing and Heidi [Dyer] was giving me some amazing looks," Gross said. "[I've] got to give credit to her as well as the rest of my teammates for all the great looks on offense. I'm really happy we got the win."
On the upcoming road trip: "Gonzaga and Portland are both really good teams, they've been playing good volleyball," Wong said. "It's another good road test for us and we have the goal of being great on the road so we just got to stay prepared and focused."
Up Next:
Pepperdine hits the road for a match against Gonzaga on Oct. 5 at 6 p.m. before traveling to Portland on Oct. 7 at 1 p.m.
___________________________________
Follow Arthur Puu on Twitter: @arthurpuu