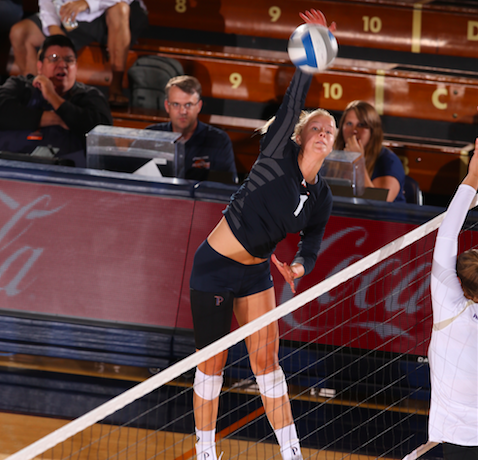 Photo Courtesy of Pepperdine Athletics
Sophomore outside hitter, T-Swift fan and lover of fried rice Hannah Frohling is an exceptional contributor to the success of Pepperdine Women's Indoor Volleyball team. Not only did Frohling perform well in this past weekend's match against LMU, making nine kills, eight digs and two blocks with a .219 hitting percentage, she has consecutively done so in the past 17 matches.
All in all, Frohling is a force to be reckoned with on the court. This sophomore standout, daughter of Ralph and Michelle Frohling, has loved volleyball for as long as she can remember.
"I love volleyball because of the team aspect," Frohling said. "It is so special to me to get to battle on the court with my teammates every day and experience the highs and lows together. Volleyball is the ultimate team sport and every individual part has to work for the whole team to have success."
The Oklahoma native is a Sports Medicine major who wants to "help all kinds of athletes to perform the best they can for as long as they can." Frohling is excited to be back at Pepperdine and is thrilled for what the season will bring.
"Lots of programs have good athletes, and we do too, but I think what sets us apart is how much we care for each other on and off the court," Frohling said. "We are quick to pick each other up, but also are able to push each other physically to be the best we can be."
The Women's Volleyball team has four new players this year: three freshmen and one junior. The roster has players contributing at every level and a unity that surpasses age, playing time or anything, for that matter. The team loves spending time together outside of volleyball, and singing and dancing are always involved in the mix.
"[The newcomers] have each fit into our team culture so well," Frohling said.
Even the new freshmen are earning the team essential points in matches. Freshman Alli O'Hara is currently fifth on the team in kills, with 73, according to statistics on Pepperdine's athletic site.
Frohling noted the efforts of junior setter Blossom Sato, a Mississippi State transfer, in this season so far.
"Blossom Sato has also really dominated the court and is such a force to play with," Frohling said.
Speaking of every individual playing their part, Frohling hopes to become a more consistent and dependable player for her team, specifically by working on her serve receive and being more terminal as an attacker.
The best way Frohling can achieve this goal is by getting in more practice and mentorship from Head Coach Scott Wong. Frohling attributes the leadership of the team as a whole to Coach Wong.
"My relationship with Scott is awesome," Frohling said. "He is always there to talk to and work through stuff with outside of volleyball, but he also knows the game really well and is such a great mind to have leading our team. I've been teaching him to solve a Rubik's cube recently, and he can do it now without any help! I am really glad Scott is our coach. I wouldn't want it any other way."
Coach Scott emphasizes being a great teammate and Hannah does exceptionally well in this area.
"Hannah contributes a significant amount to the team with her attacking, passing, serving, and ultimately in every skill of the game as outside hitters need to do it all, but the greatest contribution Hannah has had over the last year and a few months is her desire to be great and her desire for the team she's on to be great," Coach Scott said.
As a whole, the Indoor Women's Volleyball team talked about four specific values that they want to encompass as Pepperdine Volleyball. These values are mindfulness, grit, hunger, and trust, aka #MiGHT. With these values in mind, the team's primary goal is to win the WCC. With a strong team of 16 being led by amazing coaches, Frohling believes it's a goal they can meet.
"[Winning the WCC] won't be easy," Frohling said. "Our conference has some really talented teams, but when we are playing our best volleyball, we can compete with any team."
Frohling also reminisced on a highlight of her volleyball career at Pepperdine: the upset victory against San Diego in their final match of the 2016 season. She said San Diego ended last season as a top 10 team, and this road victory gave Pepperdine significant momentum moving into the offseason. Knowing that they could compete against and beat top-level teams in their league has been a huge motivator and confidence booster.
"I am really proud of how we played that day and how cohesive it all felt," Frohling said on the San Diego win.
The Women's Volleyball team's current record is 8-6, including a 1-0 record in WCC play. The Waves play at BYU on Tuesday Sept. 26 and against Pacific at home on Thursday Sept. 28.
_________________________
Follow Rachel on Twitter: @Reporter_RRipp