Photos by Kaelin Mendez
The Office of the Chaplain organized a prayer service for the community to unite, pray and mourn the victims of the Borderline shooting in Smothers Theatre at noon Thursday. Integrated Marketing Communication for the university streamed the service on a protected feed.
Sixteen Pepperdine students were present at the Borderline Bar & Grill in Thousand Oaks when a shooter opened fire Wednesday night. A local hospital treated and released two injured students this afternoon but freshman Alaina Housley died as a result of the shooting.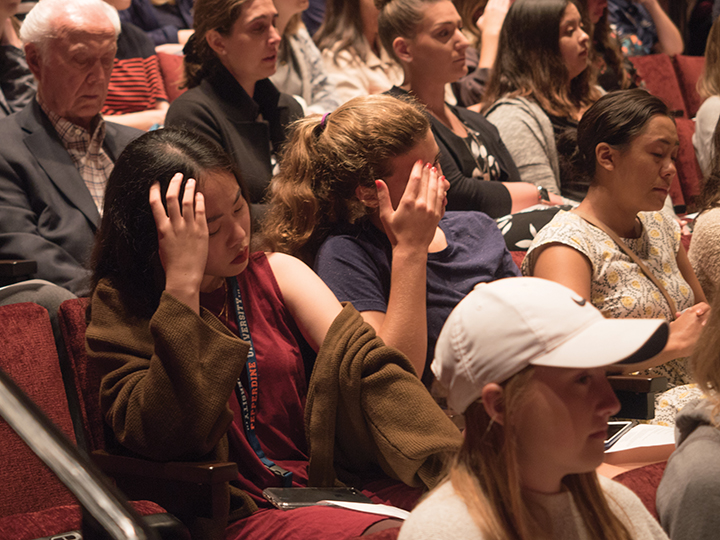 Students, staff, faculty and alumni lined up out the doors of the Smothers Theatre in silence before the prayer service began. The Office of the Chaplain laid out three tables with paper and pencils for attendees to write down their prayers and reflections for the office staff to pray over.
Attendees filled every one of the 448 seats in the theater with some also standing in the back. Organizers had to turn many away, sending them to Stauffer Chapel to watch the livestream instead. All students in International Programs could watch the livestream in their abroad houses as well.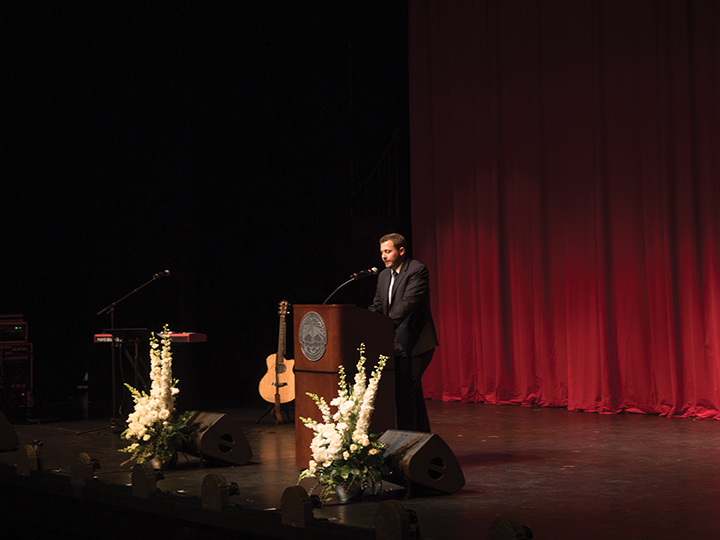 Chaplain Sara Barton began the service by welcoming all present in Smothers Theatre and those watching over the livestreams. She expressed her love for the entire Pepperdine community and said that through the service, Pepperdine engaged in a long tradition of Christians gathering in community in the midst of tragedies.
"No one wants to come together for reasons like the one that brings us here today," Barton said.
Countless sniffles and sobs broke through the moment of silence that followed and continued throughout the pained and emotional service. At multiple points, organizers passed out tissues to crying attendees.
President Andrew K. Benton took the podium next to express his emotional reaction to the tragic events.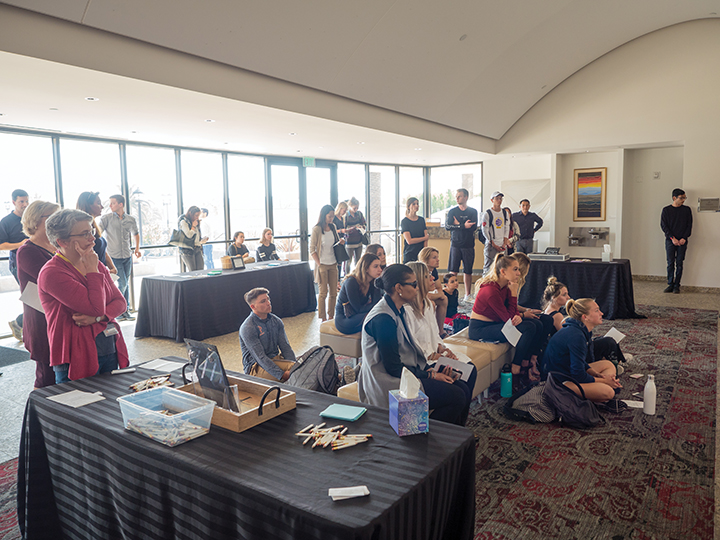 "Dear God, I cannot speak for You, but I am angry," Benton said. "Being angry does no good, but I am angry."
Benton then confirmed Housley's death, causing devastated wails to rise from the front where Housley's friends sat. He followed by quoting the Book of Isaiah 41: "Fear not, for I am with you; Be not dismayed, for I am your God."
"We will heal but we will never forget Alaina and and everyone who was taken from us last night," Benton said.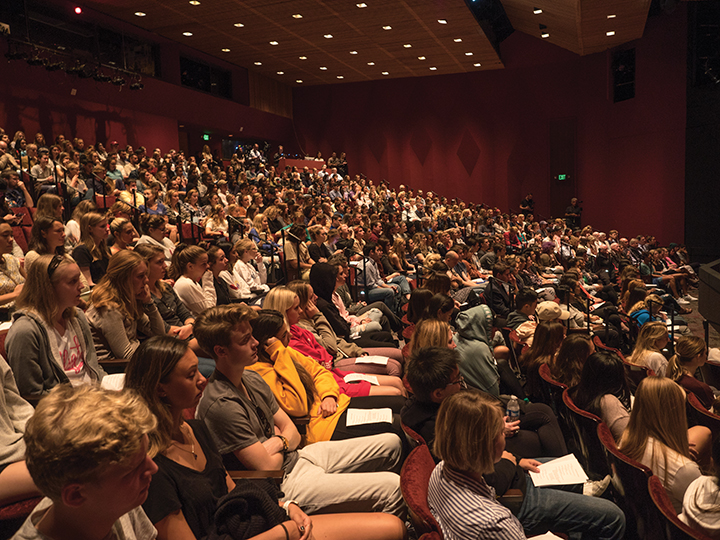 Student Government Association (SGA) President Austin Welch reminded students that SGA is mourning with them and available for them. He encouraged attendees to find safety and comfort in each other.
"We are more than just peers," Welch said. "We are family."
Rachel Yoshimura, Seaver Religion graduate student, read the Beatitudes.
Seaver Choir students then sang "Lord, Listen to Your Children Praying" by Ken Medema. Ida Nicolosi, adjunct professor of Music, taught Housley in Voice and organized the choir's participation in the service. Nicolosi said she received a call from Barton early this morning to put together a musical piece for the service.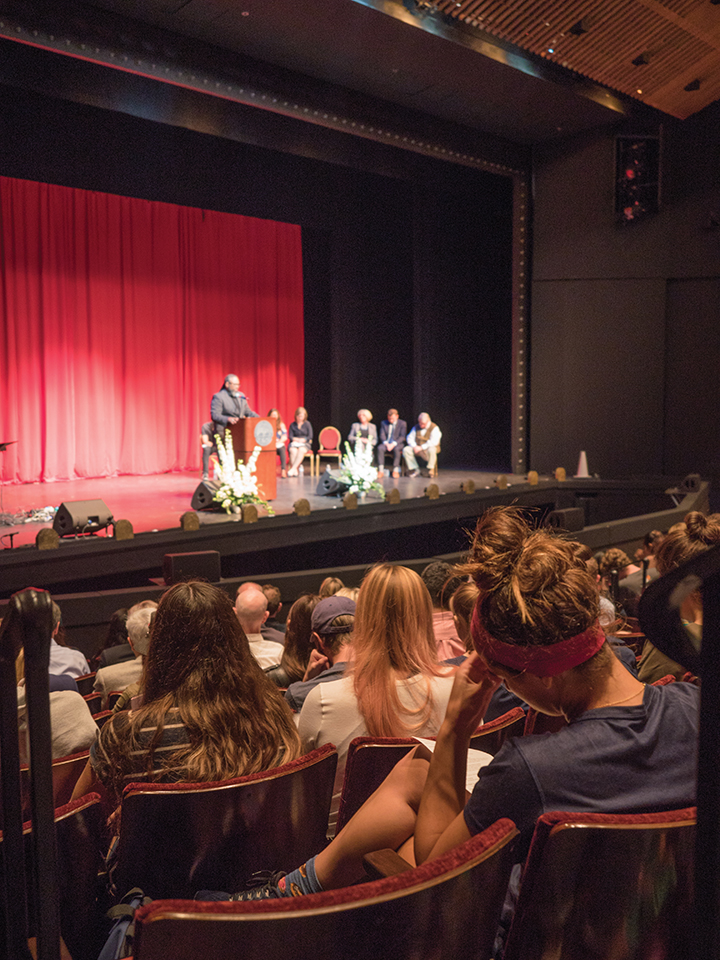 "I called upon my students and a lot of them were in the studio with Alaina," Nicolosi said. "We're like a family … Alaina was not a Music major, yet she palled around with the kids in our studio."
Nicolosi said that the students who sang during the service were not aware of Housley's death until Benton made the announcement to the crowd minutes before they walked onstage to perform.
"They are so courageous and wonderful," Nicolosi said. "They did such a good job. I was so proud of them."
Vice President of Student Affairs Connie Horton asked for a moment of silence to pray for peace before praying over the attendees and all impacted by the tragedy.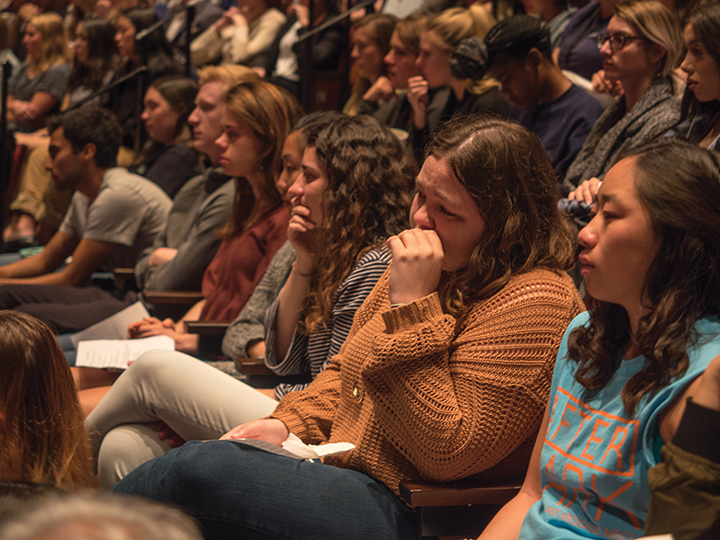 Associate Chaplain Eric Wilson then prayed for healing for a world "sick and tired of violence."
"There is a source of healing," Wilson said. "It is in the mighty name of Jesus … We want to be healed right now as a nation, a people, as Your kingdom."
Administrative Coordinator for the Office of the Chaplain Anneleise Graf played piano and sang Psalm 23 before Barton made closing remarks.
"There is no script for what happens next," Barton said. "Give grace to each other … Love one another as Christ has loved us."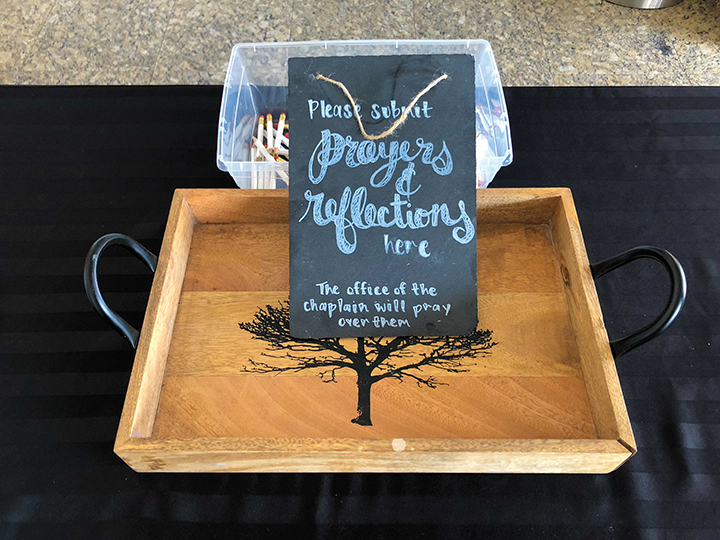 Many attendees remained in Smothers Theatre or outside the lobby to comfort one another long after the service ended. Staff, faculty, students and alumni all hugged and cried with each other; some were even strangers brought together solely by the service but showed love and support nonetheless, exemplifying Pepperdine's community values.
Senior Elizabeth Maccoy attended the service with her friends.
"I don't know if you can ever address something like this in the perfect way," Maccoy said. "I think [the university] did the best they could and it really meant a lot, but someone passing in the community is too much. I don't think the university will go on the same in any sense. I don't think there's any way they could go on the same."
Freshman Kaitlyn Ishii said she thought the service was very moving.
"I think the hardest part was hearing everyone crying around you and knowing that everyone around you is in pain and they're all feeling it," Ishii said. "It's very uplifting also, though, just to know that you're not alone in feeling empty at this point."
In this time of trauma, Barton reminded attendees to take care of themselves and not to suppress their emotions or shut joy out from their worlds.
"I will offer you my mom advice: eat, get fresh air, exercise, and talk about your feelings," Barton said. "It's OK to cry. It's OK to laugh."
Any students who are feeling distressed should seek out support on campus.
The Counseling Center is available for free, confidential support for students and can be reached at 310.506.4210 or at student.counseling.center@pepperdine.edu.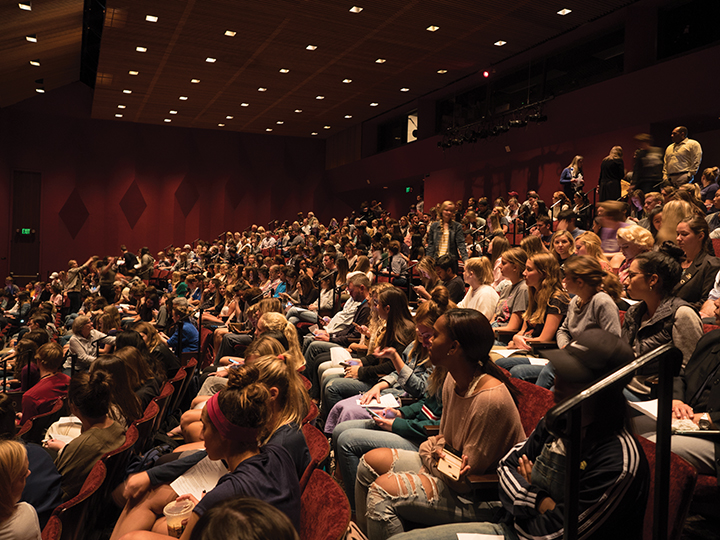 The Office of the Chaplain offers their staff as points of contact for students for both emotional and spiritual support. The Stauffer Chapel is open for students all day long with chaplains, ministers and counselors present. Celebration Convo will take place as usual Friday morning at 9 a.m. and 10 a.m. and will address the shooting and its aftermath.
Campus Ministry welcomes all students to visit their office to talk with staff and other students. The Well will take place as usual tonight at 8 p.m. and will address the tragedy. Campus Ministry also welcomes students to attend their church services this Sunday at 10:15 a.m. in Elkins Auditorium or at 5 p.m. in Stauffer Chapel.
______________________
The Graphic is reporting. For up-to-date reports, follow @PeppGraphic on social media.