Photo Courtesy of Pepperdine Athletics
Senior Hannah Seabert is taking a huge step in her soccer career in just two weeks. The goalkeeper is heading to Florida to start her professional career with the Orlando Pride on March 8.
Seabert was recently picked up by the Orlando Pride, a new NWSL (National Women's Soccer League) team added in the 2016 season. The pick up came after another milestone in her soccer career, her first National team camp with the U-23 team in January.
"I've never been in the national program, so it was definitely a new experience for me," Seabert said. "It was an eight day camp, there were four of us keepers, I was the only new keeper. It was kind of hard to adjust, having never been exposed to that level before, but I definitely think I improved even from that one week of training."
The U-23 team is typically a feeder team into the full national time, Seabert said, making this next step a huge one.
Not only did the camp help her improve her game, it got her in touch with the right people, she said. The goalkeeper coach for the U-23 team, Lloyd Yaxley, is also the goalkeeper coach for the Orlando Pride. Seabert says their connection was great and it sold her on heading to the Pride.
"We talked during the camp and he really liked me and saw potential and wanted to continue to work with me, so I chose to go over to the Pride," Seabert said. "I really liked how he trained me and who he is as a coach, so I wanted to continue to learn from him. It was a good fit between player and coach."
The Pride finished ninth in the NWSL last year in its inaugural season, finishing the season 6-13-1.
Seabert wrapped her Pepperdine career in the fall, finishing as Pepperdine's all-time leader in saves. Her teammates and coach commented not only on the quality of her game, but also of her character.
"She is one of the most humble people I have ever met, the constant sacrifices she made for the team truly made her an amazing captain and teammate, and the way she helped maintain the standards of our team through her leadership helped create an environment of togetherness," sophomore defender Michelle Maemone said. "Without her in net, we would never have accomplished what we had this past year. Hannah has been an inspiration to so many, and a role model for not just how she conducts herself on the field, but off the field as well."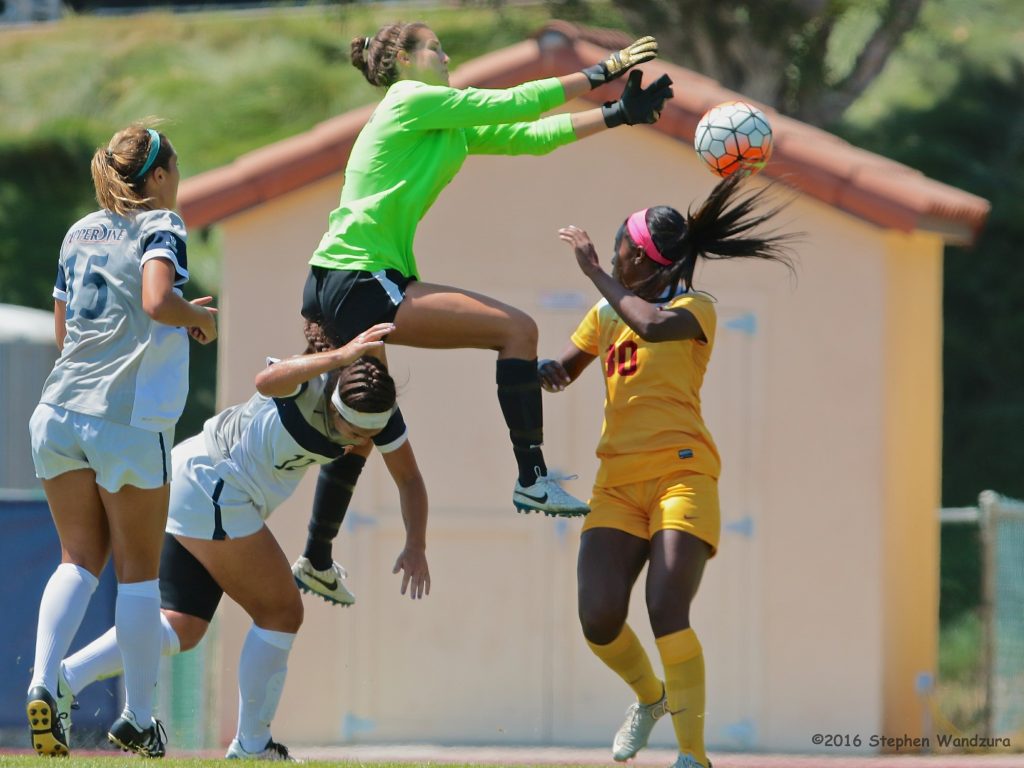 Seabert's fellow goalkeeper sophomore Brinna Lee said she contributed to a competitive environment at practice.
"Hannah was great to train with," Lee said. "She always made the environment really competitive and fun. Her focused training always pushed me and the other goalkeeper, Brielle, to do our best and strive for greatness. I'm definitely going to miss training with her everyday. As a goalkeeper myself, Hannah was someone I could look up to both on and off the field."
Head Coach Tim Ward said in an email that Seabert's skill and attitude will extend to her professional career.
"Not only was she fantastic in goal, but her maturity and wisdom off of the field gave our team such a stable platform to build from," Ward wrote in an email. "We have no doubt she will continue to do at the professional level what she has done the last four years here at Pepperdine… And we are so very excited for her on this next chapter in her amazing story!"
Seabert is the fifth Wave to play in the NWSL. Most recently, her Pepperdine teammate Lynn Williams was voted MVP of the NWSL last season after winning the National Championship with the Western New York Flash.
Seabert said she heads to this next phase with more experience thanks to her recent U-23 camp.
"I'm glad that I got exposed to that before I move on to go play professionally because I know what the standards are and what I need to work towards," Seabert said.
Seabert, who earned WCC All-Academic Honorable mention in her final season, will move to Florida next month. With the help of her professor, she will be able to complete her degree from Orlando while she pursues her dream. The second semester senior is only enrolled in one class, and will be Skype-ing into class sessions and completing her assignments through email.
"I'll come back for finals and graduation week and be able to take part in that," Seabert said. "It's kind of a bummer, missing out on that last part of senior year and being with everyone, but it's definitely worth it."
Her teammates expressed that same sadness over Seabert leaving Pepperdine, but said they were more proud.
"I'm so proud of Hannah going professional," Lee said, "She has really put in the work and I don't know anyone more deserving of this opportunity."
"It's amazing to see her paving the way for future Pepperdine Waves to follow in her footsteps," Maemone said. "I know big things are in store for her and I am so excited to see how God uses her and her talent to make Waves out in the professional world."
Missing these typical college senior moments is a small price to pay for her dreams to come true, she said.
"This is has been the whole life plan and it's finally happening," Seabert said.
__________________________
Follow Erin Himes on Twitter: @enhimes