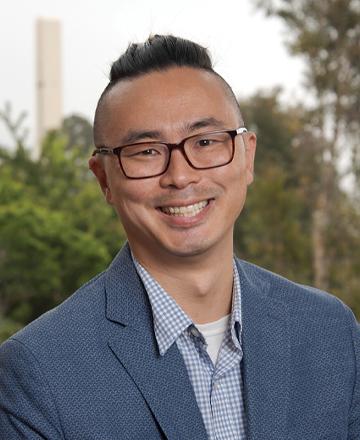 Zachary Luben is the new Director of Convocation at Pepperdine University, Seaver Dean Michael Feltner wrote in an April 25 email to the Seaver College community.
Luben has worked at the University since 2016, and is a two-time graduate of Seaver College (B.A, 2005; M. Div., 2014). Luben, the former director of Graduate Student Ministries in the Hub for Spiritual Life began his position May 8, Feltner wrote.
"In the life of a Pepperdine student, the fact that every incoming student experiences convocation also speaks to the importance of the program," Luben said. And one of the reasons why I'm really passionate about doing an excellent job with this program is that students deserve to have the full experience, as a Christian, I take it seriously."
For the past two years, Seaver 200 was the name for Convocation and the program operated under the Hub, before Pepperdine renamed it Convocation — the program's original name — and moved it into the Dean's Office, according to previous Graphic reporting.
Luben said Pepperdine offered him the position April 14, and he accepted April 19. Before accepting the position, Luben said he went on a "process of discernment," where he prayed, spoke with mentors and discussed the opportunity with his wife.
"[I felt] excitement about a new opportunity and just honored to be trusted with Convocation and also recognition of the the importance of the role," Luben said.
In the 2023-24 academic year, Luben said his goal is to run a successful program with clear communication, and he is thankful for the previous programs for laying a foundation. Luben said a challenge he anticipates is making sure the program operates smoothly, despite its size and "moving pieces," such as foundation gatherings and breakout groups.
The schedule, Luben said, will look different from the 2022-23 academic year, with the program focusing on four themes: love, goodness, truth and beauty.
"I'm looking forward to interweaving those four major themes throughout this next session, as well," Luben said. "Those are some differences that are going to take place that hopefully will not throw them [the students ] off too much."
Luben said Convocation is one way Pepperdine remains connected with it's Christian heritage. Luben said he views his faith as hospitalble and loving, and hopes to communicate with students and be availble to answer their questions going into the upcoming academic year.
"I do want to invite students to explore faith through Convocation," Luben said. "And as an institution who holds dearly to our Christian identity, I think this is an excellent way to invite students into a conversation."
___________________
Follow the Graphic on Twitter: @PeppGraphic
Contact Samantha Torre via Twitter (@Sam_t394) or email: sam.torre@pepperdine.edu