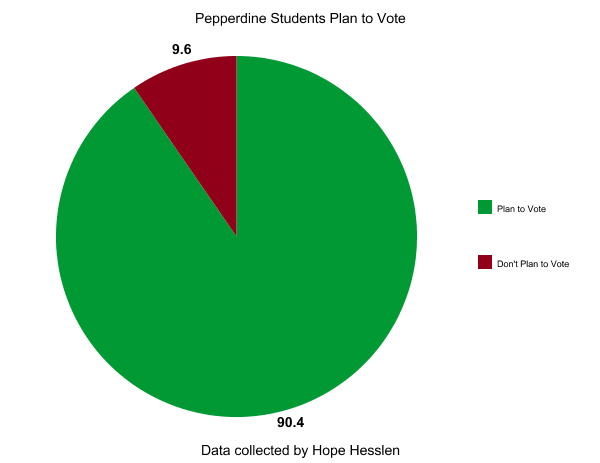 Data Collection and Visualization by Hope Hesslen
Freshman Jake Amble said he is doing whatever it takes to follow the upcoming presidential election, even if that means he has to watch presidential debates in the lobby of his dorm.
"We may very well be witnessing the craziest election in modern American history," Amble said. "We have literally seen candidates bark like a dog, attack each other for their hand size, misquote the Bible and make vulgar comments about a female moderator for giving them all the 'hard questions' in a debate. I am convinced that one day we will be telling stories to our children and grandchildren about having lived through the unpredictable election of 2016."
Students are keeping up with politics by registering to vote and watching the candidate debates, according to the results of a close-ended survey posted on the Facebook pages for each class to which 104 Pepperdine students responded.
This generation of college students has become more politically involved than college students before them, according to a study conducted by the University of California, Los Angeles' Higher Education Research Institute called "The American Freshman: National Norms Fall 2015." The institute surveyed 141,189 students entering 199 different four-year colleges and found that today's first-year college students are more interested in politics.
The Pepperdine survey revealed that 90.4 percent of students surveyed said they plan to vote in the upcoming presidential election, and 67.3 percent of students have been following the election.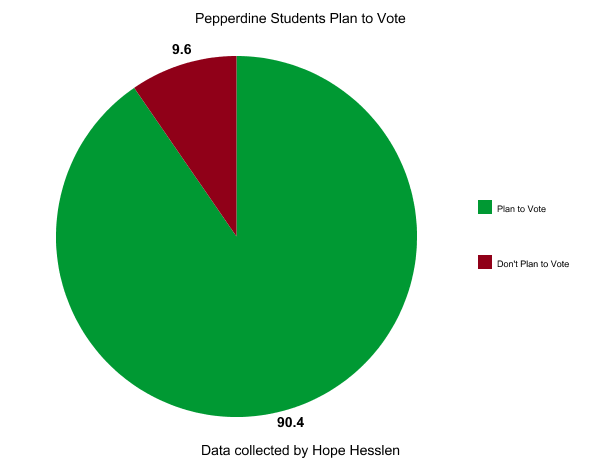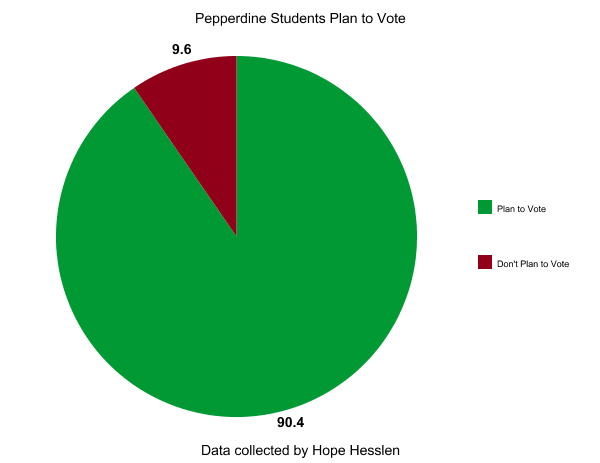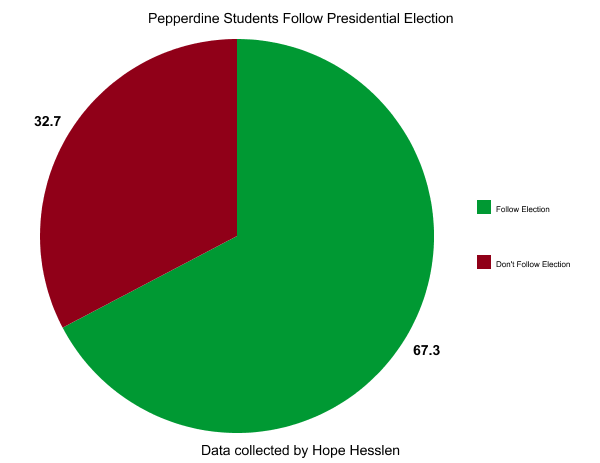 Overall voter participation is low for younger generations, but because of the media's attention on the election, students will be more engaged than in the past, Associate Professor of Public Policy Michael Shires said.
"More participation and involvement is a good sign for my generation," Shires said. "The downside is reality doesn't live up to hopes. It is easy for anyone to be turned off by the electoral process at various points and patterns of decreased civic engagement with the electoral process to occur. I hope the next generation changes that."
Shires said he encourages students to go get informed and vote.
About half of those surveyed indicated interest in local elections also. According to the Pepperdine survey, 52 percent of students indicated that they plan to vote in both the local election and upcoming presidential election, 46 percent plan to vote only in the presidential election, and 2 percent plan to vote only in local elections.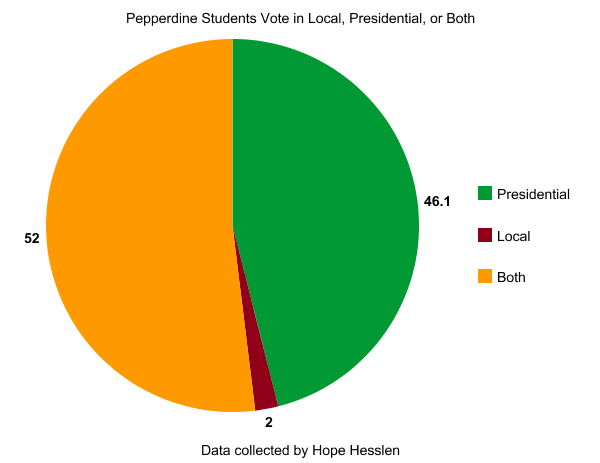 Students have also taken the initiative to register to vote. A total of 69.2 percent of students have already registered to vote, and 30.8 are still unregistered at this time.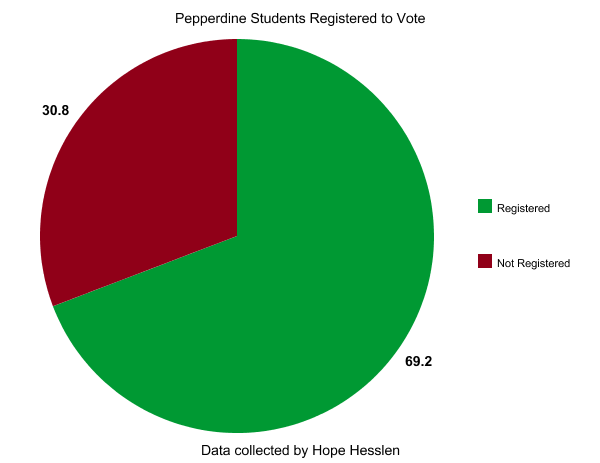 The Student Government Association hosted its first voter registration drive on Feb. 16 to make it easier for students to vote in local, state and federal elections, according to SGA's Facebook page.
Professor of Political Science J. Christopher Soper said hosting a registration drive on campus was a wonderful idea and a small step to increasing the vote.
"Turnout rates are particularly low for younger voters (18-29), and while there are various reasons for that, one cause is that you are all very mobile, including going to college. And you don't think to get around to register in your new address or to request an absentee ballot in your home address," Soper said.
Junior Nicholas Schifano said he thinks college students' votes will be important in the upcoming presidential election.
"I think it's incredibly important for any United States citizen of any age to exercise our freedom and vote. It's a civil obligation we can't take for granted," Schifano said. "Along with that comes the responsibility to be well-informed about elections. Young voters are especially important to the elections, as we are the future of this country, and it is our responsibility to stay up to date with the politicians we will be voting on."
Schifano said he has seen peers take the initiative to be well-informed.
"I feel as though Pepperdine students are rather politically active and have a stance on many issues," Schifano said. "It is awesome to walk into the freshman dorm that I am the RA in and see just as many people in the lobby watching the debates as there are watching football on Sundays."
SGA Vice President of Administration Edward Adutwum said there is still time for students to get more involved by learning about presidential candidates since the November elections are heating up.
"I'm hoping students can lead the charge to create open spaces for political discussion," Adutwum said. "My hope is that [following the presidential elections] will help us better understand the policy goals of the candidates, so that others on campus who are not involved in the political process can get involved."
Sophomore Political Science major Mick Ditlevson said college students could become more informed by listening to podcasts and checking the daily news.
"The biggest thing is the kind of content people consume in their free time," Ditlevson said. "[Keeping up with the news] doesn't seem relevant until you make it a habit. It's about how you start your day and spend your free time."
Freshman Blair Bonifield said she reads a daily email newsletter called theSkimm to keep up with what is happening in the world.
"Two amazing women started this website where they update you on the news and send short little snippets on each topic," Bonifield said. "It's funny, quick and smart."
For Pepperdine students, several newspapers are available on campus for no charge.
The New York Times has been available in print on campus daily since March 2014 and available online 24/7 through students' Pepperdine email on the New York Times website. To keep in touch with local news, The Malibu Times and The Graphic are distributed on campus, too.
__________
Follow Hope Hesslen on Twitter: @hope_hesslen