Pepperdine Men's Basketball plays defense in a game against the University of San Diego on Jan. 24. Pepperdine lost this game 87-76. Photos by Brandon Rubsamen
Pepperdine Men's Basketball lost to the University of San Diego on Jan. 24, at Firestone Field house with a score of 87-76. This is their ninth straight loss and puts them at 7-15 on the season.
The Waves got out to a slow start in the first half but were able to come back and remain competitive. In the end, San Diego pulled away with a win. Some of the top players for the Waves included sophomore guard Mike Mitchell Jr., who scored 20 points. Sophomore center Carson Basham scored a career high 18 points and sophomore forward Max Lewis scored 15 points.
"We got a lot of work to do," sophomore guard Houston Mallette said. "We just got to keep coming back to the gym with the same mindset, trying to figure it out."
The Waves struggled at the start of the game. Pepperdine allowed 16 unanswered points after the first few minutes and made the score 18-5.
A media timeout was called with the score being 18-8 and just under 12 minutes left in the half. This served as a turning point for Pepperdine, as after this, they got back into the game.
"Coach Romar just told us to lock in on defense," Mitchell Jr., said. "Be there, be in the gap, have our rotations right. Our defense just led to a great offense."
After allowing a 3-pointer, Pepperdine went on a run where they scored 13 points while only letting up one to make the score 22-21.
Lewis scored three points off a layup and a free throw to make the score 24-22 and gave Pepperdine their first lead of the game. Lewis scored 15 points total in the game.
"He's just a great player," Mitchell Jr., said. "He really helps us. I know our record doesn't show it, but he really helps us."
The rest of the half remained close, but with the score tied at 26, San Diego pulled away by scoring seven unanswered points. At the end of the first half, San Diego had the lead with a score of 37-32.
Mitchell Jr., started off the second half making a three-pointer. For the rest of the half, the game remained close with San Diego having a slight lead.
With San Diego leading 54-46, Pepperdine made three successful 3-pointers while only allowing two points to make the score 56-55. Lewis made the first one while Mitchell Jr., made the next two.
Mitchell Jr., led the team on offense, as he scored 20 points, went 8-for-17 on shooting and had seven assists.
"He's a great player," Mallette said. "We trust him with the ball in his hands, and he just makes big-time plays."
Once again, Pepperdine remained competitive with San Diego but was never able to take the lead. With a little under four minutes left, Mallette made a 3-pointer to tie the game at 70.
After Mallette's 3-pointer, Pepperdine didn't score for over two minutes, while San Diego put up eight points in this time. In the end, San Diego pulled away with an 87-86 win.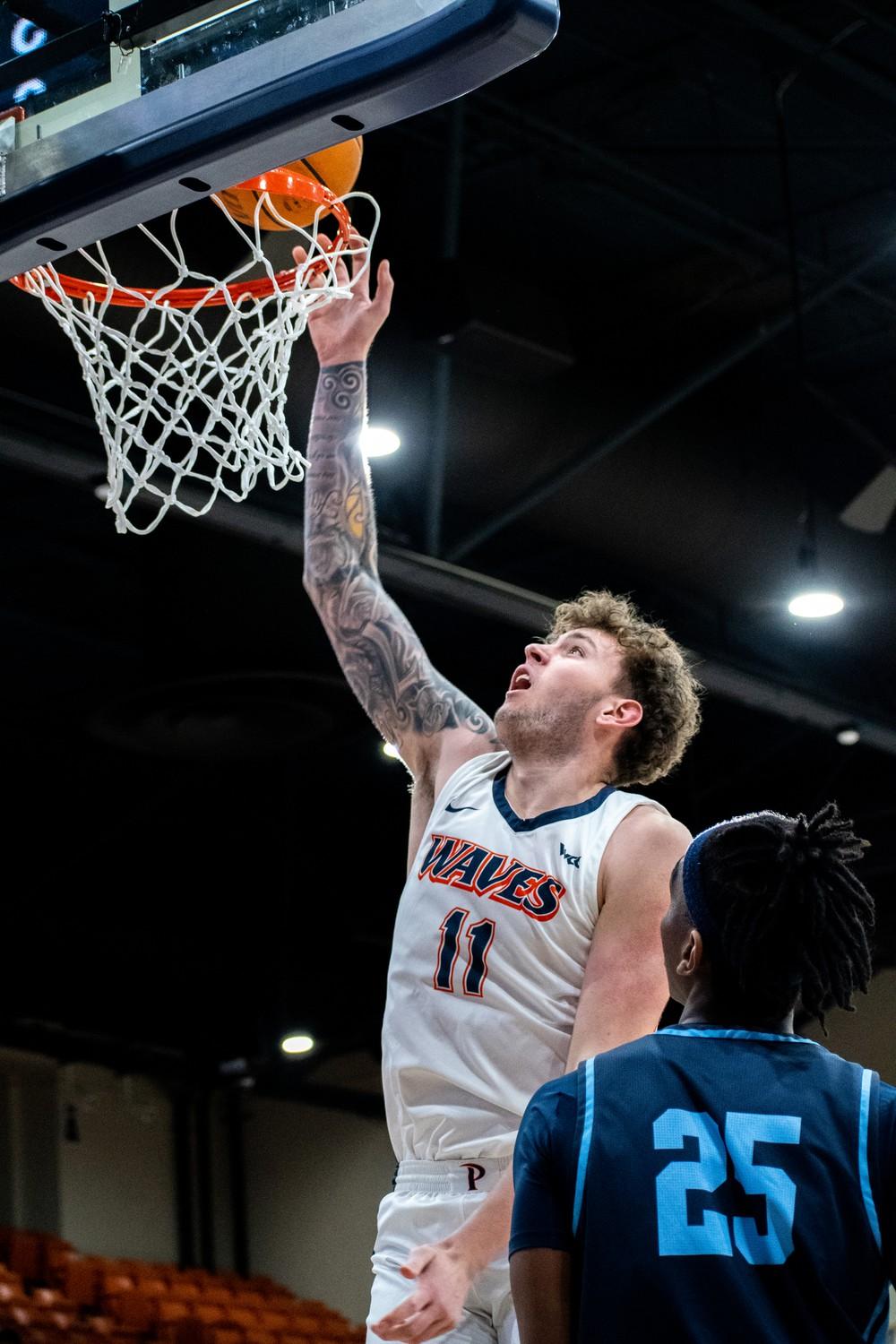 This loss to San Diego puts Pepperdine at 0-8 on the season against teams in the West Coast Conference. Despite their struggles, Mitchell Jr., said he believes the Waves can be competitive with the rest of the WCC for the remainder of the season.
"We're just going to keep fighting," Mitchell Jr., said. "We're right there with everybody, and we know we can win games. We're just going to keep trying because it's going to click. One of these games, it's going to click."
Mallette said the Waves will be able to recover from their recent struggles and play to their full potential.
"Our play has been unacceptable up to this point," Mallette said. "It's a rough patch, but at the end of the day, I'm obsessed about it. As a group, we're going to figure this thing out. I promise we're going to figure it out."
Despite losing, one highlight of the game was Basham, as he put up a career-high 18 points while also having seven rebounds and three assists.
Looking forward, Lewis said the Waves need to stick together as a team and focus on what's ahead rather than what has happened.
"Not look back and just move forward," Lewis said. "Just stay together like coach said. That's really it. Just play hard, go hard."
Pepperdine's next game was on the road were they lost to Loyola Marymount on Jan. 28 where they lost 84-70. Their next game is against University of the Pacific on Feb. 2. Despite their recent struggles, Malette said he is feeling confident heading into the next couple of games.
"We can go out there, we can get a win," Mallette said "We just got to compete and play to the best of our abilities."
_________
Follow the Graphic on Twitter @PeppGraphic
Contact Tony Gleason via email: anthony.gleason@pepperdine.edu