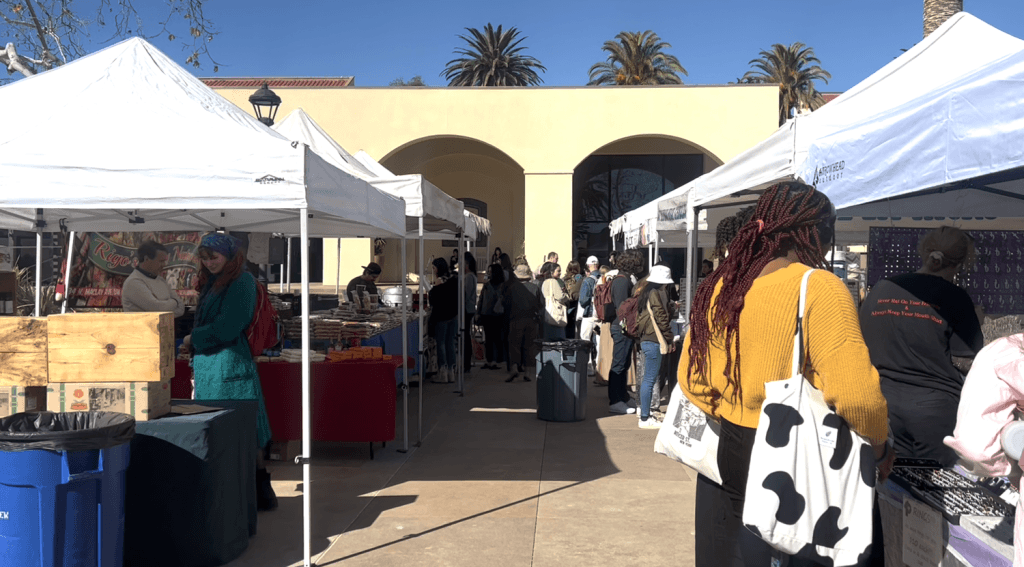 Pepperdine community members at the Pepperdine Farmers Market in Mullin Town Square on Jan. 24. Matt Hempy, manager of Special Programs, said one goal of the farmer's market is to spread awareness of sustainable local brands and vendors. Photo by Anezka Liskova
After three years, Pepperdine students can once again access locally produced goods on-campus as the Office of Special Programs welcomes back the Pepperdine Farmers Market.
Every other Tuesday from 11 a.m. to 2 p.m. in Mullin Town Square, local vendors are selling locally produced goods, food, home decor and crafts. The first market of the semester, Jan. 24, went smoothly, said Matt Hempy, manager of Special Programs. The market peaked at noon, when people could barely walk through the crowds, Hempy said.
"I want to illustrate Pepperdine as a place where third parties can run their businesses efficiently and effectively while admiring the view but also interacting positively with the Pepperdine community," Hempy said.
Rhonda Miller, the owner of Sublime Lit Wicks, said she has sold her candles for over five years at different farmers markets. She said she has sold on campus a few times before the Office of Special Programs brought it back following the COVID-19 disruptions and has always looked forward to coming back.
"I've always been happy [here]; it's great," Miller said. "Everyone is super friendly and easy to get along with. I love all the students and staff that come by; it's nice to see everybody."
Pepperdine's Farmers Market is efficient from a financial point of view for the vendors as well. They do not charge a free for the vendors to operate on campus, so there is no revenue goal for the Office of Special Programs, Hempy said.
Miller said she thinks it's great for the students to see that people can make a living doing a small business.
The goal for students, staff and faculty, Hempy said, is for them to spread awareness of sustainable local brands and vendors.
Not only is the Pepperdine Farmers Market effective for the vendors, but the students and faculty benefit from something like this on campus as well.
Sophomore Austin Yerke said this is a great opportunity to connect the Pepperdine community with local vendors and businesses. First-year Madi Fish said this was a great opportunity too.
"The farmers market is beneficial because it adds a little break in between classes and it's a special experience everyone can enjoy together and take a break from homework and stress," Fish said.
Many students said the experience was beneficial because they got to try something new.
"I believe the Pepperdine Farmers Market can be very beneficial for the students because it can bring exposure to other cultures and backgrounds that one is not aware about," junior Kyler Mamou said. "For example, when I tried tamales for the first time today."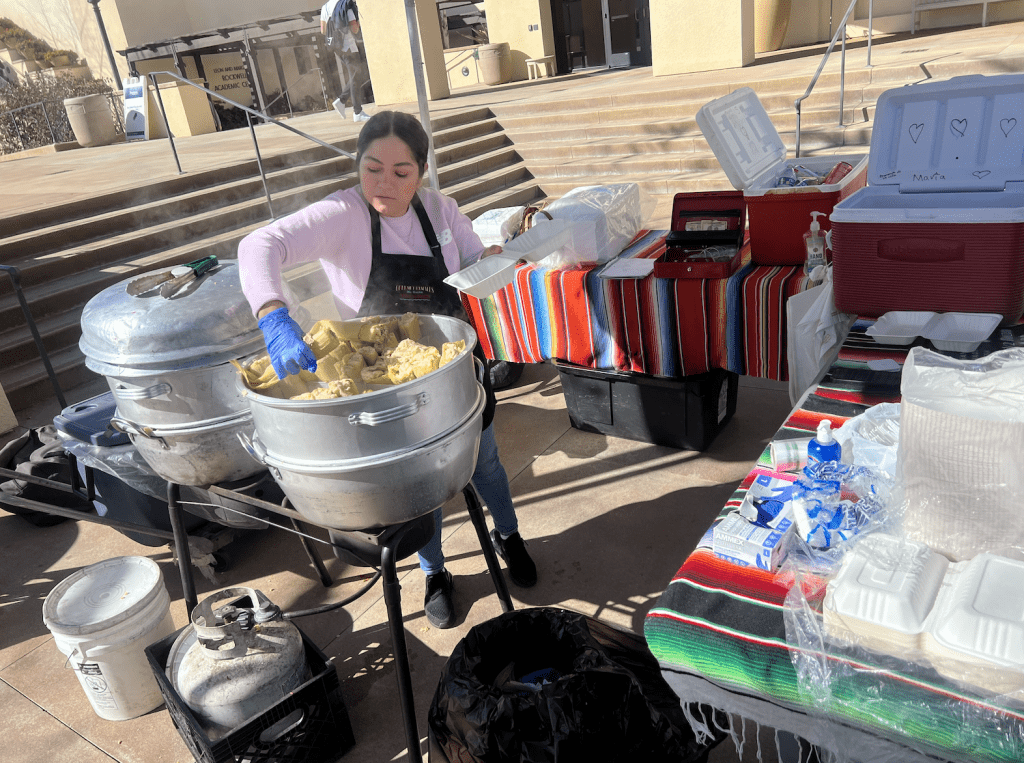 Gourmet Mexican Tamales stand sits in Mullin Town Square on Jan. 24. Students chose between pork or chicken tamales. Photo by Anezka Liskova
Yerke said he has always been interested in vegan desserts but was hesitant because he said they never taste as good. At this farmers market, he said he had the chance to try vegan cookies from Yvonne's Vegan Kitchen, and it ended up being his favorite stand.
Fish said the tamale stand was her favorite. She said she would like if the University added a stand with vintage clothing next time.
"You need to dedicate a whole day to go to L.A. to go vintage shopping, so when it's brought right to the students, it's easier and more accessible," Fish said.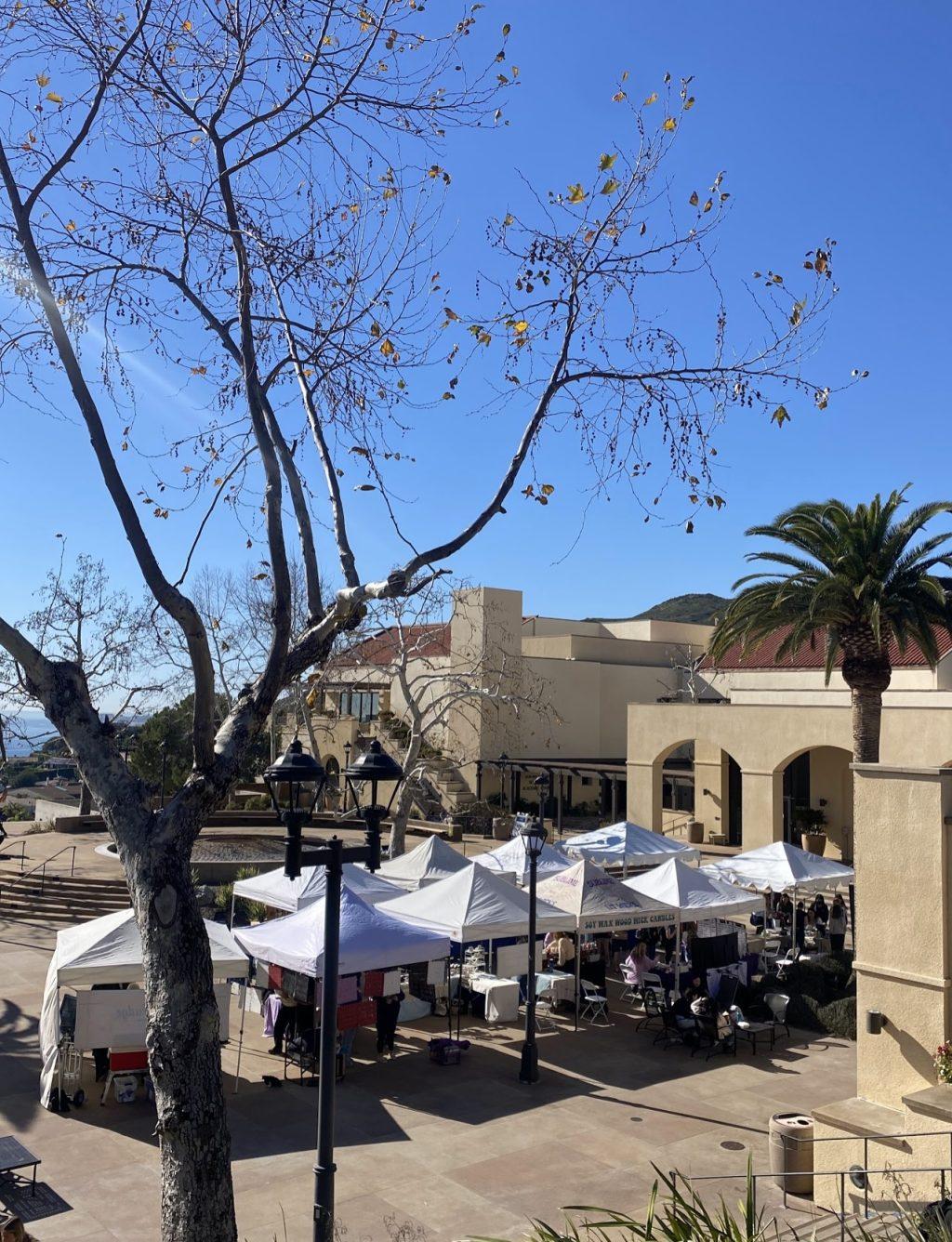 Stalls open at the Pepperdine Farmers Market in Mullin Town Square on Jan. 24. Vendors prepared for students and faculty to come in. Photo courtesy of Matt Hempy
However, Hempy said the vendors will for the most part remain the same because there will only be seven markets in the spring 2023 semester. The upcoming dates are March 7, March 28, April 4 and April 18. There are 10 vendors, but the number can vary based on the week.
The organizer of it all, Hempy, said he enjoyed it as well. He said he enjoyed seeing the Pepperdine community engage with the vendors by getting to know them and their stories and products.
"I had a couple of vendors after the fact come up and just express gratitude and how appreciative they were of the students and their kindness and their manners, but also just their appreciation for the products. That was really special to hear," Hempy said.
The next farmers market will take place in Mullin Town Square on Feb. 21, from 11 a.m. to 2 p.m. The market is bi-monthly, Hempy said.
_________________________________
Follow the Graphic on Twitter: @PeppGraphic
Contact Anezka Liskova via Instagram @anezka.liskova or email: anezka.liskova@pepperdine.edu