Graphic by Kelly Rodriguez
In response to President Trump's decision to rescind Deferred Action for Childhood Arrivals (DACA), Pepperdine reiterated the university's commitment to the safety and protection of students.
In an email sent Sept. 5 by Vice President for Student Affairs Connie Horton, resources for students affected by the new changes were outlined as well as assurance that the university will provide up-to-date information regarding issues of immigration.
DACA, an Obama-era program aimed to protect undocumented youth from deportation, allows nearly 800,000 students nationwide to live and work in the U.S. for renewable two-year periods.
Attorney General Jeff Sessions announced that Trump plans to end DACA by March 2018, meaning Dreamers could face deportation if Congress does not pass a law within six months.
"I feel really heartbroken, I personally have people affected who were going to apply for college and now are uncertain of what the future holds for them," freshman Karina Valenzuela said.
Pepperdine students have a list of resources available to them: The Pepperdine Law Immigration Clinic that helps students affected by DACA, changes in immigration law, or executive orders on international travel with free legal advice and counsel; The Counseling Center that provides free, confidential emotional/psychological support to all Pepperdine students; the Office of the Chaplain that is willing to provide pastoral support to the entire Pepperdine community; and The Intercultural Affairs Office and the associate dean for Diversity and Inclusion are available to help with these critical topics.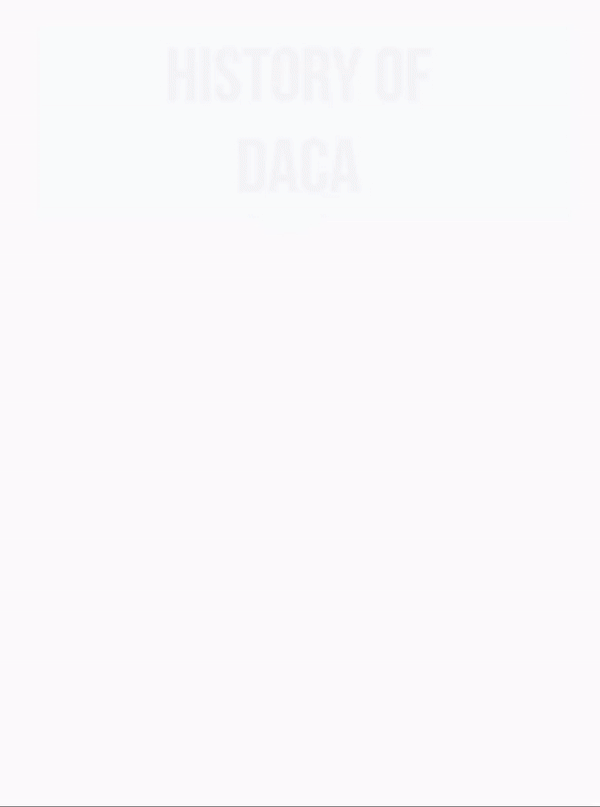 In a statement explaining his decision, Trump said, "Before we ask what is fair to illegal immigrants, we must also ask what is fair to American families, students, taxpayers, and jobseekers."
For some students on campus, the decision to repeal DACA felt unjustified.
"I think the reasons for taking DACA away are far outweighed by the benefits of having Dreamers here," sophomore Jose Alcazar said.
Alcazar said he believes DACA recipients have earned the right to succeed.
"The Dreamers succeed in life, because they worked hard like all of us, they aren't taking any jobs away, because they've earned it. The keyword is earned," Alcazar said.
Junior Genesis Trirene also expressed her disagreement with Trump's decision.
"I would ask him how it is unfair, these people are Americans," Trirene said. "I sympathize with DACA students who are in medical school who may be in the middle of their third year, and all that can be taken away. It's unfair to take that opportunity from them. My unconditional support goes out to them, they are human beings, just like you and me."
"There can be no path to principled immigration reform if the executive branch is able to rewrite or nullify federal laws at will," Trump also said in his statement.
DACA raises concerns about the abuse of presidential powers.
Associate Professor of Public Policy Ted McAllister said he regrets the trend of the recent decades for presidents to operate outside of their constitutional authority.
"The Dream Act was considered and rejected by Congress multiple times. The executive order DACA, was not a decision made by Congress or the electorate, but by the administration without consent of those two groups," McAllister said. "Constitutionally, the power and the responsibility for determining policy and law on immigration belongs to Congress. A president has some discretion in translating laws into policy, but with DACA the President chose a policy that Congress had rejected and that violated the law as written."
While the repeal of DACA made headlines and caused uncertainty across many college campuses, Pepperdine students and faculty said they did not notice a strong reaction.
Valenzuela said she noticed little change in students' attitudes after the announcement was made.
"A lot of people seemed indifferent, because it didn't affect them on campus," Valenzuela said. "People who were more close to me, my group of friends, they were more empathetic."
Daniel Rodriguez, dean of the Religion and Philosophy Division, also said he didn't notice much difference.
"I personally haven't sensed any anxiety. I think what I have sensed is 'oh here is something else that our president is doing that we aren't happy with'…But, I'm sure that there is a quiet group that is happy about the decision to rescind DACA."
Senior Salina Perez, president of the Latino Student Association, said she does not know any Dreamers personally, but that this issue affects everyone. "It affects all of us, we are proud, that we are there for each other, regardless of what the issue is. If it's something as big as this, we all need to stand together," Perez said.
In an official announcement, the Latino Student Association extended their support to DACA recipients and asked students not directly affected to do so as well.
"Considering the recent executive motion to end DACA, the entire leadership of LSA would like to extend our support and concern in response to this decision. To those directly affected, we are here to back you up as part of our family. To those not directly affected, we ask you to act as a support system for our brothers and sisters that are struggling with this impact. At the end of the day we are family and we have to look out for one another," LSA posted on their Facebook page.
Trejo said that although she did not notice a strong reaction at Pepperdine, she has noticed more awareness on social media. "People are becoming more aware that there are students who are DACA. I'm always on social media sharing things and I see more #istandwith daca posts," Trejo said.
Professors on campus are beginning to open up their classrooms to tough conversations, but both students and faculty acknowledge there is work to be done.
"We discuss DACA in my Social Action and Justice Colloquium class. The only challenge there is, is to fully discuss the issue," Professor of Humanities and Teacher of Education Jeff Banks said.
Banks said more professors need to be willing to engage in conversation.
"My students are interested and willing to do so. However, I believe other professors need to be willing to listen and let the students speak freely," Banks said.
Professor Maire Mullins said sometimes it's just as easy as checking up on them and saying "How are you all doing today," or "Is there anything on your mind?"
She said she believes the key is allowing students to say what is on their heart and mind, and sometimes it's a matter of opening up space. "That's a really good strategy especially right now, for students who have a lot on their heart," Mullins said.
In a course called the Nature and Mission of the Church, Rodriguez said he encourages his students to address the question, "What are some of the biggest issues facing the church?"
He said he pushes his students to steer away from viewing immigration through a lens of utilitarianism. He asks them to stop asking,"well is it good for America or not good for America? Is it good for taxpayers is it not good for taxpayers? Is it good for homeowners or not good for homeowners?"
Instead Rodriguez said he wants his students to view immigrants from a distinctly Christian perspective and ask themselves: Does the Bible provide us with any clues about what a Christian perspective on immigration would even look like?
"Christians are a colony of resident aliens, this is not our homeland, we are foreigners and aliens here as well," Rodriguez said. "Christians should be able to look at that and say wow- I know what that feels like. My own people see me as different because I don't plead allegiance first to the flag, I pledge my allegiance first to Jesus Christ as my lord and savior," Rodriguez said.
Students and professors also voiced positive opinions regarding Pepperdine's initial response to the DACA repealment.
"I think Pepperdine is doing a lot, and I have to say I am heartened and impressed by what's being done," Mullins said.
For students, the university's response although, necessary and meaningful, needs to be sustained.
"I think it was impactful that it was immediately. It's an adequate measure mostly because it shows support. It's better than nothing. A university is a home, and showing that compassion fosters a welcoming and safe environment for all students," Trejo said.
Valenzuela shared this outlook.
"I think it was really necessary to inform everybody, and not ignore the issue, and say this is what Pepperdine is going to do. However, I'd like for them to do a session with DACA students, so you can be aware to know who is DACA, to unite them, and make them feel like they aren't the only ones," Valenzuela said.
Rodriguez said it was important for the university to respond right away.
"I think we are going to join a growing number of Christian universities that are coming out very vocally, forming a coalition that basically says because of our Christian commitments we want people to know that DACA students are welcome here, and I think that's important," Rodriguez said.
Rodriguez also shared concerns for the future.
"We don't know that if in eight or twelve or sixteen years we have a government that says any schools that accept undocumented immigrants aren't going to get federal funding- that's possible- not likely but possible," Rodriguez said. "And that would be the real test. Is Pepperdine going to say it's okay we'll live with that because we think this is the right thing to do or are we going to cave in and say we don't want to lose our money."
Although times are troubling for students, they look to unity, and self-initiative as a solution.
"In LSA, BSA, and Crossroads, everyone is taking their own efforts to provide safe spaces for students on campus. I see lots of self-initiative that I'm loving from students," Trejo said.
On Sept. 8th, The Black Student Association E-Board shared their solidarity with Dreamers through an official announcement on their Facebook page.
Crossroads, Pepperdine's LGBTQ+ club dedicated to supporting students, creating positive supporting community, and spaced to discuss LGBTQ+ issues held its first meeting on Sept. 7th.
Mullins echoed this sentiment. She said a proactive way to stand with students who are affected by this change is to listen to them and support them in any way, which includes providing emotional support.
"To listen to them, to support them in any way that they can, to write to their congressman or congresswoman and say we need legislation that will put these young men and women on a path to citizenship, I think, is the best we can do right now. But above all, to offer them a sense of emotional connectedness and just say "my heart is with you, my prayers are with you, and if there's anything I can do, let me know," Mullins said.
_____
Follow Araceli Crescencio on Twitter: @aratells