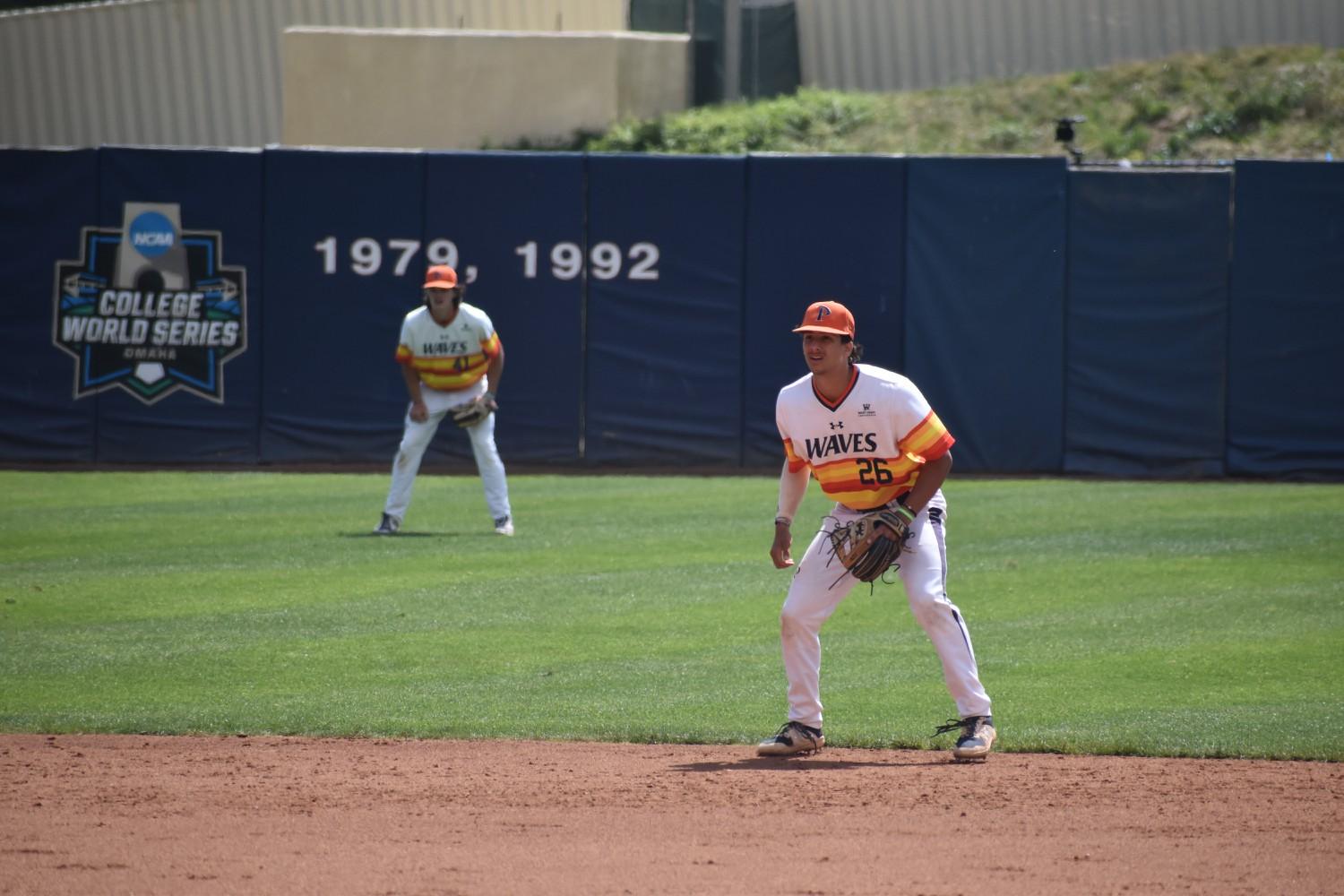 Then-freshmen infielder Cam Conley plays second base in a game against the University of Pacific on the weekend of March 27, at Eddy D. Field. Pepperdine won all three games in this series. File photos by Mary Caulfield
Pepperdine Baseball season begins Feb. 17, with a three-game series against Boston College at Eddy D. Field in Malibu. Multiple members of this year's team said they are looking to use their experience and depth to build on and improve from their past couple of seasons.
After going 24-26 in the 2022 season, players and coaches have said the Waves expect to be more competitive in 2023 due to the growth of returning players and impact of newcomers.
"The staff's really well-rounded; our lineup's got a lot of good returning bats and incoming freshmen," senior pitcher Shane Telfer said. "I'm just excited to see what we do when we put it all together when the season starts."
Schedule
In 2022, Pepperdine started off the season with a three-game sweep of Villanova. This year, Hirtensteiner said the Waves are looking to repeat their opening weekend success—mainly focusing on performing well to help build for the future.
"We're just trying to play well and play better than them," Head Coach Rick Hirtensteiner said. "We wanna win all three, but if you play well, even if you lose one or lose two, if you play well, it really bodes for the future.
Nine of Pepperdine's first 15 games will be played at home at Eddy D. Field. Senior catcher/infielder Ryan Johnson said he is excited to start off the year with many games at home. The team loves playing at home since it eliminates the difficulties that come with playing on the road, Johnson said.
"It's hard to have to get on a plane, and travel, and get up early, practice late at night and time zone changes," Johnson said.
After playing Boston College, Pepperdine will head to UCLA to play the Bruins. When the Waves went to UCLA last year, then-sophomore shortstop John Peck hit a go-ahead grand slam in the top of the ninth, and the Waves won 7-5.
"One that sticks out in my mind was when we beat UCLA early on," Telfer said. "John [Peck's] game-winning home run was a pretty exciting moment."
Roster
Peck is one player Hirtensteiner said he has high expectations for. In 2022, Peck earned All-WCC first team honors and led the team in many offensive stats, according to Pepperdine Athletics. Hirtensteiner said Peck is a super athletic shortstop that makes brilliant plays up the middle and, despite hitting in the .360's, he could have hit .400 with how hard he was hitting the ball.
Hirtensteiner said he expects three returners to play a big role in the season: Johnson, who brings power in the lineup and versatility in the field, graduate infielder Greg Mehlhaff, who will be hitting in the middle of the lineup and senior outfielder Grant Schoen, who despite battling injuries in his first three years, was performing well in the fall
Hirtensteiner said two newcomers he expects to see significant playing time are two transfer students—Lincoln Orellana, junior outfielder and first baseman, who transferred from American River College.
"In the fall [Orellana] hit extremely well with some power and was pretty versatile on defense," Hirtensteiner said. "He has the chance to be a mainstay in the lineup and hit in the middle of the lineup."
The other transfer student is redshirt sophomore pitcher Tommy Scavone. Scavone transferred from Cal State East Bay and was recovering from injury during the fall but since being healthy has looked great on the mound, Hirtensteiner said.
"He's healthy now, and he's been pitching in our intersquad games," Hirtensteiner said. "He's been pitching really well and has the potential to be a weekend starter."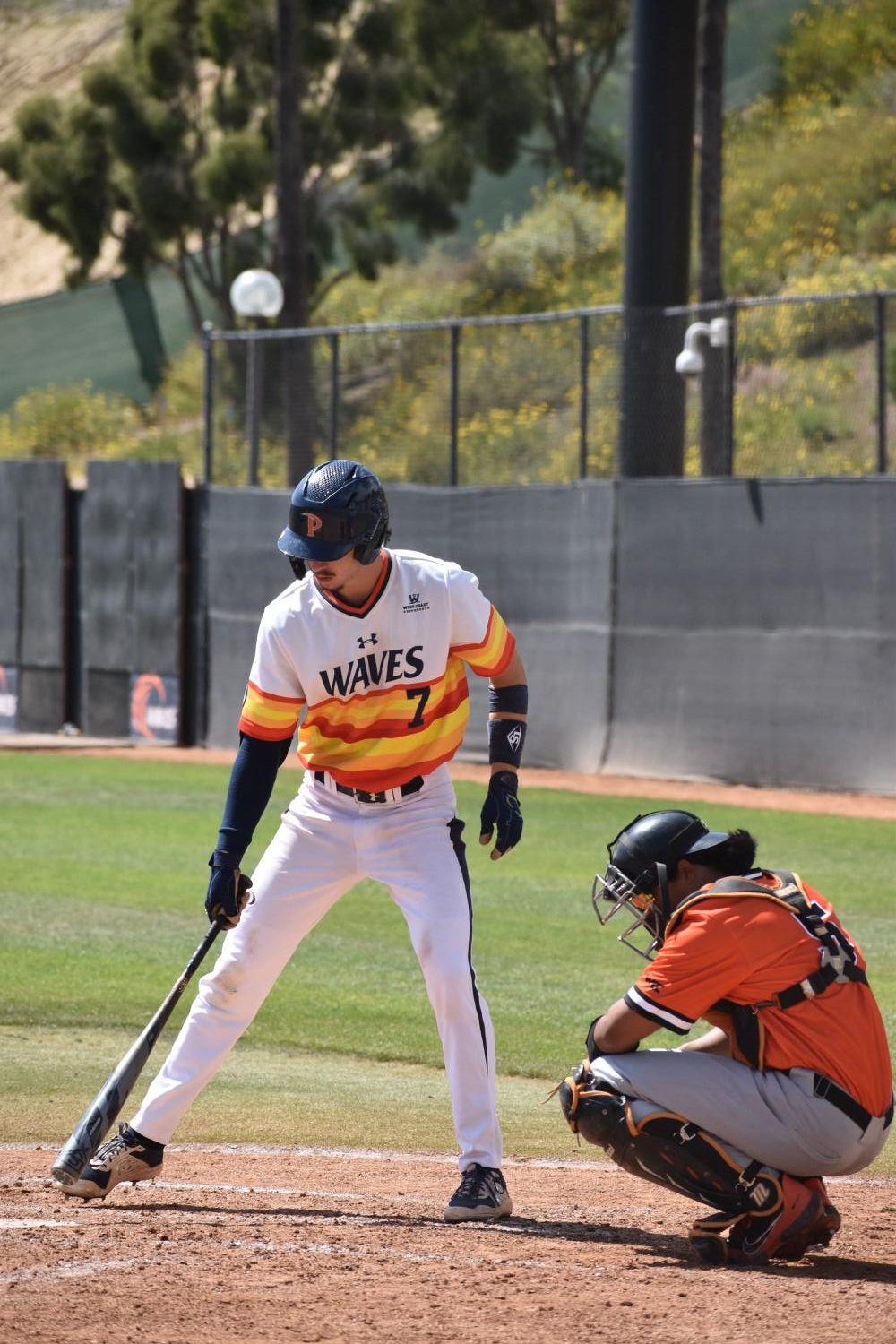 Johnson said another pitcher expected to play significant role this season is Telfer.
"Shane Telfer will be throwing on Friday's for us most likely," Johnson said. "Last year he didn't start out pitching a lot, but then, he ended up starting at the end of the year and did really well, and he'll do good for us again this year."
In 36.2 innings last season, Telfer led the Waves pitching staff with a 2.45. He additionally earned WCC pitcher of the week for the week of May 16, after he pitched seven shutout innings with ten strikeouts against LMU.
Looking Ahead
After their first 15 games, Pepperdine will begin playing teams from the West Coast Conference. Johnson said out of all teams in the WCC, he's especially eager to play the University of San Diego because of the rivalry between these two teams.
"We always just want to beat them," Johnson said. "You talk about LMU being right down PCH; we have a little rivalry with them, but it's different for USD. It's a different type of game, and it makes it more fun."
With how competitive the West Coast Conference can be, Hirtensteiner said any time can be in contention for the WCC title.
"In any given year in the WCC, any team can rise up and challenge," Hirtensteiner said.
Johnson said one of the Waves' biggest strengths is the depth the team has in the lineup and on the mound, which is important, as it keeps the starters on their toes to perform to the best of their ability.
"We're really deep in the lineup," Johnson said. "We have three guys coming off the bench that can play. We have a bunch of pitchers that can pitch for us if somebody goes down. If nobody's getting hurt, it keeps our starters better because they know they have that guy behind him pushing him."
Hirtensteiner said the team's pitching depth improvement will be crucial to their success, as having elite arms in the rotation can help carry a team.
"It really helps when you have elite arms in your starting rotation," Hirtensteiner said. "If you have a few elite arms, it can carry you a long way. I think our arms are closer to being that. We just have to wait to see how they perform."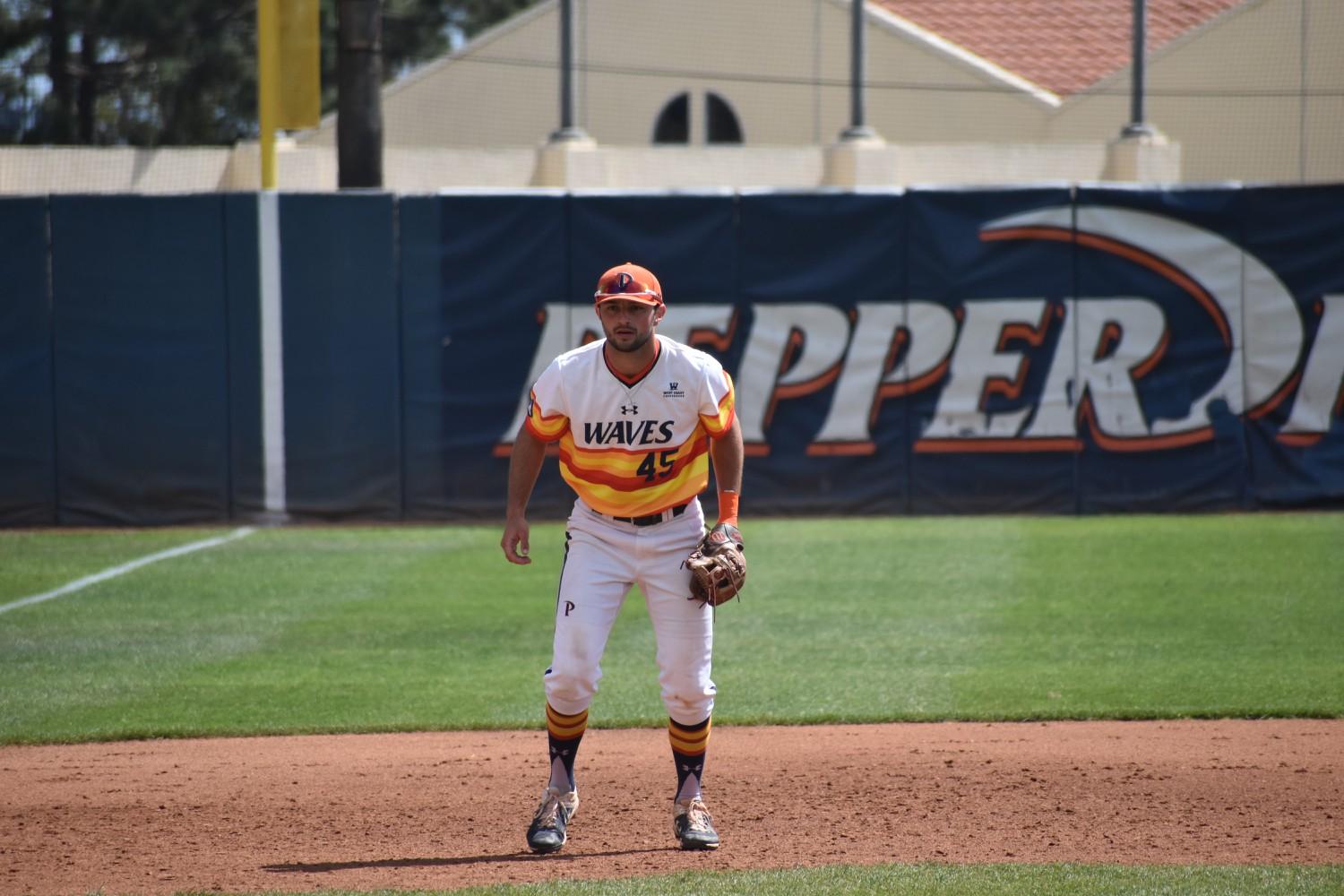 With the season approaching, Telfer said, with how unpredictable baseball can be, the Waves need to keep fighting until the very end, no matter the given situation.
"I think, mainly, we need to never count ourselves out," Telfer said. "Baseball is crazy; college baseball, every game is a dogfight. Anything can happen until the end. Any series is ours to win, any game, no matter what the situation is. We can take control, and we can win."
As for Johnson, he said his approach to the new season is to take it slowly and focus on each day without worrying about the end product too soon.
"Don't look to the end too soon," Johnson said. "Focus on the pitch by pitch, day by day. If you put it all together, by the end, it will be a good year."
With the combination of three fifth years, along with multiple veterans and the nine freshmen, Hirtensteiner said this team is a good mix of different ages.
"I think it's a good mix of old and young," Hirtensteiner said. "Hopefully, those older guys can bring these young guys along, and develop and become a really good team."
_________
Follow the Graphic on Twitter @PeppGraphic
Contact Tony Gleason via email: anthony.gleason@pepperdine.edu