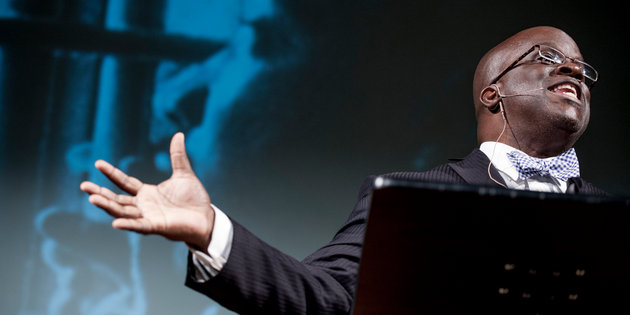 Photos courtesy of Pepperdine University
Pepperdine congratulated Professor of English and Director of African American Studies David Holmes as the university's new associate dean of Curriculum and General Education.
Dean of Seaver College Michael Feltner announced Holmes' new position to faculty and staff in an email statement Monday, March 26. The two finalists, Holmes and Professor of Religion Kindalee Pfremmer DeLong, underwent a thorough application process including multiple interviews and a public presentation. Holmes experiences and skill set are what made him an exceptional fit for the position, Feltner said in a phone interview.
"Seaver was blessed in this particular search to have two outstanding finalists," Feltner said. "David brings a unique combination of knowledge, leadership, wisdom, experience with the general education program and a real willingness to push himself in difficult places. He is able to use his wisdom and experiences to lead."
Holmes said he was drawn to applying for the position as a way to give back to an institution that has inspired him and been a part of his life since the 1970s. As a teenager, Holmes visited Pepperdine for the youth festivals over Thanksgiving weekend.
Throughout the 1980s, Holmes' relationship with the university grew as he took the position of associate minister at a church where the minister was a professor at Pepperdine. The professor encouraged Holmes to challenge himself.
"He told me that I should really think about getting a PhD, so I ignored him," Holmes said. "But he wouldn't let it go, so he just kept bugging me until finally I applied for a PhD. Pepperdine has always been a place that has motivated me to reach."
Holmes will begin to serve as associate dean of curriculum and general education May 1. Feltner spoke of some of the responsibilities the position entails.
The primary responsibility for the associate dean is to manage the academic curriculum within Seaver college, Feltner said. As associate dean, Holmes will serve as director of the general education program, and review the general education program with faculty to ensure it is meeting the needs of students.
"They will also have the role of communicating to students, to parents, to prospective students, the values and benefits of the general education program and how it's protocol for preparing Seaver students for the future," Feltner continued.
Creating a "culture of conversation" is how Holmes plans to approach his new position. He spoke of meeting with faculty to ensure the university is invested in a Christ-centered view of purpose and leadership.
"I want for there to be ongoing conversations about the curriculum, about the general education program and how it may be improved, even if the improvements end up being a few tweaks," Holmes said. "What I like to compare it to is, even healthy people go for checkups at the doctor, even people with strong teeth still go to the dentist. We won't find out what's working well or not-so-well unless we do a self assessment."
____________
Follow the Channa Steinmetz on Twitter: @channaxo_