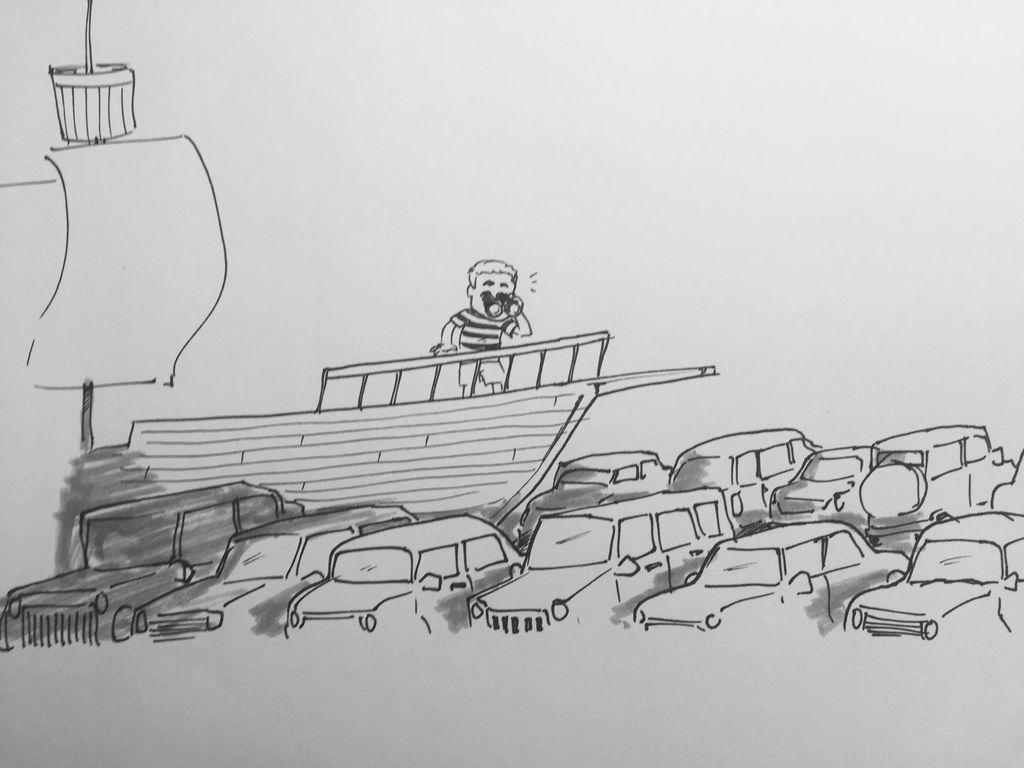 Art by Peau Porotesano
Welcome back to Pepperdine: the freshman class is larger, construction is everywhere, and there is literally nowhere to park. As students flood in for 8 a.m. classes and take all of the prime spots, there is little to no little-to-no hope for those arriving after 12 p.m.
Although the campus is full of sob stories about nowhere to park, and many sweating commuter students arrive 20 minutes late to class, there are plenty of spaces available according to an email from DPS Deputy Director of Administrative Operations Dawn Emrich.
"We also know from the space counts that there are always spaces available for student parking –– even during peak hours," she wrote.
Each year DPS conducts parking space counts within the first few weeks of school that provide data concerning the most congested areas of parking on campus, she wrote. There are approximately 8,500 parking spaces, including street parking available on the Malibu Campus, Emrich wrote.
There will be additional planned closures of approximately 50 spots in the Firestone parking lot and the complete loss of the 100 Upsilon parking spots set for spring, according to Emrich. These closures will continue to impact the already tight parking situation.
Simply getting to campus early may no longer be a viable option, as most available spaces fill up by around 10 a.m. And while there may have been areas that always had available parking in the past, the growing size of the Seaver undergraduate population and the shrinking amount of available parking is bound to have an effect.
We understand that the Seaver campus is in the midst of a transition in many ways, but this is something that needs to be addressed more directly in the midst of this transition. It is time to come up with some more solutions.
Construction on campus and the resulting lack of available on-campus housing for upperclassmen means that there is an increase in students commuting to campus. Carpooling is a viable option to cut down on the number of cars on campus, and the specified carpool parking spaces do provide a good incentive for this, but the reality is that carpooling simply is not feasible for many students whose class schedules and extracurricular commitments do not align with those of their roommates.
A significant community of Pepperdine students has also moved through the Malibu Canyon into Calabasas, living in complexes such as Avalon and Malibu Canyon Apartments, which are approximately 8 to 10 miles away. With longer commutes through Malibu Canyon, concerns about safety, especially at night, have arisen. One possible solution to this dilemma could be providing a shuttle to and from Calabasas.
Expanding on that concept, Pepperdine should consider offering shuttles to and from Calamigos, whose residents carry the unique status of being considered "on-campus" residents but also commuters. The Calamigos property is more than 11 miles away from main campus, leaving these on-campus residents the option of owning their own vehicle or arranging a carpool. Shuttles could help unify this campus community and alleviate some of the parking and transportation issues that might prove challenging to these students.
Students are also attempting to combat the parking challenges specific to the Malibu campus. The new app, RidePul has introduced a new way for students to share rides to and from campus to mitigate the challenges of parking for the time being. With this development, it could be incredibly valuable for Pepperdine faculty and community to continue encouraging such student-led innovations, such as apps, shuttles or other community-based solutions. There are also services available for commuter students through Student Affairs in addition to an upcoming commuter forum with SGA, according to an email sent to the study body today.
With these propositions, it is possible that the parking situation could be alleviated slightly to ease stress for students and faculty alike. And if not, keep planning to get to campus before 10 a.m.
_____________
Follow the Graphic on Twitter: @PeppGraphic