Art by Ally Armstrong
Photos by Emily Shaw
Blanket and loungewear store Barefoot Dreams, among a few other new local businesses, didn't exactly get the grand opening it planned for, delaying its launch in the midst of a pandemic.
Effective March 19, the Los Angeles County Health Office issued an order requiring the closure of non-essential retail businesses. A couple of months later, LA County Public Health officials announced the re-opening of a limited number of businesses and resources, including clothing stores, with appropriate precautions arranged.
Natalia Kosser, assistant manager of Barefoot Dreams, said the store had been set to open before the start of the pandemic but had to close down for a few months due to the spread of COVID-19.
"We weren't sure how we were going to go about opening in April and May when we were on lockdown," Kosser said. "We weren't sure what that would look like, but once we got into the store, we adjusted."
On March 14, the City of Malibu declared a state of emergency, prompting local businesses, organizations and city resources to either close down completely or adjust to provide contactless service.
"Our local retailers have been devastated, same as in other cities across America and even the world," Mayor of Malibu Mikke Pierson said. "Our local restaurants [are in] a really, really difficult situation, particularly when we were going through a phase of opening and closing businesses quickly due to the coronavirus."
The City of Malibu relies on the LA County Health Department and its guidelines, which include mask wearing, social distancing, COVID-19 testing and protocols for businesses.
Pierson said it has been challenging to keep up with the uncertain changing state of the spread of the pandemic, even with his weekly calls with Barbara Ferrer, the LA County Health Director.
He has also begun discussions about issuing a mask ordinance specific to Malibu and believes the conversation is overdue.
"Talking with other cities nearby that have them, it's just a stronger deterrent," Pierson said. "You don't write that many tickets; it's more just trying to go to the next level and having people please wear masks because it's the one thing that most of us know makes a huge difference in slowing down the spread of the virus."
As both the mayor and a business coach, Pierson said he sees and understands the challenges that small businesses are confronted with during this time. One way he has tried to support businesses is by working with a group called Change Reaction to provide 0% loans and other help to local businesses.
Barefoot Dreams
For recently opened Barefoot Dreams, using and practicing the various established safeguards in the store — including wearing masks, offering multiple hand sanitizer stations, steaming tried-on garments, allowing up to 50% store capacity, social distancing and remaining open for fewer hours from 11 a.m. to 5 p.m. — has become the new normal.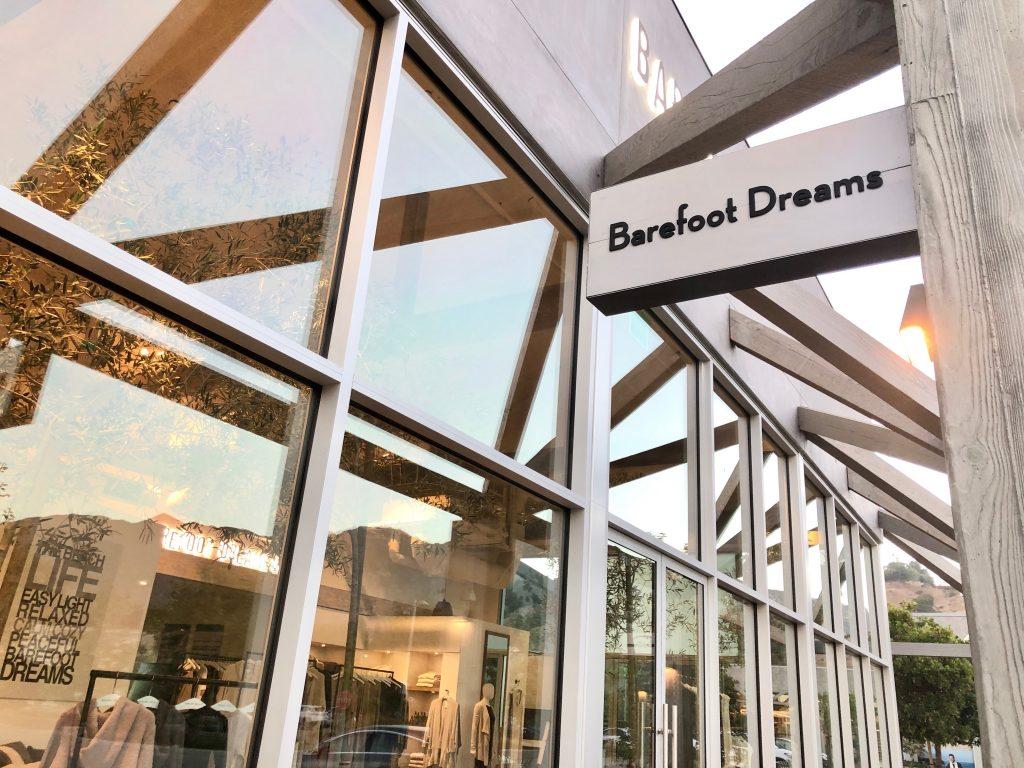 Kosser said some people come into the store and shop because it is one of the few things they can go out and do.
"Our product is really appropriate for what we're dealing with right now as far as being home all the time," Kosser said. "We're kind of not doing so terribly because this is what people are needing right now."
Regarding the future, Kosser said the store is taking it as it comes.
"It's kind of hard to plan too far ahead right now, so it really is a day-to-day thing, but so far we've been able to stay open and operate with people just being cautious, wearing masks, distancing," Kosser said. "We're gonna stay open as long as we're allowed."
Food Services
On March 16, the LA County Public Health Officer issued an order requiring the closure of bars and restaurants, except for food service pick-up and delivery.
As California transitioned to Stage 2 of reopening the state in early May, LA County officials announced that in-person dining in restaurants could resume with appropriate safeguards and protocols in place.
Shortly after, on July 1, the LA County Department of Public Health modified the Health Officer Order to require the closure of indoor, in-person dining due to the rapid increase in COVID-19 cases and deaths in LA County.
"Adjusting on the fly to having people pick up curbside, order online, etc. — some businesses are more able to do that than others, so there's just no other way to look at it other than this has been tough," Pierson said.
To help support local businesses during this time, the City of Malibu issued an emergency ordinance, proposed in early June, that offers a permit allowing for the expansion of outdoor dining.
Christopher Tompkins, owner of Broad Street Oyster Company, a catering and pop-up company turned seafood restaurant located in the Malibu Village, said he has not only been able to adjust quickly during the pandemic but has also opened up another business this summer.
Tompkins is the new owner, along with Max Gualtieri, of Joules and Watts Coffee, a pop-up coffee shop.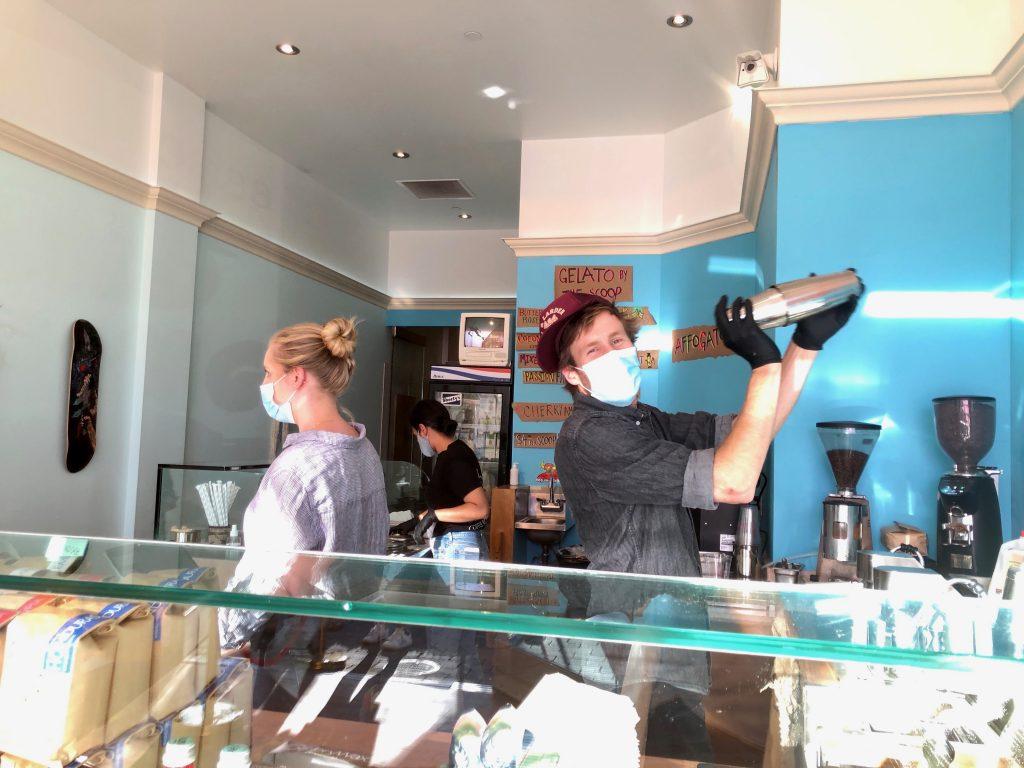 Broad Street Oyster Company has also opened fairly recently, celebrating its one-year anniversary this past Independence Day, which is also when the pop-up coffee shop launched.

Tompkins said it feels like Broad Street Oyster Company has opened twice: once on its actual opening day and another time on March 16, when the restaurant had to close its dine-in service and figure out how to adapt.
"To say that everyone was terrified during those first couple of weeks, I think, is a bit of an understatement," Tompkins said. "I know for a fact that I was nervous not only for my own safety, my employees' safety but just the future of the business because it did feel like the world was ending."
After March 16, the restaurant provided takeout service for its customers. Tompkins said its takeout revenue before then had accounted for only 1%, and now, it has become the business's main source of revenue.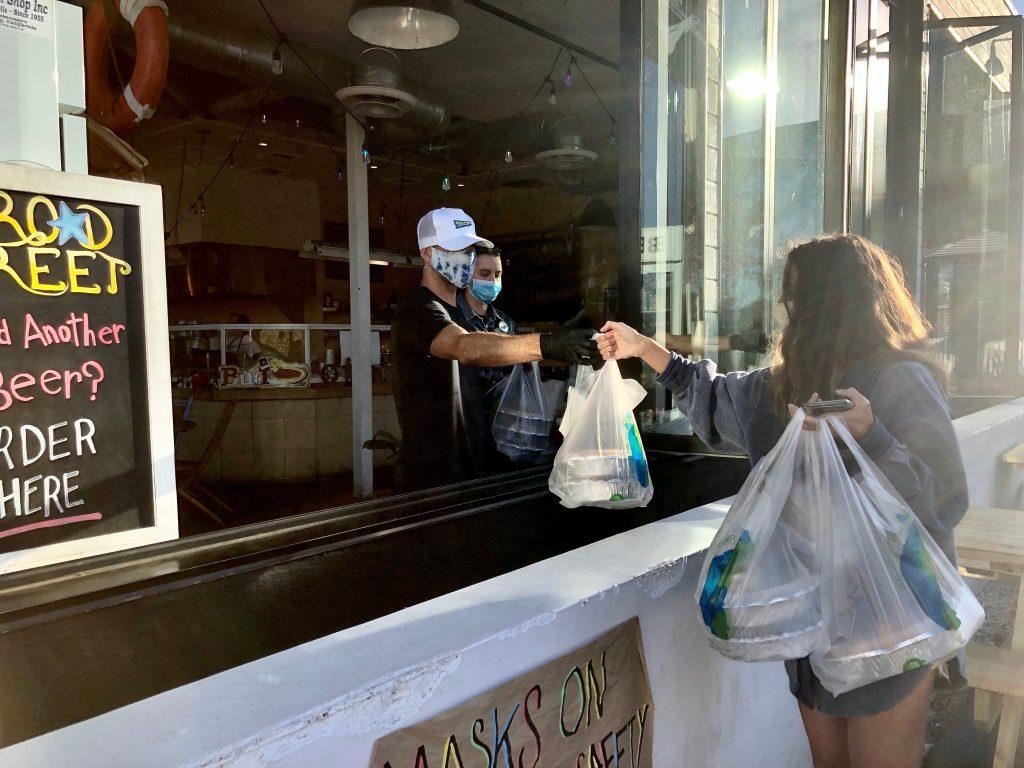 The restaurant also added a drive-thru service by moving its tiki bar around and opening some windows.
"[The drive-thru] definitely carried us through May," Tompkins said. "Then I think that when people were feeling a bit more comfortable with these new guidelines that were being put into place — social distancing, face masks, gloves — they were a bit more accepting of waiting in line with other people."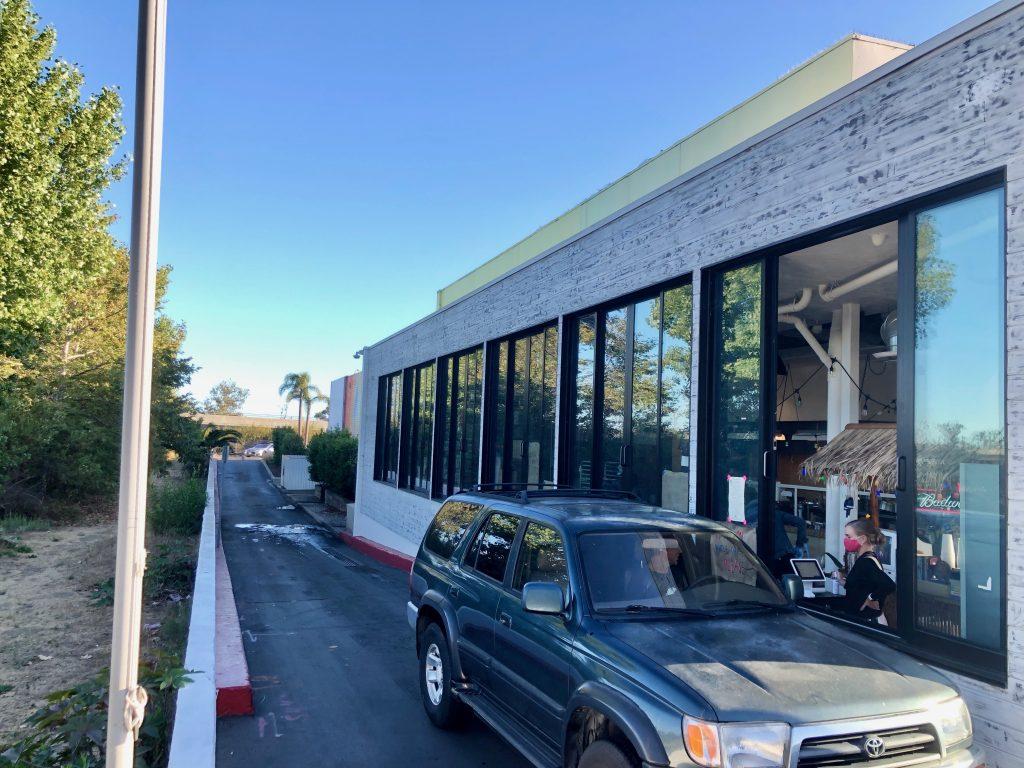 By May, business had taken off and had in fact tripled from last year, especially with "local tourists" wanting to come to Malibu and eat by the ocean, Tompkins said.
In addition to wearing masks and gloves and social distancing, Tompkins said the restaurant also had to figure out how to provide as much outdoor seating as allowed when the city permitted outdoor dining, leading his team to rearrange the indoor dining space to be more functional.
Tompkins said implementing these changes was not a huge challenge for the restaurant, as it had adopted some of the guidelines of wearing masks and gloves and social distancing before it was officially required.
"You adapt to whatever's thrown at you and you just deal with it, as simple as that sounds," Tompkins said. "I have a family of employees that depend on this for a job and their livelihood. "[The restaurant is] like its own living, breathing thing, and if we want to survive, we just have to keep at it."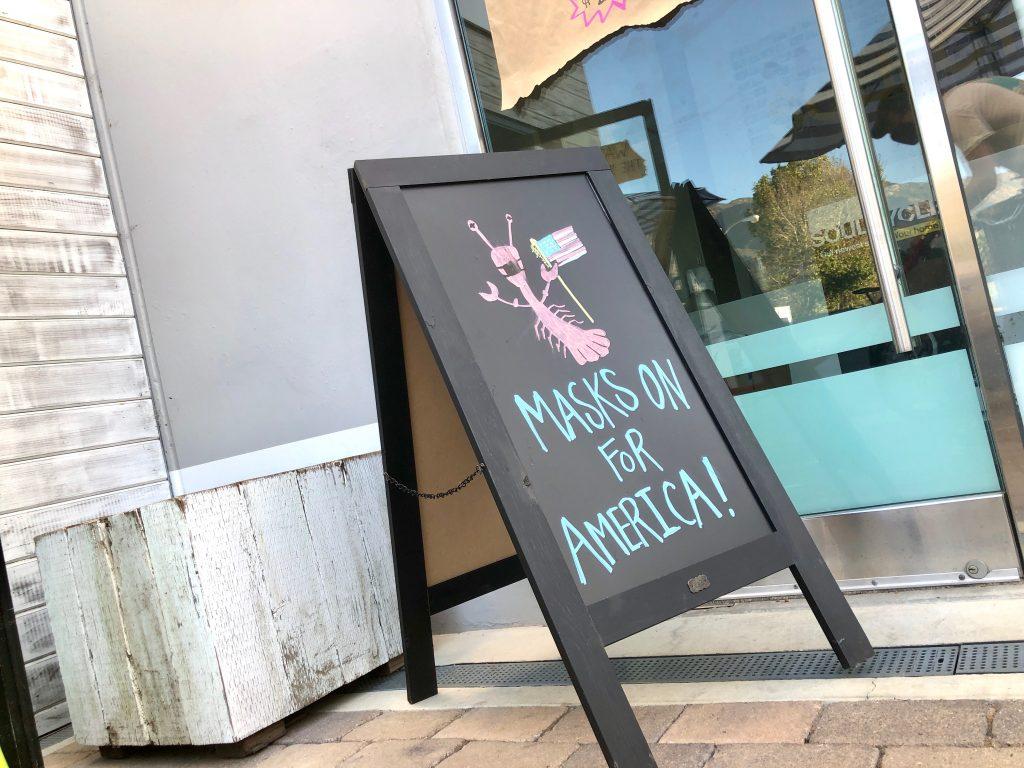 On July 4, a line of mask-wearing, social distancing customers waited for the opening of Joules and Watts.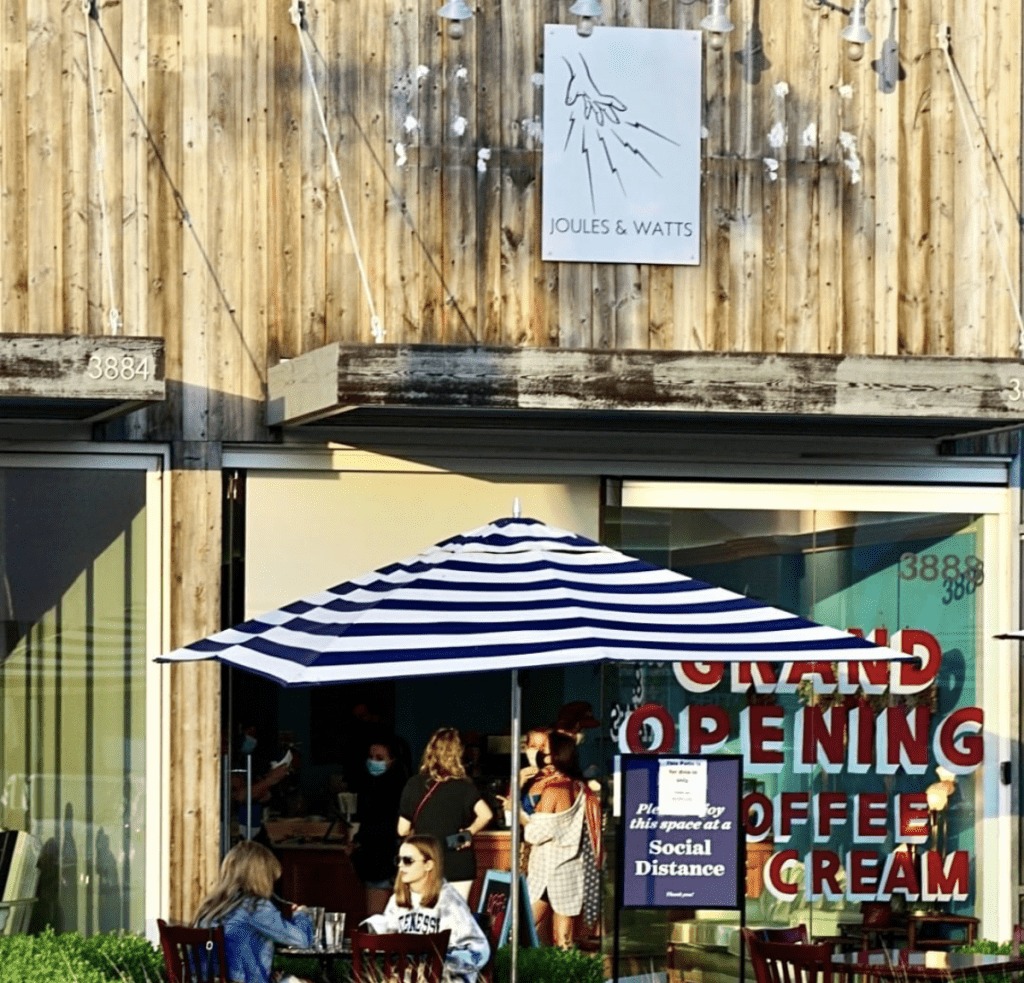 "It felt really great because we were celebrating our one-year anniversary in Malibu for Broad Street and the opening of something new, like this new life, and we're just trying to build a community over there," Tompkins said. "And we want to be a part of the Malibu community while also leaving our mark on it."
Pepperdine's Impact on Local Businesses and Organizations
When Pepperdine had its last day of in-person classes Friday, March 13, and residential students moved out of their on-campus housing that weekend, students were sad and disappointed that they would be ending their spring semester early, Linn Griffin, bookkeeper for the University Church of Christ (UCC), wrote.
UCC also held its last in-person service March 8, with about 75% of its congregation consisting of Pepperdine-related members, including students, faculty and staff, Griffin wrote.
"We were very sorry to see [the students] go," Griffin wrote in an email. "By March 15, we were meeting via Zoom; some students were able to join us virtually that day, and some continue to join us from afar each week."
On May 27, LA County's Revised Order permitted in-person faith-based services with various safeguards in place, including a limited number of congregants. The July 1 modification of the LA County Health Officer Order then required the closure of all indoor activities.
For UCC staff, Griffin wrote they have found working remotely to be fairly easy.
"Our staff has worked to help some members who have had difficulty with their connection in order to make it easier for them to access church via Zoom on Sundays," Griffin wrote.
With Pepperdine returning to online/remote instruction in the upcoming fall 2020 semester and a limited number of students allowed to live on campus, Malibu will lose business and engagement from its usual influx of Pepperdine students. UCC, however, plans to still hire students to work remotely this fall in its youth and campus ministry.
"[Pepperdine's online/remote mode of class instruction] will have a monstrous impact [on Malibu]," Pierson said. "Pepperdine's been a part of Malibu for many, many years, so yeah, that's a huge change — huge."
Crowds of Visitors in Malibu
Despite there being fewer Pepperdine students in Malibu this fall, Kosser and Pierson both said the city has been crowded by visitors trying to get away from other parts of California .
"I know a lot of people are coming into Malibu from the city and renting houses along the coast, so that's helped our businesses too," Kosser said.
Broad Street Oyster Company also noticed a boost in customers from out of town during this time. Tompkins said he believes the overall mentality of the consumer has changed over the last five months to wanting to find a sense of normalcy, and that could appear in the form of taking a drive to a restaurant and eating a lobster roll.
Although visitors have been helpful in providing more business, Pierson said Malibu also feels overwhelmed, dealing with a new level of crowds it's never seen before. The city has not been able to track the exact number of people coming in, but the large spike in visitors is obvious.
Pierson said he and other Malibu residents are concerned about visitors not observing COVID-19 safety guidelines while staying in the city.
"If I had to generalize, what I've seen is that most people in Malibu have done a very good job of social distancing and wearing masks, but we don't seem to see the same level of compliance or caring with people visiting," Pierson said.
Especially on Memorial Day and weekends in general, Pierson said he thinks people felt an urge to release all their pent-up energy and anxiety from staying inside their homes for so long, so they would escape to Malibu.
"I understand and sympathize with it, but it created a very worrisome and scary situation for many of us in Malibu just to have tens of thousands of people descend on the city, and we just weren't really prepared for it," Pierson said.
Other beach cities have been met with similar crowd control challenges, leading to attempts to close beaches, trails and public accesses, particularly on days like July 4.
An unfortunate byproduct of this is even more frustration and stress for Malibu residents, especially senior citizens, Pierson said.
"Some of the public accesses have been closed for a while, and that's impacting a number of seniors strongly," Pierson said. "I've noticed that's been hard on some seniors from the emails I'm getting."
Malibu also canceled Senior Center Programs on March 11 and eventually closed the Senior Center on March 18; however, the center also provides virtual programs.
"It's certainly one of the tragedies of this pandemic," Pierson said. "Our senior center is so vibrant, there are so many programs, and I love going down there when everyone's there — it's excellent."
Pierson said Malibu is making preparations for how the Senior Center will reopen when it can, but there is no date at the moment. He predicts, by looking at the present state of COVID-19, the reopening will not occur for a while.
Looking Out for One Another
According to the LA County Public Health Department website, the City of Malibu has had 86 confirmed cases of COVID-19 and two people who have died from the virus.
"We've had two people who I know of that died in Malibu — one was a good friend of mine — from the coronavirus, so it's serious, and protecting seniors and vulnerable populations is very important," Pierson said.
Pierson said he is looking to figure out additional ways Malibu can support its students and schools to prepare for this upcoming fall, as he realizes the various difficulties parents, teachers and students are facing.
On the night of August 3, the city managed to find some funds for the Boys and Girls Club to run more programs to help kids, Pierson said.
Coming from a psychology background, as well as through speaking with and hearing from many Malibu residents, Pierson understands the heightened sense of stress and anxiety people are feeling during this time.
"It's notable to me that we all, including myself, have this sort of extra level of stress," Pierson said. "Our shoulders are a little more hunched up because not only are we designed to gather but we're also creatures of habit and patterns, and we are out of our pattern entirely. We don't know what's going to happen in an hour necessarily, so that's really hard on us humans."
To help with some of that stress, Pierson said the city's role is to keep everyone, including businesses and other organized services, continually apprised of the latest information.
___________________________________________
Follow the Graphic on Twitter: @PeppGraphic
Contact Emily Shaw via email: emily.c.shaw@pepperdine.edu