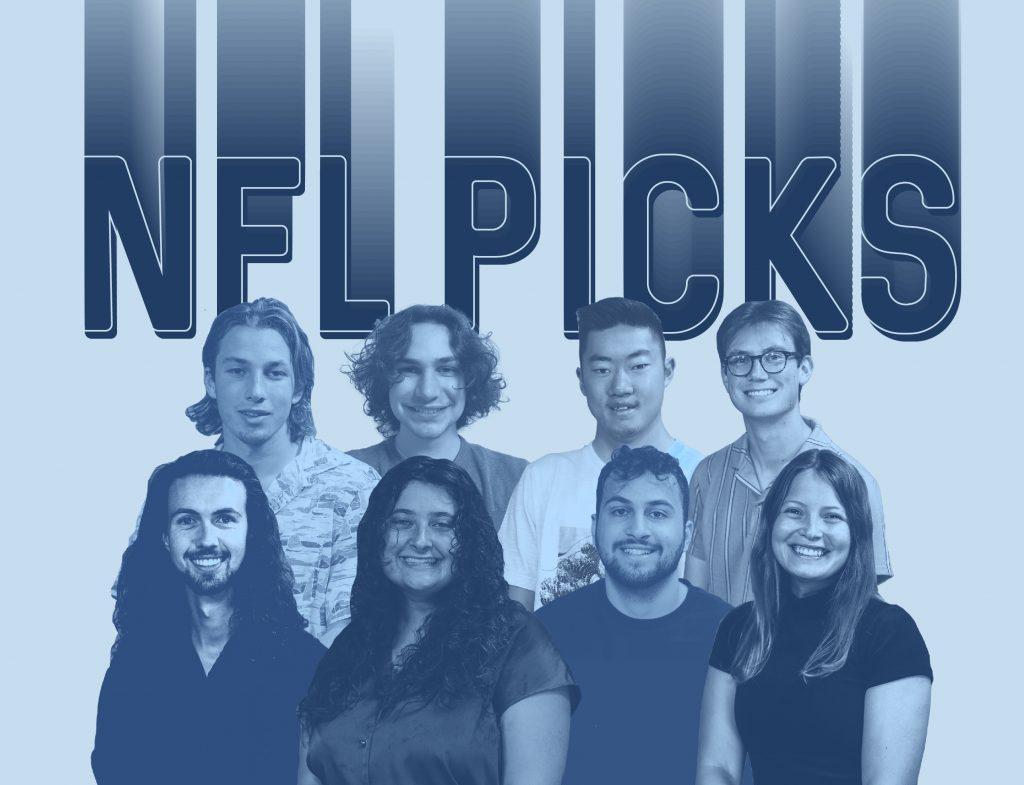 Graphic by Haley Hoidal
What a week it was in the NFL.
The Kansas City Chiefs and Buffalo Bills played an exciting game, quarterback Joe Burrow and wide receiver Ja'Marr Chase were good at playing football together and the Jacksonville Jaguars disappointed their fans. Truly, it was a week unlike any other.
Among the headlines of Week 6 was an impressive display by the Minnesota Vikings, who improved to 5-1 after handing the Miami Dolphins their third straight loss. The New York Jets continued their winning ways with a 27-10 drubbing of the Green Bay Packers. Quarterback Josh Allen finally overcame his football-related demons by besting Patrick Mahomes 24-20.
Week 7 features another underwhelming Thursday night game, as the New Orleans Saints travel to the struggling Arizona Cardinals. The undefeated Philadelphia Eagles decided the NFL is too easy for them and are taking the week off, while the New York Giants will look to catch up to their high-flying division rivals.
Meanwhile, the PGM NFL Picks column has never been closer. Six Graphic staff members have 50 correct picks to their respective names, meaning the field is as wide open as the Packers' offensive line was this weekend.
To the picks!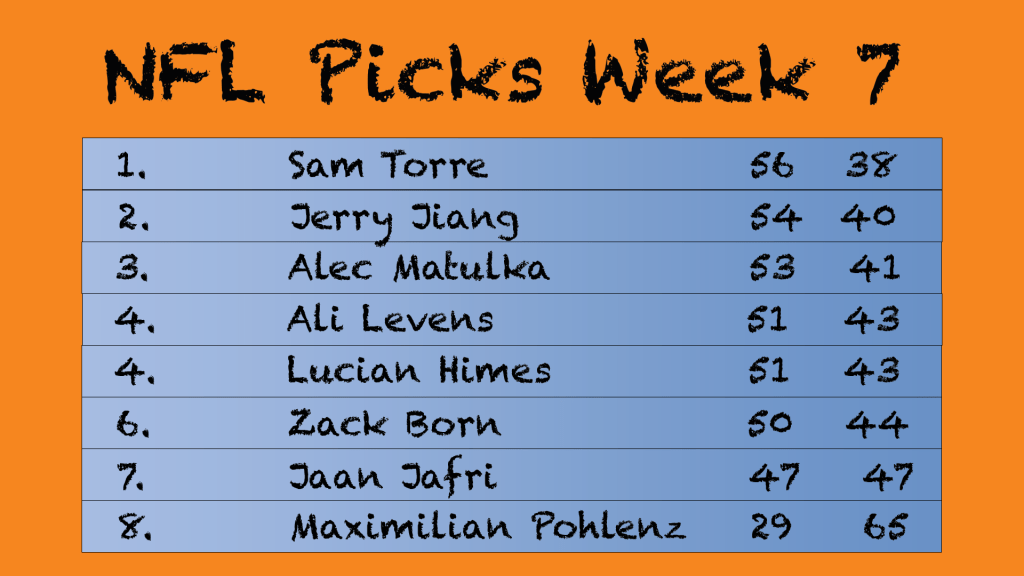 New Orleans Saints (2-4) at Arizona Cardinals (2-4)

Saints: Jaan, Lucian, Maximilian, Sam
Cardinals: Alec, Ali, Jerry, Zack
"I could not care less about this game." — Ali
"Thursday Night Football has been an abomination this season." — Jaan
"Overwatch 2 just came out, you can't be expecting Kyler [Murray] to actually be prepping for the football game." — Lucian
"Oh when the saints, come marching in (do do do do do) oh when the saints come marching in, oh how I want them to win at football oh when the saints come marching in." — Sam
Sunday, Oct. 23, at 10 a.m., PDT
Green Bay Packers (3-3) at Washington Commanders (2-4)
Packers: Alec, Ali, Jaan, Jerry, Lucian, Sam, Zack
Commanders: Maximilian
"Cheese." — Ali
"Aaron Rodgers did DMT this offseason and it didn't register for me until right now. That's so wild." — Jaan
"The Packers just lost, but so did the Commanders. The Commanders have done it a lot more." — Lucian
"I have faith in the absolute legend that is Taylor Heinicke." — Maximilian
Cleveland Browns (2-4) at Baltimore Ravens (3-3)
Browns: None
Ravens: Alec, Ali, Jaan, Jerry, Lucian, Maximilian, Sam, Zack
Tampa Bay Buccaneers (3-3) at Carolina Panthers (1-5)
Bucs: Alec, Ali, Jaan, Jerry, Lucian, Maximilian, Sam, Zack
Panthers: None
"Tom Brady is trying his hardest to stay on the field and away from his family." — Jerry
"Brady might actually be washed, but Baker Mayfield has been so thoroughly scrubbed that you can no longer identify him by his fingerprints." — Lucian
"Who is even on the Panthers and healthy at this point?" — Maximilian
"I don't know how many more Tom Brady divorce jokes I have in me, so I'm going to need the Bucs to start playing teams that can actually beat them." — Sam
Atlanta Falcons (3-3) at Cincinnati Bengals (3-3)
Falcons: None
Bengals: Alec, Ali, Jaan, Jerry, Lucian, Maximilian, Sam, Zack
Detroit Lions (1-4) at Dallas Cowboys (4-2)
Lions: Jaan, Maximilian, Zack
Cowboys: Alec, Ali, Jerry, Lucian, Sam
New York Giants (5-1) at Jacksonville Jaguars (2-4)
Giants: Alec, Ali, Jaan, Jerry, Lucian, Maximilian, Sam, Zack
Jaguars: None
"Trevor Lawrence is clearly reading PGM NFL Picks, because every time I pick the Jaguars, he gets nervous and they lose. I really just want the Jaguars to be happy, so I'm selflessly picking against them this week." — Alec
"They really doubted us." — Ali
"The Giants might be for real! The Giants might be good! Daniel Jones is the quarterback of a winning NFL team!" — Jaan
"The apple is growing far too large. Frank Sinatra. Ol' Blue Eyes." — Zack
Indianapolis Colts (3-2-1) at Tennessee Titans (3-2)
Colts: Jaan, Sam
Titans: Alec, Ali, Jerry, Lucian, Maximilian, Zack
Sunday, Oct. 23, at 1:05 p.m., PDT
Houston Texans (1-3-1) at Las Vegas Raiders (1-4)
Texans: None
Raiders: Alec, Ali, Jaan, Jerry, Lucian, Maximilian, Sam, Zack
New York Jets (4-2) at Denver Broncos (2-4)
Jets: Alec, Ali, Jaan, Jerry, Lucian, Maximilian
Broncos: Sam, Zack
"The Broncos are paying Russ $245 million to lose games, which is ridiculous. I'd do it for free." — Jaan
"If Russell Wilson channels his inner Ja Morant and does the griddy mid-game, I'm actually going to lose it." — Jerry
"Jets are faster than broncos by a ton. Easy pick." — Lucian
"I'd rather die a hero (see the Broncos lose) than live long enough to see myself become the villain (actually pick the Jets)." — Sam
Sunday, Oct. 23, at 1:25 p.m., PDT
Kansas City Chiefs (4-2) at San Francisco 49ers (3-3)

Chiefs: Alec, Ali, Zack
49ers: Jaan, Jerry, Lucian, Maximilian, Sam
Seattle Seahawks (3-3) at Los Angeles Chargers (4-2)
Seahawks: Alec
Chargers: Ali, Jaan, Jerry, Lucian, Maximilian, Sam, Zack
Sunday, Oct. 16, at 5:20 p.m., PDT
Pittsburgh Steelers (2-4) at Miami Dolphins (3-3)
Steelers: Maximilian
Dolphins: Alec, Ali, Jaan, Jerry, Lucian, Sam, Zack
"I hate the Steelers. Ugly colors." — Ali
"Amazing leadership from Tyreek Hill has caused the Dolphins to get a new custom ping pong table in their locker room, which will only increase their motivation during the rest of the season." — Jaan
"Tua is going to be back, and he is going to make this offense great again (if he can stand, that is)." — Lucian
"Kenny Pickett rocks the snapback baseball hat. That's an intangible the Fins can't account for." — Maximilian
Monday, Oct. 24, at 5:15 p.m., PDT
Chicago Bears (2-4) at New England Patriots (3-3)

Bears: Jaan, Maximilian
Patriots: Alec, Ali, Jerry, Lucian, Sam, Zack
"Bears. Beets. Being Bad." — Alec
"Never doubt the Mac-Daddy." — Ali
"Much like the jury ruling on Capone's conviction, I am making this decision under no duress whatsoever." — Maximilian
"America's most beloved team is back." — Zack
__________________

Follow the Graphic on Twitter: @PeppGraphic

Email Alec Matulka: alec.matulka@pepperdine.edu