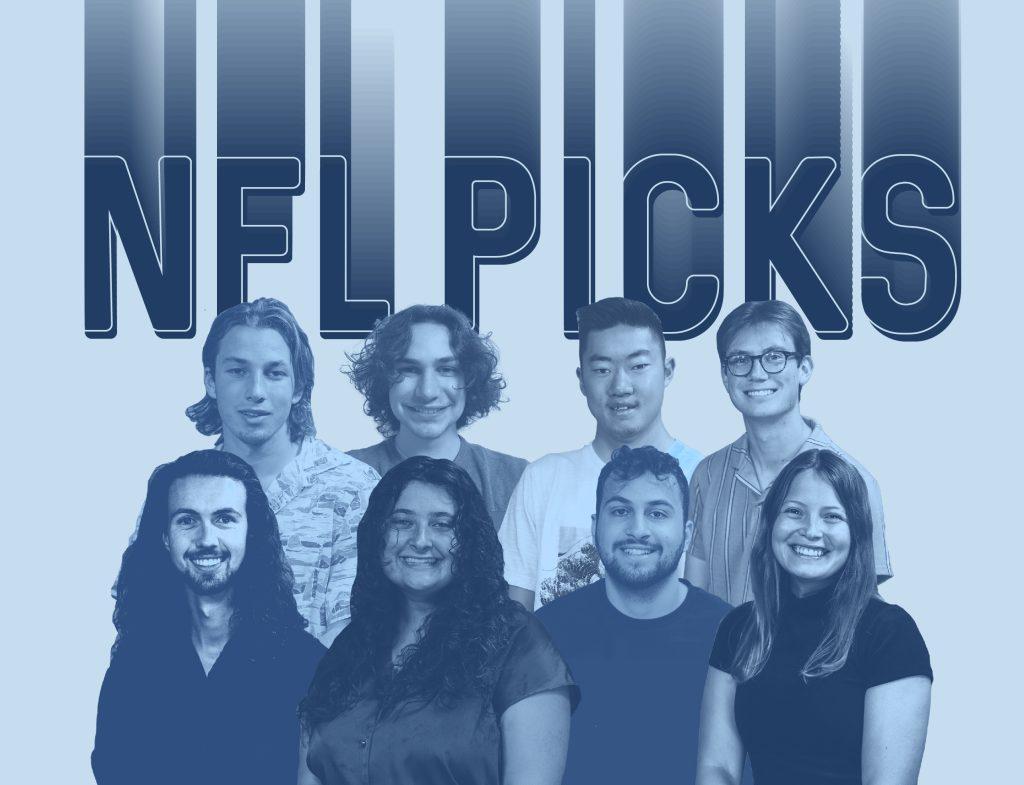 Graphic by Haley Hoidal
It's come down to this.
Super Bowl LVII is slated for Sunday, Feb. 12, in Glendale, Ariz. It will pit the high-flying Philadelphia Eagles against the Patrick Mahomes-led Kansas City Chiefs.
The Eagles are playing in their fourth Super Bowl after shellacking the San Francisco 49ers 31-7 Jan. 29. After playing the 49ers fourth-string quarterback, Josh Johnson, for a portion of the game, they'll likely face a tougher test this Sunday. The Eagles last played in a Super Bowl in 2017, when they beat the New England Patriots 41-33 to wear the NFL crown for the first time.
The Chiefs outlasted the Cincinnati Bengals in a 23-20 victory Jan. 29, and successfully defended their home turf from being called 'Burrowhead Stadium' for the foreseeable future. This is Kansas City's third Super Bowl appearance in the last four seasons and their fifth overall.
More importantly, Rihanna will give her first live show in five years during the Apple Music Halftime Show, and Pepsi executives everywhere will be kicking themselves for no longer having those coveted naming rights.
Much has already been decided in the PGM NFL Picks realm. Pepperdine alumnus Zack Born ('22) has climbed to the pinnacle of speculative stardom and clinched the PGM NFL Picks crown with a round to spare. He has ascended the mountain, and he is master of all he surveys. Everything the light touches is yours, Zack.
News Editor Samantha Torre has locked up second place as well, after slipping from her top spot somewhere around Week 10 and never recovering. Meanwhile, at the bottom of the table, Staff Writer Maximilian Pohlenz, Sports Editor Jerry Jiang and Sports Assistant Jaan Jafri have had the bottom three spots in the bag for months.
But third place on the PGM NFL Picks podium is not yet decided: it will come down to a battle of wits between Co-Copy Chief Alec Matulka and Senior Climate Change Reporter Ali Levens. Both have picked different teams to win.
Like a cow jumping over the moon, truly, the steaks have never been higher.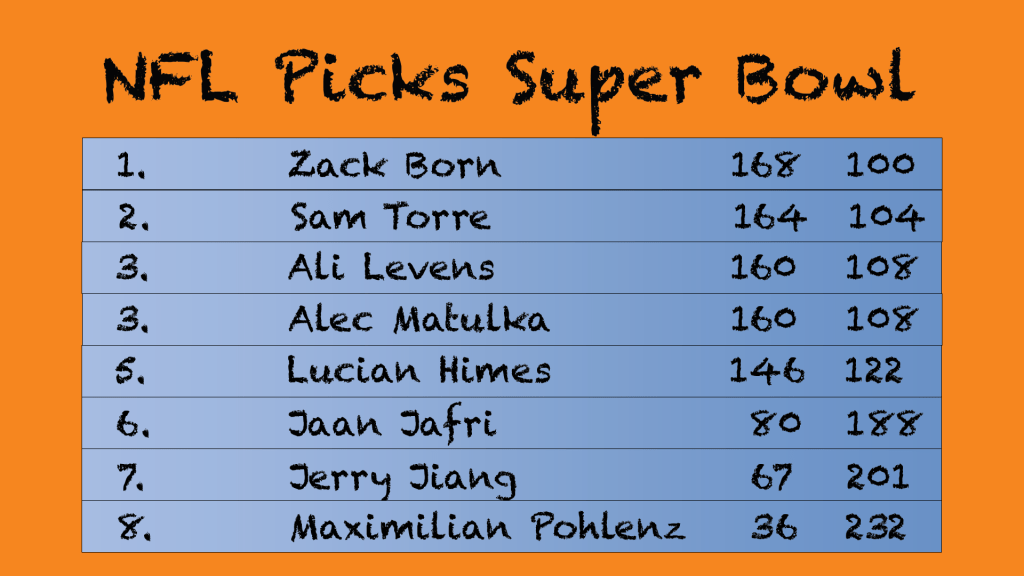 Kansas City Chiefs (16-3) at Philadelphia Eagles (16-3)
Chiefs: Ali, Jaan, Jerry,
Eagles: Alec, Lucian, Maximilian, Sam, Zack
"In fifty years, when we're telling our great-great-great-grandchildren about the 2022-23 NFL season, we won't talk about this game. No, we'll tell them about Geno Smith's improbable run to stardom. We'll tell them about his first-ever pro-bowl nomination and his mind-melting 4282 passing yards, and they'll gasp with amazement. We'll say, 'They wrote him off, but he didn't write back, though.' We might mention the Eagles' Super Bowl win, but it will be an afterthought." — Alec

"Can't spell Philly without two L's. Also, I have been in the same room as my friend, Patrick [Mahomes], and his brother and wife at a Jonas Brothers concert. I want the utmost success for a fellow Jonatic." — Ali
"Last time Philadelphia won a Super Bowl, those freaks were eating poo off the ground." — Jaan
"This is a historical football game, with two black quarterbacks headlining the event. But, I've always been a fan of Patrick Mahomes, so with that, let's go Chiefs." — Jerry
"I don't want to talk about last week. Actually, I do, but only to complain and make excuses. If the 49ers hadn't lost their 3rd and 4th string quarterbacks, we would be in the Super Bowl. But we aren't. F. Gotta take the Eagles because then we lost to the champs. Also, the loss to the Chiefs still hurts. Also, Hurts, of the Jalen variety, is good at football. Mahomes is also good, but he is injured. Go Birds." — Lucian
"For the record, I wanted the 49ers to win it all." — Maximilian
"I have — up 'til now — lived in a happy state of denial, where the Bengals have made the Super Bowl. However, I have since been confronted with a terrible dose of reality. Alas, beggars cannot be choosers in this cold, cold world of American football. I will be picking the Eagles simply because I saw a really cool bird outside and want to commemorate that." — Sam
"The Eagles are potentially the most well-rounded team in the league, and Mahomes is playing on an injury that would sideline me for the rest of my life. I have no horse in this race, but at least a Philly victory would produce another Always Sunny championship episode. On the flip side, Philly losing their third major sports championship since November would be equally as funny. No matter what, humor will prevail." — Zack
__________________
Follow the Graphic on Twitter: @PeppGraphic

Email Alec Matulka: alec.matulka@pepperdine.edu