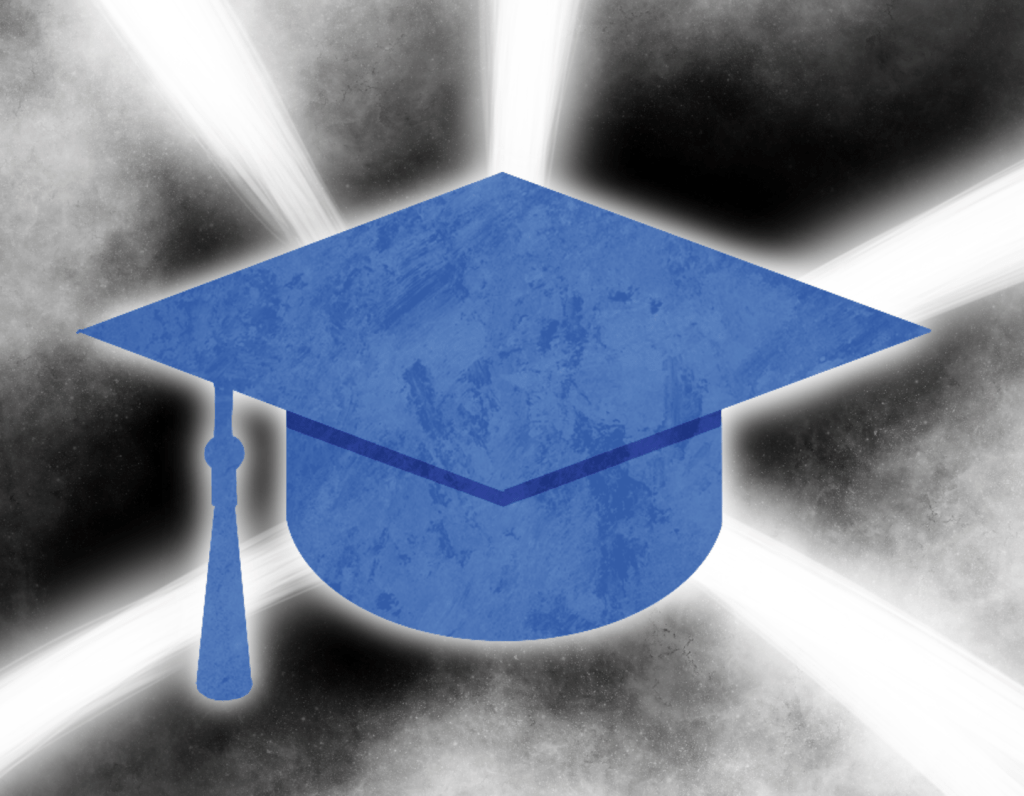 Art by Vivian Hsia
Transparency Item: The Perspectives section of the Graphic is comprised of articles based on opinion. This is the opinion and perspective of the writer.
As exciting as the thought of walking across the stage in a week is, I was not prepared for the heightened mix of emotions also associated with the time leading up to it. However, in this period of waiting for the momentous day, appreciating the journey to get to graduation helps outweigh the feelings of sadness and confusion.
There are only a few days until the class of 2023 will be walking across the stage set up on Alumni Park overlooking the Pacific Ocean.
With graduation nearing, I find myself constantly overwhelmed with varying emotions of excitement, fear, nervousness and hope — all common when nearing the end of one chapter, soon to be opening another.
During the spring 2022 semester, I remember chatting with a senior at the time who told me to prepare myself for my last semester, emphasizing to not go in with false expectations that it will be smooth sailing.
At the time, I was confused and thought they were being overly pessimistic. Although, throughout the past few months, their words have become clearer ever before.
No one talks about the anxiety and depression associated with this time. Having experienced it myself, these emotions are most evidently present when considering what lies beyond Pepperdine and Malibu.
The past few months have been filled with countless questions that, in all seriousness, I do not have the answers to.
How's your resume looking? What are your plans after graduation? Any jobs lined up for you? Wait, are you going back home or moving out? What will you be doing once you leave Pepperdine? How are you feeling about moving on?
These questions, combined with the constant worry of balancing relationships, academics, extracurriculars, work and everything else, have been the biggest source of stress and anxiety over the past few weeks.
Watching everyone figure out their lives, while exciting, makes me nervous and feel as though I am falling behind and not living up to what's expected of me. Even though numerous people have told me that everyone is in the same boat, it still does not make the weight of the unknown any lighter.
With this uncertainty and fear of change, I have come to realize there is no right way to go about this transition phase. However, taking the initiative to prioritize appreciation whenever possible has helped alleviate the constant worry and anxiety.
Even with an unpredictable future looming over us, there are so many wonderful things radiating around us. Taking time to recognize our growth throughout our time at Pepperdine and choosing to intentionally live in the present can help to promote a positive mindset.
I find joy in the fact that after everyone was sent home halfway through our first-year in 2020. We now get to be back on campus and finish strong. The separation from one another only pushed us to desire connection, which has shown greatly through our class's resilience and dedication to one another.
This is something to celebrate.
Remember when we learned what our Degree Audit Reports were our first-year? When we first saw the countless number of GEs and upper division classes required of us? Something that once seemed so scary and never ending is now nearing completion.
We have successfully completed all of the courses required— whether by choice or not — and now get to see our commitment to achieving a well-rounded education come to fruition once we walk across the stage. The countless hours spent working on group projects, writing our theses and sitting in Payson have paid off.
This is something to celebrate.
Each one of us overcame individual challenges that, while writing cannot emphasize, are worth validating.
Some of us are the first in our families to graduate after having navigated college alone. Others of us have endured significant physical and mental health challenges, yet are still pursuing a full time academic career. Some of us lost loved ones, yet pushed through as a means to honor them.
The list of hardships goes on. However, regardless of our own respective experiences, we have made it to the final stretch of our college careers.
The perseverance and tenacity we have come to develop does not go unnoticed, and will continue to assist us our lives beyond Pepperdine.
This is something to celebrate.
The friendships made here are something so prominent and special to our community.
Fueled with intentionality, honesty and trust, the connections we have made here are some of the greatest blessings. We have taken the time to cultivate genuine relationships with one another, which constantly bring about moments of happiness.
Looking down the line, these friendships are a tangible reminder of the connections Pepperdine provided us. And thankfully, the real and true relationships we made here will carry along with us despite the distance soon to be a reality.
This is something to celebrate.
I am not saying the anxieties and worries will disappear, as they will inevitably stick around in some capacity. Make sure to take the time to sit and think about the past few years and come to appreciate the little things. Whether it be your individual growth, relationships with friends, or something personal to you, take the time to be proud of yourself. With only a few more days at Pepperdine, make sure to show yourself grace and also congratulate yourself for how far you have come.
____________________
Follow the Graphic on Twitter: @PeppGraphic
Email Lisette Isiordia: lisette.isiordia@pepperdine.edu