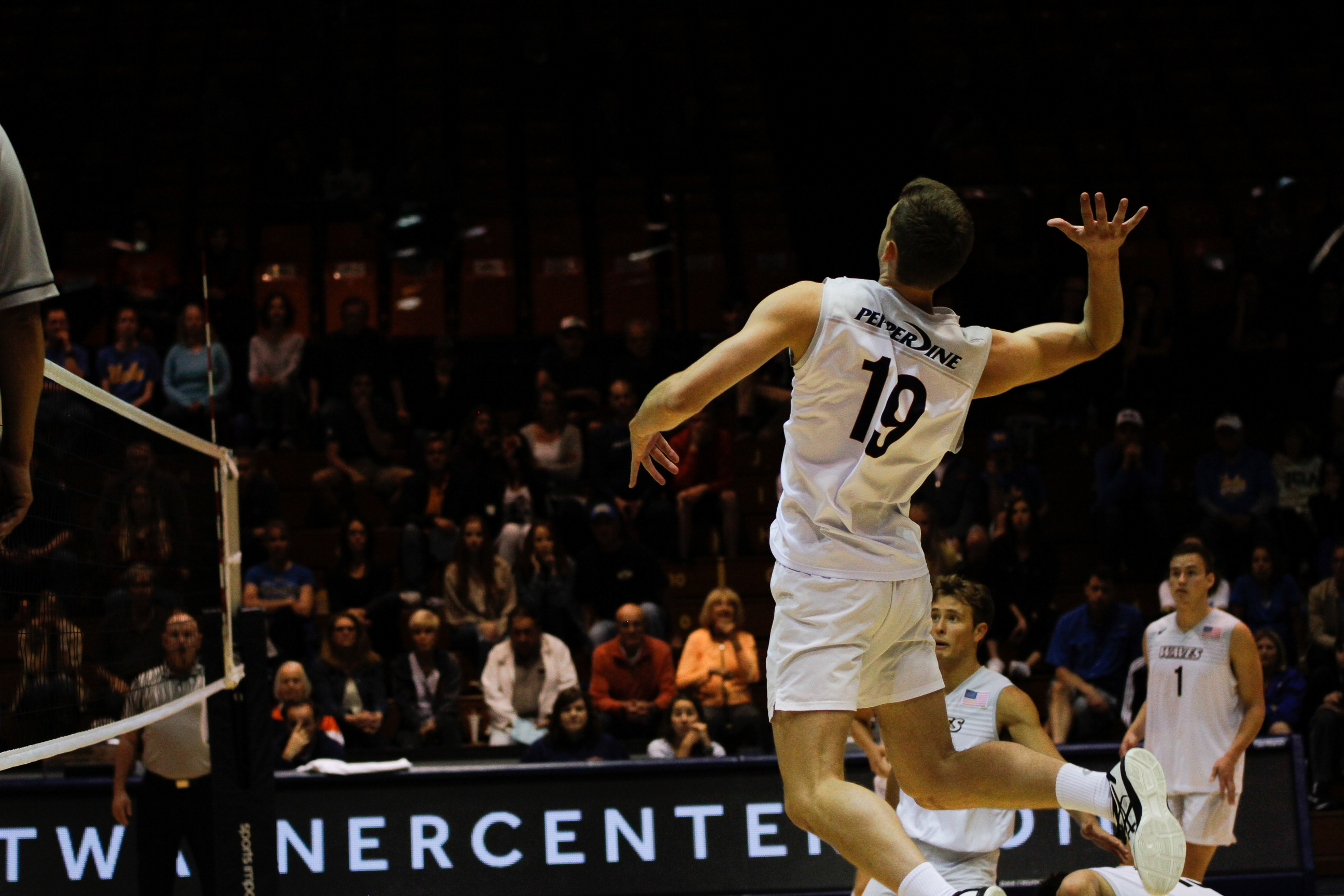 Photos Courtesy of Lily Dyer
Senior outside hitter Kaleb Denmark smashed a career-high 18 kills on a .593 hitting percentage to lead national No. 4 Waves Men's Volleyball to a 3-1 victory over No. 5 UCLA on Wednesday, March 27 at Firestone Fieldhouse.
Coupled with Friday's 3-0 triumph over Grand Canyon, the Waves are now a perfect 10-0 at home this season, and they control their destiny in the race for a Mountain Pacific Sports Federation (MPSF) regular season title.
"It's a big night," Denmark said. "We're fighting right now for first place in the league so it was a big deal to come in here and be able to take care of business."
Six of Denmark's kills came in a back-and-forth first set, which included two that gave Pepperdine a 23-20 lead. Redshirt sophomore setter Robert Mullahey won a joust at the net after a long rally on the very next point. The Waves were then able to close out a 25-21 first set win.
Denmark also added six of his kills in the third set, a wire-to-wire 25-16 set victory for the Waves. For his efforts against UCLA and Grand Canyon, Denmark was named American Volleyball Coaches Association National Player of the Week and MPSF Offensive Player of the Week.
"I don't know if impressed is the right word," Head Coach David Hunt said. " … [Denmark is] in here working his butt off every day. I'm just glad that he's reaping the fruits of his labor."
Another senior outside hitter, Michael Wexter, also had a monster game, contributing 17 kills on a .536 hitting percentage and leading the team with 15 digs.
Six of Wexter's kills came in a wild second set. Pepperdine fended off three set points and a no-call that agitated Hunt before UCLA eventually won the set 31-29.
"There can be bad calls and good calls," Wexter said. "No matter what, you've got to be ready to play. One of the things that we've been working on is our mindfulness … I think that's really helped us as a team with just going to the next point every single time."
The Waves did move on to the next point, completely dominating the third set and holding the Bruins to a .103 hitting percentage.
The Waves' advantage at the net became apparent, as fifth-year middle blocker Kevin Vaz contributed four of his match-high seven blocks in the third frame.
"Kevin [Vaz] and [middle blocker] Max [Chamberlain] did an incredible job of running the blocking scheme and they were telling us what the coaches wanted," Denmark said. "We had a really good plan and we executed it pretty well."
The Waves rode the momentum into the fourth set, beating the Bruins 25-17 to close out the match. After an unusually quiet start, senior outside hitter David Wieczorek knocked down six of his ten kills in the final set.
"[UCLA was] really preoccupied with Dave [Wieczorek] and that kind of freed me and [Wexter] up to do our thing," Denmark said. "All credit to Rob [Mullahey], setting us great balls all night."
Mullahey finished with 45 assists, one more then Bruins' setter Adam Parks.
Micah Ma'a led UCLA with 10 digs and 13 kills, but the Bruins hit only .316 as a team for the match, compared to Pepperdine's .485.
"I think we were passing lights out," Wexter said. "[UCLA] rips serves; they have a few guys that hit 70 plus [mph]. The fact that [we] could pass the ball and put it in a place where [Mullahey] could put up good sets made all of us play great."
The win not only avenged a 3-2 loss at UCLA's Pauley Pavilion a month earlier, in a match in which Pepperdine won the first two sets, but it also put the Waves in the driver's seat in the MPSF.
Pepperdine now owns the tiebreaker over both UCLA and No. 11 Brigham Young, both teams with which the Waves split the season series.
"With the condensed conference, [MPSF play] is not 22 matches, it's 12," Hunt said. "We know that every match counts, every match is important."
The condensed conference schedule came as a result of the addition of men's volleyball to the Big West Conference in 2018, which caused six teams to leave the MPSF.
Two days after the UCLA victory, Hunt's team won another conference match at home, annihilating Grand Canyon 3-0, with set scores of 25-16, 25-10 and 25-17. Wieczorek led the team with 13 kills and Vaz added eight blocks.
Vaz was later named MPSF Defensive Player of the Week, completing a Pepperdine sweep of the conference weekly awards.
"I think all wins are nice," Hunt said. " … I'm proud of the guys."
The Waves have two regular season matches remaining: Thursday against No. 6 Southern California and Saturday against Concordia-Irvine, both conference matches at home. Should Pepperdine win both, they will earn the right to host the MPSF semifinals and finals at Firestone, which would be critical for seeding in the NCAA tournament.
"As [Head Coach Emeritus] Marv [Dunphy] always says, 'The most important match is the next one,'" Wexter said.
______________________________
Follow The Graphic on Twitter @PeppGraphic