Art by Vivian Hsia
A new school year means new students learning to navigate Malibu and the Pepperdine campus. First-years and transfer students alike will learn to adapt to a new social atmosphere and academic environment.
"Enjoy your time, take time to slow down at Pepperdine," junior Emily Audras said. "Everything's fast-paced, so try to be intentional and have an open mind."
With just over 3,000 undergrad students in Seaver College, Pepperdine is a smaller university. Junior Sabrina Musharbash said the size makes it easier to make close friends and relationships.
"I think everyone here kind of looks out for each other and they have each other's backs and so with that you should also have each other's back," Musharbash said. "That kind of helps create that community."
Activities and Events
There are an array of clubs, activities and events on campus for students to get involved in, Musharbash said. Peppervine is one resource available to students looking to find an organization to join. All 142 of Pepperdine's organizations are listed on the site, each with a brief description and a way to connect with the organization.
"Every club I've seen has such a great community amongst them," Musharbash said. "So join whatever you are passionate about and sounds fun to you."
As a member of the Student Government Association and the mock trial team, Musharbash said getting involved helped her grow as a person.
"For me, it was a great experience," Musharbash said. "And it kind of pushed me out of my comfort zone and taught me to be so talkative. I used to not be as talkative. SGA, I think it's a great way to kind of learn how to have confidence in your voice."
Pepperdine is home to 17 athletic teams so attending the year-round games is another way for students to immerse themselves in the community, Musharbash said.
"Try going to some of the athletic games," Musharbash said. "I know a lot of people don't really go, but the ones I've been to have been so much fun."
In addition to clubs and sporting events, students said there are campus events put on by the Student Programming Board such as Coffeehouse, ReelStories Film Festival, Pacific Sounds Music + Arts Festival and Blue and Orange Madness. Senior Caroline Conder has worked with the Board for each of these events and said her favorite was the Pacific Sounds Music + Arts Festival.
"It was a really cool experience getting to work behind the scenes and see it all come together in the end," Conder said. "Since it was such a large event, it really made the team work together."
Junior Mariah Macias, ambassador to the Student Wellness Advisory Board (SWAB), said she encourages new students to utilize the resources and events SWAB offers to prioritize their health as a college student, whether that be physical, mental or social health. SWAB has three branches — healthy minds, healthy communities and healthy bodies — dedicated to looking after the well-being of Pepperdine students.
Notable events SWAB puts on throughout the year include Stick or Treat in October for promoting flu shots, Destress Fest at the end of every semester with therapy dogs on campus, Take Back the Night, a night during the spring semester dedicated to giving sexual assault survivors a platform and their monthly event Coffee and Consent to encourage conversations about sexual consent.
"It's an easy way to get coffee, but also learn about consent, which is important at our age, making yourself more aware of sexual violence and assault and things like that," Macias said. "So come to our events and get educated and get free things."
In addition to attending these events, Macias said her biggest advice for new students as an ambassador to the healthy bodies branch of SWAB is to find time for themselves.
"It's so easy to get caught up and everyone gets so busy and you forget to take care of yourself," Macias said. "Also, always take the stairs! That's, like, a given here, but if there's a choice of an elevator, always take the stairs."
Discovering the Malibu Area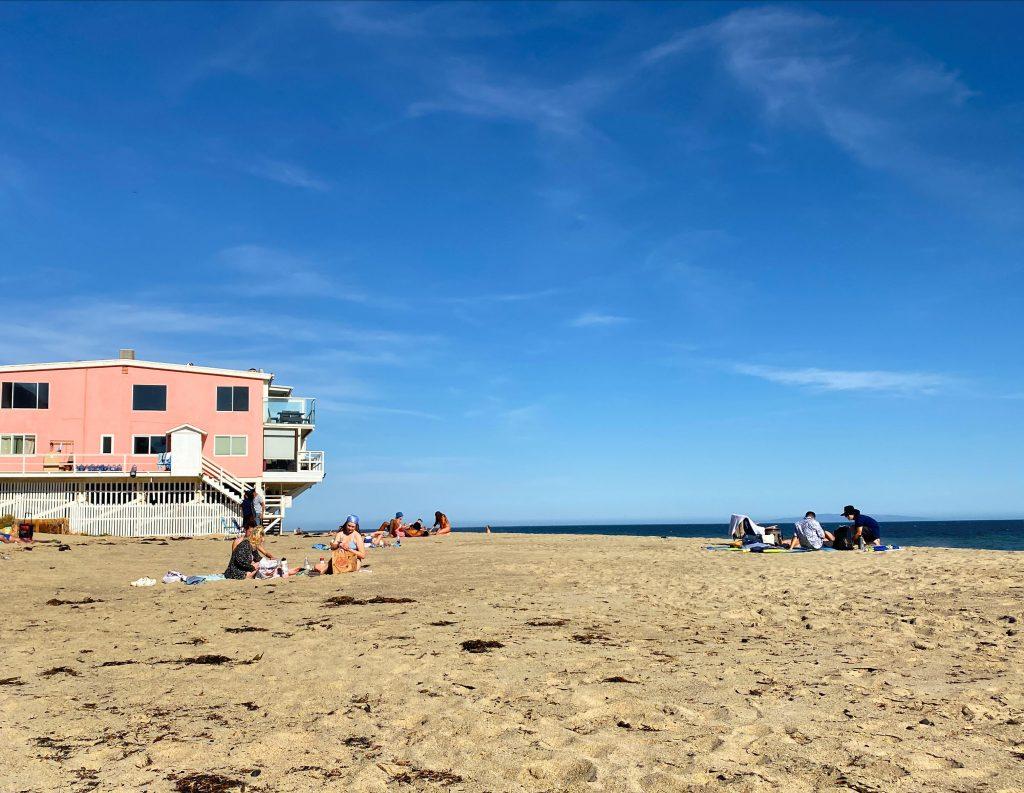 Outside the campus, Audras said the city of Malibu has a lot to offer such as restaurants, beaches, shopping and hiking spots.
"Try a hike even if you're not a true hiker person," Audras said. "There's a ton in this area. Malibu Creek State Park, there's Point Dume, even as a little walk. Just try out nature even if it's not your thing, because it might surprise you."
In terms of quick affordability, Audras said the Whole Foods Hot Bar, Howdy's restaurant and grocery stores are some of the best food options in the area.
"Go to the grocery store, make a picnic and take it to the beach," Audras said.
Less than a mile away from campus, Musharbash said many shopping and dining options can be found at the Malibu Country Mart, walking distance from campus and is a stop on the shopping shuttle available Monday through Friday.
"If you don't have a car, the Country Mart is amazing," Musharbash said.
Academic Advice
Academic schedules are different for every student and finding the right time to do homework and study can be unique to the individual, Audras said.
"Do your work in the middle of the day when other people are in classes," Audras said. "Even though it's not as fun, you'll be more productive and you can actually enjoy your evenings and have more friend time."
Pepperdine's campus has a variety of study spots to choose from. Musharbash said her favorites include the private study rooms in the library, the benches behind the Chapel overlooking the ocean and the Lighthouse.
"If you ever need a 24-hour place to study, the Lighthouse is always open," Musharbash said.
Musharbash and Audras said they encourage talking and getting to know professors as another avenue for academic success, as well as visiting office hours as a specific way to speak to professors one-on-one and ask questions.
"They're [professors] your advocates, they're on your side and they will move heaven and Earth for you," Audras said. "One of my friends said to make sure the first week you go to an office hour, even if you don't have anything to say, just take that extra step."
Despite the importance of academics, Audras said she wishes she put less pressure on herself her first year and encourages new students to do things that will make them feel gratified and focused.
"Have fun, get outside of your own head," Audras said. "Don't let yourself overthink too much."
______________________
Follow the Graphic on Twitter: @PeppGraphic
Contact Kaela Hockman and Jackie Lopez via email: kaela.hockman@pepperdine.edu and jacqueline.lopez@pepperdine.edu