Middle blocker JT Ardell (24) dominates at the net against USC.
Photos courtesy of Martin A. Folb | Pepperdine Athletics
Pepperdine Men's Volleyball rebounded from a five-set test against Concordia to sweep USC 25–21, 25–23, 25–22 Friday at Firestone Fieldhouse.
Jacob Steele led the Waves with 12 kills and eight digs, while JT Ardell had nine blocks at the net. Freshman setter Joe Karlous contributed 30 assists. USC had the lead in every set, but Pepperdine used decisive runs in key moments to get the match done in three sets.
"They got a lot of fire, so we had to respond early and keep pushing," Karlous said. "We knew the score would go back and forth, but … one of the mottos for us is to keep pushing no matter what."
Responding early carried extra importance for tonight's game after Wednesday's five-set match against Concordia. Heavily favored at home, the Waves surprisingly dropped the first two sets before rebounding to win three straight and take the victory.
Steele said taking control of the game early was a focal point for the team leading into Friday's game.
"That's something we've been talking about lately, coming out a little slow in some of the past few matches," Steele said. "But we really made a good correction this match."
Karlous said the pregame message was pretty simple.
"Let's not go to five, and let's not be down 0–2," Karlous said, with a laugh. "Let's not do what we did last time."
This time, Pepperdine found themselves down 6–2 in the first set, but a 5–1 run of two Austin Wilmot kills and three consecutive Alex Gettinger aces brought the Waves level at 7–7. After taking the lead for the first time at 10–9, the Waves never trailed again in the set, but the 25–21 final margin was only one off Pepperdine's largest lead of five.
With the second set tied at nine, Pepperdine scored seven straight points to take a 16–9 lead, using two Ardell kills, two Noah Dyer aces, and some help from the Trojans in the form of three attack errors. However, the Trojans immediately responded, and a Noah Franklin ace capped a run that tied the score at 17. The teams continued to battle back and forth until Steele's crosscourt kill from the right-hand side ended the second set at 25–23.
The third set followed more of the same formula. Both Pepperdine and USC were evenly matched throughout the first part of the set, but after USC pulled ahead at 12–11, the team made a series of mistakes at an inopportune time. A service error gave Pepperdine the opportunity to serve, an attack error gave the Waves the lead and yet another Gettinger ace gave the Waves a two-point cushion and all the momentum.
The Waves went up 24–20 on an Austin Wilmot kill. USC staved off the first two match points, but Wilmot snuffed out any hope of a USC rally with a perfectly-placed tip shot over the middle blockers to end the third set at 25–22.
"We just made a lot of good volleyball plays," Head Coach David Hunt said. "We didn't rely on one great play — just a lot of good plays we strung together. They went on some runs here and there, but I think the consistent play ultimately played out."
The Waves hit .287 for the match, including at a stellar .423 clip in the third set. They also took far better care of the ball compared to their opponents. The Waves had only 10 attack errors compared to 21 for USC, as well as seven service errors to USC's 13.
"Our coach emphasizes to out-team every team," Karlous said. "We have a plan. We stick to the plan, or we adjust. The game's always going to flow in different ways."
Brandon Browning and Kyle Gear had nine kills apiece to lead the Trojans, who hit .234 for the game. Cole Paxson contributed 12 digs. The win improves Pepperdine to 6–3, with a 3–1 record in the Mountain Pacific Sports Federation. The Trojans, just a year removed from falling to Pepperdine in the MPSF championship game, currently sit at 2–10 and with an 0–3 conference record.
For the Waves, Wednesday's and Friday's matches were a welcome opportunity to play in Malibu after going over a month between home matches.
"It feels awesome [to be at home]," Steele said. "I love the fans we have. It's definitely great to have them jeering at the other guys instead of us. We have a good crowd here."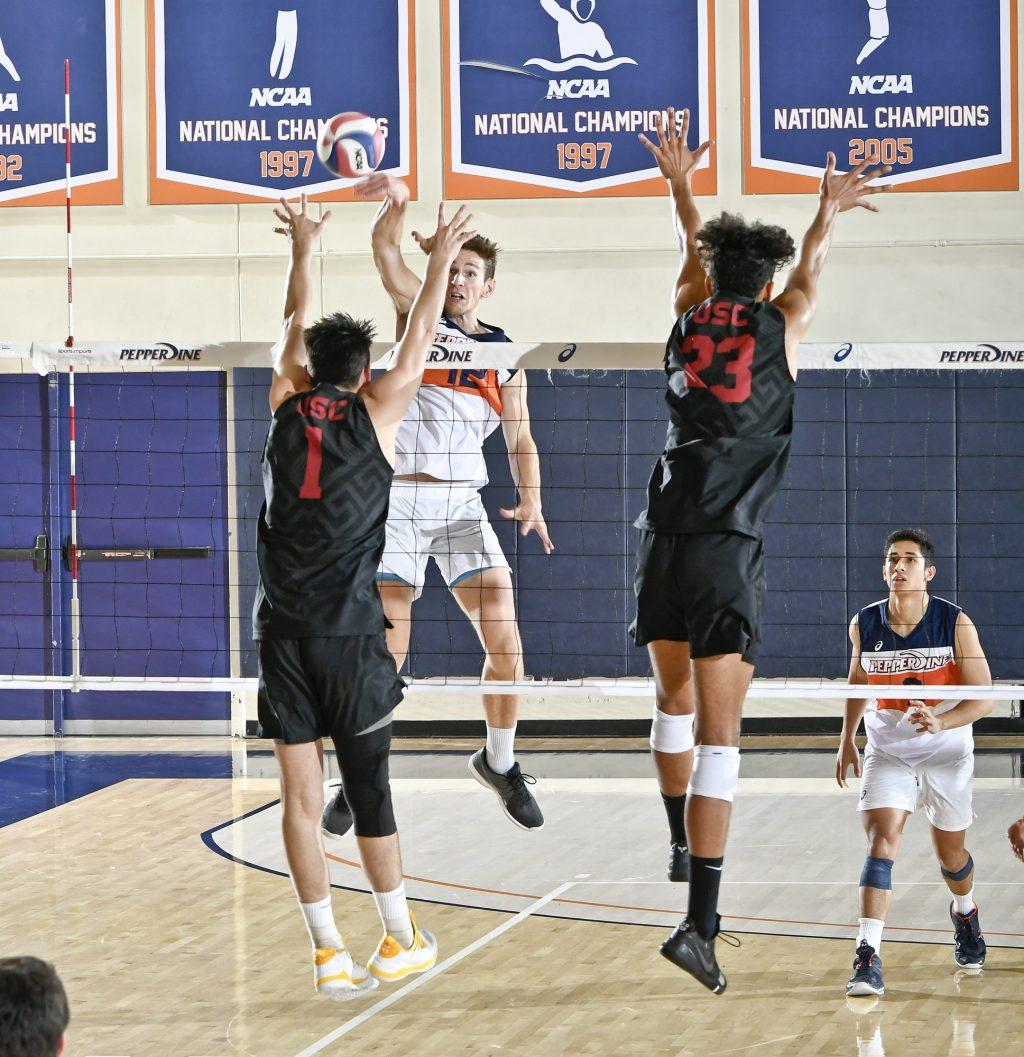 Pepperdine heads back on the road to face third-ranked UC Santa Barbara on Feb. 21.
"We know they're well coached and they're a veteran team," Hunt said. "We scrimmaged against them in the fall, so we know who's on their team and how volleyball-savvy they are. We gotta get better."
__________________________
paxton.ritchey@pepperdine.edu
@PeppGraphic on Twitter