Photos courtesy of Pepperdine Athletics The Pepperdine Men's Golf Team earned their first team victory of the season in dominating fashion, finishing with a record-setting 37-stroke win over the opposition in the annual Waves Challenge this week. Junior Sahith Theegala acquired his second college win shooting 11-under and surpassing the competition with a school-record 16-shot margin of victory. Held at the par-72 Saticoy Country Club in Somis, California, the Waves Challenge included 14 other teams. The tournament lived up to its name in part due to the difficulty of its course, but mainly as a result of the intense wind Monday, according to Head Coach Michael Beard. Sophomore Joshua McCarthy was the next closest competitor to Theegala. McCarthy finished with a 5-over 221 thanks to two birdies and an eagle during final-round. Sophomore Clay Feagler had a total of five birdies and ended in a tie for sixth place at 224. Junior Roy Cootes and freshman Austin Murphy tied for 21st at 233.
Heading into the tournament Monday, the Waves were seeking a team win. Saticoy is Pepperdine's home course and one that the team has practiced on between the fall and spring seasons. "We knew we were playing on our home course, so we knew we had the advantage," Cootes said. Pepperdine knew they had an edge on the competition with their course knowledge so they decided to focus their efforts to playing their game their way. "We emphasized focusing more on our scores rather than trying to beat the other teams directly," Theegala said. "We knew if we went into the tournament simply trying to shoot good scores at our home course, that winning would come because our guys have some serious talent." Despite their experience on the course, the Waves weren't quite prepared for the wind that Monday had in store. "The wind was in the complete opposite direction than what we were used to, and four times as much, it got up to 40 miles an hour," Beard said. "We knew that other teams were going to be complaining and having bad attitudes about it, so we just said 'Hey, you're going to have your bogeys, you're going to have your bad holes, just try to minimize those and hit the ball where its supposed to be hit.'" In terms of technical play, Theegala emphasized the importance of playing strategically and with patience. "I paid a little extra attention to the clubs I hit, because I knew it wouldn't be the same as it would be on a typical day out there," Theegala said. "I hit a bunch of knock-down shots throughout the tournament to keep it under the wind as much as possible. I stayed as patient as possible because I knew the scores would be high because of the wind, and didn't force the issue at all during the course of the tournament."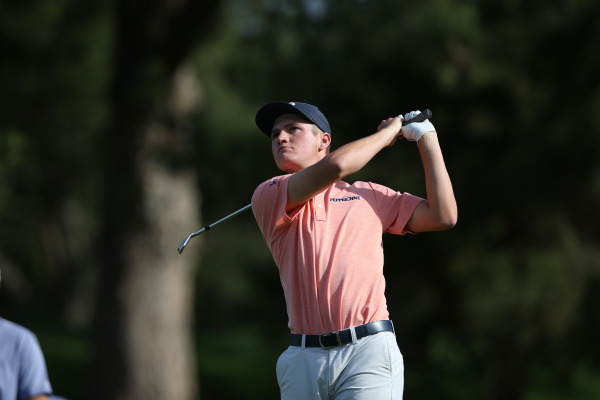 Due to the extreme conditions and an early sunset Monday, the teams finished only one full round and 12 to 14 holes of the second round. The Waves finished in the lead by 21 strokes, ahead of their closest competitor UC Santa Barbara. Theegala ended the day in the lead finishing the first round with a 2-under 70 and 4-under overall through 13 holes in the second round. Feagler ended in fourth place at 5-over while McCarthy and Cootes tied for 12th at 12-over. The wind died down Tuesday, allowing the Waves to quickly finish up the holes they didn't on Monday evening. The main focus on Tuesday was to maintain momentum and keep their cool on the course. "We just said, 'Hey, let's go out and play the best that we can do with what the course is giving us and not worry about the competition,'" Beard said. Despite the lead as a cushion, the Waves didn't plan on letting up. "Even though we had a big lead going into the day, we weren't going to be content with just winning, but winning with an emphasis," Theegala said.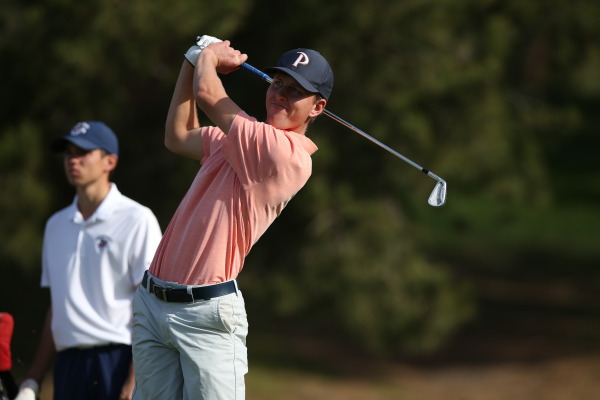 Pepperdine did not give in on any of Tuesday's holes posting record-setting numbers. Theegala went under-par all three rounds, acquiring 12 birdies and 38 pars averaging 68.3 shots per round — more than 11 shots better than the tournament average. His 16-margin victory demolished the previous nine shot margin of victory by Dean Kobane at the 1989 WCC Championships. "It was one of the best feelings I've ever had," Theegala said of his record-setting win. "Winning is something that is so, so rare in golf, especially at such a high level of competition, and to be able to win by 16, is a blessing. It shows that all the hard work and time that I've put into my game is being reciprocated positively. I was just out there enjoying myself, having fun, and trying to be the best I can be for my team, and the fact that I came out on top is just a bonus to be honest," Theegala said.  
Wow @PeppGolf – how about this article on the team and @SRTheegala — https://t.co/eMmocwd7fn — way to roll Waves!!

— Sam Lagana (@PepperdineSam) February 1, 2018
McCarthy, Feagler, Cootes and Murphy contributed stellar numbers for the Waves and helped the team end at 5-under on Tuesday. Their resilience on day two of the tournament propelled them to the new school record of a 37-stroke victory finishing with a two-day total of a 13-over 877 win. The Waves' previous record was 33 strokes at the 2002 WCC Championships, of which Head Coach Michael Beard was a member. Cootes said, looking back on the day, it was their hungry attitude that helped the Waves to victory. "It could have been easy to get a little bit too comfortable and blow it, but our guys did a great job of staying in it till the end," Cootes said. VIDEO | Check out highlights from the Waves Challenge victory! #WavesUp pic.twitter.com/Q5yzbEDpGD — Pepperdine M. Golf (@PeppGolf) January 31, 2018  
VIDEO | Check out highlights from the Waves Challenge victory! #WavesUp pic.twitter.com/Q5yzbEDpGD

— Pepperdine M. Golf (@PeppGolf) January 31, 2018
On how this win will affect the team moving forward: "This is huge for our team. We definitely had a rough fall as a team, but something about the spring season seems to spark our energy levels up to the next level, and the hunger to want to start the season on a strong note was apparent," Theegala said. "Our schedule ahead of us is easily one of the best in the country, and we have that little extra edge now from this win to carry us through that. This win just makes us want to win more and more and more. Once again, we have total studs on our roster, and we all believe in each other, and that's something that will separate us from other teams moving forward." "Moving forward I hope this win is going to propel us to more victories in the spring," Cootes said. "It is really going to be important for us to build on this so we can eventually win a National Championship. I definitely feel like our team as a whole builds off momentum and that is exactly what we need to do with this." "Its always good to win, it feels good to win, and it might spark a little fire in the guys to see if they can do it again," Beard said. "Hopefully we can keep riding the momentum for the next tournament." On what to expect from Pepperdine Men's Golf this spring season: "We have the makeup to do something really good, something really special, the question is can we can do it every tournament," Beard said. "I think we have the guys that can go low when they're supposed to, but golf is a hard game and it's not like you can perform on cue every single day. We might be a little inconsistent, but I think we have the tools or the ammo to do something really special." "You can definitely expect us to put our best effort into every tournament we play, and getting more wins as a result," Theegala said "I truly believe the chemistry we have is special, and that goes a long way, even in a sport like golf! The WCC Championship is something that we are really keyed on this year, as the last couple years we let that title slip out of our hands when we definitely had it in our reaches." "I think the university should start keeping an eye on its golf team, because we are about to put on a show this spring," Cootes said. Up next: The Waves compete in La Quinta at The Prestige at PGA West from Monday, Feb. 19 through Wednesday, Feb. 21. _________________________ Follow Sam on Twitter @sam_marlott