Photos by Arthur Puu
Pepperdine Men's Basketball suffered a late loss to Pacific, 81-72, in the team's lone home game of the week.
Junior Eric Cooper Jr. led the Waves with 19 points and redshirt sophomore Kameron Edwards followed with 16 points on 6-of-10 shooting. Redshirt senior Matthew Atewe added 14 points (on 7-of-11 shooting) with six rebounds.
"There were many things we did well in this game," Head Coach Marty Wilson said. "However, this game is about perfecting the little things too, and we gave the ball up and didn't execute when we had chances late, and those contributed to the difference."
We're going to OT thanks to this @cdot_ross three-pointer! Waves 71, Pilots 71. pic.twitter.com/qoqET1jDAE

— Pepperdine M. Hoops (@PeppBasketball) February 2, 2018
"Coach told us to find the right play and we had really good ball movement to set up the shot," Senior Amadi Udenyi said. "I found Colbey [Ross] and he's been huge for us this season, making big plays like this [shot]."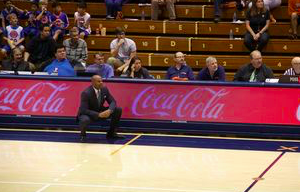 In the first half against Pacific, the Waves and Tigers traded baskets early before Edwards buried back-to-back buckets to key an 8-2 run that gave Pepperdine a 14-10 lead. The rest of the half saw four ties and three lead changes down the stretch, but Pacific entered the halftime break with a 33-30 lead.
In the second half, Pepperdine and Pacific again battled in a close one out of the break, as both teams traded the lead seven times with six ties. However, the Tigers took a 13-5 run in the final minutes to pull away, securing the 81-72 win over the Waves.
"We've played pretty well over the last two games, keeping these games competitive," Ross said. "Despite all the injuries, we haven't let them affect us and the way we're playing. We'll always be fighting and competing out there."
Saturday's home loss came fresh off a short road trip to the Pacific Northwest. The Waves lost to Portland on Thursday Feb. 1, 85-76, despite freshman Colbey Ross's game-tying three-pointer in the final seconds to send the game to overtime. Cooper Jr. posted a team-high 19 points with four three pointers.
Half-by-Half Scoring (vs. Pacific):
Half 1: 33-30 (PAC)
Half 2: 81-72 (PAC)
Up Next:
Pepperdine hosts San Diego on Thursday, Feb. 8, at 7:30 p.m. then travels to take on rival LMU on Saturday, Feb. 10, at 3 p.m.
___________________________________
Follow Arthur Puu on Twitter: @arthurpuu