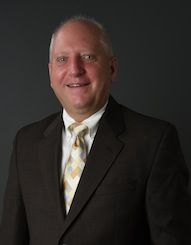 Photo courtesy of Pepperdine University
Pepperdine University announced Michael Feltner as the new dean of Seaver College in a press release March 31.
Feltner filled the position of interim dean beginning in August 2014 when former dean Rick Marrs became provost. In his 27 years at Pepperdine, Feltner has held a mix of teaching and leadership roles, including chairperson for the Natural Science division. He said he is honored to be asked to serve as dean, and he has greatly enjoyed his time at Pepperdine thus far.
"To be asked at this point to lead the college and to play an even larger role in the lives of our students, the lives of the faculty and all those different individuals in our community, it's just very humbling and I look forward to doing that," Feltner said. "I'm confident in my ability to do that, and I just look forward to the great future that awaits all of us and awaits Seaver College."
President Andrew K. Benton said in the press release, "The rise of Seaver College has been a source of university pride over the past several years . . . and the selection of Dr. Feltner is both encouraging and energizing. His deep experience at Seaver, his commitment to mission and the experience of students and faculty across broad interests promises a bright future."
As for Feltner's transition between the roles of interim dean and Seaver dean, Feltner said he is currently in a process of addressing immediate procedures like graduation.
"As of now my plan is to get past graduation, spend some time in reflection to have conversations with the various constituent groups across the university and then develop a plan for how I want to go forward as the dean," he said, noting that he wants to collaborate with the community before making concrete plans. However, Feltner said he does want to continue to advance the college, especially in academics and the university mission.
"I have some ideas and thoughts that will allow us to meet those goals. but my plan is first to engage the community in a dialogue, because I think it's important that I value the contributions and the voices of those in our community before we start articulating any specific plans," he said.
__________
Follow the Graphic on Twitter: @PeppGraphic