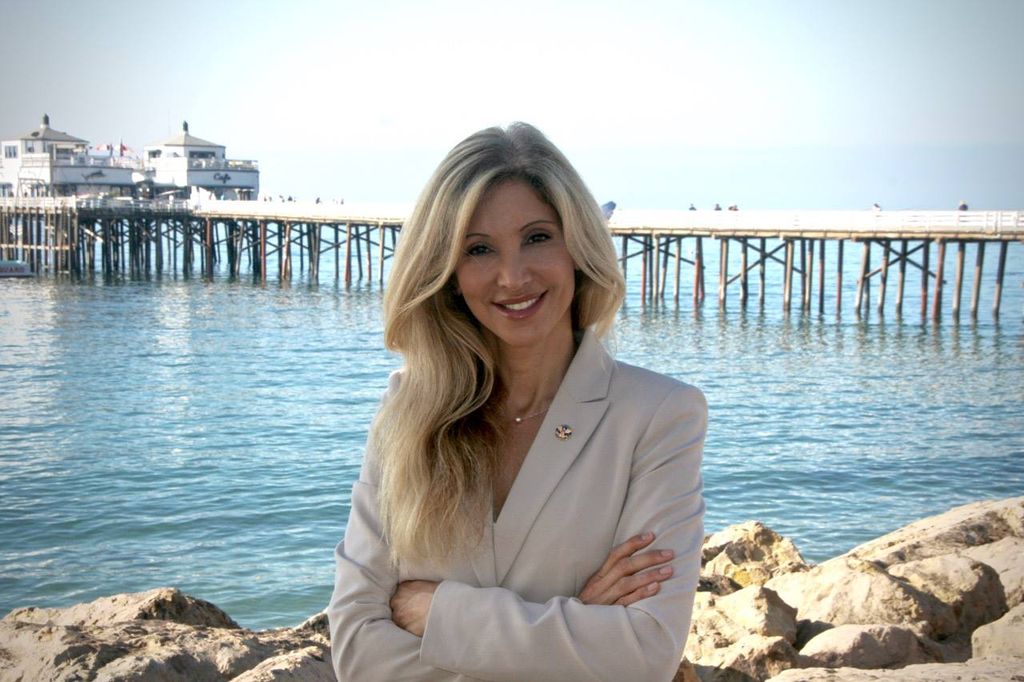 Photo Courtesy of Jennifer deNicola
Sporting a white shirt that reads "Team Jennifer" in blue with five stars in red across the bottom, Jennifer deNicola, a seven-year Malibu resident, is running for one of three seats on Malibu's City Council.
A businesswoman, president of an advocate organization, mother of two children and two dogs, deNicola has recently put most of her focus into her campaign for a seat on the council, where she is competing against five competitors, she said.
"Once I started the campaign, I will tell you that I wake up and still get my kids to school, but the minute we're done we start working on the campaign," she said. "That entails a variety of stuff from creating ads, to reaching out to constituents, to social media. I would say that running a campaign is like having to start a business and you have less than three months to do it."
DeNicola is no stranger to the business world, having worked as a buyer for Neiman Marcus at their headquarters in Dallas after she graduated from Indiana University's Kelley School of Business, before she moved to Los Angeles 22 years ago.
"You need to work in the buying program, in both the stores and the retail side of it and in the buying department, so that you fully understand all of the bases as you move up into the company," DeNicola said. "You truly experience each of the individual roles that go underneath so that you can be a better buyer."
After working her way up the business ladder, deNicola also had a passion for education and relocated back to her hometown of Chicago to earn her master's degree in education from National Louis University.
"I've always loved children. I loved teaching, even when I was young we would play 'teacher,'" deNicola said.
Once she finished her master's program, she moved out to Los Angeles, where she eventually settled down.
"The minute I landed here I was like, 'This feeds my soul.' And so once I graduated, this was where I planned to move," deNicola said. "I came out here and worked."
After moving out to Los Angeles, she met her husband, Matt, on one of her plane trips between Chicago and her new home. "He had followed me out of the plane and we talked and that was 21 years ago."
DeNicola and her husband have two children, Samantha, 14, who attends Oak Park High School in Thousand Oaks, and Cooper, 16, who attends Malibu High School.
Having a child in the Malibu public schools made deNicola aware of the Polychlorinated Biphenyls (PCBs) present not only locally but also in schools around the country. She said she formed America Unites for Kids as an organization that works to champion children, specifically targeting to the PCB issue after she learned of PCBs present in Malibu public schools.
"We've been working with senate leadership on this issue on a national scale, now that we've been focusing on Malibu as well," deNicola said.
DeNicola said she shares the story of her involvement with the PCB issue in Malibu with voters to educate them on her record.
"I tackle hard problems, hence the PCB issue at the schools, which is why I share that story with constituents," deNicola said. "That shows my work ethic, my tenacity, that I don't give up on people. I didn't give up on children, I did not give up on the teachers when other people did, and now we will have a PCB-free school."
DeNicola said she anticipates to still donate an equal amount of her time to both America Unites for Kids and the City Council, if she were to be elected.
"Even before running, I was working on guardrails. That's been going on for a couple years. I'm on the PCH safety task force so we work on PCH safety," she said. "I work on the walkways going into town, making sure that they're safe. I go to the city council meetings on Mondays and I go to the business brown tables so I'm very active in the community."
Because of the amount of work she put into the City of Malibu before the election, she said her input wouldn't be much different, but her influence would change.
"That's really the difference I think between me and other candidates, is that I take action and get things done," she said. "I do my research, I poll and bring together the people so that we truly understand what's needed. Then we figure out out-of-the-box thinking to get stuff done. We know that we can build these coalitions on different levels of government in order to get hard tasks done."
She said her strategy thus far for the campaign has been to physically knock on doors of constituents throughout Malibu to "put a face with a name and truly meet everybody that [she] can possibly walk to."
"Malibu has less than 9,000 voters, not all of them vote, but it is possible to reach most of your voters by knocking on doors," deNicola said. "So that's what we've chosen to do because that to me is the most effective way. Not only do I know who they are and what their concerns are, but they also know who I am."
DeNicola said she distributes her cell phone number and the email address she uses on a daily basis to all of the voters she meets.
"People are shocked. I think there's the idea that I'm giving them that much access, but my job as a city councilmen, to be elected, is to serve the people," she said. "It's to be their advocate at city council. And also to have the vision and the foresight to bring our city into the next generation. To make sure that the decisions we're making are protective of our families, of our environment, and of our rural character in 10, 20, 50 years down the road."
DeNicola's life motto, she said, is what encompasses her campaign. "To work every day to make this world a better place than I found it."
__________
Follow Rachel Ettlinger on Twitter: @RachelEttlinger