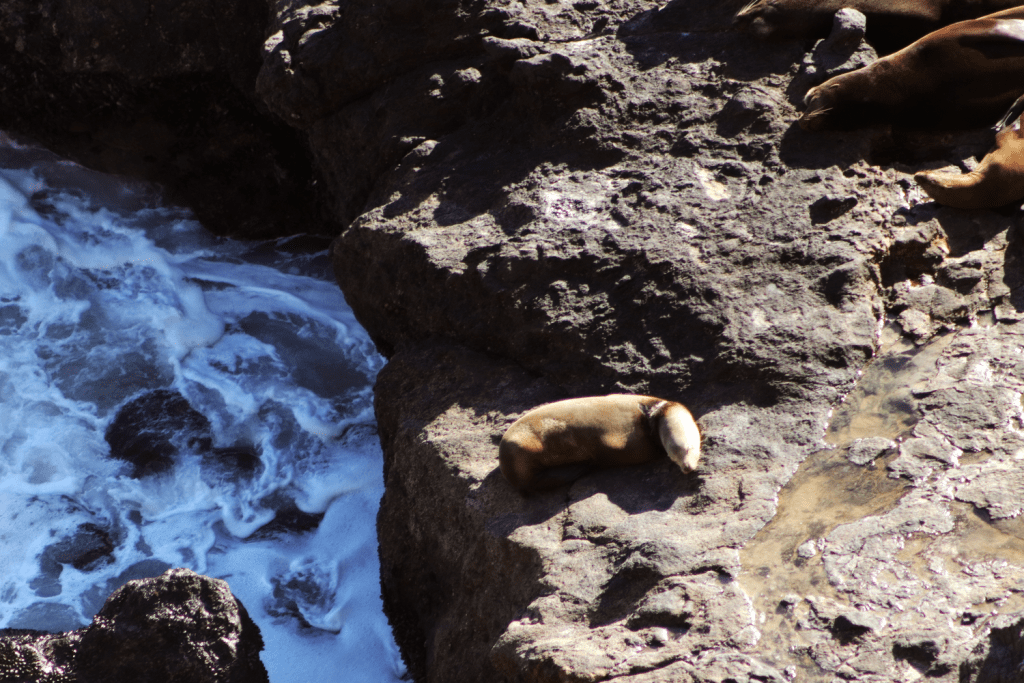 A small sea lion sleeps in the sun near the cliff edge at Point Dume State Beach on Feb. 15. The effects of climate change threaten sea lions — especially the pups, said Heather Henderson, marine program manager at the California Wildlife Center. Photos by Ali Levens
On a balmy 80-degree Christmas Day at Malibu's Westward Beach, three members of the public spotted a distressed animal nestled in the rocks, said Heather Henderson, the marine program manager at the California Wildlife Center for the past three years.
Henderson, who responded to the public's calls about the distressed animal, said the animal was a female California sea lion pup. The pup was malnourished, wounded and alone.
The marine animal rescue team and Henderson responded to the calls and decided the CWC needed to care for the pup, known as Case No. 22-154, Henderson said.
"If we just respectfully give space and watch some of these animals behave normally and report them when they aren't doing well, we can continue to have the most amazing coastline," Henderson said.
The CWC is a medical facility for native wildlife, nestled about six miles away from Pepperdine on Piuma Road, according to its website.
The Center has treated more than 60,000 land and marine mammals since its 1998 inception, according to its website. It has expanded multiple times, including adding an intensive care unit in 2005, a surgery trailer in 2007, a rehabilitation center in 2013 and 52 outdoor enclosures throughout its expansion. It services 6,000 square miles in southern L.A. County and Ventura County.
"There's always a need for a few more beds in town," Henderson said.
Eight weeks after the rescue, Henderson said 22-154 is recovering well, and the CWC plans to release her back onto the Malibu beaches sometime this month.
"She is robust, behaviorally appropriate [and] things that ailed her upon her arrival have resolved," Henderson said. "We are going in a very positive direction."
Sea lions face many risks in their habitats — as 22-154 experienced — yet they have a community of humans ready to help them in times of hardship, Henderson said.
Threats to Sea Lions
Henderson said the CWC rescues, rehabilitates and releases sea lions, one of the main marine mammal species cared for at the facility.
Sea lions face many hazards, said Henderson and Karen Martin, distinguished professor emeritus in Biology at Pepperdine.
"The most immediate impact of a sea surface temperature rise — which definitely could follow from continued global warming — will be the movement of fish stocks," Henderson said.
Sea lions feast on small forage fish that live in cooler water, both Henderson and Martin said. As the water temperature increases, the fish may move further offshore to obtain the ideal living temperature.
This causes problems for the sea lion mothers and pups, as the mothers may have to swim further out for food and take longer to consume enough calories to swim back and nurse.
If the pups wait too long for nourishment, they may venture out on their own — which requires skills Henderson said they have not developed yet — leaving them stranded and malnourished.
Heavy rains, Henderson and Martin said, also bring an onslaught of problems for sea lions.
Runoff from rain can drag pollutants into the ocean and negatively affect water quality, Henderson said.
"We're told not to go swim or surf for 48 hours after one of these big rain storms," Henderson said. "Easily, we can choose to not do that — they live in the ocean and forage in the ocean."
If the sea lion is already in a weakened state, Henderson said the pollutants could "enhance that effect."
Martin said algal blooms, which are becoming more common with climate change and are increased with the overgrowth of certain phytoplankton, can harm sea lions. The fish that sea lions consume could contain and then pass on neurotoxins, which can disorient them.
Although sea lions are adaptive to changing conditions, Martin said people should still respect the wildlife.
"We can't be complacent and say, 'Well, therefore, they'll be fine,'" Martin said.
The protection of marine life continues on the global stage. The United Nations reached a legal framework agreement March 5 — known as the "High Seas Treaty" — to protect 30% of the Earth's oceans and invest more funds into marine conservation, according to the UN.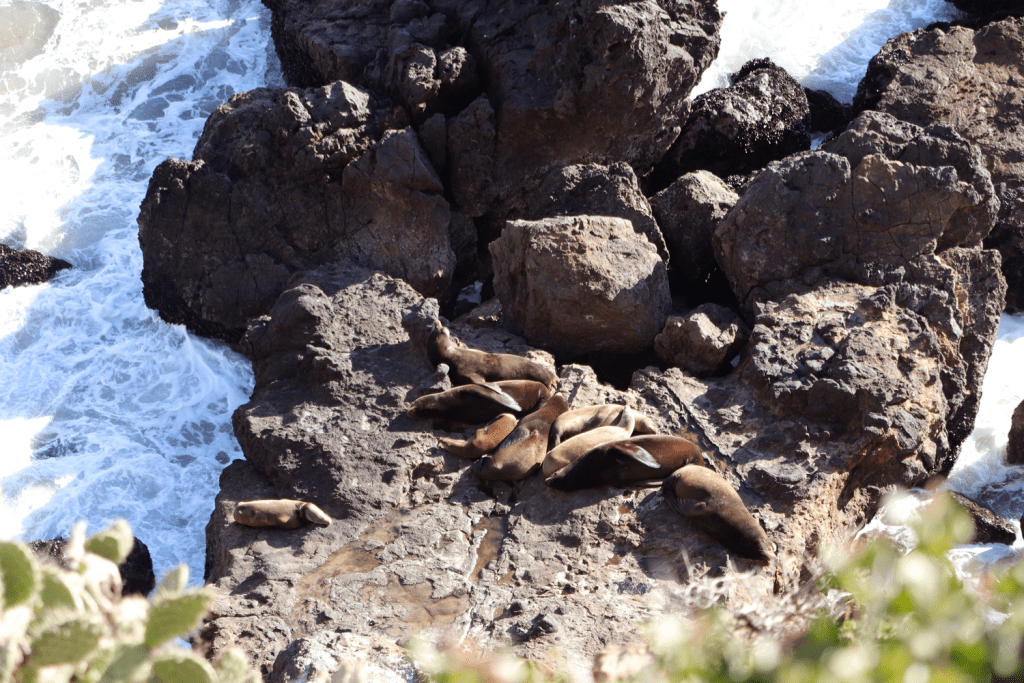 Report, Rescue, Rehabilitate and Release
If someone in Malibu observes a marine animal in distress, Henderson said they should take a picture — from a distance — and call the CWC's hotline number, 310-458-WILD, where the Center will tell them how to proceed. Even if the animal turns out to be healthy, Henderson said she would prefer people report it rather than risk an injured animal going without care.
"It is the thousands of caring eyes throughout the community that spot these animals and report them to us and make our success possible," Henderson said.
Henderson said "the worst thing" people can do is approach or touch the animal, including moving it back into the ocean or pouring water on it, as it can increase stress for the injured animal.
Infographic by Ali Levens
There are many reasons sea lions may come ashore in need of medical care, which is known as stranding, Henderson said.
If an animal does need to be rescued, Henderson said the CWC can usually arrive at the site about 30 minutes after the phone call. The team's priority is to "get the animal safely in care."
"Rescue is an important part of the process, and it's nice to be out on the beach and really be able to provide the first step and care for the animals," Henderson said.
Once the animal is safely in the kennel, Henderson said she educates the people who reported the animal about the native animals.
"They obviously care, so the more that we can get out accurate information to the public, the better," Henderson said.
Once the animal gets to the CWC, the marine team conducts a full intake examination, which Henderson said is similar to humans' urgent care.
The animals can remain at the CWC from 6 to 12 weeks, depending on their arrival conditions and response to care, Henderson said. She said it is rewarding to watch an animal's "wave of improvement" in the rehabilitation process.
Joanne Burns, a 13-year volunteer for the marine mammal rescue and rehabilitation team, said the CWC is important because the facility is trained to medically care for wildlife, as opposed to utilizing a pet veterinarian who may not know what to do for stranded marine animals.
Burns said she joined the CWC as a volunteer at the recommendation of a friend and "loved it."
"We want to make sure that they thrive and there's a place for them to go," Burns said.
Pepperdine senior Mallory Finley — a former CWC marine mammal team volunteer — said volunteers learn how to feed, restrain and medicate the sea lions.
After rescue and rehabilitation, the CWC releases the sea lions back into their natural habitats, Finley said.
"Being able to take part in releasing them and seeing them go back to their home and in the healthy conditions that they're supposed to be in, it's just incredibly rewarding to know that you made an impact on their lives," Finley said.
The Impact of the Center, Team and Patients
Preserving the nature of Malibu is vital to its existence as a city, Martin said.
"The access to wildlife and the access to wild nature is really a big part of the appeal of Malibu," Martin said. "Being able to go out on the beach during a low tide and find little animals in the tide pools or being able to see the pelicans fly by or the dolphins offshore, it's just a really wonderful experience for everyone in Malibu."
Finley said humans have a responsibility to connect with and rehabilitate nature, like what the CWC is doing for its native animal species.
"It's just another piece of the larger puzzle of taking care of our home," Finley said.
Burns said volunteering at the CWC has been an "incredible learning experience."
The CWC marine program volunteers said Henderson creates a "positive" and "caring" learning environment.
"She will take the time and make sure that the volunteers are safe and how we handle animals is safe and [we are] learning the proper way," Burns said. "I really look up to her as a mentor."
The learning continues with sea lions, as Burns said it is fun to understand their personalities.
"It's important that we keep them wild, but we still need to take care of them," Burns said.
______________________________
Follow the Graphic on Twitter: @PeppGraphic
Contact Ali Levens via Instagram (@journ.ali.sm) or by email: ali.levens@pepperdine.edu