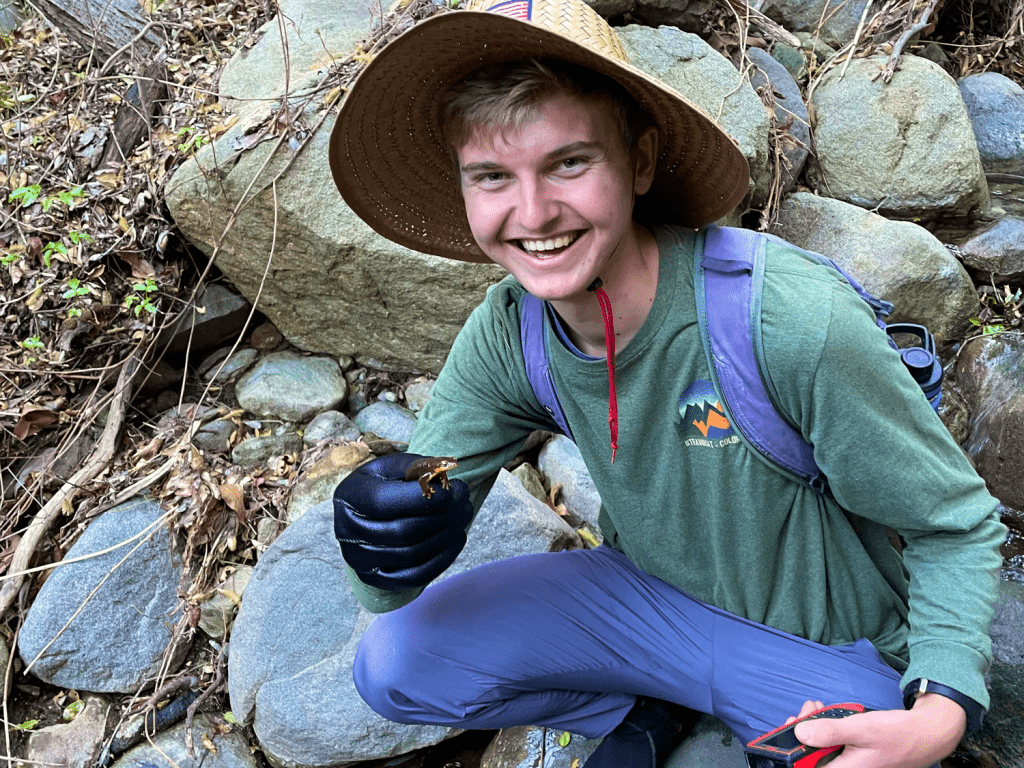 Senior Biology major Conor Kramer holds a newt while conducting research in the Santa Monica Mountains in spring 2022. Kramer said he has studied the effects of wildfires on stream habitats through Pepperdine's Behavioral Ecology Research Laboratory. Photos courtesy of Conor Kramer
There is an estimated $598-billion funding gap between the spending on global biodiversity conservation and the total biodiversity protection needed across the globe, according to the Paulson Institute's Financing Nature 2020 report — something that researchers may experience in Greater Los Angeles.
Three ecology researchers said having the financial resources to study animals and their relationships to humans — from urban to rural settings — is important to all organisms.
"If you buy into the notion that having biodiversity around you is good for people, then we have to understand enough of the ecology and the biology of the relevant biodiversity in the area to be able to keep it with us," said H. Bradley Shaffer, distinguished professor in UCLA's Ecology and Evolutionary Biology department and professor at the Institute of the Environment and Sustainability.
Funding for Biodiversity Research
Shaffer is also the faculty director at the UCLA Stunt Ranch Reserve, principal investigator and director of the California Conservation Genomics Project and founding director of UCLA's La Kretz Center for California Conservation Science.
Funding can come from a variety of sources.
Shaffer said governmental departments — such as the National Science Foundation, U.S. Fish and Wildlife Service, California Department of Fish and Wildlife and the City of Los Angeles — and private philanthropists set aside funds for biodiversity research.
For instance, Morton La Kretz, who Shaffer said was a "champion of the environment," endowed the conservation science center that bears his name. UCLA established the center in 2010, according to The Daily Bruin.
Ecology Research in the Santa Monica Mountains
Rachel Blakey — assistant professor at Cal Poly Pomona and former La Kretz Center postdoctoral fellow at the IOES — said she has studied the response of mountain lions to wildfires in the context of human disturbances in L.A. County and Ventura County. Blakey used funds from the National Park Foundation and the La Kretz Center and worked in partnership with the National Park Service.
"In Southern California, we are seeing an increased frequency of fires, so that's a big problem for our biodiversity because our ecosystems are adapted to fire," Blakey said.
The intersection of biodiversity and wildfire research in the Santa Monica Mountains continues within Pepperdine's Natural Science Division.
Conor Kramer, senior Biology major with a specialization in Behavioral Ecology, said he and his lab partner, senior Biology major Nolan Gentile, have studied the effects of wildfires on amphibians, reptiles and insects in the stream habitats of the Santa Monica Mountains.
Kramer and Gentile conduct this research in the Behavioral Ecology Research Laboratory of Lee Kats, Biology professor and vice provost at Pepperdine. Kats was unavailable for comment before the time of publication.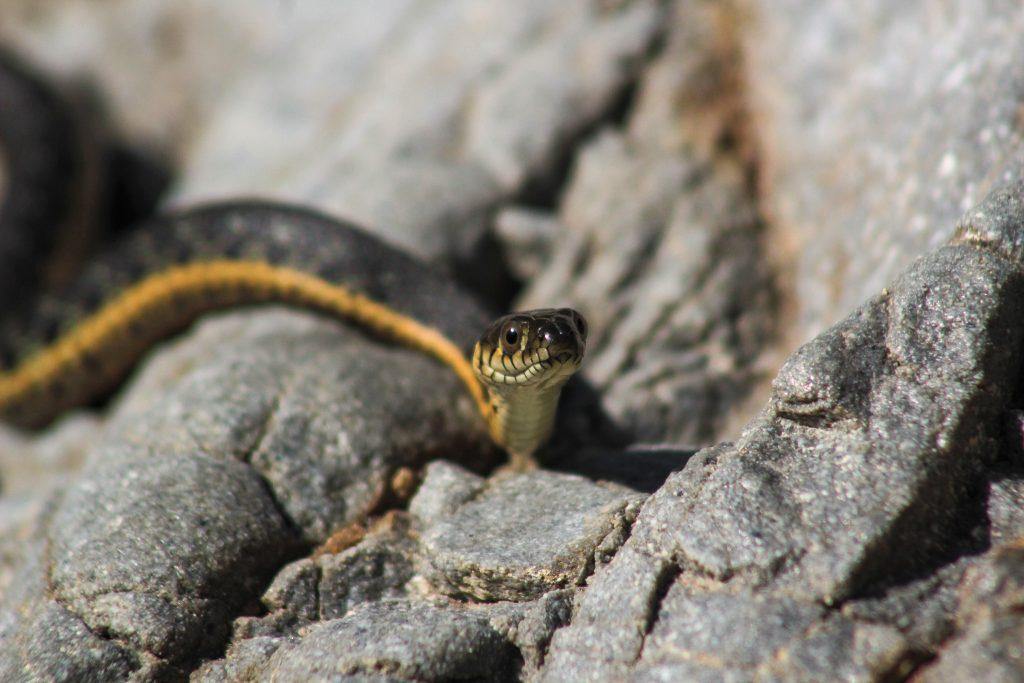 A two-striped garter snake slithers between rocks in the Santa Monica Mountains on April 4. Kramer said he likes to study garter snakes, which are aquatic snakes that hunt insects and tadpoles, because they are "harmless," and it is "cool to follow them around."
In his research, Kramer said he and Gentile observed the total number of organisms in wildfire-affected streams versus unaffected streams. Then, they will analyze their results to find a numeric, or "abundance," trend between the burned and unburned sites, Kramer said. They hope to present their results in March at the Pepperdine Symposium.
There is a clear connection between biodiversity and wildfires, Kramer said.
"We're another project that is supporting that climate change is in fact an issue, and the worsening of climate conditions is manifesting in the form of wildfires or less rain," Kramer said.
Other Values of Biodiversity Research
Shaffer said his current Behavioral Ecology research is for the L.A. Genomics Project. The LAG team sequences the genomes of 4,000 organisms to understand their movement patterns across the L.A. Basin in the "urban matrix." Shaffer said the roughly $500,000 LAG project cost seems expensive but pales in comparison to the cost of other investment opportunities.
For example, Shaffer said if the project costs half a million dollars, it is similar to half the price of the average L.A. home, which in January 2023 was $778,540, according to the California Association of Realtors.
"In a greater scheme of things, it's not that much," Shaffer said. "So, you get an awful lot of information for a relatively modest investment."
By investing in biodiversity in urban areas, Shaffer said people may reconsider the importance of having biodiversity around them.
"More important [than rural biodiversity] is to integrate that biodiversity of plants and animals into the urban matrix itself, to do what we can to make our city a place where anybody walking down the street will experience that biodiversity," Shaffer said.
Shaffer said the value of biodiversity research expands even beyond economics.
"Once you understand [biodiversity], even a little bit, for many people, that kind of gets their curiosity motivated, and they want to know more," Shaffer said. "They realize it's worth stopping for a minute and watching that bird or that lizard or that looking at that tree, because there's something interesting about it that engages them."
___________________
Follow the Graphic on Twitter: @PeppGraphic
Contact Ali Levens via Instagram (@journ.ali.sm) or by email: ali.levens@pepperdine.edu