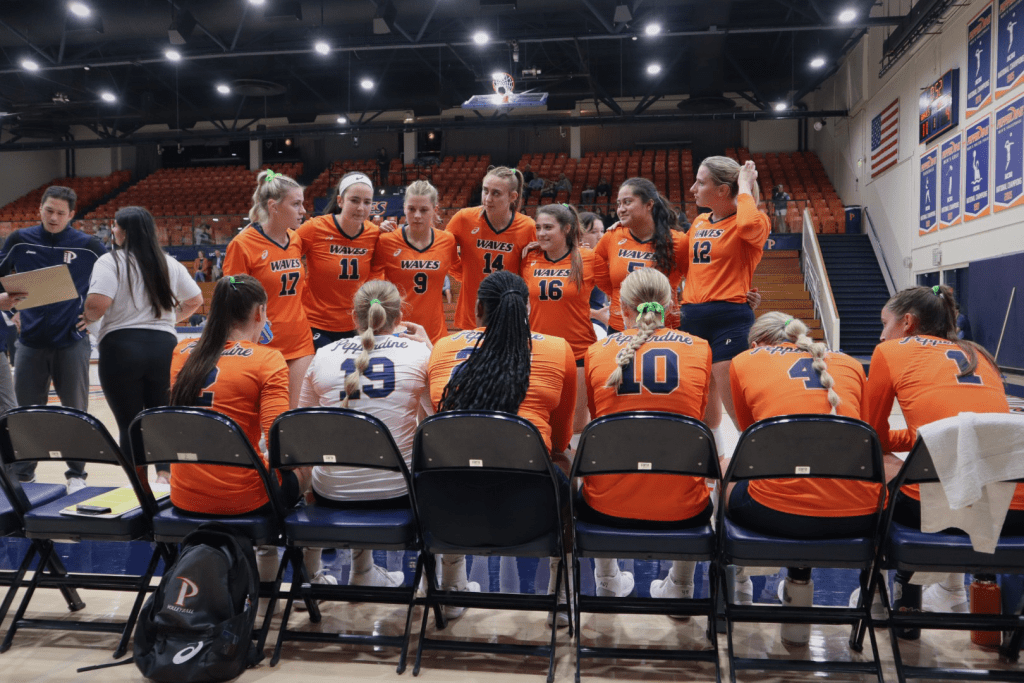 Pepperdine Women's Indoor Volleyball team huddles together during a timeout versus Santa Clara on Oct. 7. Women's Indoor Volleyball Head Coach Scott Wong boasts a 144-87 overall record throughout his eight seasons of coaching, according to Pepperdine Athletics. Photo by Caitlyn Garcia
Pepperdine Women's Indoor Volleyball Head Coach Scott Wong has called Malibu his home since 1998. As a student-athlete, he led the Waves to two Mountain Pacific Sports Federation Tournament Championships and played in three NCAA Tournaments, according to Pepperdine Athletics.
As head coach, Wong saw three straight seasons of NCAA tournament appearances from 2020 to 2022, according to Pepperdine Athletics.
Wong signed a contract extension through the 2027 season, Pepperdine Athletics announced in a press release Jan. 23.
Wong said extending a player or a coach's contract long-term could make for a positive impact on a team's performance.
"If it's a head coach, or a couple of players, any big transition can hurt a team's success and the continuity," Wong said. "That the biggest thing is the continuity of a team."
Coaches Extended at Pepperdine
Along with Wong, Pepperdine Women's Golf Head Coach Laurie Gibbs signed a contract extension through the 2028 season, Pepperdine Athletics announced in a press release. Women's Golf placed sixth at the NCAA regional last season.
The beauty of sport in college is every year, the team is different, Wong said.
"A head coach can help stabilize a team as it sets the vision that lays out expectations and walks within the steps of trying to be more and more successful every year," Wong said. "It's really important in terms of that continuity piece."
A full timeline of Wong's history with Pepperdine, starting with his playing days. Wong was the associate coach for Hawaii University Women's Volleyball coach Dave Shoji. Infographic by Jerry Jiang
Gibbs wrote she had no thoughts of leaving Pepperdine when she signed the extension. She plans to retire from coaching at Pepperdine, Gibbs wrote in a Feb. 1 email to the Graphic.
Gibbs wrote there have been a number of Power Five schools trying to recruit her over the years.
Gibbs has been exceptionally happy coaching at Pepperdine, she wrote.
From Player to Coach — Coach Wong's History at Pepperdine
Wong's history with Pepperdine started in 1998, when Wong played for the Men's Volleyball team. After his playing career, he transitioned into coaching, where he was an assistant to then-Head Coach Marv Dunphy for four seasons from 2005 to 2009, according to Pepperdine Athletics.
Wong said he knew Director of Athletics Steve Potts when Potts was the assistant athletic director. As a student athlete, Wong said there was some familiarity, but said it's a little different on the coaching side in terms of responsibility and perspective.
"All of it helped prepare me to be in a pretty good spot," Wong said. "To not only have that conversation but to feel confident enough knowing what I had to do in order to carry this program forward during my tenure."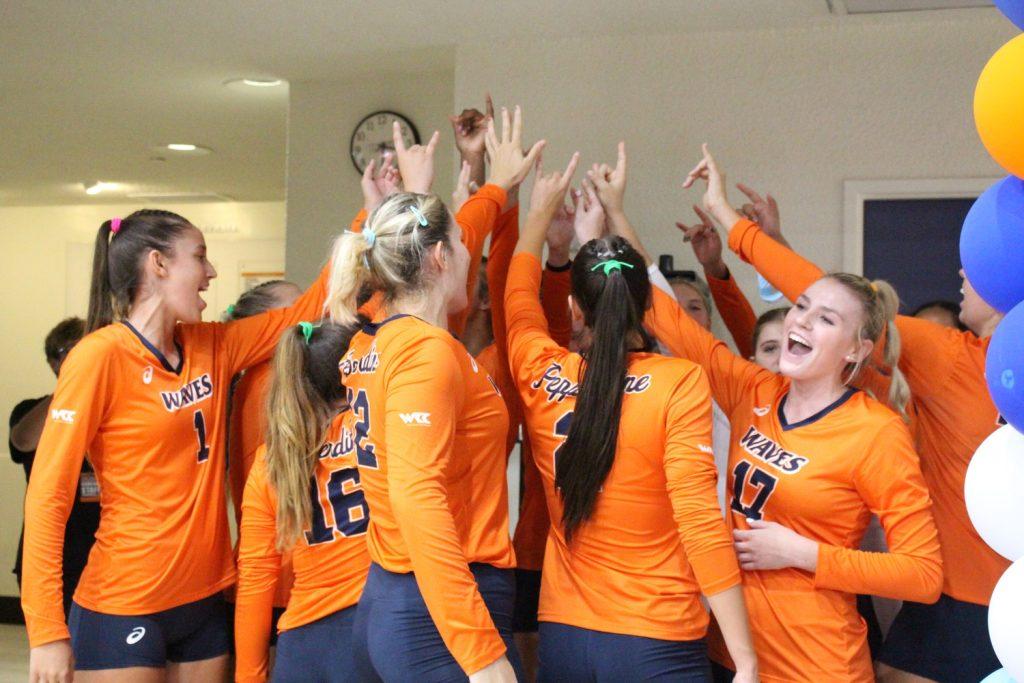 Building a relationship with Potts helped during the contract extension conversation, Wong said. Wong said there are around 10 years of experience with him and Potts.
"The conversation just started, 'Hey, I want to stay here,'" Wong said. "[It was] pretty straightforward and simple. And then, we just worked towards an agreement and a contract."
Coach Gibbs Stays Loyal to Pepperdine
When then-Athletic Director Wayne Wayne interviewed Gibbs in 1993, Gibbs had a proposal for the program that included raising money, increasing scholarships, finding more golf courses, playing in top tournaments, recruiting players that could be All Americans and Academic All Americans, Gibbs wrote.
Wright was surprised with Gibb's proposal and asked if she really believed she could achieve all of her proposals. Gibbs wrote she was very confident, and the University hired her soon after.
Gibbs wrote the team's success is in great part due to the young women who have represented Pepperdine Women's Golf. She wrote she is proud of the consistency and organization of the program over the past 30 years. Recruits and parents love Pepperdine's family environment, and they know there is stability within the program, Gibbs wrote.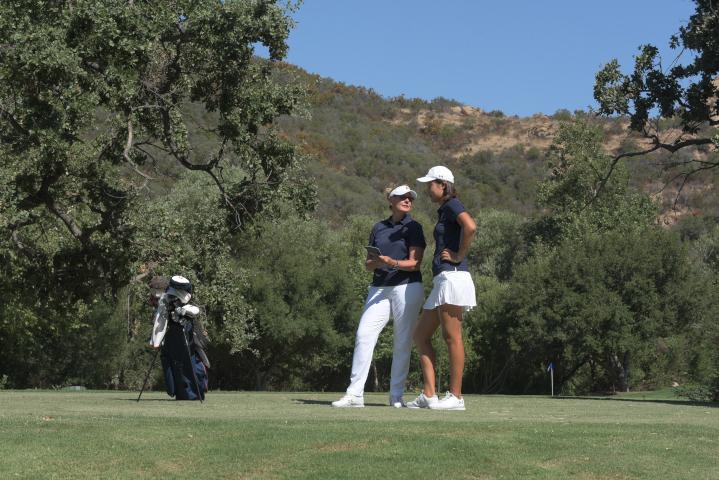 Players Versus Coaches: A General Manager's Perspective
Ned Colletti, executive in Residence in Sports Administration, spent six years as general manager of the Los Angeles Dodgers. Before then, he was the assistant general manager of the San Francisco Giants from 1994 to 2015, according to LinkedIn.
In the summer of 2014, Colletti signed Los Angeles Dodgers pitcher Clayton Kershaw to a seven-year, $215 million deal, which was the largest contract a pitcher had signed up to that point, according to Bleacher Report.
"As somebody who had won three Cy Young [awards] and a National League Most Valuable Player, [he's someone who's] very rare, an outstanding person [and] a competitor," Colletti said. "Every category you want to put out there, he'll check the box at the highest level."
Colletti said there are far more executives who would aspire to be managers than there are in closer proximity talent-wise than players.
In the MLB, there are currently 30 managers — one for every club, according to Baseball Reference. As for the players, there were 1,250 players to start the 2022 MLB season, according to Statista. Each team is allowed 26 players on their roster, according to MLB.
"There's only so many elite players, I mean, elite," Colletti said. "Anybody that can play in the big leagues is elite. Then, in that category, you've got elites among the elite. But, executive [coaches] have far fewer choices, far more competition for positions than players do."
A general manager knows what they've seen from a player's standpoint, Colletti said.
"You know their habits — you know their work ethic. You know how they prioritize. You know them," Colletti said. "And, so that leads you in one direction or another, and if it leads you to an extension, it leads you to a term and dollar figure that, in your mind, represents the contributions of the person/player for extension."
As for the managers, Colletti said he determined the success of a manager from record and strategy but also by how hard the team plays and how fundamentally soundly the team plays.
"That is usually a direct result of a manager and a coaching staff," Colletti said. "Many times, it's an indicator. If you have a team that maybe lacks talent to compete, but they play hard and are fundamentally sound — that goes to the players."
Colletti said it also goes to the leadership's credit.
"That's really one of the things that, in my opinion, they're responsible for," Colletti said. "It's teaching the game and making sure players execute it and making sure the players pay attention."
Contract Extensions: Before and Now
The biggest difference he's seen from his career to now in Major League Baseball is the years with extensions, Colletti said.
"Seeing the extensions that are 10 years or longer were very rare in my career," Colletti said.
Colletti said a three or four-year extension was considered a long extension.
"Five years was really long," Colletti said. "We got into an era of about 10 or 15-year contracts. Before, six or seven years was the going rate. But, now, you see numerous players sign for over 10 years, and it's always a gamble."
The influx of revenue, television, regional sports networks, tickets and sales has grown the sport of baseball magnificently through many decades, Colletti said.
"If I go back all 40 years, certainly the rate of pay has changed dramatically," Colletti said. "The highest-paid player was making was 60% of what the lowest-paid player would make today."
Los Angeles Angels center fielder Mike Trout currently holds the longest baseball contract in the MLB, according to Spotrac. Trout signed 14-year extension worth $430 million in the 2019 offseason, according to MLB.
Unlike the other major sports leagues such as the NBA, NHL or NFL, the MLB does not include a salary cap when signing players or coaches. The salary cap is a limit to which the employee can earn, according to Sport Management Degrees Guide.
The New York Yankees' payroll was over $210 million in 2020, according to Dodger Blue. In contrast, the Golden State Warriors payroll in the 2022-23 season was over $123,655,000, marking it the highest payroll in the entire NBA, according to HoopsHype. Warriors guard Stephen Curry is the highest-paid player in the 2022-23 season, and his "super-max" contract was a four-year, $215 million dollar deal, according to Boardroom.
Favorite Memories
Wong said what means the most to him about coaching is building relationships.
"The relationship I and our coaches have with our players in the team and our players amongst each other," Wong said. "So, I think it's pretty neat to experience."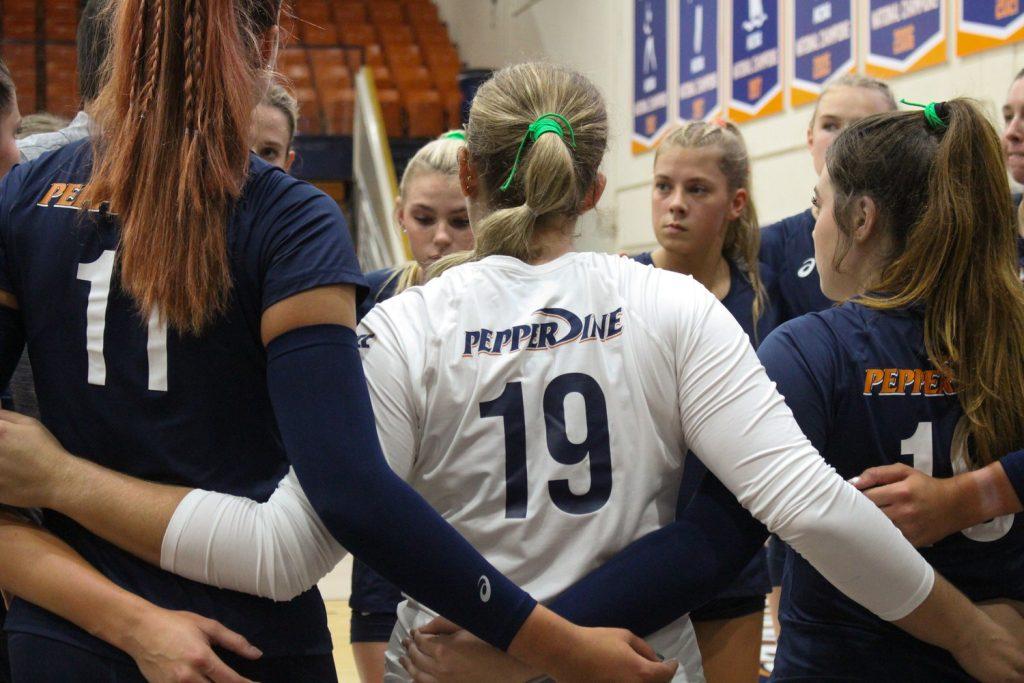 The neat part about being a coach is seeing the players who have graduated and moved on starting to get married and having kids, Wong said.
"We try to have the team over to my house," Wong said. "They're my family, and the team are pretty integrated, and so they get to know me really well, and then, to be able to go to a wedding and have these past players all there and just be able to experience that, and that's happened a couple of times."
___________
Follow the Graphic on Twitter: @PeppGraphic
Contact Jerry Jiang via Twitter ( @j_jiang30 ) or via email: jerry.jiang@pepperdine.edu