Junior Ellie Torgerson winds down the evening with journaling and music in the HAWC on Feb. 25. She shared how calming practices are an essential part of ending her day. Photos by Denver Patterson
Healthy lifestyles — a controversial phrase for society that can take on multiple meanings for different individuals, according to AFPA Fitness. Students said they've relied on intuition and holistic approaches to wellness to create healthy lifestyles unique to their own needs.
Junior Alina Benik said anyone can create a healthy lifestyle through tangible wellness practices and relying on an intuitive relationship with themselves. Raised on her family's farm in the Central Valley, Benik developed an appreciation for maintaining a natural and organic-based diet from a young age.
"I think there's always a way to achieve a healthy lifestyle," Benik said. "You don't need a $200 gym membership. You can go on a walk outside, do yoga on Alumni Park or work out in your dorm."
Healing Through Intuition and Organic-Based Products
After experiencing some minor health problems in high school, Benik shifted her diet to no longer include gluten or dairy, something she said has been incredibly helpful to her.
After healing from the inside out, Benik is now a strong proponent of looking at health from a holistic perspective. She said personally, healthy living is rooted in the intention of preventing illness and disease by supporting her body's needs and ensuring she is in good health.
"It's important to be intuitive about what you're doing with your body," Benik said. "Some people can eat gluten and dairy so going dairy-free or cutting out foods because it's a trend isn't necessarily good."
Benik said her healthy lifestyle encompasses eating to feel good, exercising a few times a week and mindfulness practices such as journaling. Some of her favorite ways to incorporate movement are yoga, walks with friends outdoors to soak up vitamin D, taking a pure barre class — a full body workout that combines pilates, barre and ballet — or doing workouts in her dorm.
During COVID-19, Benik was encouraged to start her own wellness blog, Bright by Alina. She said this was a way for her to promote the healthy lifestyle she built for herself and share tips and tricks with others. She also runs her own fitness account on Instagram where she shares insight into her day-to-day life.
Benik's friend, sophomore Marla Steel, also runs a fitness account on Instagram which she uses to share nutrition, exercise, daily inspiration and holistic wellness content with her audience. Benik said Steel's content and lifestyle is another source of joy and motivation to strive for healthy living.
Simplifying Healthy Lifestyles
Junior Ellie Torgerson said she is passionate about making health and wellness a priority in her daily routine and strives to maintain a balanced life both physically and mentally.
As an avid sports enthusiast growing up, Torgerson said her journey with physical exercise did not begin in the gym. Instead, she played a variety of sports including soccer, track and field, and surfing. However, it was not until during COVID-19 that she began to take more control of her physical and mental health.
"Having a positive attitude toward yourself is something that's really important in having a healthy lifestyle because it's not just physical, it's also mental too," Torgerson said.
With countless fitness influencers marketing their curated workout programs on social media and other platforms, Torgerson said she develops her own weightlifting routines she feels work best for her own body. In doing so, she said she ignores the pressure to conform to the countless popular workout trends online.
"I find myself super excited to go to the gym every morning if I'm doing my routine that makes me happy," Torgerson said. "But any time I try to switch it up based on what the internet says I'm always so miserable going to the gym."
Her philosophy on health and wellness extends far beyond just physical exercise, she said, and is deeply rooted in the importance of listening to one's body and cultivating an intuitive relationship with oneself.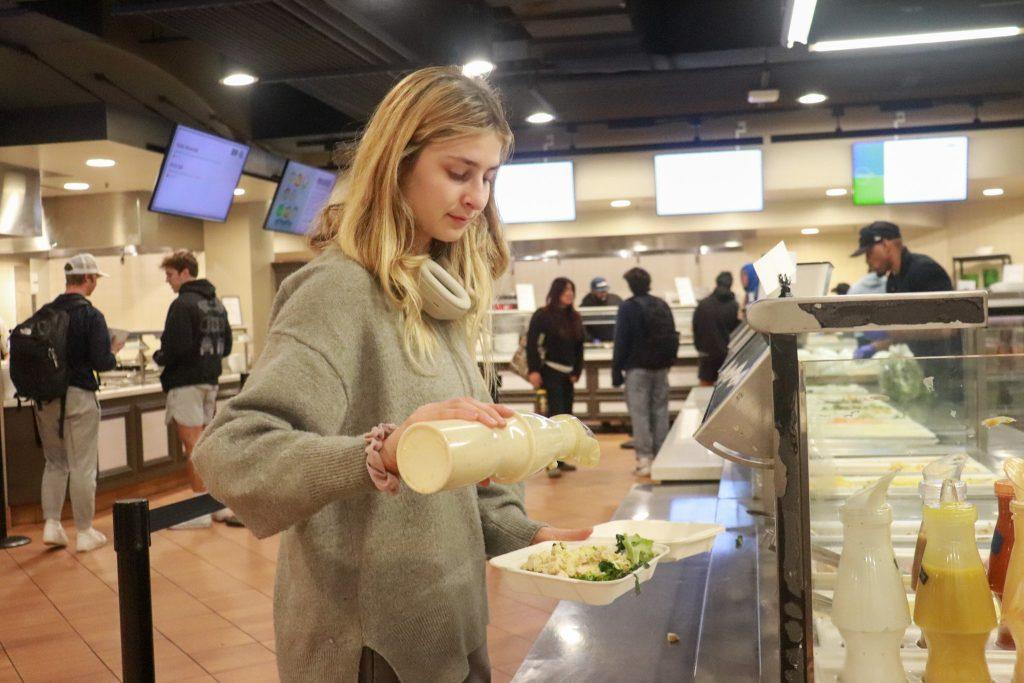 Instead of awakening to the sound of the alarm clock, Torgerson said her day begins when her body says it does. Her daily routine radiates tangible health tactics such as self-affirmations to ease anxiety, meal prepping, maintaining a clean living space and taking time at night to relax and recharge for the next day. She also noted the importance of social connections and making time for friends and loved ones.
"I usually like to spend time with friends during dinner to wind down the day because it's just a stressful time being in college," Torgerson said.
Torgerson said her biggest inspiration for following a healthy lifestyle is her mom. Observing her mother's passion for weightlifting and her strength encouraged Torgerson to follow in her footsteps. She said she is grateful to have her mother as her role model.
"It's just been such a motivation for me growing up and always seeing her super strong," Torgerson said. "I love how my mom instilled the idea in me to be strong and powerful."
While the world of health and fitness can be complicated and confusing, Torgerson recommends keeping it simple. She believes living a healthy lifestyle doesn't need to include expensive supplements or other products. Simple things such as the ginger tea she drinks at night can be just as effective.
"Starting off slow is the best thing and doing things for the longevity of it, not just the immediate results," Torgerson said. "Try to incorporate little small things each week and see what works for you and what doesn't work for you."
A Healthy Lifestyle Starts With Transformation
Junior Drew Nelson said he fell into health and fitness during his first year of college after years of battling unhealthy patterns throughout high school. Going to sleep at 3 a.m. and not prioritizing nutrient-dense meals or consistent exercise are all things he said eventually led him to change his lifestyle.
"Seeing myself start to hit that rock bottom, that's when I knew that there's so much more that I could be doing and I need to prove to myself that I can do better than where I'm at right now," Nelson said. "That was the motivation I needed to develop discipline."
He said in addition to the physical health benefits, he's also noticed a mental aspect. Nelson said he's able to focus more, achieve better sleep and keep up with classes. He attributes these changes to an overwhelming amount of support from friends and family, but most of all, to himself and his dedication to his health.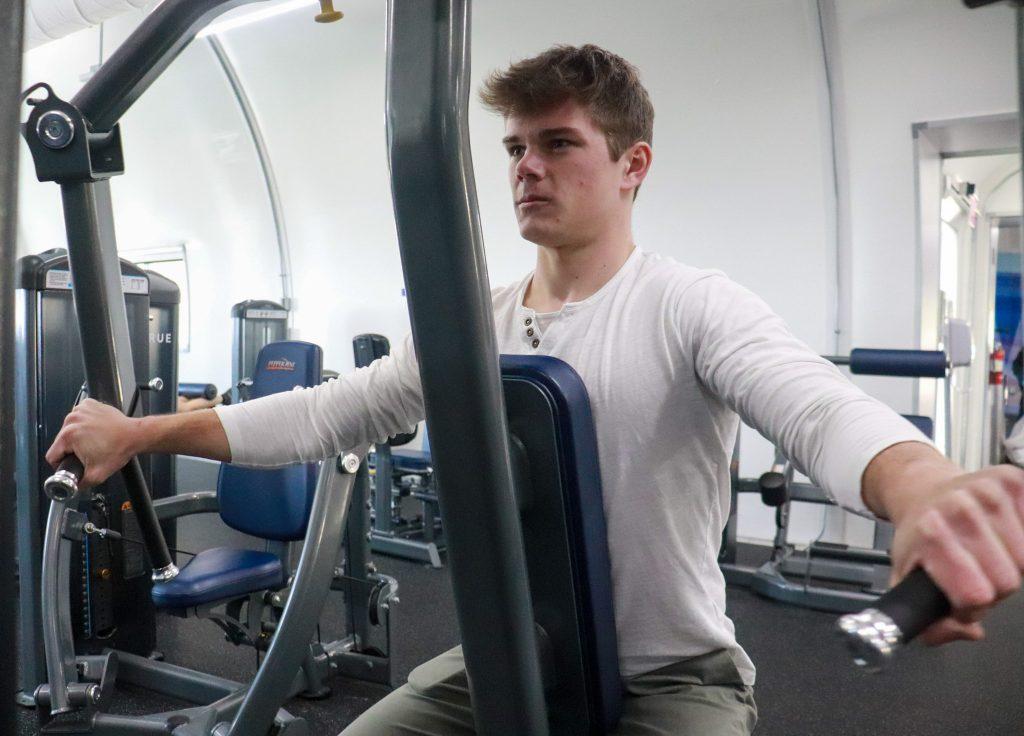 However, Nelson's health transformation did not happen overnight and was something he said he had to consistently work at. He said he used a strategy he calls "habit stacking" to craft an ideal routine that supports his current healthy lifestyle.
"I found that by developing the habit and getting it down for a few weeks, then adding more habits in correlation with it was a lot easier for me to adopt all these different things," Nelson said.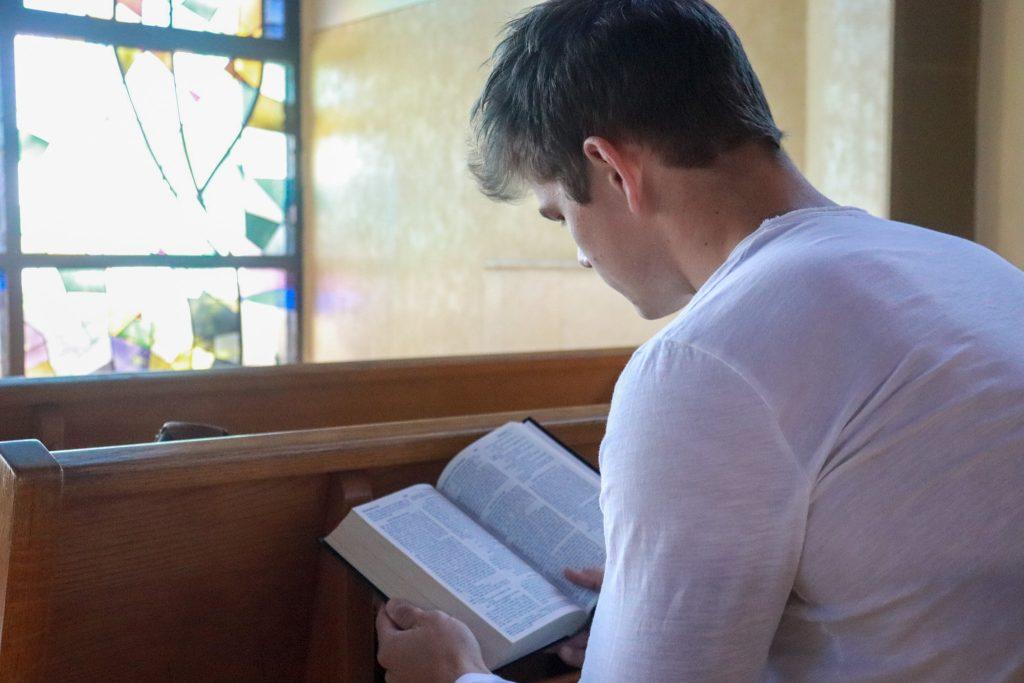 Nelson said time management is a key factor in accomplishing his daily tasks — both fitness and non-fitness related. Oftentimes, making sacrifices is necessary for him to achieve his top priorities by taking inventory of what is considered most important in his life, Nelson said.
"You have 24 hours in a day and it's up to you to choose how you want to spend those 24 hours," Nelson said. "For me, I'm big on scheduling and setting aside time for things."
Benik, Torgerson and Nelson's journeys with health and fitness are a testament to the fact that a healthy lifestyle does not begin and end with food and exercise. While these provide essential benefits to one's life, they said a holistic approach to wellness might be the best approach to maintaining optimal physical, mental and spiritual health.
___________________
Follow the Graphic on Twitter: @PeppGraphic
Contact Lauren Goldblum via Twitter: @Laurengoldblum1 or email: lauren.goldblum@pepperdine.edu