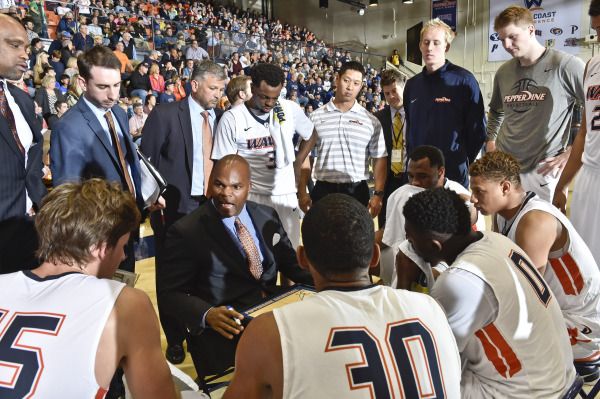 Photos Courtesy of Martin A. Folb, Pepperdine Athletics
Last Saturday's 71-65 win over BYU closed Act One of Pepperdine's 2015-16 campaign on a high note. Pepperdine's 6-3 conference record is good for third, situated one game ahead of fourth-place BYU and one game behind conference powerhouses Saint Mary's and Gonzaga.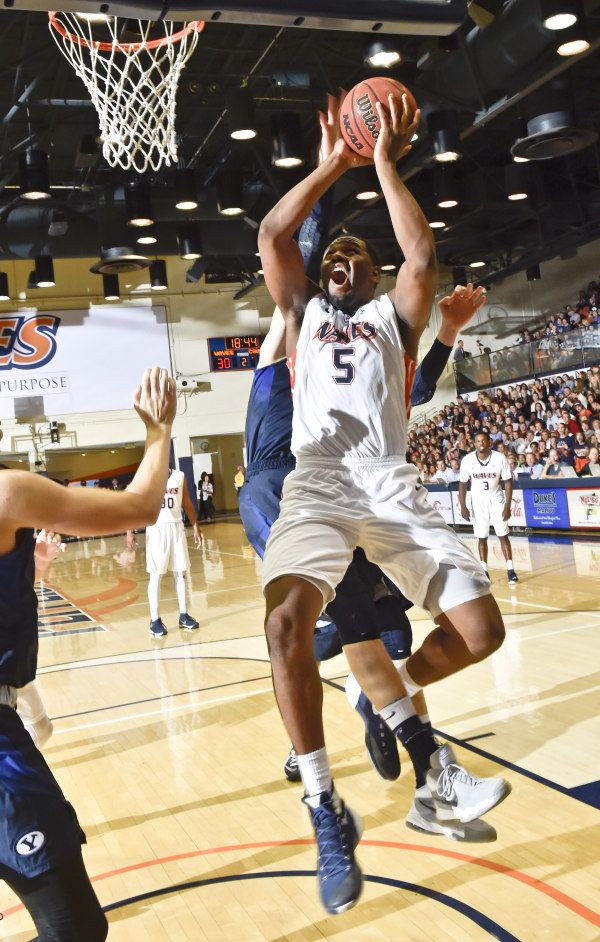 Those statements should seem familiar. Pepperdine was in a strikingly similar situation last season: The Waves were in a three-way tie for third with a 5-4 record behind Saint Mary's and Gonzaga. With the conference schedule half-finished, Pepperdine's aspirations of relevance in the WCC are once again within reach — that is, if the Waves continue to build on their successful first half of the season.
Pepperdine has "built a roster that could not only compete with those teams at the top of the league, but also contend for a NCAA Tournament bid," according to CBSSports columnist Sam Vecenie's Oct. 16 article "Pepperdine looks to reverse recent WCC history in 2015-2016,"
They are so close.
Nobody said this breakthrough would be easy. Unforeseen — and undeniably unfortunate — season-ending injuries to guards Shawn Olden and Atif Russell have affected the Waves ability not only to compete with schools with deeper rosters (i.e. the Dec. 21 loss at Gonzaga), but also to stay in games when players get into foul trouble early (i.e. the Dec. 23 loss at Portland). At the beginning of the season, the Waves had a solid eight or even nine-man rotation, which is still painful to think about.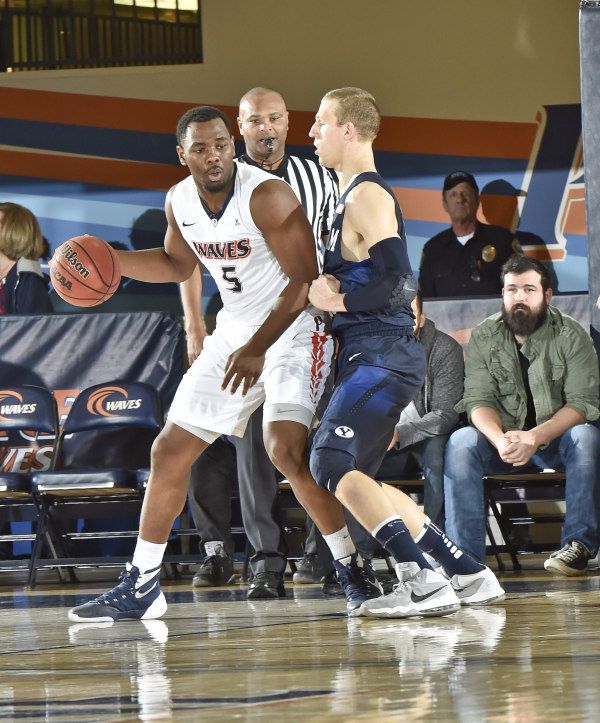 Wishful thinking aside, if Pepperdine wants to rise in the standings, it'll do so by preserving what it still has: a dominant front court, a resurgent defense and continual improvements from emerging star juniors Lamond Murray Jr. and Jeremy Major.
While Pepperdine's frontcourt doesn't have the size advantage of Gonzaga or BYU — the Waves rank towards the bottom of the WCC in player height according to CBSSports' Roster Analysis — forward Jett Raines, Stacy Davis and Kameron Edwards are versatile enough to stymie opposing defenses.
For instance, Raines singlehandedly beat the Cougars on these mismatches during Saturday's game. He burned BYU forwards Kyle Davis and Corbin Kaufusi; the former was too slow on the low block and the latter was fell asleep the moment he got back on defense. Predictably, Raines' 6-foot-7-inch frame got the best of the Cougars' guards, who were able to keep up with Raines' speed but were unable to muscle with the experienced senior in the paint.
Few teams have been able to shut down all three of the forwards on any given night. The teams that do accomplish this do so by either stretching the floor and relying on the three-pointer (i.e. losses at Gonzaga and Portland), or by baiting one of the forwards into foul trouble and exploiting the Waves' aforementioned lack of roster depth.
This is where Olden and Russell's absences hurt the most. Injuries have forced sophomore forward A.J. John and redshirt sophomore guard A.J. Lapray into more prominent roles in the rotation. Both A.J.'s are even more vital now than ever before. Consequently, Lapray's hip injury becomes more of an issue for the second half of the season, if Pepperdine wants any production from reserves not named Amadi Udenyi.
Despite these obstacles, Pepperdine's team performance has improved on both ends of the floor, especially on defense. Head Coach Marty Wilson's textbook three-point defense has reemerged over the past few contests. BYU shot a ghastly 27 percent on 6-of-22 from three-point range, which was the Cougars' fourth-worst three-point shooting night of this season, according to sports-reference.com. Before playing BYU, Pepperdine held its previous three opponents to 26, 31 and 30 percent from beyond the arc (also per sports-reference.com).
The West Coast Conference is home to many high-scoring offenses with deadly three-point shooters. The fact that Pepperdine can hang with the likes of Santa Clara's Jared Brownridge, BYU's Kyle Collinsworth and San Francisco's Devin Watson is incredibly promising — especially since the Waves' offense has shown it can keep pace on the offensive end as well.
All conversations about Pepperdine's offense start with junior forward Lamond Murray Jr. The Bishop Montgomery product has shown dramatic improvement over the past season. Murray has truly blossomed into the Waves' most potent threat with the advancement of his offensive game. Virtually everything about his skill set has changed for the better; the fact that he has another year to build upon his recent success is promising for the future.
Speaking of juniors, guard Jeremy Major has shown that he can take control of the offense as well. If Major plays like he did against Gonzaga and Portland (in which he scored 21 and 28 points, respectively), then he can add another layer to the Waves' offensive attack.
Pepperdine should want more production from Major. Granted, getting everyone involved on offense is a balancing act; however, having Major as a scoring option can be the safety net the Waves need if one of their contributors has an off night.
But the most thrilling part of Pepperdine's play is its volatility. Every starter has the ability to go off for career-high numbers on any given night. Most successes in the mid-major ranks of college basketball depend on the timing: Each part of the system has to perform at full potential at the same time in order to succeed. The Waves have shown they have the elements of a contender, and the second half of conference play will test if Pepperdine can put the pieces together.
The Waves play at USD and BYU this week, but return to Firestone Fieldhouse for a two-game stint against Portland (Feb. 4) and Gonzaga (Feb. 6).
______________
Follow Kyle Cajero on Twitter: @kahairoh