Images and graphics by Cassandra Stephenson
More deliberation is in order as members of the Conejo Valley Unified School District board and teachers otenrepare to meet Monday to discuss a proposed policy on alternative literature assignments in English courses before it comes up for a vote Tuesday, Nov. 14.
The policy amendment was originally intended to outline a process for parents and students who did not feel comfortable reading potentially graphic core literature selections to opt out and read a different book. Additional language in School Board Trustee Sandee Everett's proposal has many teachers and community members concerned that the new policy could impact the flow of any and all learning materials coming into the classroom.

This discussion follows a contentious school board meeting Nov. 7 in which multiple community members called the proposal a "bait and switch," claiming that Everett authored and submitted her own version of the policy that contains a new process for selecting curriculum for all subjects.
Board Member Betsy Connolly said at the meeting that she did not expect to see a policy on instructional material selection and including that language falls outside of the task the board set out to complete.
"The public and the other board members were assured and reassured at every school board meeting since August that there was no reason for anyone to worry about a threat to the literature content of high school classes," Connolly said. "Mr. Anderson and Mrs. Everett were crystal clear at our meeting in August: They were only seeking to create policy language that would ensure parents and students of a transparent, respectful and high-quality opt-out experience. I have to ask Mrs. Everett, what happened?"
Unified Association of Conejo Teachers President Randy Smith said he and the union requested another meeting before the vote so the committees could try to work together to improve the policy before it is potentially approved.
"We realize that this policy — we're not crazy about it — and we see that there's a lot of room for improvement," Smith said. "We recognize it's going up for a vote on Tuesday."
"If they have additional feedback and input, I would like to hear that feedback, therefore, of course I agreed to attend the meeting," Everett wrote in an email to the Graphic.
A petition asking the Board to "withdraw or oppose" the policy amendment and work on a policy solely focusing on alternative core literature assignments is circulating online. It had more than 2,600 signatures as of 3 p.m., on Nov. 11.

The alternative assignment issue arose in June when Sherman Alexie's novel "The Absolutely True Diary of a Part-Time Indian," which contains mentions of masturbation and crude acts, was presented for Board approval to add to the ninth-grade core literature list.
The book was approved in a 4-1 decision with the caveat that a committee would be formed to create a procedure in the school board's policy for issuing alternative assignments to students who do not wish to read certain potentially offensive books. Novels that might fall into this category include "The Handmaid's Tale," "I Know Why the Caged Bird Sings," and "1984."
The District and Smith assembled The Superintendent's Core Literature Committee, made up of four administrators and four teachers, and an ad-hoc committee comprised of Everett and Board Member Patricia Phelps, to work together to create the policy in time for spring semester. But after both committees met to review the proposal created by the Core Literature Committee, Everett authored her own version.
"Rather than working on one policy, now we essentially had two different policies, two competing policies," Smith said.
Everett wrote that she authored her own version of the policy proposal because "the Superintendent's committee would not consider any of the proposed changes I presented to them." She also wrote that it was the Core Literature Committee that chose to include the amendment in already existing board policy "regarding all instructional materials."

The committees' official task included providing parents and students advance notice of reading lists and information about potentially disturbing content in those books and creating a process for alternate assignments that would protect a student from harassment, according to a statement of purpose published by UACT. All students should get equal education "time and rigor" according to the charge, and the policy should encourage parent engagement.
But the proposal presented to the Board on Tuesday went beyond policy for alternative english core literature assignments, several speakers claimed.
Robin Lilly, a parent and English teacher at Newbury Park High School, said during the meeting that the issue at hand does not concern parents' rights, but rather unclear language in the policy regarding instituting a new parent committee for selection review and implementing a new "ideal" process for the approval of all instructional material across all disciplines.
"This is about a policy that was far-reaching and didn't consider the hard work of a group of administrators and teachers," Lilly said. "I want parents to be involved. I want parents to be aware of the books that [the students] are reading. I want parents to voice concerns if they have a concern about what we're reading or studying in the classroom."
Curriculum Selection Process Draws Concern
Christine Hodson-Burt, the English Department Chair at Newbury Park High School, said that the reaction from the community during Tuesday night's board meeting largely involved the proposal's language modifying the curriculum selection process.

The proposed policy states that "the Board shall adopt instructional materials based on a determination that such materials are an effective learning resource to help students achieve, at a minimum, grade-level competency for each discipline and that the materials meet criteria specified in law."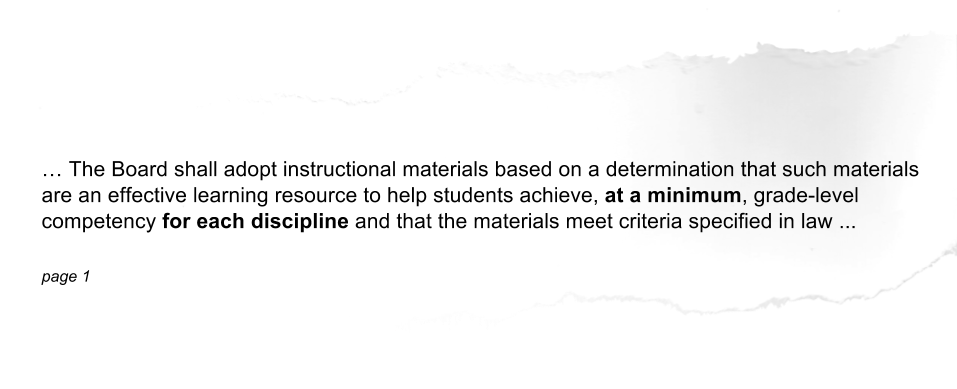 Everett wrote in an email that the language regarding inclusion of all subjects came from already the already existing Board Policy 6161.1, which states that "The Board's priority in the selection of instructional materials is to ensure that all students are provided with standards-aligned instructional materials in the core curriculum areas of English/language arts, mathematics, science, and history-social science."
Everett said during the Nov. 7 meeting that the policy amendment "applies to ninth through twelfth grade core literature." As it stands, the policy does not specifically denote that the process pertaining to core literature selection is intended only for ninth through twelfth grade.

The procedure laid out in Everett's proposal requires that "supplementary instructional materials" be "directly related to the course of study in which they are being used and shall be appropriate for the age and maturity level of students."
This phrase came directly from a separate existing Board Policy 6161.11 on Supplementary Instructional Materials. The existing policy, however, includes an additional qualifying statement not included in the proposal: "As appropriate, supplementary instructional materials shall meet the criteria developed for the selection and evaluation of basic instructional materials as described in AR 6161.1 – Selection and Evaluation of Instructional Materials."

Everett's selection process would include a committee comprised of teachers and administrators with expertise in the subject matter and a 10-person committee of parents and community members who would be "encouraged to read requested selections themselves" in a timely manner, which she said would bring the district into compliance with CDE Code 60002. The Board would vote on selections approved by at least one committee.
"Part of the language that was of huge concern to the teachers who had been on the committee — that had not advised for this language to be used — was the idea that any teacher-selected curriculum in any subject would be subject to board approval before implementation in the classroom," Hodson-Burt said.
This concern was echoed by Thousand Oaks High School Science Department Chair Heather Farrell at the board meeting Tuesday.
"As a science teacher, this amendment would impact my ability to deliver up-to-date, research-based curriculum," Farrell said.
Smith said that core literature titles for English language arts courses and adopted textbooks traditionally require board approval.
But teachers use a wide variety of educational resources and supplements to enhance approved textbooks and modernize curriculum, Smith said.
These resources became important during the recession, he added, when many school districts had to put off adopting new textbooks due to lack of funds. Smith, before taking his current role, taught math and science for CVUSD, and said the textbook he used to teach his science class was approximately 10 years old.
If all supplemental materials used in classrooms — including class libraries, materials obtained in professional development conferences, and other supplements — required approval before entering the classroom, CVUSD "would need another department at the district office just to facilitate those requests," Smith said.
Everett's proposal also requires all materials meet "community standards" and values. Hodson-Burt said the inclusion of these phrases creates a concerning ambiguity.
"The idea is that if we have community standards and community concerns, are [we] representing the entire community and the diversity that does exist in our community, or are we taking that from a much more narrow spectrum or viewpoint or lens with which to view the world?" she said.
Everett said at the board meeting that she did not want the inclusion of a new selection process to prevent an alternative assignment policy from being in place for spring semester.
"I would be perfectly willing to take that out and ask that to be another policy in and of itself," she said.
The proposal created by the Superintendent's Core Literature Committee also included language regarding english core literature selection but did not include a parent-based committee in the process.
Opting Out
Everett's proposal requires teachers to notify parents on the class syllabus, via email and on back-to-school night if a book on their reading list is annotated on the California Department of Education Recommended Literature List as containing "mature content." The CDE recommends that "educators and parents should read the book and know the child" before giving these books to children. The syllabus would also contain a statement informing parents of their choice to request an alternative assignment.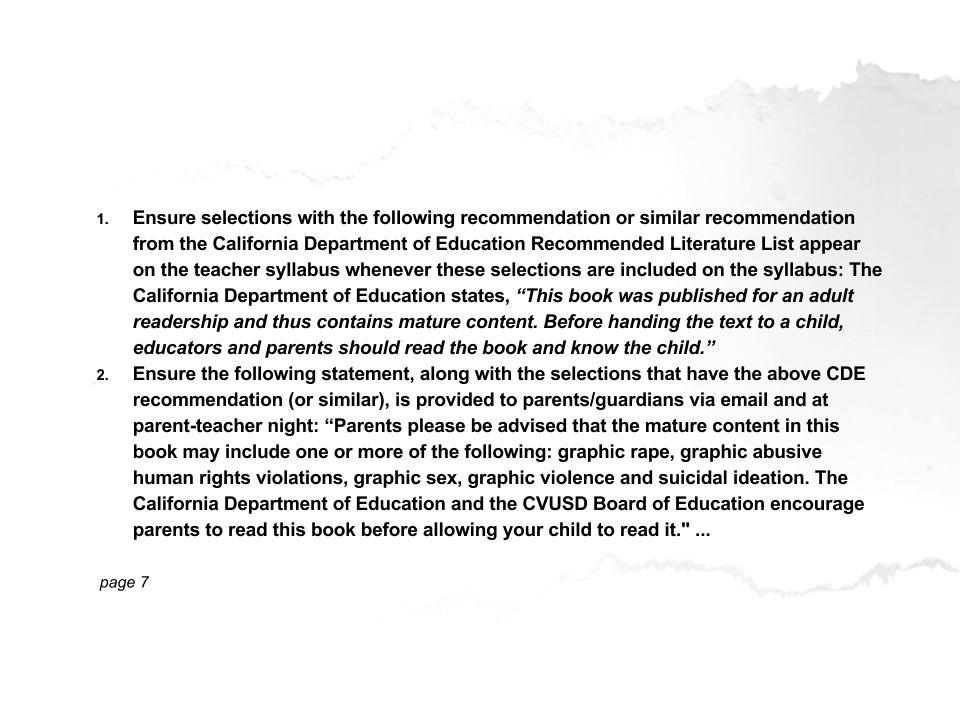 The statement to be emailed to parents and guardians is based on content in books Everett has read from the district's approved core literature list that include have the CDE annotation, Everett wrote.
"I do believe that whenever such a book is used, our teachers would treat it with care and be professional in presenting the book to students," Everett wrote. "However, they cannot know a child like a parent does, especially if there has been trauma in a child's background, depression or other difficult issues that may be exacerbated by reading the graphic details of someone else's trauma."
The Core Literature Committee's proposed policy outlines a step-by-step alternative assignment process beginning with notifying parents of projected literature to be used in the class and encouraging parents to review the titles. It would not require teachers to issue multiple warnings about specific books.
Hodson-Burt said there had already been a long-standing tradition of "respecting and honoring any parent who would ask for an alternative" and ensuring that no pressure is put on a student who doesn't wish to read a particular book.
"I've had that happen exactly two times in 32 years [of teaching]," she said.
Citizen Amy Chen voiced her support of Everett's policy proposal at the Board meeting Tuesday. "All we are asking for is disclosure of CDE recommendations, because we do know our kids best," Chen said. "Your curriculum is usually set before you meet a child that first day of class. So ultimately it leaves it to parents to read the book and know the child."
Chen added that parents must be warned about potentially graphic content so they can decide whether the material is appropriate for their child.
"We're all here for the children," she said. "We want to let teachers teach. But it is ultimately the parent's right and responsibility to decide what is appropriate for our minor children. It is a partnership."
________________________
Follow Cassandra Stephenson on Twitter: @CassieKay27