Redshirt junior Keith Smith dribbles the ball in the first half of Thursday's game at Firestone Fieldhouse.
Photos by Paxton Ritchey
Pepperdine Men's Basketball never trailed Thursday against Santa Clara, defeating the Broncos 91–77 in a complete performance from start to finish.
Waves guard Colbey Ross finished with 23 points and 9 assists. Forward Skylar Chavez and Kameron Edwards both had 16 points, and Edwards chipped in nine rebounds. Sophomore center Victor Ohia Obioha had eight points and also grabbed nine rebounds, despite only being on the floor 20 minutes.
"Something we've really been working for is to play close to 40 minutes of basketball the right way," Head Coach Lorenzo Romar said. "This is one of the best performances in that regard we've had all year."
Santa Clara came out sloppy in the early going. In three straight possessions shortly before the first media timeout, the Broncos committed back-to-back turnovers followed by two missed free throws. All three times, Pepperdine converted a basket at the other end, building a 12–4 lead.
The Broncos tried to claw back, but Pepperdine was always ready with a response.
When Broncos guard Jalen Williams hit a three-pointer, Ross answered with a three on Pepperdine's next possession. When the Broncos used an excellent series of passes to allow guard Tajh Eaddy to convert an open three, Kessler Edwards hit two three-pointers to give Pepperdine a 23–11 advantage. When the Broncos went on a 13–4 run to cut the Waves' lead to three points, Pepperdine went on an identical 13–4 run to push the lead back to double digits.
Santa Clara committed its ninth turnover on its final possession of the first half, and Pepperdine went into halftime with a 45–34 lead. The Waves shot a staggering 57% from the field in the first half, while Santa Clara only shot 37%.
Ross set the tone with 16 points and seven assists in the first half alone.
"When the shot's open, I'm going to take it, and when I need to find someone, I'm going to find them," Ross said. "My coaches give me the freedom, and they let me play my game."
It was more of the same in the second half. Pepperdine spread the ball around and continued to create high-percentage looks. Santa Clara had several individually brilliant plays but couldn't string enough of them together to truly challenge Pepperdine. The Waves led by at least 10 for the final 10:35 of the game.
One play with eight minutes to go summed up the frustration for the Broncos. With Pepperdine leading by 16, Broncos freshman guard Giordan Williams threw down a ferocious dunk over a Pepperdine defender, but his celebration earned him a technical foul — giving two free throws, the ball and the momentum back to Pepperdine.
The Waves also seized control of the game at the free throw line, converting 22 of 25. Through Feb. 7, Pepperdine continues to lead the country in free throw percentage at 80.6%. By contrast, Santa Clara made only 13 of 22 free throws during Thursday's game for a 59% success rate.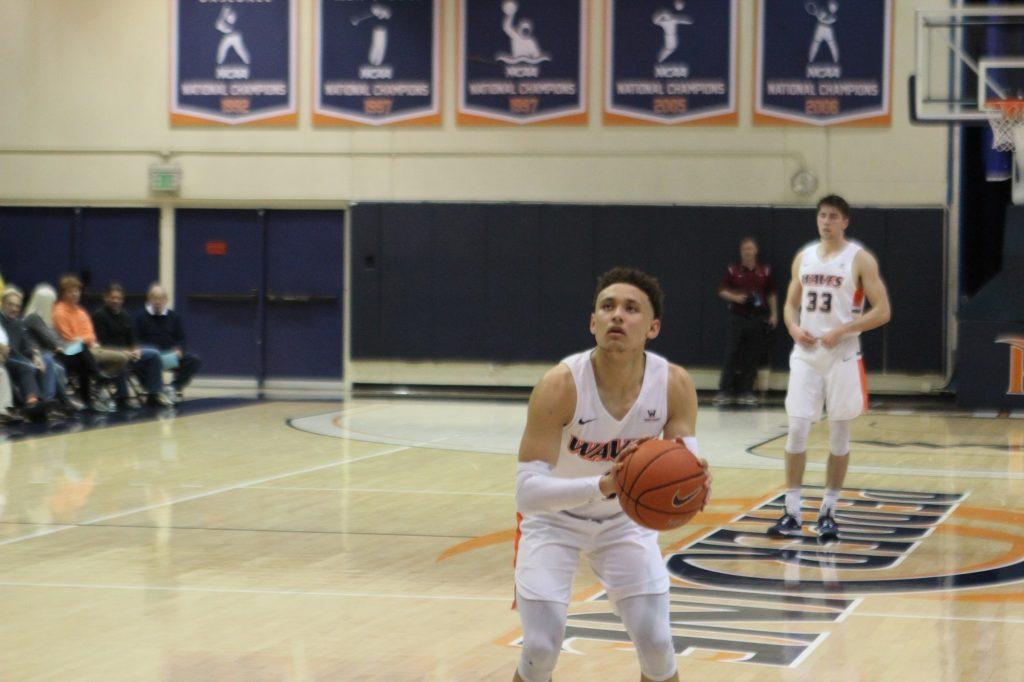 With the outcome of the game in little doubt late, the Waves focused on some personal achievements. Chavez, known as a three-point specialist, brought the Waves bench to its feet by dunking the ball in the last minute of play.
"They've been getting on me because in practice, I've been able to throw down some dunks, but [I] haven't gotten one in a game," Chavez said. "So I was hoping, because my legs were feeling good, so I just needed one opportunity to throw one down."
Romar was also able to empty his bench late and allow little-used reserves Jay Yoon and Everett Perrot to enter the game. Yoon, a sophomore walk-on guard, pulled down his first career rebound with 17 seconds left.
Chavez said that getting them in the game meant a lot to the whole team.
"It's just so awesome to see," Chavez said. "You have a bunch of guys who come to all our practices, they work so hard, they're in the weight room. So then seeing them be rewarded by playing in the game, in front of the crowd … it's just so awesome to see."
Unfortunately, the Waves were unable to continue their momentum in Saturday's game, losing to Pacific 79–78 in the final seconds of a back-and-forth battle in Stockton.
A Ross three-pointer gave Pepperdine a 78–76 lead, but Pacific's Jahlil Tripp converted a layup with the foul with 11 seconds to play. With the game tied, Tripp calmly knocked down the free throw, and Ross' long three-point attempt at the buzzer rimmed out. Ross still led all scorers with 28 points, while Tripp had 24 for the Tigers.
Pepperdine and Pacific had entered Saturday's contest tied for fourth place in the West Coast Conference standings, so the loss knocked the Waves down to fifth with a 6–5 WCC mark (13–12 overall). Ross said that the loss definitely stung.
"We gave them two games," Ross said, referencing Pacific's narrow 59–56 win in Malibu on Jan. 2. "It's very disappointing. We're a way better team than what we showed."
The Waves have five games left to solidify their spot in the standings. Their two opponents next week are on opposite ends of the spectrum: San Diego, who sits near the bottom of the conference with a 2–9 record, and Gonzaga, undefeated in WCC play and ranked second in the nation. After losing the tiebreaker with Pacific, the Waves cannot afford to drop another game to a beatable opponent.
"We need to play really well against San Diego, for starters," Romar said. "And then we'll go from there."
__________________________
Follow The Graphic on Twitter @PeppGraphic
Contact Paxton Ritchey at paxton.ritchey@pepperdine.edu