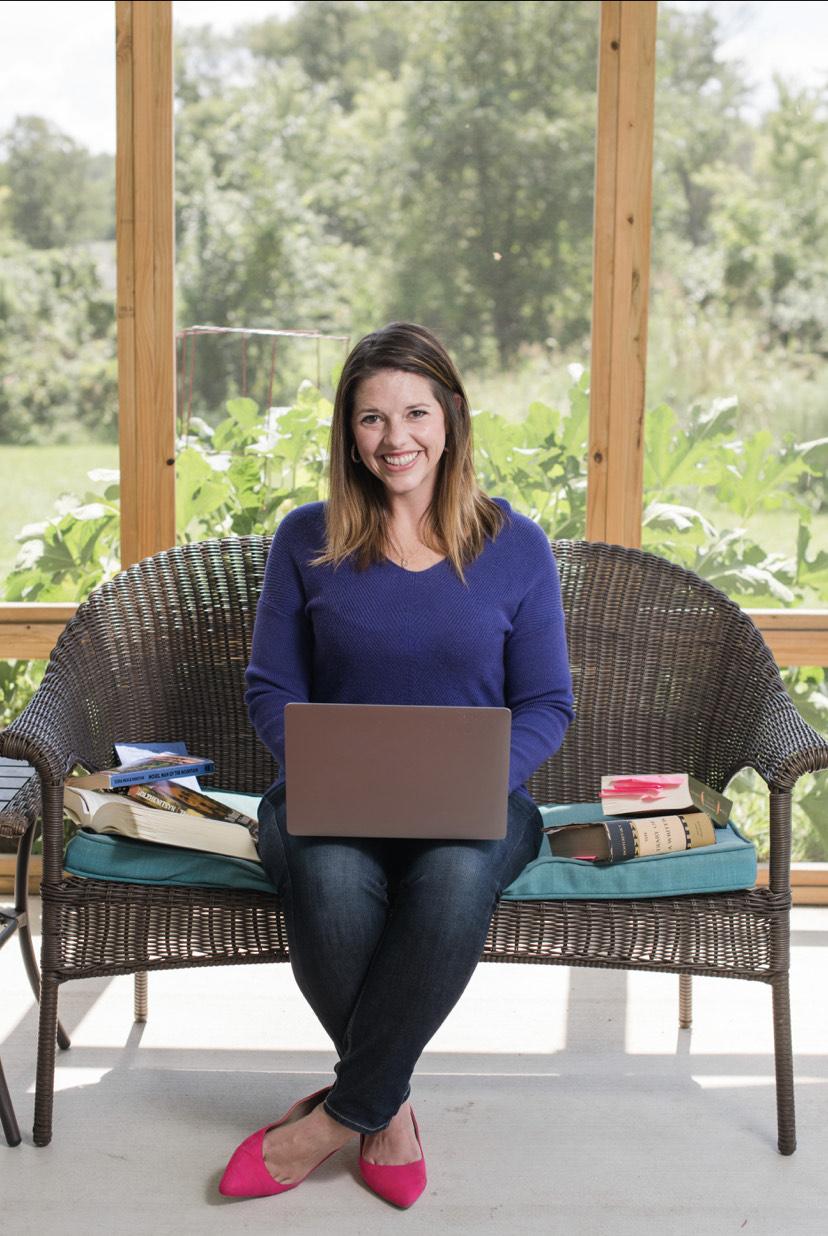 Seaver Alumna Jessica Hooten Wilson ('04) poses for a headshot with a variety of books. Hooten Wilson has written extensively on the topic of the liberal arts. Photo courtesy of Jessica Hooten Wilson
Seaver alumna Jessica Hooten Wilson ('04) has written various books about the Great Books and Liberal Arts — now, she has a chance to weigh in on how Pepperdine students approach these subjects.
Hooten Wilson will join the Pepperdine community as the Visiting Scholar of Liberal Arts, Dean of Seaver College Michael Feltner wrote in an Aug. 23 email to the Pepperdine community. A Visiting Scholar is someone who works for the University off-campus and instructs on scheduled visits to campus, while continuing their work outside of Pepperdine, Feltner said.
Hooten Wilson said she and the University discussed the Visiting Scholar position over summer 2022 when she interviewed for the position of the Endowed Chair of Great Books. Feltner said this marks the first time Seaver College appointed anyone into the Visiting Scholar role.
"If I can be someone who put all the great teaching scholarship that faculty do of Pepperdine and make sure that people are really aware of that amazing Christian liberal arts institution and the role that it's playing in culture, that'd be great," Hooten Wilson said. "I'd love to be a megaphone both for students and for faculty."
Hooten Wilson will not reside on campus, Feltner said, but will play a role in merging scholarship and student activities, as well as aid the University externally through in-person visits and lectures.
With three young children, Hooten Wilson said it did not make sense to move to California from Arkansas, and this position allows her to serve the Pepperdine Community while remaining present in her children's lives.
"Jessica will be someone who's scholarship in the liberal arts, who's teaching in the liberal arts, whose public presence in the liberal arts," Feltner said. "It's great for us to have a formal relationship with [her]. She will enhance our presence in both professional and lay, or public, communities."
Though the University could not have Hooten Wilson on to teach full-time, Feltner said the the Visiting Scholar position was the first step in a long relationship with Hooten Wilson.
"I don't think it was a conversation of we need this position now, as much as it's a conversation of, 'We're looking at every way possible to enhance the academic and scholarly reputation of both Pepperdine and Seaver College,'" Feltner said.
Hooten Wilson founded the Liberating Arts organization, to promote the liberal arts as tools of freedom, which the Council of Christian Colleges and Universities fund. Hooten Wilson speaks about why liberal arts matter in presentations across the world and trains teachers across the country.
"These are the tools that we use as Christians and as educators to understand what it means to be a free soul," Hooten Wilson said. "And so I am continuing the work that I've been doing with the liberating arts continuing the work that I do in Great Books education more broadly."
Though she will not work on campus full-time, Feltner said Hooten Wilson will have regular visits to Malibu, where she can host lectures or present in classes. In the summer 2023 semester, Hooten Wilson will teach a summer class, living either on-campus or abroad.
"I think what she is very skilled at is particularly in the area with Great Books, but she has an ability to distill things to kind of their core essence and help make that meaning explicitly clear to students, but to do so in a way that it's a discovery process for the student, where the student is not a passive learner," Feltner said.
Additionally, Feltner said Hooten Wilson can support students' research and discuss the advancement of liberal arts in Seaver's curriculum with the faculty.
"I'm hoping those discussions foster collaborations where Dr. Wilson and our faculty can engage in collaborative research on topics of mutual interest," Feltner said. "She is a prolific author and speaker. Now when she is on the road, traveling and doing her work, she will carry a Pepperdine byline with her will also, I think [that] will be of benefit to the University."
Hooten Wilson said two professors who impacted her scholarly journey in liberal arts are Great Books Professors Micheal Gose and Paul Contino. Gose taught Great Books three and four, and Contino taught Great Books five — Russian Novels.
"When Jessica took that class, and it's almost 20 years ago, she was one of the standout students," Contino said. "And it's wonderful to be a teacher and now see your student becoming the teacher."
Contino said Hooten Wilson was a vital part of the class, in which students read novels from Dostoevsky and Tolstoy and grappled with different "enduring" questions — such as life's meaning.
"She was a lively discussant, you know how great books classes are, you have to have someone who is engaged with the material," Contino said. "And she was so engaged that she went on to study Russian and work on Dostoevsky in graduate school."
In today's age of cell phones, Contino said it is important to continue liberal arts education. The Great Books major is evolving as universities incorporate works from more women and people of color.
"Liberal arts liberate you from seeing learning as just this utilitarian thing where you just apply it instrumentally to something you've got to fix," Contino said. "It gives you a more free, contemplative sense that, 'I can think about this problem, I can serve others, but not in a kind of easy calculative way, but in a more reflective way."
In terms of curriculum, Feltner said as the new GE courses are fleshed out, the University will take Hooten Wilsons' insights into account.
"She certainly won't be a voice that is determinative of what that revised curriculum will be, that's a decision for our faculty and our shared governance with faculty on curriculum," Feltner said. "But I'm a firm believer that if you're trying to make decisions, the more voices, the more input, the more varied perspectives you have in that process, you ultimately get a better outcome."
Hooten Wilson said she will meet with Associate Dean Paul Begin, the Center for Faith and Learning and Center of Teaching Excellence to find ways to serve the Great Books and Humanities and Teacher Education division. One area of study is incorporating more women into the Great Books curriculum.
"I'm finding all these women and I'm studying what they've offered the tradition," Hooten Wilson said. "So even though they weren't as influential as the men because they weren't being uplifted by their time and place, their work is just as beautiful and good and should be passed down now that we're aware of it."
While Feltner said he does not see any immediate opportunities for adding another visiting scholar, the University is not closing itself off to any opportunities. In the future, Feltner said there may be a possibility for Hooten Wilson to join as a full-time faculty member.
"We will always keep our eyes and our ears open," Feltner said. "As a community that's dedicated itself to both learning and to improvement, you never want to adopt a posture where you're unwilling to look for avenues to improve to engage with other learned individuals to enhance what we do."
___________________
Follow the Graphic on Twitter: @PeppGraphic
Contact Samantha Torre via Twitter (@Sam_t394) or email: sam.torre@pepperdine.edu