Photos by Arthur Puu
Pepperdine Baseball honored former pitcher Randy Wolf on Saturday, March 31 prior to the Waves' 5-2 win over BYU.
Pepperdine Athletic Director Dr. Steve Potts said the decision to honor Wolf was an easy one due to his success as a pitcher.
"Certainly a worthy person to honor," Potts said. "Randy is easily one of the best pitchers our program has ever produced and certainly had a long and successful Major League career."
The program unveiled a mural with Wolf's name and photo on the outfield wall of Eddy D. Field Stadium.
Randy Wolf Day is off to a great start as we unveil his name and photo on the outfield wall at Eddy D. Field Stadium. #WavesUp pic.twitter.com/x8jSoCe1zv

— Pepperdine Baseball (@PeppBaseball) March 31, 2018
Wolf also threw out the ceremonial first pitch and held an autograph and photo session with fans during the game.
Pepperdine great Randy Wolf throws out the first pitch as we are ready to roll here in Malibu! #WavesUp pic.twitter.com/Wl0E4RkYab

— Pepperdine Baseball (@PeppBaseball) March 31, 2018
Wolf said it was a special honor and always enjoys being back in Malibu.
"It's great, a lot of old teammates that came today, and catching up with them is really cool," Wolf said. "Coming back to Pepperdine, I don't get the chance very often [since] I go between here and Texas. I live in Hollywood which is miles wise, but traffic wise, it's a huge trip. It's always nice to come back here, see the field and catch up."
Wolf, the Waves' all-time leader in strikeouts and shutouts, pitched for Pepperdine from 1995-97 and compiled a 25-8 record with a 1.97 ERA. He struck out 328 batters in 315 innings, which ranks in the top 10 in school history in both categories (first in strikeouts, second in ERA).
During his three-year tenure as a Wave, Pepperdine went 103-63-1, claiming the 1995 West Coast Conference championship and advancing to the NCAA West Regional. He also pitched for the United States National Team in 1995 and 1996, posting a 6-0 record in international play.
Wolf said his favorite moment from Pepperdine was reaching the 1995 NCAA West Regional as a freshman.
"Definitely my freshman year was my most memorable because we got the Regional that year [1995]," Wolf said. "I remember going to Fresno to play that Regional. We came up short, but I think that year, it's your first year away from home and first time in college baseball. You just cherish those moments because it's new and it was a great experience to meet a lot of new people."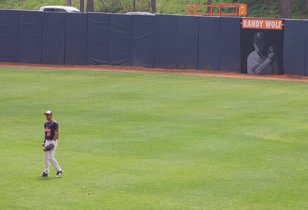 Following his time at Pepperdine, Wolf was selected by the Philadelphia Phillies in the second round of the 1997 MLB Draft. Wolf spent 16 seasons in the Majors between 1999 and 2015, pitching for the Phillies, Los Angeles Dodgers, San Diego Padres, Houston Astros, Milwaukee Brewers, Baltimore Orioles, Miami Marlins and Detroit Tigers. He made an all-star appearance for the National League in 2003 and has a career 133-125 record with a 4.24 ERA.
Wolf said his time at Pepperdine prepared him for an extensive career in the major leagues.
"I had a lot of really good coaches, really good teammates, and I did have a bit of a turnover when it came to coaches, so that prepared me for professional baseball and the fact that you see different coaching perspectives," Wolf said. "Every year here, I had a different pitching coach, and in some degree people would think that's bad, but I thought it was really good because I got to see different points of view and opportunities to learn from them."
Wolf was inducted into the WCC Hall of Honor back in March. He was also selected to the WCC's 40th Anniversary Team in 2006 and inducted into the Pepperdine Athletics Hall of Fame in 2010.
Potts said the program plans to honor more former players as the year continues.
"It's great to have a program where you have guys like that, ones that you can honor," Potts said. "We're fortunate in so many of our sports that we have, and we have many great players that went on to have great professional careers. This is probably something we should've been doing a long time ago, but it's certainly something we'd like to continue not only in baseball, but perhaps in other sports.
.@arthurpuu catches up with @PeppBaseball great Randy Wolf for Randy Wolf Day. pic.twitter.com/Ljk4MiRLLe

— Pepperdine Graphic (@PeppGraphic) March 31, 2018
___________
Follow Arthur Puu on Twitter: @arthurpuu