Video by Channa Steinmetz (package originally aired Nov. 7, 2019 on NewsWaves 32) 
"Kindness. We know it's a simple message, but sometimes simple is elegant, or better in that sense."
Arik Housley, father of Alaina Housley, created the Alaina's Voice Foundation with his wife, Hannah, shortly after their daughter's death. Alaina was one of the 12 victims in the Borderline Bar and Grill shooting on the night of Nov. 7, 2018. When Arik, Hannah and Alaina's younger brother, Alex, decided on the mission and vision of Alaina's Voice, Arik said becoming a positive change in the world just made sense.
"Our mission is to inspire hope and kindness through everyday actions, music, education and mental health initiatives," Arik said. "Alaina's Voice is a bit different because we're really not asking for gun laws. We're just asking the world's leaders, especially America's leaders, to sit down and say, 'This is enough.'"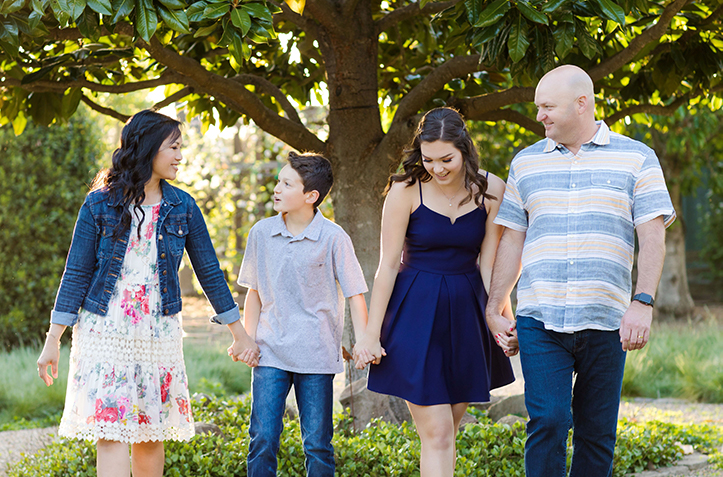 Photo courtesy of Arik Housley | 
Within the past year, Alaina's Voice has manifested its motto, "Voice of song, Voice of strength, Voice of spirit, Voice of change." While at Pepperdine her freshman year, Alaina was an active member of the choir; she also played piano, ukulele, violin and guitar, making music a significant part of her life, Arik said. This past October, BottleRock Napa Valley held a benefit concert starring Michael Franti and Spearhead.
"CEO of BottleRock David Graham said, 'We want to do an event and Michael Franti would be a great performer for this message on positive change,'" Arik said. "November of last year, he released a song just after Borderline called 'The Flower and The Gun,' a song about gun violence. Also, Hannah has been one who is very inspired by his music. It was a really, really great event."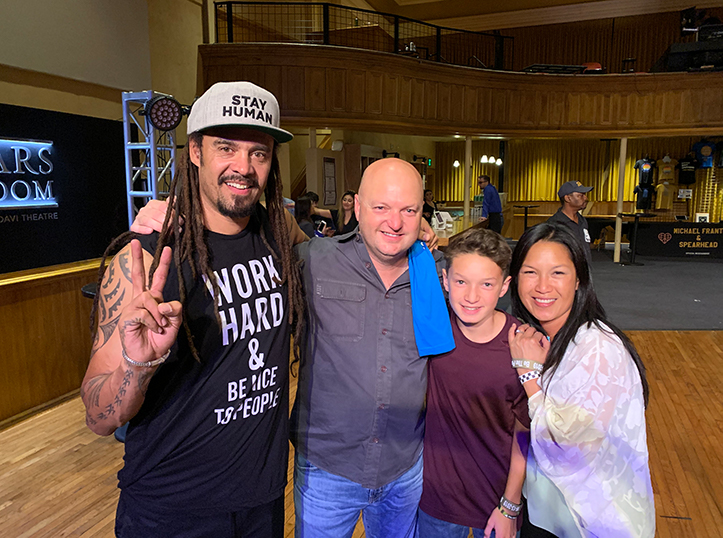 Photo courtesy of Arik Housley | Arik, Alex and Hannah Housley with musician Michael Franti at BottleRock Napa Valley.
Michael Franti is not the only artist who has been inspired by the tragic events. On the one-year anniversary of the Borderline shooting, singer-songwriter Skylar Grey will release a song dedicated to Alaina.
"I met with Skylar a few times because she's the fiancée of Pepperdine graduate [Elliott Taylor]," Arik said. "I told her that I had all these lyrics going through my head, but I'm not a songwriter. She later sent me a pretty amazing email on how she had no intentions to write a song until she woke up the next day, and it just started happening naturally. After the first verse, she realized the song was for Alaina."
Skylar's angelic lyrics and melody honor Alaina who was "calling on the phone just yesterday, but is calling from the Heavens now." All the revenue from the downloads will go to Alaina's Voice.
Napa soccer team Napa Valley 1839 FC has also played a role in supporting Alaina's Voice. Arik, who owns the sports team, said that when TIME Magazine released their August cover of all the cities exposed to massing shootings, it truly hit him.
"I contacted our designer, Chris Payne, and he created a jersey for us," Arik said. "It has the 12 victims of Borderline and the three victims from the veterans' home shooting in Napa Valley, as well as he hand wrote every single city that there's been a shooting in since we started the team in 2017."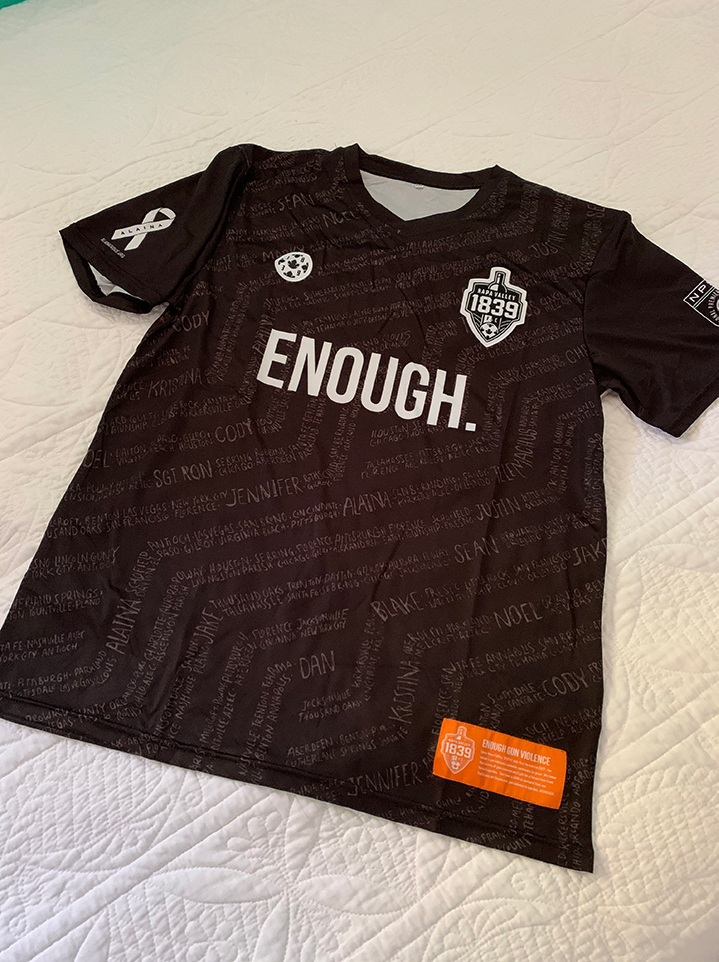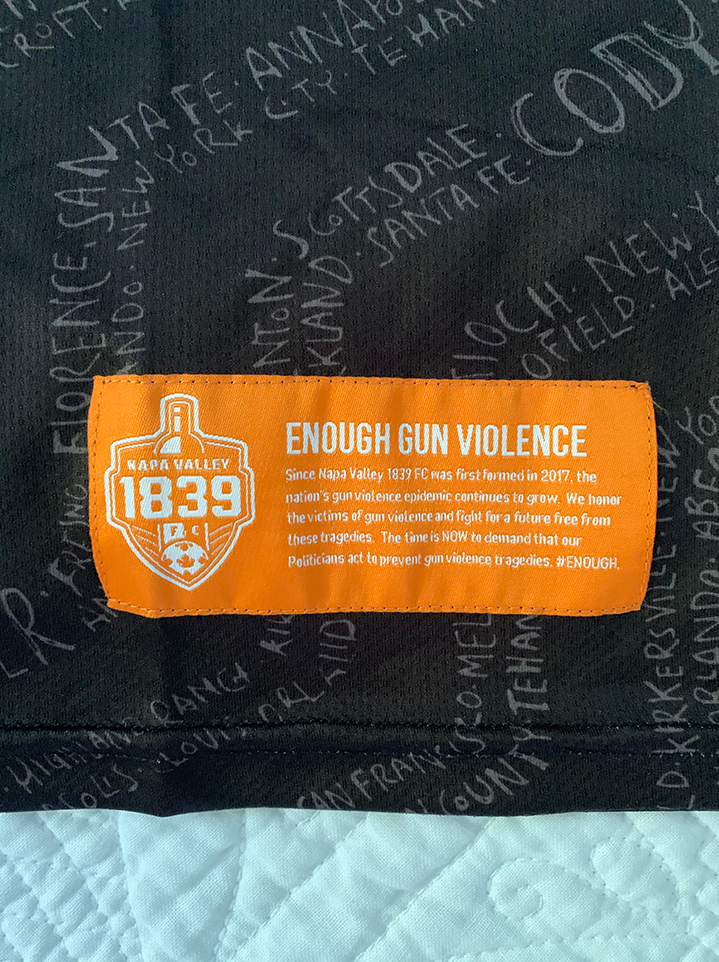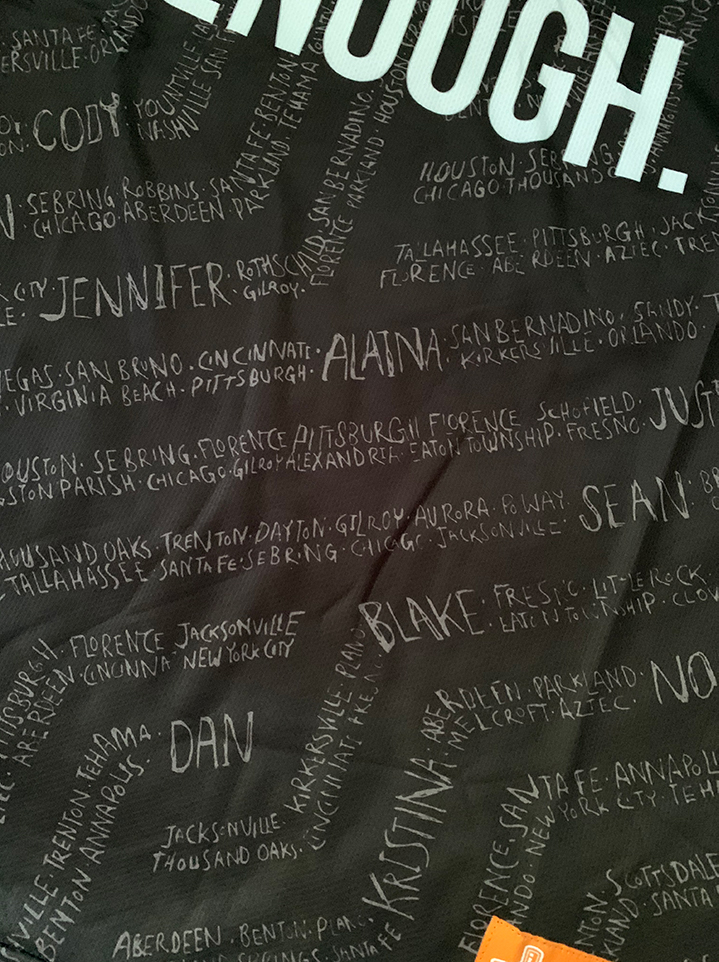 Photos courtesy of Arik Housley | Chris Payne's design for the Napa Valley 1839 FC soccer team jerseys.
The orange tag on the bottom of the jersey is a call to action for politicians to discuss gun violence and fight for a future free of these tragedies. Jerseys can be purchased on the Napa Valley 1839 FC's website, and all proceeds go toward Alaina's Voice.
Video of the Napa Valley 1839 FC in their custom-made jerseys. Edited by JP Castillo.
In January of 2019, Arik and Hannah Housley shared that they hoped to be advocates for mental health reform and provide scholarships in Alaina's honor. Less than a year later, they said they have accomplished those goals.
Alaina's Voice gave its first grant to a local, peer-support program for Alaina's high school, Vintage High School in Napa Valley.
"They didn't have enough counseling hours to be able to really serve the kids," Arik said. "We're trying to implement programs that promote more hours, so that kids can receive the counseling support they need. They're the adults of tomorrow."
If successful, Arik said Alaina's Voice would like to provide the grant for the other three high schools in Napa Valley in the future. The foundation has been able to fund scholarships for both Vintage High School and Napa High School.
"The criteria we choose matches what Alaina represented," Arik said. "She was interested in academics, music, athletics and service. We don't expect everyone to be really involved in all those areas, but it provides the opportunity for others to know what we are looking for."
For Arik, he said the emotions of the loss of his daughter still comes in waves, but Alaina's Voice has given him something to hope for.
"If this just helps one family to not bear the burden that we've taken on, then it's already been successful. It's about creating positive change," Arik said.
Some acts of kindness are small — a simple pay-it-forward. Arik said he often likes to buy coffee for the person behind him in line, an action that can spark a chain of kindness. He also pushes for face-to-face interaction.
"I'm still a firm advocate that I think that people need to put their phones down a little bit more and actually interact," Arik said. "It's that interaction that makes it more human, and it shows people that someone cares. Sometimes it's something really small like that."
Throughout everything he has been through, Arik said he and his family do not ask, "Why?" Alaina was with close family friends and Pepperdine faculty family Chris and Amy Doran before leaving for Borderline. Arik added that part of his ability to accept what happened was knowing she was surrounded by people who cared for her.
"We continue to say that Alaina was in the right place at the right time; she just so happened to be there when evil walked in," Arik said. "We try not to go down the road of 'why?' Because nothing will bring her back … I couldn't pray that night that it was someone else's child. Her friends were there with her. If it wasn't Alaina, it would be somebody else."
Arik said he and his family meet a lot of people who don't know what to say. Having a loss for words is not something to fear.
"My advice if you know anybody in grief is, it's OK not to say anything. Just go up and smile or give someone a hug. That's plenty."
_____
Contact Channa Steinmetz via email: channa.steinmetz@pepperdine.edu or via Twitter: @ChannaSteinmetz