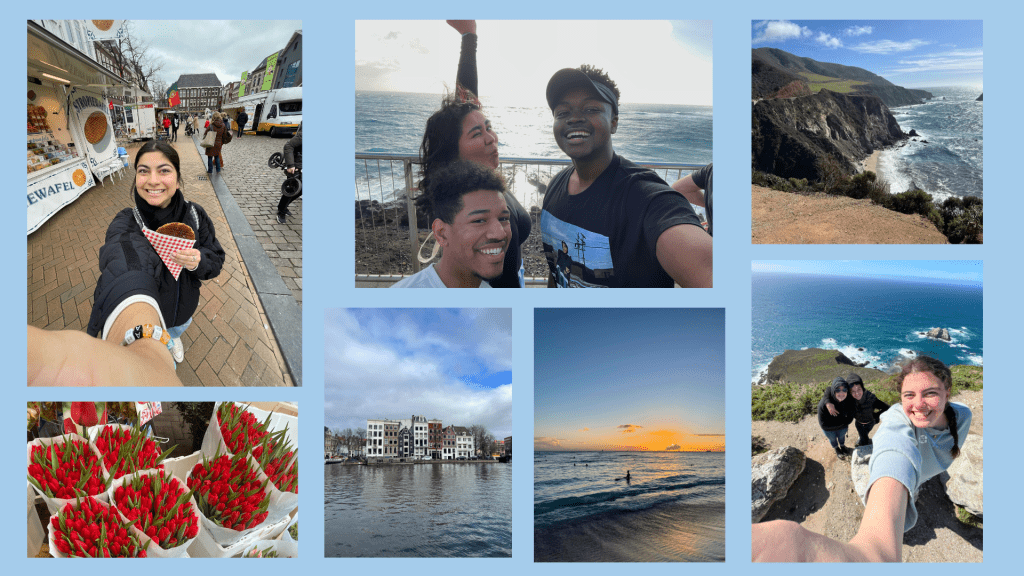 Junior Mariah Macias (left) smiles with a Dutch treat near the Amsterdam canals, while junior RJ Wicks (center) and friends pose on Waikiki Beach, Hawai'i and junior Lena Folse (right) poses with friends in Big Sur, Calif. Spring break allowed students to travel and visit friends throughout the week. Photos courtesy of Lena Folse, Mariah Macias and RJ Wicks, Collage by Emma Ibarra
This semester, spring break began a day early as a rare winter storm spread through the greater Los Angeles area, effectively flooding Malibu Canyon, posing serious threats to commuters and canceling classes Feb. 24. With an additional day, students said they took a pause from exams and got a head start on resting up before returning home, vacationing and venturing into the unknown.
Junior Mariah Macias went quite the distance to visit a friend in Amsterdam. Macias said she booked the trip to visit an old co-worker who had relocated to the Netherlands with her mom back in October and stayed at their home over the break.
"I don't normally do something this big, but the break serves as a reset in the middle of the semester," Macias said. "It's nice not to be forced to be on the grind 24/7 and allow yourself to slow down and relax. I definitely needed a break without feeling guilty that I'm not studying."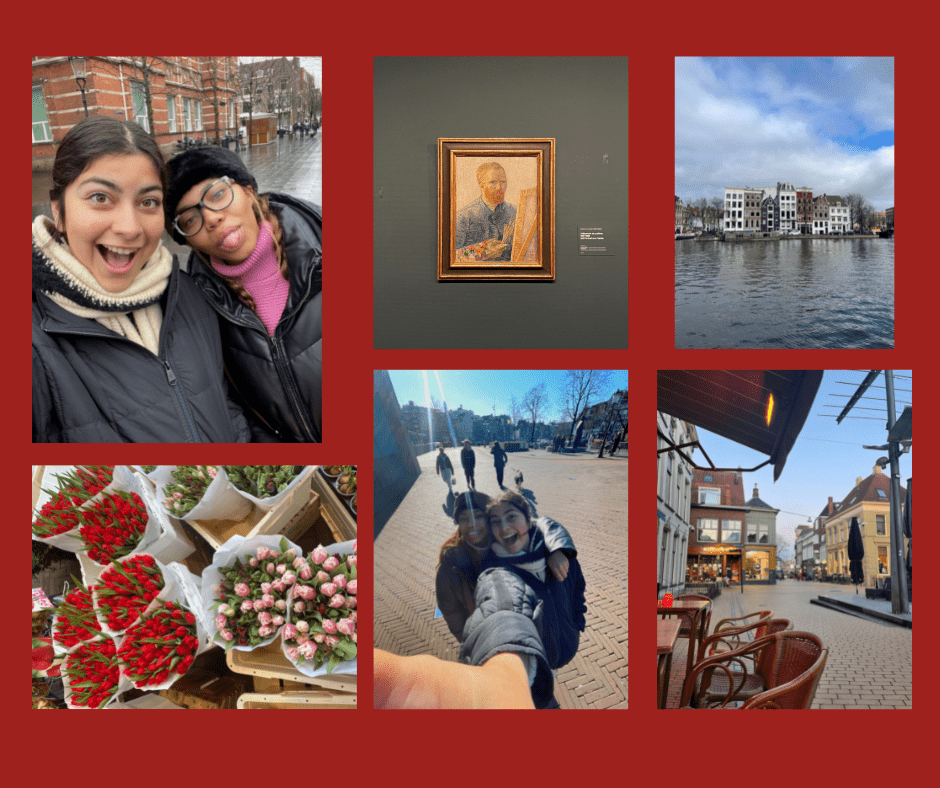 Macias said visiting Amsterdam had always been a dream of hers and was excited to explore the city's many art galleries, such as the Van Gogh Museum.
"I always grew up with Van Gogh in my house and that's my mom's favorite artist," Macias said. "It was surreal looking at his paintings, especially one that has been in my house for my entire life. That was insane, and I sent my mom a vlog in the museum."
Aside from exploring traditional tourist sites like the Anne Frank House and the city's Red Light District, Macias also tried an assortment of local foods new to her.
"I tried a bunch of cheeses and even bought some Gouda, which is what they're [Amsterdam] known for," Macias said. "I also tried this one dish that's fried on the outside and mushy on the inside. It was called bitterballen and was actually pretty good."
Macias said the break also allowed her to make new friends on her European excursion. Macias said one night she went out into the city alone and met two girls who were studying abroad in the city at a local space.
"They took me out on the town and it was so fun because, in that moment, I felt immersed in the city and the culture," Macias said. "Now we're friends, and I invited them to visit me in Malibu."
After her time abroad, Macias said she is grateful spring break allowed her time to reconnect with an old friend, explore a new environment and take a much-needed pause on life.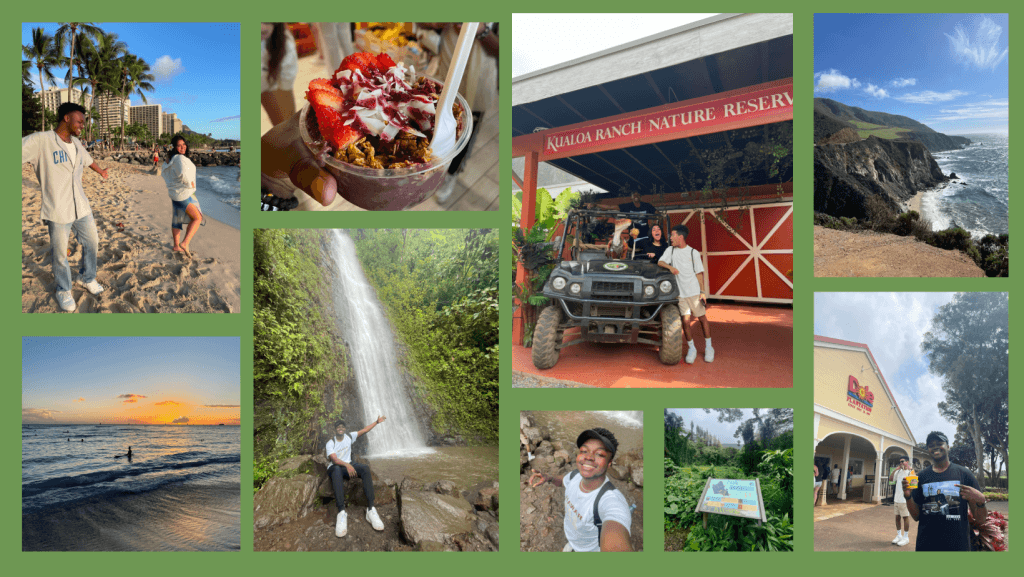 Junior RJ Wicks went on a trip to Honolulu, Hawai'i with a few friends to celebrate the spring break.
"A major theme in this trip was learning to appreciate the little things in life," Wicks said. "We just really enjoyed everything around us and also each other. I feel like we really grew as a group, and it was a really wonderful, fun time."
Aside from exploring Oah'u's sandy beaches and bustling city life, Wicks said the trip opened his eyes to many new experiences and laughed about his experience with new foods he ate.
"I tried a loco moco, which is this rice and gravy dish, and I also ate it in the form of a burger, which was so good and interesting," Wicks said. "We even went to a luau and ate a pig roast, like the traditional one with an apple in its mouth. I tried it, and it was just like an interesting form of bacon."
Time off from school allows students to explore new regions and opportunities that they wouldn't usually be able to. Stressing the importance of spring break, Wicks said Pepperdine students have a larger workload pushed onto them before the break since the University's semester ends earlier than most other institutions.
"It's really important for us to take time to travel and make ourselves busy seeing different parts of the world," Wicks said. "It's also good to take a break at your house and in the dorms, just sleeping, resting and getting ready for the next half of the semester."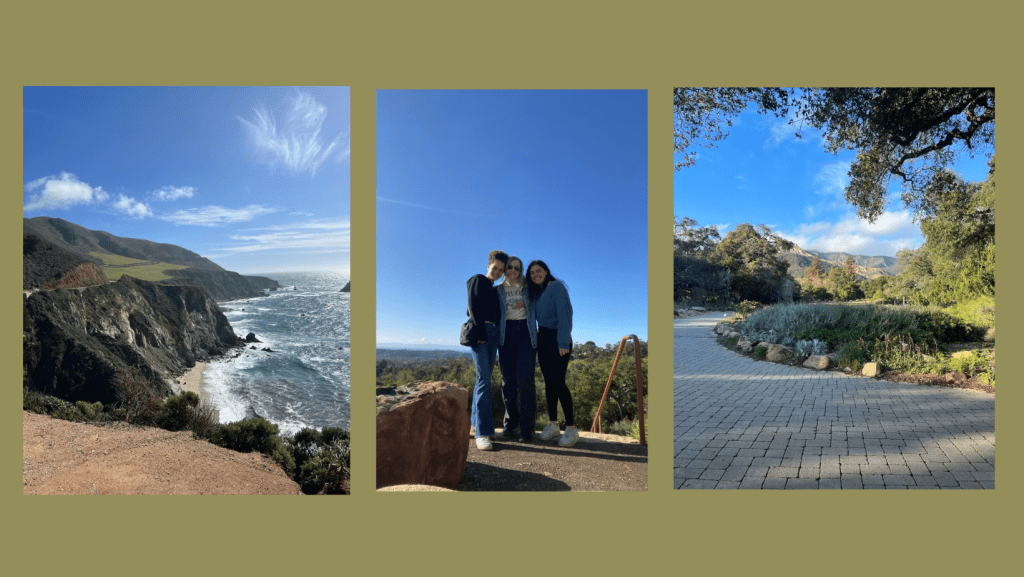 While some students used the break to see other parts of the world, others decided to keep their travel within California. Junior Lena Folse chose to stay in-state by driving along the California coast on a road trip with friends to San Francisco.
"It was super fun to explore new places with familiar people," Folse said. "I thought the trip was really relaxing and fulfilling, and we had a lot of laughs together."
Folse said one of her favorite parts of the trip was stopping in smaller cities like Santa Barbara and Paso Robles along the way.
"I really liked Big Sur, and also the other little towns we saw on the way to San Francisco," Folse said. "I really liked the scenery there, and even though we had to backtrack to get to the bluffs, it was so worth it."
Alongside some of her Tri Delta sorority sisters, the group went hiking, ventured into the city and made many memories together. After her group's fun-filled week, Folse said a mid-semester break is essential to every student's well-being and state of mind.
"Spring break gives students a chance to catch up on their mental health," Folse said. "Since it falls right after midterms, it's so important to give students a break and let them relax a little before they get into the swing of school again and finals season."
No matter how students spent their break, the week was a brief hiatus from some of their stress and responsibilities. Students said they can now put their best foot forward as the second half of the spring semester swiftly approaches.
__________________
Follow the Graphic on Twitter: @PeppGraphic
Email Emma Ibarra: emma.ibarra@pepperdine.edu