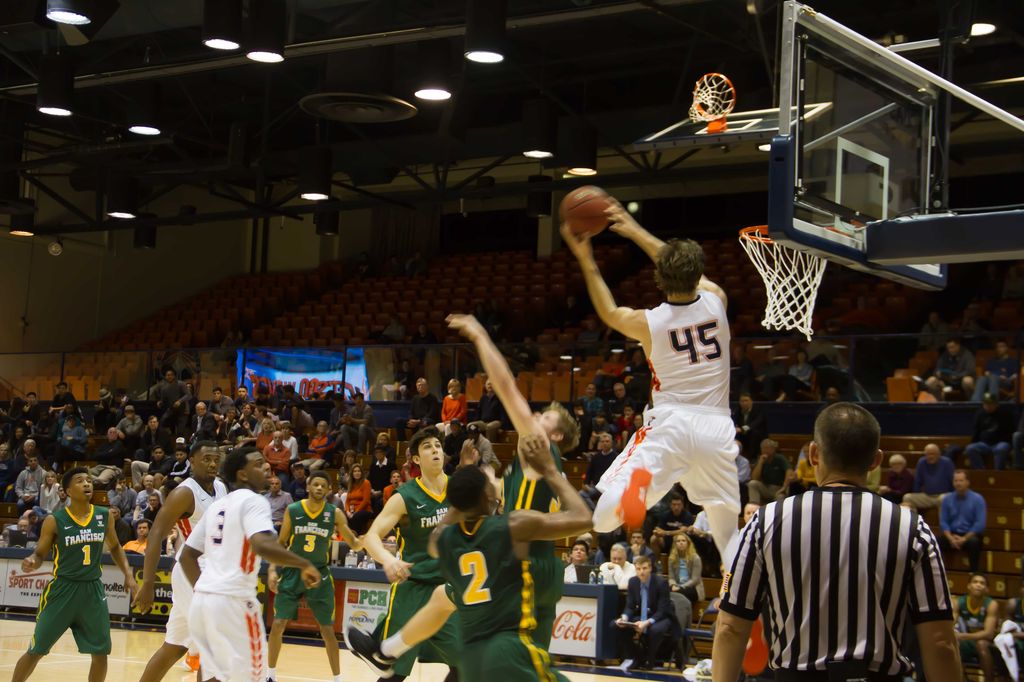 Photos by Rhema Gabriela
Videos Courtesy of Pepperdine Athletics
All good things come to an end.
After 32 games, 1,556 minutes, one school record and 15 seconds of Drake dancing to "Hotline Bling" at a Pepperdine sporting event (!!!), the 2015-16 basketball season is finally over. While this year provided its share of highlights and unforgettable moments, the season's initial promise was impacted by injuries and inconsistency. Pepperdine basketball provided the good, the bad and everything in between; in fact, this season is strikingly similar to the opening lines of Charles Dickens' novel, "A Tale of Two Cities."
In other words, the Pepperdine men's basketball season was:
The best of times; it was the worst of times
Remember December?
(Just kidding.)
Remember sophomore guard Shawn Olden's Steph Curry impersonation at Ball State?
Or Pepperdine's second-half shellacking of University of Louisiana-Lafayette, a one-time tournament team?
What about senior forward Jett Raines' buzzer-beating tip-in against Long Beach State?
Time flies.
While playing in Firestone Fieldhouse, Pepperdine rode a nine-game win streak — the longest streak since the 2004-2005 season — which Pepperdine Graphic Assistant Sports Editor Arthur Puu's aptly dubbed "Nine and WOAH" in his Feb. 7 column. But the Waves didn't build this win streak against a bunch of nobodies; five of the wins were against teams that made the postseason.
Playing on the road, however, was a different story. Although the Gulf Coast Showcase should have given Pepperdine three or four fairly winnable games, the Waves followed up a close loss to Murray State with a confusing loss against Drake (not the rapper). To make matters worse, Drake managed to win only four more games after playing Pepperdine.
The road woes continued into conference play, as the Waves dropped the first two conference road games by a combined 34 points.
It was the age of wisdom; it was the age of foolishness
By the halfway point in the conference season, Pepperdine was in sole control of third place and within striking distance of Gonzaga and Saint Mary's.
The preseason predictions from columnists Will Maupin and Sam Vecenie, from SBNation's Mid-Major Madness and CBSSports, respectively, looked more realistic after valiant home wins against Saint Mary's and BYU. Perhaps Pepperdine could break into the WCC's upper echelon, knock off quality conference foes and defy expectations in the WCC Tournament.
Knocking BYU out of the top three was nothing new for Pepperdine; in fact, the Waves prevailed against the Cougars' high-octane offense in three of the past four contests — all while leaving a slew of disgruntled BYU fans in their wake.
It was the epoch of belief; it was the epoch of incredulity
Pepperdine's winning ways might have continued, but an 11-point loss in Provo swung momentum away from the Waves. Clearly miffed from their third straight loss to Pepperdine, the Cougars avoided another home upset. Unfortunately, the loss had long-term side effects for Pepperdine. The Waves proceeded to lose the next two games at home in heartbreaking fashions — first to Portland on a pivotal no-call, and then to Gonzaga in another riveting, hard-fought game in front of a packed student section in Firestone Fieldhouse.
It was the season of Light; it was the season of Darkness
Ironically, the two games that summed up Pepperdine's season — the games demonstrating the team's true grit, determination and character — occurred during a road sweep in January. Truth is stranger than fiction, so they say.
Pepperdine struggled immensely away from Firestone Fieldhouse in conference play; the Waves were merely 1-3 on the road, which included two aforementioned bad losses in the Pacific Northwest and a heartbreaker in Santa Clara.
The trip would be an uphill battle. Neither win was guaranteed; Saint Mary's treated nearly every game like a cakewalk, whereas the Pacific Tigers treated nearly every game like the postseason (after all, the Tigers were ineligible for the conference tournament). Splitting the series seemed inevitable. Another fruitless road trip was plausible, but finishing the road trip with a .500 record in away games? Highly unlikely.
So how did Pepperdine escape McKeon Pavilion with a win, tarnish the perfect home record of Saint Mary's and eke out a win against a plucky Pacific team two nights later? Thank junior guard Amadi Udenyi, who saved his season's best all-around performances for his de facto homecoming weekend. Playing in front of his family and friends, the Oakland native led the Waves on both ends of the court against the Gaels.
But the rollercoaster continued.
Of course, the San Francisco Dons would rain on the #Stacy1702 parade. Of course, the spirit of USF's 289th-ranked defense descended upon Pepperdine. Of course, senior forward Stacy Davis' 16 first-half points were for naught. Of course, Pepperdine lost a home game in which they outrebounded and posted a higher field goal percentage than their opponent.
No disrespect to the Dons; their win at Firestone Fieldhouse was arguably their best road performance of the year. Shoutout to Ronnie Boyce, Devin Watson and Tim Derksen: winners of the WCC's inaugural "best trio that sounds like a law firm" award.
It was the spring of hope; it was the winter of despair
Call it hindsight bias, but if not for the emergence of freshman forward Kameron Edwards and junior forward Lamond Murray Jr., Pepperdine's season was nearly over before conference play started.
On Jan. 4, Pepperdine announced season-altering departures of sophomore guard Shawn Olden and senior guard Atif Russell. In addition to the contributing duo, reserve sophomore forward Nate Gehring and freshman guard Jamani Spencer left the team.
To add more insult to injury, redshirt sophomore guard A.J. Lapray — the sharpshooting Oregon transfer — quietly bowed out of the 2015-16 season several weeks later. His absence was due to a lingering hip injury he suffered during his time at Oregon. Fellow guards Olden and Russell exited for similar reasons; the former underwent ankle surgery and the latter injured his shoulder.
Despite the short bench, Murray and Edwards rose to the occasion. Murray, for one, blossomed into one of the WCC's top players; his 16.3 points and 5.3 rebounds per game was good for ninth and eleventh in the conference, respectively, according to ESPN's rankings. Edwards, on the other hand, developed into an athletic force on both ends of the floor. The freshman forward showed he has the potential to fill Davis' shoes for the next three years.
By the time Pepperdine entered the WCC Tournament in Las Vegas, the Waves' roster included only three healthy guards. In a conference littered with backcourt gunners — ranging from solo threats like Portland's Alec Wintering and Santa Clara's Jared Brownridge, to productive guard units like Saint Mary's, Gonzaga's and half of BYU's roster (seriously, nearly every WCC team has formidable guards) — a deep, eight or nine-man rotation helps lead to consistent success.
We had everything before us; we had nothing before us
Ultimately, the 2015-16 season was a bittersweet affair. A pessimist could call this past season a failure: Pepperdine's simple rating system (based on strength of schedule and opponent performance) dropped from 3.86 to 2.45 points this season, according to sports-reference.com. Ken Pomeroy, the statistical namesake behind reputable database kenpom.com, noted the Waves dropped from 137th to 139th in the national standings. A basic glance at Pepperdine's season record reveals it all: The Waves didn't improve on their 18-14 record.
In light of the obstacles, however, the 2015-16 season was a reminder of the difficulties of rebuilding a reputable college basketball program. More often than not, success stories don't happen instantly. Rome wasn't built in a day, and the same goes for the nation's blue-blood programs (i.e. North Carolina, Duke, Michigan State and Kansas).
Even Gonzaga was a middling WCC program. Check out their run of unimpressive seasons in the 1980s that occurred, coincidentally, in the same decade Pepperdine made the NCAA Tournament four times. Pepperdine may have struggled to "break out" in recent seasons, but at least the program is trending upward under Head Coach Marty Wilson's tutelage.
It's anyone's guess as to how Pepperdine will bounce back from losing starting seniors Stacy Davis and Jett Raines. But with a promising freshman class, a healthy roster and three returning starters on the horizon, perhaps the future is still bright in Malibu.
__________________________
Follow Kyle Cajero on Twitter: @cajero_k