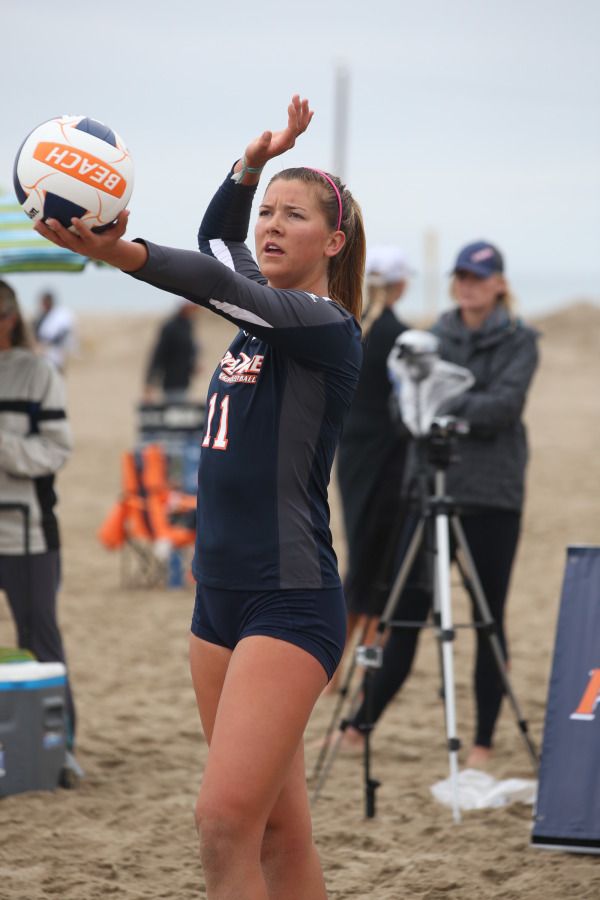 Photos courtesy of Jeff Golden, Pepperdine Athletics
Domination.
It has been on the minds of the now No. 1-ranked team in the nation early on in the season, as the Pepperdine women's beach volleyball team looks to capture its third AVCA Championship in five seasons.
Entering the season, the Waves were selected as the No. 2 seed behind top-ranked USC in the AVCA Coaches Poll, but it didn't seem to bother fifth-year Head Coach Nina Matthies.
"Rankings are just numbers, and I think we have a great blend of talent among our veterans and young players," Matthies said. "It's going to be great for the veterans to bring in a championship atmosphere for our younger players."
Looking at the roster breakdown, the team has a young core of 10 underclassmen, including eight new freshmen players. Out of 15 players on the 2016 season roster, only four players have championship experience: redshirt senior Samantha Cash, senior Taylor Racich, senior Sophie Asprey and junior Delaney Knudsen.
To open up the 2016 campaign, Pepperdine hosted the Pepperdine Kick-Off at Zuma Beach on March 5 with a sweep 5-0 over No. 4 Long Beach State, but had a bigger challenge later that day against top-seeded USC. However, Pepperdine made a huge splash by upsetting the Trojans 3-2.
Despite losing the first game in court one, the Waves were able to tie the score against the Trojans by taking the second game. The Trojans won game three, but Pepperdine rallied from behind to capture back-to-back games, as freshmen Madalyn Roh and Anika Wilson took game four, and Cash and junior Sarah Seiber took game five to secure the upset.
In day two of the Pepperdine Kick-off, the Waves started with back-to-back victories by defeating No. 3 Hawaii 4-1 before securing another 5-0 sweep against No. 6 UCLA to win the Pepperdine Kick-Off title, remaining undefeated against three of the AVCA's top six teams.
"We've been working hard and it takes a lot to get to the championship," Cash said. "There is still a lot of work to be done in a long season, but it's definitely great to see all the hard work that we put in come together early on."
Following a 4-0 start to the season, the Waves traveled to Mount Pleasant, South Carolina for the College of Charleston Beach Invitational. Pepperdine opened the day with a big 4-1 victory over No. 8 Georgia State and captured another win over host College of Charleston in sweeping fashion, 5-0.
On day two of the tournament, Pepperdine remained perfect by sweeping both Mercer and Alabama-Birmingham 5-0. Against Mercer, the Waves earned four straight-set wins from duos Dyer and Racich and Bailey and Knudson, including a three-set win by freshman Skylar Caputo and sophomore Corinne Quggle to clinch the sweep. It was the same result in the sweep over Alabama-Birmingham, as Pepperdine took all 12 sets to improve their record to 8-0.
"Having these games against some of the top teams in the AVCA has really helped us grow together as a team," said freshman Nikki Lyons, who also played indoor volleyball for Pepperdine. "It has also forced us to compete at a championship level."
On day three, Pepperdine added another victory by sweeping UNC Wilmington 5-0 to capture the team's ninth-straight overall victory. Out of the five matches in the College of Charleston Beach Invitational, Pepperdine took the last four in dominant fashion with 5-0 sweeps. In dual play, the Waves have a .911 win-loss performance on a 41-4 overall performance this season. Two Pepperdine pairs are still undefeated in nine appearances: Wilson and Roh, and Cash and Seiber.
"Winning nine straight games definitely shows us how we match up with other teams in the AVCA, but we still have a long way to go on the road to the championship," junior Delaney Knudsen said. "At the end of the day, regular season success is definitely important, but winning the championship speaks volumes, and that's what we are mainly setting our sights upon."
Pepperdine will look to continue its winning streak on Friday, March 25 as they take on Cal Poly at 10 a.m. and Nebraska at 12:30 p.m. at Zuma Beach.
________________
Follow Arthur Puu @arthur_puu