Photos by Kaelin Mendez
Pepperdine held a memorial service for the community to commemorate the life of second-year student Jake Brandon Harris on the evening of Thursday, Jan. 18.
Every pew was full in Stauffer Chapel as Pepperdine students, faculty and staff gathered to pray, share stories and pay tribute to the life of Harris with his family and friends. Harris died in a car accident Monday, Jan 15.
"It's hard to know what to say in times like this. But we know that, as God's people, we get together and tell stories, we pray and we look to Scripture for comfort," University Chaplain Sara Barton said.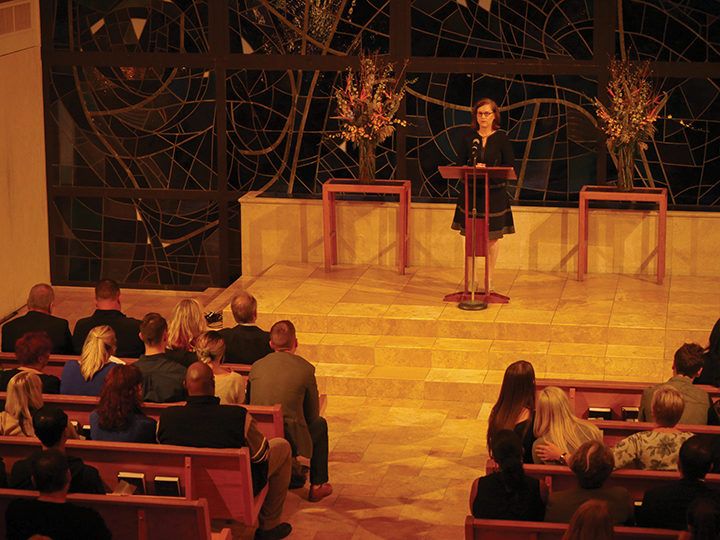 In her opening comments, Barton said words friends and family used to describe Harris included "generous, friendly, kind, sometimes silly, fun and social." Following a prayer, several of Harris' friends offered their own tributes to his life in support of all of these adjectives.
"On campus, Jake would always be spreading his smile to anyone who passed by," Harris' friend and fellow classmate, Austin Welch, said. "He just wanted everyone to feel welcomed and included."
Kelly Champeau and Ally Enns, Pepperdine students and close friends with Harris, approached the podium and spoke together.
"I never thought I'd be giving a tribute to Jake instead of walking across the graduation stage with him," Champeau said tearfully. "But I take comfort in knowing that he is somewhere better now."
"The bond that we shared with Jake was incomparable. The time and memories that we had with him were such a blessing. He always was smiling, even when he was walking alone," Enns said.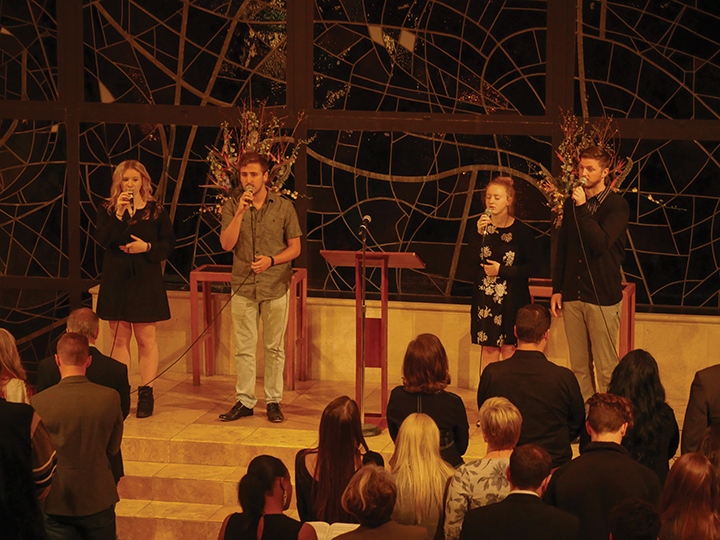 No family members spoke at the memorial, but Barton described Harris' family as being "warm and close-knit," and as playing an important role in his life. Barton said that Harris' mother, Angel Boudreaux, would say "I love you" to her son every time he walked out the door, and adding that Harris liked to bond with his father, Evan Harris, over dirt bikes and burping contests, prompting chuckles from memorial-goers. Harris also had a close relationship with his grandparents, of whom he even gave a speech in his speech class with Professor Fike.
Office of Financial Assistance Assistant Director Deborah Armstrong served as Jake's supervisor in his on-campus job for the last two years. Armstrong commended Harris for his hard work and dedication, especially in regards to his involvement in the department's outside scholarship project. More information regarding this project will soon be distributed to the Pepperdine community by email.
"Jake really played a lead role in the project and I am heartbroken that he won't be able to see the official email sent out," Armstrong said. "He was a part of something that will be a big blessing to the student body."
Loved ones were given the opportunity to see who exactly was present at the service when Barton prompted the audience to stand in accordance with their relationship with Jake Harris. She called for close friends to stand, at which point dozens of students rose to their feet. Residence-related acquaintances and classmates, staff and family were all called to rise in the same way until every attendee was upright. At this point, the whole congregation joined together to sing the hymn, "Amazing Grace."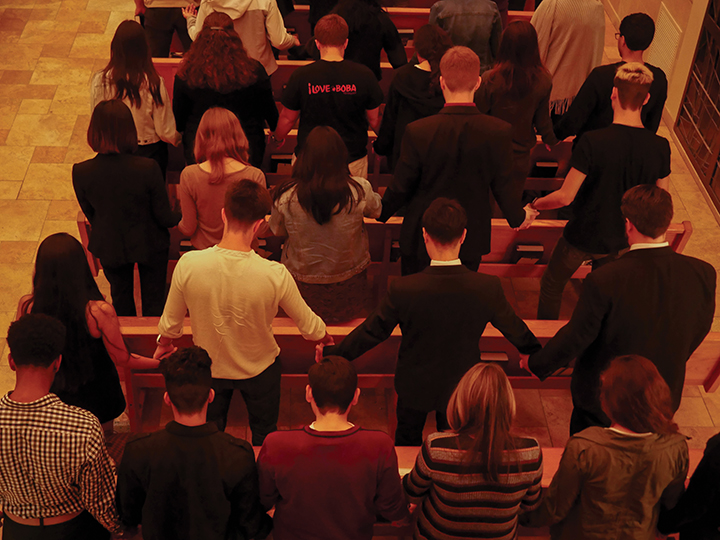 Attendees of the memorial were given the chance to express their condolences to Harris' family by writing in cards that were provided at one point in the service.
Barton spoke about the story of the sea storm in Mark 4 as an image of the Pepperdine community's loss.
"Some of us may feel like we are caught up in a storm of grief; we feel like we've been knocked off of our feet," Barton said. "But storms will be calmed and God promises that peace is coming."
__________
Follow Pepperdine Graphic on Twitter: @peppgraphic