Photo by Mark Spigos
Freezing in the pouring rain, sopping wet in a dress shirt, amongst a group of strangers in Downtown LA, senior Andrew Enslen found himself in an unfamiliar and uncomfortable situation. It was his second time volunteering with UCLA's Program in Medical Education's Happy Feet Clinic.
UCLA PRIME is a five-year MD and masters program. In 2008, 17 PRIME students founded the Happy Feet Clinic "to address the podiatric concerns of the Los Angeles homeless community," according to the UCLA Happy Feet website.
On that day in February 2012, Enslen recalled how all of their tents had broken, leaving everyone exposed to the elements.
The volunteers and the homeless people "were just laughing because it sucked so bad," Enslen said. "I had this great feeling that this is what service is all about. We're not meant to be comfortable, we're meant to be a little cold and it just felt so right."
Enlsen confessed that at first the experience of washing peoples' feet felt awkward, especially in their wet and dreary state. However, in the midst of the awkwardness, Enslen said he remembered "feeling so close to them because we were so miserable."
In that moment,  a strong conviction came over him, sparking the inspiration for the founding of his nonprofit organization: Pepperdine Happy Feet Clinic Inc.
"I remember I had a moment where I said, 'This is the kind of service that God asked of us,'" Enslen said. "I was like, 'Yeah, why don't we do that [start a nonprofit]? I have everything set up. I go to S.O.S. (Standing on Stone Ministries — a local Malibu nonprofit that feeds the homeless), I know there's a ton of people there every single week. What is stopping us from doing that? Nothing. There's nothing stopping us.'"
"God dropped and swapped for me"
At this point, Enslen was a sophomore juggling sports med classes while battling for a spot on the men's tennis team.
In high school, he "won a few state championships" playing tennis, yet said he had a tough time adjusting to the high level that Pepperdine tennis competed at (that year men's tennis made runs to the NCAA championships in singles and doubles).
Enslen knew it'd be impossible to simultaneously train with the tennis team and take on the task of founding a nonprofit.
"God just dropped and swapped for me. I prayed about it. 'Lord is this going to take a lot of time? Should I quit tennis?'" Enslen said. "I didn't obviously hear anything but he said, 'Yeah I want you to do this.'"
That summer in 2012, Enslen approached then roommate, senior Trevor Cavender, and asked if Cavender had interest in helping launch Pepperdine Happy Feet Inc., which would provide podiatric care for the homeless. Similar to the UCLA Happy Feet Clinic, but with a Christian focus and centralized in Malibu.
"It was one of those things that sounds great in theory, and you're just never sure if it's going to fall through, especially when two people are busy with their own things," Cavender said. "We both kept each other accountable, and we got enough support initially to inspire us to move forward.
"That's how it got started, just in an apartment room."
Through the 2012-13 school year, Enslen and Cavender rallied up 12-15 volunteers and held clinics during certain S.O.S. meeting dates, on Thursday nights at 6:30 p.m. at Webster Elementary School.
"They're inside serving food and we're outside washing and giving out clothes and medical supplies," Enslen said. Enslen and Cavender consistently coordinated with S.O.S., and vice versa. Concerning the relationship, Cavender noted that S.O.S. "really helped us out in pushing us forward. Their participation in this shouldn't go unnoticed."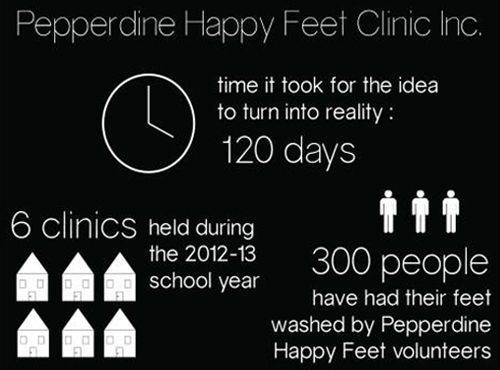 This year, Pepperdine Happy Feet has yet to hold a clinic due to conflicts between S.O.S. and Webster Elementary.
At the end of January, the Santa Monica-Malibu Unified School District and Standing on Stone agreed "to conclude S.O.S.'s use of Webster Elementary School" with the final day being on or before April 3, Director of Facility Use Carey Upton wrote in an email.
S.O.S. co-founder, Hollie Packman, wrote in an email that the organization "needs" to stay in Malibu because their volunteer force is based in the city. She noted in the email on Feb. 16 that they haven't found a new location yet, but that "the leaders at Webster, the parents and the school district have been very cooperative," and she is confident a solution will be sought.
"The community is very supportive and cares deeply for the poor … Over the years we've served in Malibu, many lives have been completely turned around and we look forward to more," Packman wrote.
"Relentlessly push forward"
Although the specific location of future Pepperdine Happy Feet clinics is uncertain at the moment, the groundwork for the nonprofit has been set. And with Enslen and Cavender prepped to graduate come April 2014, they hope someone with vigor and a heart for the homeless will step forward to fill their spots.
"We've been working really hard to set up for someone else. I'm very much not wanting this to end this year," Enslen said.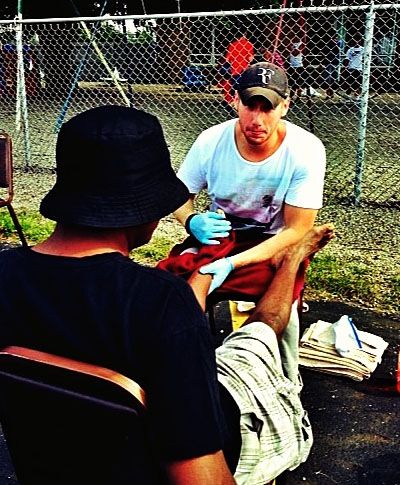 Cavender commented that in order to keep Pepperdine Happy Feet up and running, it's crucial to "expect the unexpected" and be able to "relentlessly push forward because a lot of times you run into a lot of dead ends."
While that advice may sound daunting, Enslen has already done most of the dirty work. He set up the nonprofit as a club, wrote the bylaws and even submitted a 501c3 form to the IRS in an attempt to attain tax deductibility status.
He sent the form over winter break, and said generally the IRS takes about six months to process the paperwork.
"I was really hoping it's not just a club at Pepperdine. If there's someone who really has a heart for it and really wants to take it far, there's a chance it could be one of the bigger service organizations on campus," Enslen said. "With the things we're setting in place, you could go beyond the ICC (Inter-Club Council) and go to big corporations to get donations for shoes. That's what I envisioned it, but it still has to be done."
With a full heart and an engaging presence, Enslen had no issues with a lack of volunteers during the year he organized clinics, as three-year roommate senior Kevin Enstrom can attest.
"I've never met anyone really able to command respect so easily. People are really wanting to be a part of it [Happy Feet]," Enstrom said.
"There are other things more important"
When 22-year-old Enslen's friends and family talked about him, one common theme consistently arose: Enslen has an uncanny sense of humility.For instance, roommate Enstrom described Enslen as being the kind of guy who would "give the shirt off his back to anyone." Enslen's mother, Cheryl, said that "If someone was sitting in a lunchroom by themselves, he'd leave his friend group to go sit with that person alone."
"He just has a heart for people," Cheryl said.
That mindset of caring for the lesser has dictated Enslen's postgrad plans. He's postponing med school apps, and taking a year off from education to be a program director for a homeless ministry called The Bridge back home in Ohio. He says in addition to that, he may also spend a portion of the year working in a third-world country hospital (he's still deciding on the exact location).
The coordinator of The Bridge, Miles Miller, who runs the day-to-day operations, grew close to Enslen over this past summer and vouched for him to join the team.
"It's rare that you have someone so gifted but also willing to humble himself and serve the low levels of society," 22-year-old Miller said.
The Bridge only started up in January 2013 and is looking to gain momentum as the services they offer continue to expand. In one sentence, Miller described the organization's mission being "to reach to serve the people on the fringe of society — those who are lost and forgotten." They offer free services such as ESL training, a thrift shop, a legal clinic and an organic garden.
Cavender provided some insight as to why Enslen would choose to spend his days with the homeless rather than apply for enrollment at prestigious medical schools. He talked about how being involved with Pepperdine Happy Feet changed his outlook.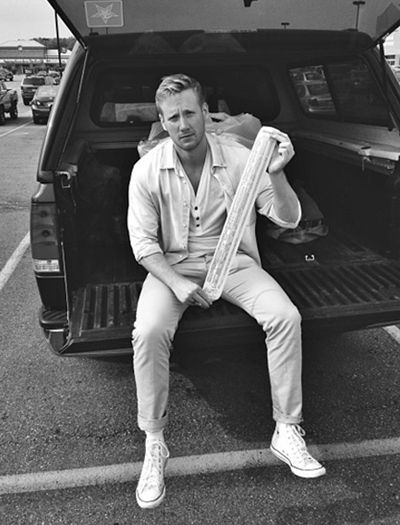 "It's easy, especially being a science major with our eyes set on med school, it's easy to get wrapped up in grades. 'I have to do well in school and study all the time' — that became our deciding factor in college," Cavender said. "With Happy Feet, it slapped that across the face. No, there are other things that are more important."
Enslen has taken those "other things" and brought them to the forefront of his life, front and center; and yet he was adamant in clarifying that "there's really nothing that separates me from anyone else besides that God helped me and got me a little motivation."
As he faces graduation in a couple short months, Enslen leaves a piece of advice for undergraduate students in search of purpose:
"If I was telling other students something — this is the cheesiest advice in the world — it would be you just need to find something that you really want and just do it."
_____________________________________________________________________________
Follow Alysha Tsuji on Twitter: @AlyshaTsuji