All Photos Courtesy of Pepperdine Libraries // Edited by Alexander Hayes
No One Believed in Them
Amongst the already established powerhouse football schools (USC, Loyola University, UCLA, Whittier), Pepperdine was nothing but a blip on the radar.
The team started in March of 1946 with about 15 guys, according to George Pepperdine College (GPC) alumnus Harry Nelson ('50). By August, the roster nearly tripled in size. Nelson said the increase in numbers was mostly because guys began walking over from nearby Washington High School — not because of any newfound popularity.
When a friend first told him about Pepperdine, Nelson said, "Is that a disease or a sandwich?"
As a 34-acre campus nestled a few miles south of downtown, right around the heart of Los Angeles, George Pepperdine College didn't have a stadium. With an enrollment of just over 1,000 students, it didn't have a huge fan base, either.
Within that inaugural season, no one expected much. However, the team expected much out of themselves. The 1947 squad steamrolled the competition — even knocking out coveted Loyola University's football team in the third game — and ran all the way to the Will Roger's Bowl in Oklahoma City on Jan. 1, 1947.
Following the shocking Loyola upset, one sportswriter wrote in his column, "Why We Downed Loyola's Lions": "Even the GPC coaching staff didn't expect such a convincing outcome. The only one's that were not too surprised were the team members themselves."
Pepperdine stands as the only college with a football program that advanced to a bowl game in its first year in existence.
WATCH: Pepperdine College football team in 1947 Will Rogers Bowl
From then on, the team carried itself with pride. "We used football to prove that Christians weren't sissies," said John Skelly ('56) who played on the team from 1954-55.
But Pepperdine's athletics budget wasn't limitless, and football fell to that reality.
According to Jay and Jerry Roelen's four-volume publication, "The History of Pepperdine Football," in 1961, "the Pepperdine College Board of Trustees conducted a detailed study on the feasibility of the football program moving forward. They found the heavy cost of continuing to field a competitive team was too great … The decision was not a reflection of the football team's performance or popularity."
Although, the current lack of a football team doesn't diminish the uplifting stories of former players.
"Thank you, sir."
From birth, 92-year-old Nelson has felt God's hand guiding his life. He was born with pyelitis kidney disease and the prognosis didn't look good. His mother told him, "Doctors kept me alive by feeding me a teaspoon of what she called 'whiskey' two times a day for two weeks."
"I think the good Lord up there looked down on me and said, 'Oh, no, no, no, it's not his time yet. We're going to have to make things up for him,'" Nelson said.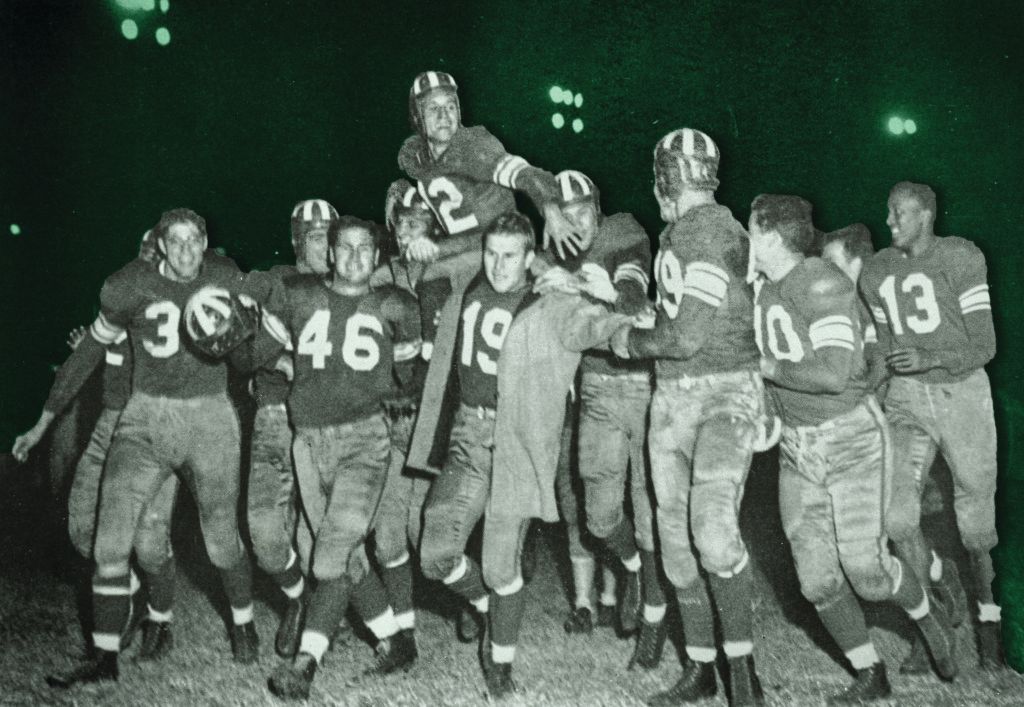 He told the story of how he ended up in the coast guard by chance. At the service recruitment office he happened to walk down certain hallways and turn into a certain office that saved him from spending service time in more dangerous positions.
Then, while serving his three years in the coast guard, he recalled several instances in which they shot down Japanese kamikaze planes in close proximity, or in which he witnessed German underwater missiles narrowly miss hitting their ship.
Each time he recalls one of those moments in his life, he glances upwards, points to the sky and softly says, "Thank you, sir."
In 1946, as a war veteran, Nelson wanted to gain the experience of playing for a collegiate football team. He said he first approached the football coach at Whittier. The second he revealed he had no prior football experience, the coach said, "We can't use you." Undeterred, Nelson went to USC, but he said the campus overwhelmed him and he felt out of place.
In his final attempt, Nelson entered the Pepperdine administration building early one morning. Upon arrival, Nelson could tell the dean wasn't impressed with his academic background. However, for whatever reason, the dean decided to let Nelson prove himself.
"About a week before starting [the quarter], he told me to enroll in a full load of classes, and if you can prove you can do the work, we'll allow you to continue," Nelson said. "I never studied so hard in my life, but I made it."
That happened to be a commonality among GPC football players: The jocks extended their passion for sports to an appreciation for education.
Dale Miller ('50) said when he first got to Pepperdine his academic mindset was to do just enough to stay eligible for football. He ended up transferring to a community college because of an injury, but he said that attending Pepperdine taught him "to reach down inside myself and see something that was of interest to me."
Miller went on to find a career in higher education. Positions on his resume include taking part in the creation of Golden West College as the Dean of Students in 1965, and serving as the President of Shasta College for eight years.
Skelly said he "had no business going to Pepperdine. [They] gave me a break. Throughout my life, I passed it on. I passed it forward."
On the football team, Skelly said he became the unofficial team chaplain, leading prayers and discussing God with his teammates. On campus, Skelly served as the Vice President of SGA his senior year.
After graduating, Skelly went on to earn his doctorate in the Science of Theology. Over the years, he has been a Presbyterian minister, the Vice President for Public Relations and Development for Pikeville College and the President of the nonprofit Pacific Homes Foundation.
"Without Pepperdine, I would not be me," Skelly said.
From One Battlefield to Another
While today's college football teams are packed with kids who have grown up striving to secure scholarships and maybe push to the NFL, the mid-20th century football teams painted an entirely different story.
In 1947, two years out of World War II, the GPC football roster was stacked with war veterans, some as old as 27. Alongside the basic information of height, weight, position and year, the roster sheets included a column for "war service."
Nelson emotionally recalled how special GPC's football team's situation was — they were a brand new team made up of men freshly out of the service. "It's just an honor that we have," he said. "Everything turned out nice. It's a reflection on the school."
Pepperdine's football teams were consistently a ragtag bunch of players. Skelly, the team leader and chaplain who had spent two years in the service but was still a younger one at 19 years old, remembered praying for his teammates and building relationships with them: "It was a precious group. These guys were married and worked at night at the bakery … there were longshoremen with families … a lot of these guys were veterans."
The Legacy Lives On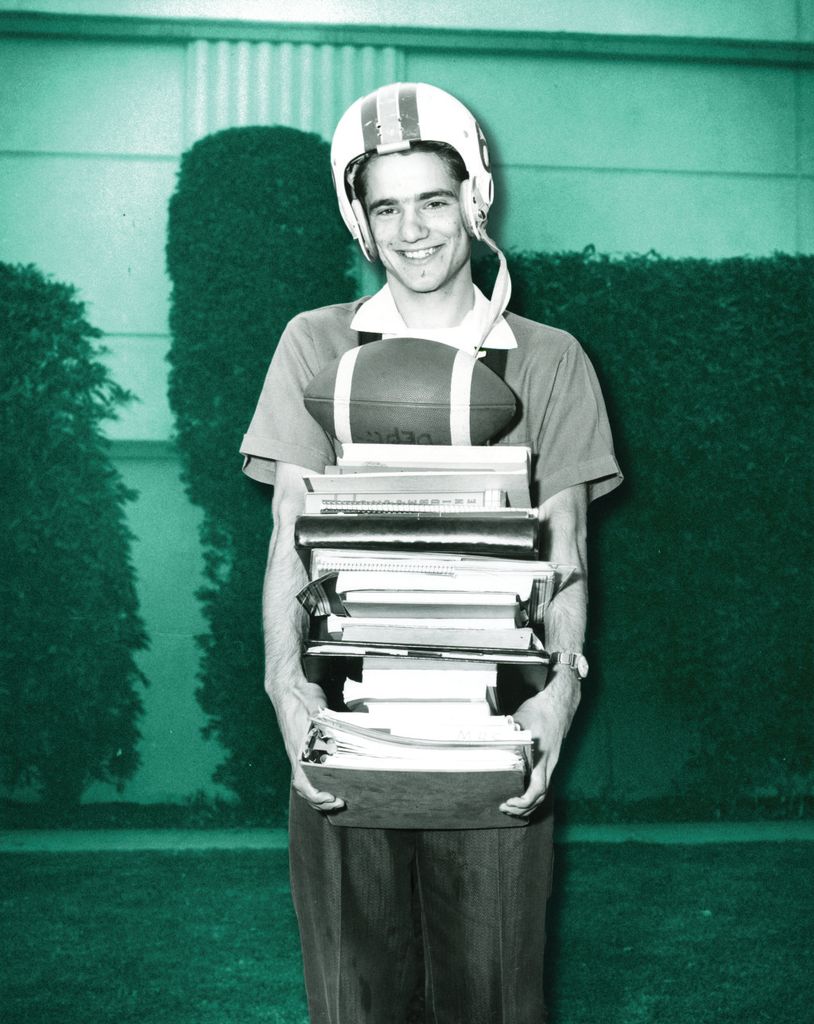 Although the program itself has died, the former players continue to carry on its legacy. As one of the 38 from the 1947 National Championship team, Nelson joined together with several other football alumni to pool funds for a Football Players Scholarship Fund.
"We wanted to let later students know that we had a football team and it did achieve a few things," Nelson said.
In addition to winning, as Skelly said, "Football was more than football. Football was my anchor."
Roelen ('58) who played QB from 1954-57 said he learned many life lessons from being on the team about chaos, control, discipline, teamwork and "all those valuable traits you get from participating in athletics." Roelen went on to teach Physical Education for 45 years. Him and his wife also put together four volumes of books filled with roster sheets, photos, game programs and newspaper clippings, titled, "Pepperdine: The Football Years."
The books can be found at and checked out of Payson Library.
In the same capacity that the former players hope students remember and learn about the golden years of GPC football, and they hold onto a hope that the football will make a return — from South LA to Malibu.
Miller said his only regret is that Pepperdine gave up football. Many former players expressed sadness at its nonexistence.
"Let's get it back," Roelen said.
The 1947 small college championship banner hangs in Firestone Fieldhouse. While Title IX, budget constraints and other details may prevent another Pepperdine football team from being snapped into existence, the banner is permanent. And the impact the players had on Pepperdine's campus and beyond is perpetual.
Correction: In print, it was once incorrectly stated that Dave Grenley authored the books about the history of Pepperdine football. Jay and Jerry Roelen put together the print books, Grenley summarized them online. 
__________
As published in the Winter 2015 issue of Currents Magazine. 
Follow Currents on Twitter: @PeppCurrents