Graphics by Cassandra Stephenson
Pepperdine began releasing DPS reports exclusively online as of fall 2016, increasing immediate availability but raising questions with the decision to exclude summary information that had previously been available.
This comes at a time of change for Pepperdine, as this year marks the withdrawal of Pepperdine's Title IX exemption and the hiring of a new Title IX coordinator to oversee Pepperdine's compliance with Title IX regulations, some of which intersect with the Clery Act.
"Most schools offer an online resource, and so we've been talking about it for a while," Department of Public Safety Deputy Director of Administrative Operations Dawn Emrich said. "We did benchmark against our peer and aspirational school list and found that most of them did provide either an online resource or nothing, and we just felt like moving toward more of an era of transparency and resources being openly available that [Pepperdine should] be in the online category."
The Clery Act was passed in 1990 and requires all colleges and universities that receive federal funding to provide a daily crime log, timely warnings and emergency notifications for ongoing threats, and an annual security report.
Pepperdine must also comply with California Education Code 94380, which states that universities must compile records of "all occurrences reported to police or campus authorities, and arrests for crimes involving violence, theft, or destruction of property, or illegal drugs or alcoholic intoxication that happen on the campus."
Title IX prohibits gender discrimination in education and states that survivors of sexual violence must be provided with options and resources for support and/or to report sexual violence if they so choose. The Clery Act also requires criminal sex offenses to be listed in daily logs and annual reports.
After withdrawing from the Title IX exemption in January, Pepperdine hired La Shonda Coleman, former director of college programs for the Santa Monica-UCLA Rape Treatment Center, as Pepperdine's Title IX coordinator for students.
In this role, Coleman responds to reports or issues of sexual violence, domestic violence, stalking, and sex discrimination, providing advisement to all parties involved. She also oversees prevention education and university compliance.
Differences in Reporting
Previously, reports were sent to the Graphic by Pepperdine's Integrated Marketing Communications Office on a weekly basis and included summaries. The reports were published on the Graphic's website and selected reports were included in the weekly print edition. Reports were also available upon request from the Department of Public Safety. The Graphic has historically published reports in its print editions, as is standard for many college newspapers, though universities may phase out publishing reports in print as more universities opt to post crime logs online.
The University began posting reports online on the DPS website last semester. According to the website, the log is updated every Monday that the University is open, and contains reports from the past 60 days. Older and more recent reports are available upon request and physical copies of the log as seen online are available in the Public Safety Office.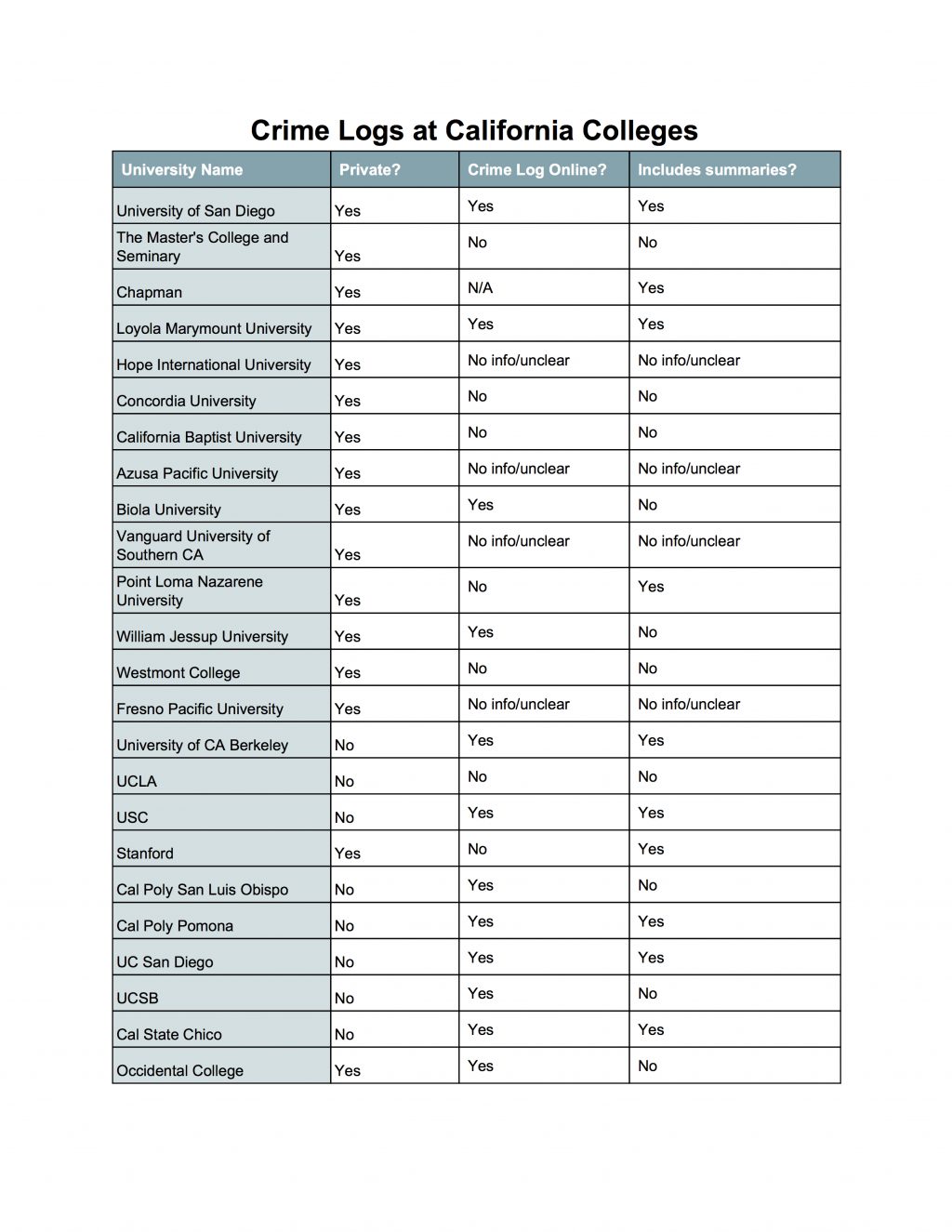 The crime log is outputted by central record keeping software called the Automated Record Management System. Officers input reports into the system and classify them based on penal code or proprietary classifications for reports that are not criminal, Emrich said. The system compiles all reports classified as crime or fire into a crime log, which Emrich formats and uploads each Monday after manually auditing to make sure classifications fit the narratives of each report. Fire statistics are also included in the log, though they are not required in daily crime logs by the Clery Act.
The Integrated Marketing Communications Office is no longer involved in formatting and releasing the crime log. Public Relations Associate Alexandra Forero handles any requests for additional information that might arise, as summaries are no longer provided.
Forero said she thinks that this change is beneficial to the overall process.
"I think that's a definite benefit to moving into this system, because there's less room for human error or [for] me to delete something that shouldn't be deleted," Forero said. "We want to get you the fullest, most complete, and most accurate crime log and this really does help with that."
Emrich said after reviewing the Clery Act requirements and benchmark information from other schools, Pepperdine decided to "fall right in the mead of that curve" and provide "the format based on what Clery recommended," ultimately not including summary information with each report as done in the past.
Emrich said Forero serves in a capacity similar to a public information officer to provide additional details about reports upon request. Forero said this method allows more efficient conveyance of information.
"I'm able to give you answers that like make sure we adhere to privacy, to accuracy, and that is most efficient if I'm able to work through those with DPS and get you the most complete answer, whereas a summary might invite someone to draw conclusions," Forero said.
Pepperdine's shift to an online crime log is part of a greater trend toward providing Clery information online, Student Press Law Center Director Frank LoMonte said in a phone interview.
"For years and years, the practice was to just maintain a paper log on site at the public safety office, but of course, everyone recognizes that's not the primary way people gather their information anymore," LoMonte said. "So it's certainly a good practice even if restricted [or] required by federal law to put that log online in real time as the crimes are reported."
The Graphic reviewed the crime log practices of 24 universities in California, finding that half of those studied post their public safety logs online. Of the 24 universities, 10 included summary information with at least some reports in addition to the information required by law.
LoMonte said that detail and accessibility of reports are key factors in how crime logs serve the public.
"You want there to be enough detail that people can figure out whether there's a trend or pattern that they need to take precautions against," he said. "If you read about three laptops being stolen out of car trunks in the same parking lot, then you know that's not a safe place to leave your car or a safe place to store your computer. You can take sensible precautions to protect yourself."
LoMonte said that, though he does not consider summaries to be standard practice nationally, there is a "trend toward greater openness" with North Carolina, Ohio and Texas opening crime reports from private colleges within the past four years.
"All of those states now give the public the same access to records at private colleges that they would have at any city or county police agency," LoMonte said. "That makes perfect sense if the campus police agency is exercising governmental arrest powers. If you're going to act like a government agency and voluntarily take on the authority of a government agency then you should be transparent like a government agency."
Sex Crimes
Three reports of sex crimes on Malibu campus appeared in the Crime and Fire Log between Oct. 20 and Oct. 23 and were printed in the Oct. 27 issue of the Graphic. This is an uncharacteristically high number of reports of sexual misconduct for Pepperdine. The reports included one incidence of "Forcible Rape, Including Date Rape" and two incidences of "Sexual Battery," originally printed as follows:
10/20/16 8:13 p.m.
Crimes – Assault/Battery – Sex Crimes – Forcible Rape, Including Date Rape
Location: Malibu Campus
10/21/16 4:13 p.m.
Crimes – Assault/Battery – Sex Crimes – Sexual Battery
Location: Public Safety Office
10/23/16 4 p.m.
Crimes – Assault/Battery – Sex Crimes – Sexual Battery
Location: Lower Dorm Road
The university's Campus Safety and Fire Safety Report, which contains crime statistics for the past three years in compliance with the Clery Act, lists zero reported sex offenses, forcible and non-forcible, on the Malibu campus for 2013. There were two reports of forcible sex offenses on campus in 2014, but zero reports of sex offenses in 2015.
A previous Campus Safety and Fire Safety Report lists one sex offense in a residential facility in 2011 and three in 2012, two of which were located in residential facilities. According to previous reporting, DPS crime logs showed a high volume of reports in early 2015, with one report of on-campus sexual assault and seven off-campus reports.
According to an email to the Graphic from Forero on Nov. 2, the two reports classified as "Sexual Battery" were found to be misclassified. As of Jan. 17, the report listed on Oct. 20 is classified as Sexual Assault. The Oct. 21 report is now classified as "Simple Battery or Fighting."
Removing Reports
The report originally listed on Oct. 23 at 4 p.m. as Sexual Assault/Battery was removed from the online crime and fire log as of Nov. 2. The report is still no longer included in the log as of Jan. 17. Further investigation of the incident "revealed that no sexual battery occurred," resulting in the incident being re-classified as Sexual Harassment, according to an email to the Graphic from PR. Sexual harassment is not classified as a crime.
The incident, which was still being reviewed by Coleman as of Nov. 2, "involved remarks being made and an attempt to grab a person, while walking near [Lower Dorm Road]," according to the email. No physical contact was reported.
Emrich said this report was removed because the classification was changed to harassment, which is not a crime.
"That matter should not have been classified as sexual misconduct," Emrich said. "There was never any physical contact between the parties, so to be called a sexual battery, there are certain elements that need to be [present]," including but not limited to physical contact.
"When you read the narrative, it was never, never described as sexual battery," she said, adding that this case was an error in classification.
Forero said that when sexual misconduct is reported, officers must "discern how to classify it," many times with limited information, which can lead to misclassification. "That may happen and it's never with bad intention," Forero said.
The Department of Education's "Handbook for Campus Safety and Security Reporting" states that for crimes in which further investigation shows that the initial classification is inaccurate, the nature of the crime should be updated in the log.
"Crime reports can be determined to be baseless only if the allegations reported did not meet the elements of the offense or were improperly classified as crimes in the first place," the handbook states.
Further, the handbook stipulates that only sworn law enforcement personnel can formally determine a crime report to be "false or baseless" after a full investigation. The log should then "indicate, as the disposition of the report, that the crime is 'unfounded.'"
"Do not list the initially recorded crime as unfounded due to misclassification, or delete an entry once it has been made," the handbook states.
Emrich said this incident was not unfounded but downgraded to a non-criminal classification, which results in removal from the log.
"If the classification has changed to where it's no longer a crime, it's not that it's been deleted, it just is no longer … relevant," Emrich said. "I think they mean you wouldn't delete a crime from the crime log."
She said she does not audit the log to see if reports are upgraded or downgraded following investigation. If a crime were to be unfounded, Emrich said, it would remain in the log and the outcome of the investigation would be noted.
LoMonte said removing this report from the log does not fit his understanding of normal practice, though there are some instances in which this action would be warranted.
"It's hard to imagine a set of circumstances where you could just conclude after the fact that the crime didn't exist [and] it doesn't belong in the log at all," he said, adding that there are circumstances in which reports could defensibly be removed from the log.
"It's not unheard of," LoMonte said. "There are certainly circumstances where it might be good, but if there's any doubt or any gray area at all, then you're supposed to leave it logged."
Emrich said that Pepperdine's intention is to be in "complete compliance" regarding the release of public safety reports.
"We want transparency with the media, and with the students, and with the community, so it's unfortunate that we've had these little things bubble up to make it seem like there is some effort to cloak something," Emrich said. "That's not the case. We want transparency and access to the information that can help you make decisions about your safety and the safety of your community."
History of DPS Reports at Pepperdine
Pepperdine's release of public safety reports has come under scrutiny in the past.
In October 2014, the Graphic found that reports submitted to the Graphic by the Department of Public Safety and Integrated Marketing and Communications were incomplete for the Sept. 4, Sept. 11 and Sept. 18 issues of the newspaper.
According to a previous Graphic article, Associate Vice President for IMC Matthew Midura wrote in an email that the missing reports were "due to an accidental error in reporting." Following the incident, IMC shared the complete reports with the Graphic and they were published on the Graphic's website.
Pepperdine University withheld information about a reported sexual assault in 2002 on the grounds that legal exemptions to the Clery Act allow universities to temporarily withhold information if it poses a threat to ongoing investigation.
According to previous reporting, a statement released to the Graphic by Pepperdine stated that "it was the professional judgment of DPS that reporting this incident might jeopardize an ongoing criminal investigation."
DPS filed a report of the incident with the Sheriff's department immediately, according to the statement, which invalidates the reporting exemption. The report was not included in Pepperdine's log after the fact, however, because the district attorney's office did not prosecute due to lack of evidence and therefore "it did not rise to the level of a crime," according to the statement.
The Clery Act requires crimes to be included in the log regardless of prosecution.
The Graphic questioned what information is released in 1992, claiming that Pepperdine failed to release "all occurrences" of Public Safety activity and citing California Education Code 94380, according to previous reporting. Pepperdine General Counsel concluded that the university must release only incidents classified as "crimes involving violence, theft, or destruction of property, or illegal drugs or alcohol intoxication."
The most recent version of the Handbook for Campus Safety and Security Reporting states that "the daily crime log is not intended to be a general, catch-all incident log."
________________________
Follow Cassandra Stephenson on Twitter: @CassieKay27