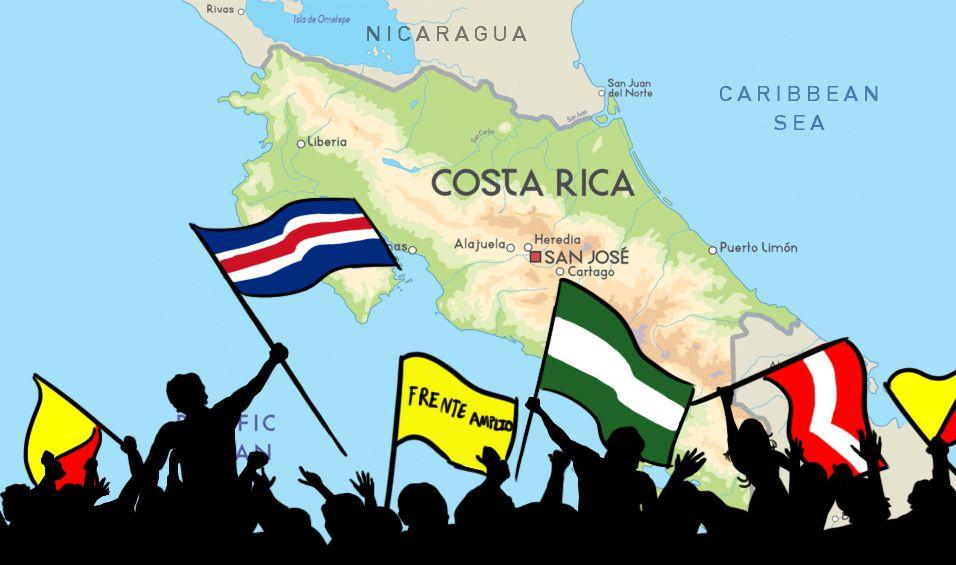 Art by Sacha Irick
After two days of violent demonstrations in Venezuela, I am proud to say I have lived in freedom.
The night was colder than usual. Groups of people rushed into the parking lot as the time approached for the election results to be announced. Some college students walked around wearing red shirts printed with the image of a yellow hammer and sickle. I didn't vote for that party — I was proudly opposed to all of its political proposals. I wasn't there to support the party or celebrate its victory if it won, I was just there because I wanted to know what it felt like.
What do the waves of political change feel like? What did it feel like to be amidst the flags, the hope and the clamor of a political movement that would forever mark the history of my dear home country of Costa Rica? From the crowd, proclamations of freedom erupted with conviction: "We have been told too often to abandon our utopian hopes, we've been raised in a generation of neoliberalism and we will not conform."
I cast my vote early in the morning of election day, Feb. 2. As an international student from Costa Rica here at Pepperdine, I made arrangements to go home for election weekend; these were the first elections in which I voted. No, my party didn't win — there wasn't a winner, and for this reason we will have a run-off in April. This marks the second time that this has happened in Costa Rican history.
I know I speak for my other Central American brothers and sisters when I say that populism and authoritarian governments in the 21st century are pounding into our political systems in waves far more powerful than what our modern history had yet witnessed. El Salvador held their own elections that day as well. They too will have to vote in a second round because the two leading candidates did not reach the percentage required to win an election.
I was still standing in the crowd at the main campaign site for the Broad Front political party when the election results were announced. The Broad Front party came in third place, and the people around me did not seem as upset when they realized that the other left-leaning political party running in the elections, the Citizens' Action Party, had tied with the centrist, leading political party in Costa Rica, the National Liberation Party. I was shocked at the results — more often than not, I find myself lamenting our neighboring countries (like Nicaragua, Cuba, Ecuador or Venezuela) that have fallen into the tight grip of authoritarianism, where the freedom of speech and private business have been held captive by the merciless leaders running these countries. Our almost immediate association between these countries' regimes and the plans of our leftist political parties has also led us to forget that the regime of freedom and fairness we glorify is the same regime that defends the rights of left wing parties like the Broad Front and Citizens' Action to express their ideas freely.
As I stood motionless among the crowd of cheering voters, secretly wishing that neither of the two left-wing parties had even made it to the top percentage results, I now realize that I was forgetting to acknowledge the importance behind the fact that radical parties could actually make it to elections and express their own concerns and solutions regarding the future of Costa Rica.
What if a party — even if its flags were stained with historical taboos — did not have the right, freedom or chance to get its voice heard in a nation? How can I fear and condemn authoritarian regimes if I also wish that certain, more radical opinions were silenced simply because I disagree with their ideals?
Our elections were monitored by many international organizations, including the Organization of American States. The election was deemed free and fair in all instances; the results reflected the voices of a nation where democracy rules the political culture, where each vote does indeed count and matter. Today, truly democratic elections are a freedom that only a few of us can enjoy. Democracy is a liberty that protects the voices of all — whether these voices be varnished by red, populist utopias or dark blue, conservative chauvinism.
Although I deeply hope that the future of my dear Costa Rica will never see the face of authoritarianism, and I understand that such ideologies are very much present in our political culture as they are anywhere else, I must also remind myself that my allegiance to democracy demands that I respect and defend the voices of everybody — even those with whom I do not agree.
Looking back, I get shivers every time I remember standing in the crowd of Broad Front supporters celebrating the historical advance of leftist ideology in Costa Rican politics. I fear their ideology. I might even fear the extent of their anger toward our current regime. What I fear the most, however, is living in a nation where even the most unconventional regimes are silenced. I grieve for our neighboring brothers and sisters in Nicaragua where, just a few days before our own elections, the president changed the constitution to ensure indefinite re-elections for his administration.
The party I voted for did not win, but I've realized that I did have something to celebrate that night. I was able to celebrate the privilege of a free and fair democracy, of a system where anybody's voice can be heard and everybody's concerns can be addressed.
I was happy to know that I could celebrate the fact that we could all participate and hope for a positive change in our country. That night I was able to finally understand what it felt like — the voices of struggle and optimism, freely expressing each and every one of their convictions. We all had a say in deciding the future of our country, and no matter what political road we take in our near future, I am certain that I have discovered what it feels like to be free and how it feels to impact my nation.
I know that feeling now, and I am blessed to be able to say that in that moment, at that specific time, we all knew what democracy felt like. And I hope we all remember that feeling in case there comes a day where we can no longer enjoy it.
_____________________________________________________________________________

Follow Maria Prada on Twitter: @chuzac