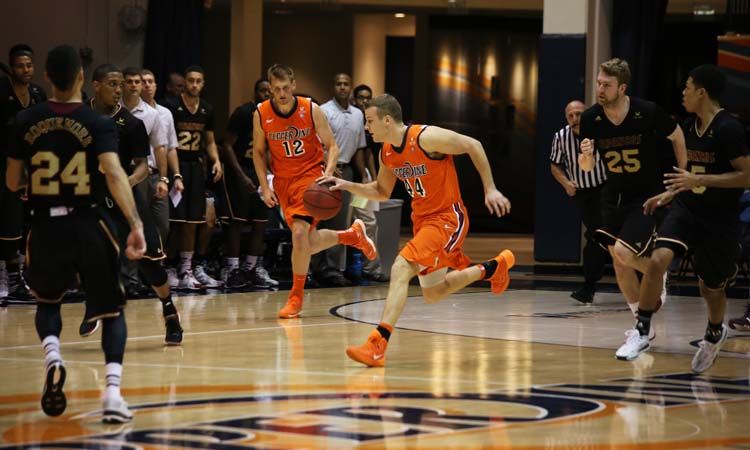 Photos by Alysha Tsuji
Senior Brendan Lane posted a monumental 26 points and 17 rebounds to carry his team to a 70-61 victory the last time the Waves and Broncos met on Jan. 2. This time around, the roles reversed.
Santa Clara's freshman Jared Brownridge dropped 38 points, trumping Pepperdine 86-78 on Saturday, March 1, in Firestone Fieldhouse. The loss set the Waves at 15-15 on the season and 8-10 in the WCC.
With 15:48 left in the game, all hope seemed lost as the Broncos took a commanding 27-point lead. As each minute ticked away, the crowd of 1,000-plus grew restless. One father assured his son saying, "This is basketball, anything can happen."
Within the final six minutes, a sense of urgency swept over the Waves as a three-ball by junior Malcolm Brooks turned a double-digit deficit into a manageable nine point deficit. From there, the team collectively chipped away.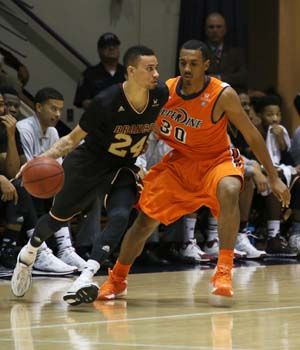 At the 1:27 mark, a free throw by sophomore Stacy Davis narrowed the gap to six points. However, Davis missed his second try at the charity stripe and the Waves never got any closer.
The five-percent-below-average free throw shooting performance of 65.5 percent cost the Waves the game in this matchup.
From that same numbers standpoint, despite the Santa Clara slip-up, the season as a whole can be seen as a step in the right direction. The men's team has not been able to avoid a losing record for nine years (2004-05, 17-14), until now.
Men's basketball begins the postseason in the quarterfinals of the WCC tournament in Las Vegas on Saturday, March 8.
_________________________________________________________________________
Follow Alysha Tsuji on Twitter: @AlyshaTsuji