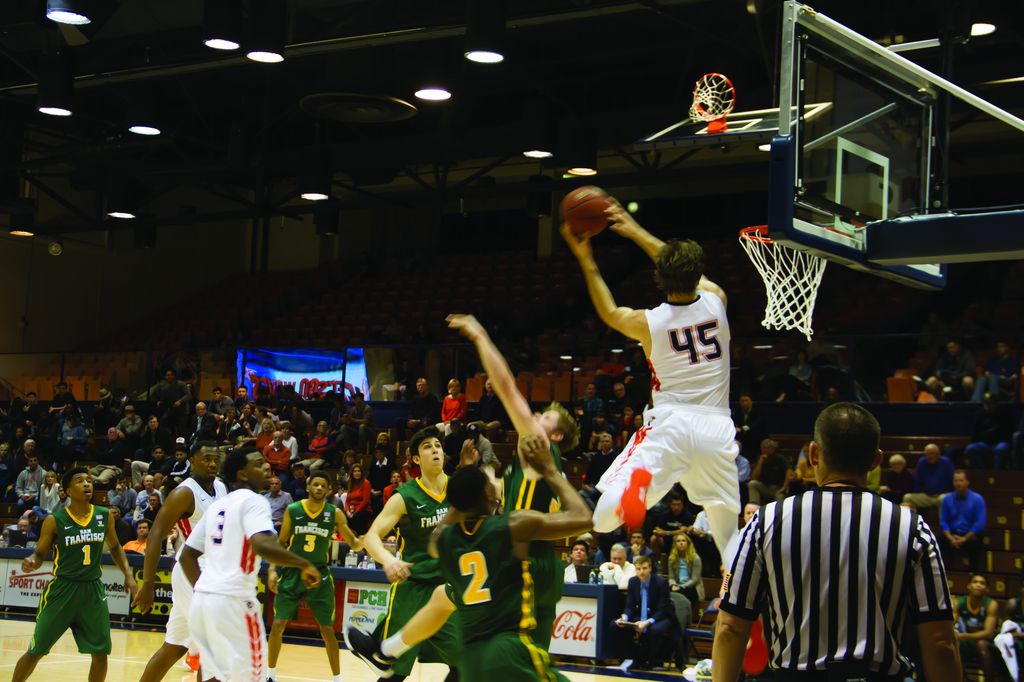 Photo by Rhema Gabriela
Pepperdine men's basketball closed their season with a 79-72 loss to Eastern Washington in the College Basketball Insiders Tournament on March 6. Seven days later, Pepperdine — and the rest of the WCC — took an "L" on the national level when Gonzaga Coach Mark Few threw some shade at the conference during an interview with John Blanchette of The Spokesman-Review.
"It's time for some of these other institutions to start picking it up," Few said in Blanchette's interview. "They're really dragging the top three down."
Few was just warming up. He even took shots at the WCC members' athletic payroll, saying, "if they're not spending [the money the conference receives when one of its teams makes the NCAA Tournament] on basketball, we don't need to be sponsoring swimming at those schools or whatever they've got going. They're not all in." (Related sidenote: Gonzaga and Saint Mary's don't have swimming programs.)
Although Few's constructive criticism seemed to be more on the critical side, his words were based on truth (and #FACTS). The West Coast Conference was poised make a leap on the national stage this season, but fell short by sending only one team into the NCAA Tournament. Despite boasting three 20-win teams — you guessed it, Gonzaga, Saint Mary's and BYU — poor non-conference scheduling and a lopsided talent distribution within the WCC doomed the conference's multi-bid hopes.
Next year will be an opportunity to improve the conference from within.
While middle-tier schools from Power 5 conferences like Oregon State, Syracuse and Texas Tech made the tournament with worse records than the Gaels and the Cougars, their RPI rankings ushered them into the tournament because they played tougher opponents on a regular basis. Playing the University of San Diego Loudly Crying Emojis twice a year is win inflation: Sure, playing USD twice is nearly two guaranteed wins, but they're merely formalities.
However, in the eyes of the NCAA Selection Committee, two wins against USD are weighted equally to wins against the WCC's more formidable teams, such as Loyola Marymount, University of San Francisco and Pepperdine. This is the tragic plight of mid-major programs: Pepperdine is a decent-sized fish in a small pond. But to the rest of the nation, Pepperdine graces the "bad loss" columns in Saint Mary's and BYU's tournament resumes.
Think of Few's statements as Nicki Minaj's guest verse on "Monster," one of the (many) standouts on Kanye West's 2010 album "My Beautiful Dark Twisted Fantasy." In the middle of Minaj's verse — what NME later dubbed "a show-stealing turn" in its 2015 list, "150 best tracks of the past 15 years," — she drops the couplet: "Just killed another career, it's a mild day / Besides 'Ye, they can't stand besides me."
Just as Minaj casually bragged about killing her competitors' careers, Gonzaga has indirectly killed not one career, but four. In the wake of the WCC Tournament, four of the "bottom seven" schools — USF, Portland, Santa Clara and Pacific — fired their head coaches. So far, only the postseason-banned Pacific Tigers have announced a replacement; the university pegged former University of Memphis Assistant Coach Damon Stoudamire as the man in charge of the Tigers' rebuilding job on March 16.
Admittedly, I'm no Rap Genius. But from my understanding, Minaj essentially draws a line in the sand between herself, Kanye and the rest of the rap game in those two lines, just as Few drew the line between the WCC's "big three" of Gonzaga, Saint Mary's and BYU and the rest of the conference.
Now it's up to the West Coast Conference to rise to Few's challenge. And given Pepperdine's recent string of success, The Waves are equipped to do so.
Of course, this task won't be easy. First and foremost, the aforementioned coaching changes will make next season significantly more interesting for Pepperdine. As obvious as it sounds, the Waves will face at least four inter-conference opponents with different game plans. Perhaps USF won't be a complete pushover on defense like they were last season, when they were ranked 321st in the nation in points allowed, according to ESPN. Maybe Santa Clara's new coach will learn how to use junior guard Jared Brownridge — and the role players around him — more effectively, which is a scary thought.
Will one of these programs pull an Arkansas-Little Rock, make waves in the NCAA Tournament and bust brackets in their new coach's first season? Probably not. More likely than not, these programs will undergo a year or two of growing pains while adopting their new coaches' systems.
On the flipside, Marty Wilson's player-development system will be put to the test next season. Will the Waves be able to succeed without senior forwards Stacy Davis and Jett Raines, two of the best Pepperdine players in recent history? Will Pepperdine avoid the injury bug that claimed guards Atif Russell, sophomore Shawn Olden and redshirt sophomore guard A.J. Lapray?
Unlike last season, future improvement isn't a sure thing for the Waves. At the same time, however, making the leap to national relevance isn't out of the question either. Crazier things have happened; after all, college basketball's main event is called March Madness for a reason.
________________________________
Follow Kyle Cajero on Twitter: @cajero_k