Photos courtesy of University Archives
On a typical day on the Pepperdine campus around noon, students are buzzing around the cafeteria. The line at the Oasis Pizza and Noodle Bar is flowing and people linger around the grill, waiting for their order to be called out. However, in addition to the tables of chattering students on the lefthand side of the bright, sunlit space, a silver-haired man in a suit often occupies a seat at a table.
President Andrew K. Benton said he eats in the cafeteria with students whenever he is on campus at noon, about three times a week. He even has a favorite spot.
"I sit by the dish room," Benton said. "You may ask why I sit by the dish room? Because students can't get by me. I can catch a student's eye and ask them about their day. I would hate to think a student could go through the day with no one to say, 'Hello, how are you? Are you having a good day?' Saying that you care. And I do care."
Benton's ritual of eating in the cafeteria is just one thing many students pointed to as proof toward their perception of Benton as a student-focused president. Over the course of his 19-year presidency, showing individual attention and availability to students in the cafeteria and beyond, the community dubbed Benton as the "Students' President."
Students describe Benton, familiarly known as AKB, as "sweet," "wise," "humble" and "a great guy."
Junior Maia Minnix said she saw Benton as an endearing grandfatherly figure.
"He's just like a sweet grandpa that everyone loves," Minnix said. "I'm sad that he is leaving. I mean, who could ever replace him? He's been a kind and positive face for Pepperdine."
Junior Kevin White spoke about his respect for Benton's ability to see different perspectives.
"When there was talk about removing the Columbus statue from campus, I'm not sure if [Benton] and a lot of the older board members agreed," White said. "But I really respected how President Benton was able to look at it from a different perspective and say, 'If the students are upset about it, I'm going to do something about it.'"
Junior Jordan Aldrich recalled a time her freshman year that she sent a desperate email to Benton when she found out that his email was easily accessible online. There had been some mistakes in her freshman class schedule and she said several weeks of emailing and visiting One Stop proved fruitless in her efforts to correct it.
"I didn't really expect a reply, but I sent an email listing what had happened and voicing frustration that Pepperdine had messed up enrolling me," Aldrich said. "Within two days, [Benton] referred me to someone and the problem was resolved in one week."
The President's Home, the Students' Clubhouse: The Brock House
Benton said his favorite spot on campus is the backyard of his own home, "sitting out on this concrete pad of the Brock house with my dog, watching planes take off and land at LAX."
The president's home, known as the "Brock House," overlooks Pepperdine and the Pacific Ocean. Benton said the home has been, not only has been a source of joy to Bentons, but has been a resource to the students.
"It's our home but I kind of view it as [the students'] clubhouse," Benton said.
It would be difficult to earn a degree from Pepperdine's undergraduate college, Seaver, without stepping foot in the historic presidential mansion once or twice.
During students' first month on campus, they shake the hand of Benton as they enter the Brock House for the President's Reception. This event, previously known as "My Tie," ("It will be "My Tie" forever as long as I'm in charge," Benton said), is an event hosted at the beginning of each year to welcome new students. There is food, beautiful views for selfies and live music by Benton's own band, Mesa Peak.
The President's Reception is a tradition dating back to before Benton's time, although it's notable that the previous presidents did not host a party in the backyard at which they themselves played an electric guitar.
However, the seniors' swan song at the Brock House, known as Rock the Brock, originated with Benton.
"I was talking to some seniors one day and they said 'You know, President Benton, our senior class hasn't been together since freshman year,'" Benton said. "I said, 'I need to fix that!' So then we created RTB."
Rock the Brock echoes the first-year's President's Reception experience, including a similar party, food and musical performance by Benton and his band.
"To have all the students up as freshmen … and then to have all the seniors: it's a nice bookend experience for me," Benton said.
Senior Kenichi Ri attended the 2018 Rock the Brock and said he had fun at the event.
"It's stuff like that when [Benton] invites people into his home that shows how much he cares about the students," Ri said.
However, these two parties are far from the only opportunities students have to spend time at the Brock House.
Junior Elle Harding said she attended a Regents' Scholars event at the house before she even committed to Pepperdine.
It was raining that day, so people were taking shuttles down the hill at the end of the party. However, Harding said she skipped the shuttle service when Benton offered to drive her and her family to Firestone in his own car.
"He was just like, 'Hold my speech!' and drove us down to Firestone where he was speaking at the opening ceremony for Waves Weekend," Harding said.
Senior Daniel Ramli said when he approached Benton this year with an idea to have a Campus Recreation-sponsored campout in the backyard of the Brock House, AKB met it with nothing but enthusiasm.
"He got really excited about it and offered to bring a griddle in and make breakfast," Ramli said. "He just really made it seem like he wanted everyone to join in and experience his home with him."
Benton said if he had ever been a student at Pepperdine, he would've been involved with Campus Recreation and a founding member of the Pepperdine Hammock Club.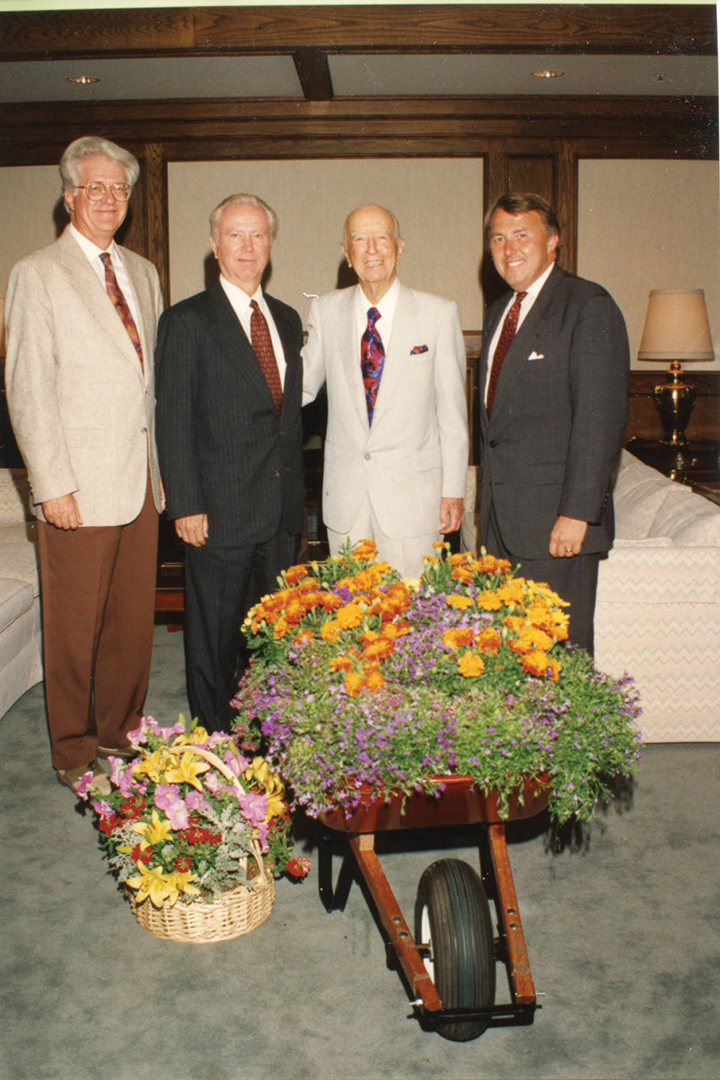 Presidential Duties (Sometimes Including Golf Carting)
Benton not only welcomes students into his home, but also has the reputation for being around main campus, according to multiple students.
"I think his availability to the students is incredible," senior Thea Riley said. "You can't hang around campus for long without seeing him … I think it's safe to say I see him around two or three times a month."
When asked how he balances his busy schedule of formal presidential meetings, calls, emails and informal duty to be available to students, Benton said both sides of his job are just as important, especially considering Pepperdine's relatively small size.
"It would be shameful if I didn't have a good relationship with the students," Benton said. "This is a very intimate campus."
The Presidential Professor
Teaching is another commitment that Benton makes to students. Benton went abroad four times in years past to teach different international programs. In addition, he teaches a law class every year.
Both his love for students and a deep love for the law drives this commitment. After all, Benton went to law school at Oklahoma City University School of Law and was a practicing lawyer for about five years before moving to California. He's also known for keeping a worn copy of the Constitution of the United States in his pocket at all times.
"I've always geeked out over the Constitution," Benton said. "When we stop paying attention to fundamental truth and immutables, our republic is in trouble."
This semester, Benton's law class covers jurisprudence and jurisdiction. Senior Lily Spirtos said she knew about Benton's class ever since freshman year. She received lots of advice from upperclassmen to take the course, so come senior year, she enrolled.
"It's super fun to have the president as your professor because he is so connected," Spirtos said. "He has all of these side stories. We'll be talking about a case and then he'll say something like, 'Well, I met Justice Scalia at this conference and he has this opinion on the subject.'"
Spirtos estimated there is about 14 people in her class, meaning that each student receives individual attention from AKB.
"He talks to each one of us and even though he has such a busy schedule, he highlights that he is open to meeting with us whenever," Spirtos said.
When the class went to the Brock House for a test review, Spirtos said Benton made sure to ask about what food everyone would enjoy to munch on while they studied.
"He was just really trying to serve us," Spirtos said. 'That's something I would've imagined him as, but I don't think I would've known just how service-oriented he is if I wasn't in his class."
A Day in the Life
With this broad range of duties, playing the part of law professor, golf cart transport extraordinaire and presidential speech-giver, Benton said no two days in the job look alike.
"Everyday is different and I like that," Benton said. "I like new challenges. I like to have to stay light on my feet."
Usually, the only commonality in his days are the mornings, Benton said. He wakes up at 5 a.m. and makes a cup of black coffee before his prayer time. Next, Benton said that he sometimes has to give himself a "pep talk."
As surprising as it may seem, Benton said all of the socializing and mingling, whether in the Brock House, on main campus or beyond does not always come easily to him. Benton considers himself an introvert, but said he learns to push himself outside his comfort zone daily.
"I do not have the privilege of living inside my own little world," Benton said. "I must live my life out loud to be an effective Pepperdine president. I rally to it. It's not hard for me; it's just that my happy state is with a book, with my wife, or doing something with music. It's not going into a noisy crowd. Yet."
Throughout 19 years of presidency, Benton said he noticed his extroverted side strengthen and his judgmental side soften. He learned to take more calculated risk and to resist fixating the mistakes of the past.
Benton said, ultimately, his 34 year journey in several different roles at Pepperdine was worth it because of the students.
"[My wife and my ] warmest memories are experiencing good times and bad times with students," Benton said. "Experiencing heartache and courage. The mountain tops and valleys."
______________________________
Follow Mary Cate Long on Twitter: @journ_marycate