A noodle bar and "Artisan ZA" pizzeria is coming to Waves Cafe in the spring semester of 2018. Dining services collaborated with food consultant services and web food design on the concept to provide students with more food options on campus that is open later and located in a community style seating experience, according to Associate Dean of Student Affairs Stacy Rothberg.
The noodle bar and "Artisan ZA" pizzeria will be located where the sushi bar used to be in the Waves Cafe with hours of operation from 11 a.m. to 11 p.m.
The concept of the noodle bar and made-to-order pizzeria meets the diversity of the Pepperdine community by providing two new and distinctly different types of dining venues with quality and healthy, quick casual foods as the focus for the typical busy lifestyle of a campus community, General Manager of Dining Services Randy Penwell wrote in an email.
"These concepts include 'ZA' a forward thinking modern pizza 'house' featuring customized Artisan house-made 'ZA' built from a variety of traditional and modern sauces, toppings and flavors," Penwell wrote. "The second concept will be a noodle bar featuring a variety of Asian and world-wide noodles, farm fresh toppings and house-made broths."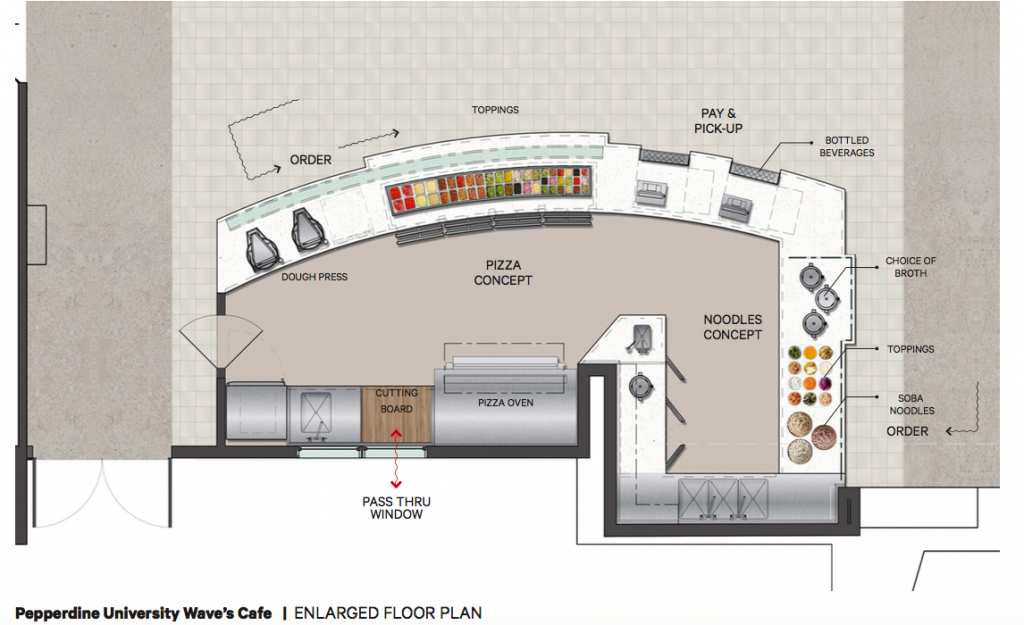 Penwell wrote in an email that he had been thinking about how and where to install a true pizza oven and a way to incorporate the noodle concept since his arrival to Pepperdine campus seven years ago. Pepperdine sought assistance from outside consultants to help with the future planning for dining services a couple of years ago to paint their vision for the Artisan pizza and Noodle Bar.
"The noodle bar is a quick casual concept serving 'clean' food which fits into one of our philosophies of how food should be prepared, that is from scratch and with minimal ingredients. This concept provides options for a wide range of dietary requirements meeting nutritional and low caloric options," Penwell wrote.
In addition to collaboration with their consultants, Rothberg said dining services also reached out to Student Government Association for student perspectives on the concept.
"We are very intentional involving student government association in ideas, concepts, hours of operation, pricing and new concepts," Rothberg said.
Junior and Executive President of SGA Austin Welch said dining services reached out to SGA last spring, asking for student input on their idea of the pizza and noodle bar.
"We've been collaborating with them and helping them see the progress of their vision turn out as it's gone along as we've expressed interest in both of them," Welch said. "We think a noodle bar and a pizza bar are two great things, although they seem very different, they're great options for students."
Welch said one of their main goals as SGA is to provide a voice for students to administration and members of the Pepperdine community like dining services to make sure student needs are met.
Welch said he sat down with Rothberg to discuss the hours of operation so that students could grab something to eat anytime during the day and after the latest class gets out at 10 p.m. Without late-night places to eat within walking distance, there was a need for a place to grab food on campus in addition to the HAWC.
"One of SGA's big initiatives are health and wellness and it's important to eat on a regular basis and make sure you're well nourished," Welch said. "If your class is ending at 10 o'clock and you're going to bed hungry, that's not a great fulfilment of that."
Penwell wrote that the project for the artisan pizza and noodle bar is being submitted to the Los Angeles County Health Department for "plan check" to confirm the equipment layout plan meets all the current regulations and also the Los Angeles County Building Department for their approval for the mechanical, electrical and plumbing requirements. This process is expected to last two to four weeks. Then a General Contractor will be selected and permits can be acquired to being the demolition and construction of the project.
"The oven was fabricated in Italy and with the shipping to America was a 12-week process," Penwell wrote. "The rest of the equipment for the internal operation is in the final processes of being ordered."
In addition to the noodle bar and artisan pizza, Penwell wrote that their vision includes a "Southern California laid back feel" in the outdoor patio area and will be tied into a complete renovation of the entire outdoor patio area outside the Waves Cafe. Soft seating, market lighting, gas fireplace, market umbrellas and possibly an AV sound system will be implemented. He added that there is no firm timeline on the renovation of the outdoor patio and will not be finished in January.
"Traditionally, the outdoor seating experience is not as great as it could be with such a great view," Welch said. "It's going to be a great space for community with a lot of additional seating as well as expanding the caf eating locations."
Rothberg said they wanted a create a new venue that would appeal to students in the community to enjoy late night snacks, chances to gather and meet your friends, and hang out.
"If you have friends or family that come to visit and you want to take them to a place to catch up and show them Pepperdine and what it has to offer, especially at sunset time, it'll be a really great place," Rothberg said.
_____
Follow the Pepperdine Graphic on Twitter: @PeppGraphic